Need a vegan substitute for buttermilk in a recipe? We've got you covered! We have the best almond milk buttermilk recipe that only needs 2 ingredients. And it literally only takes 2 minutes to make!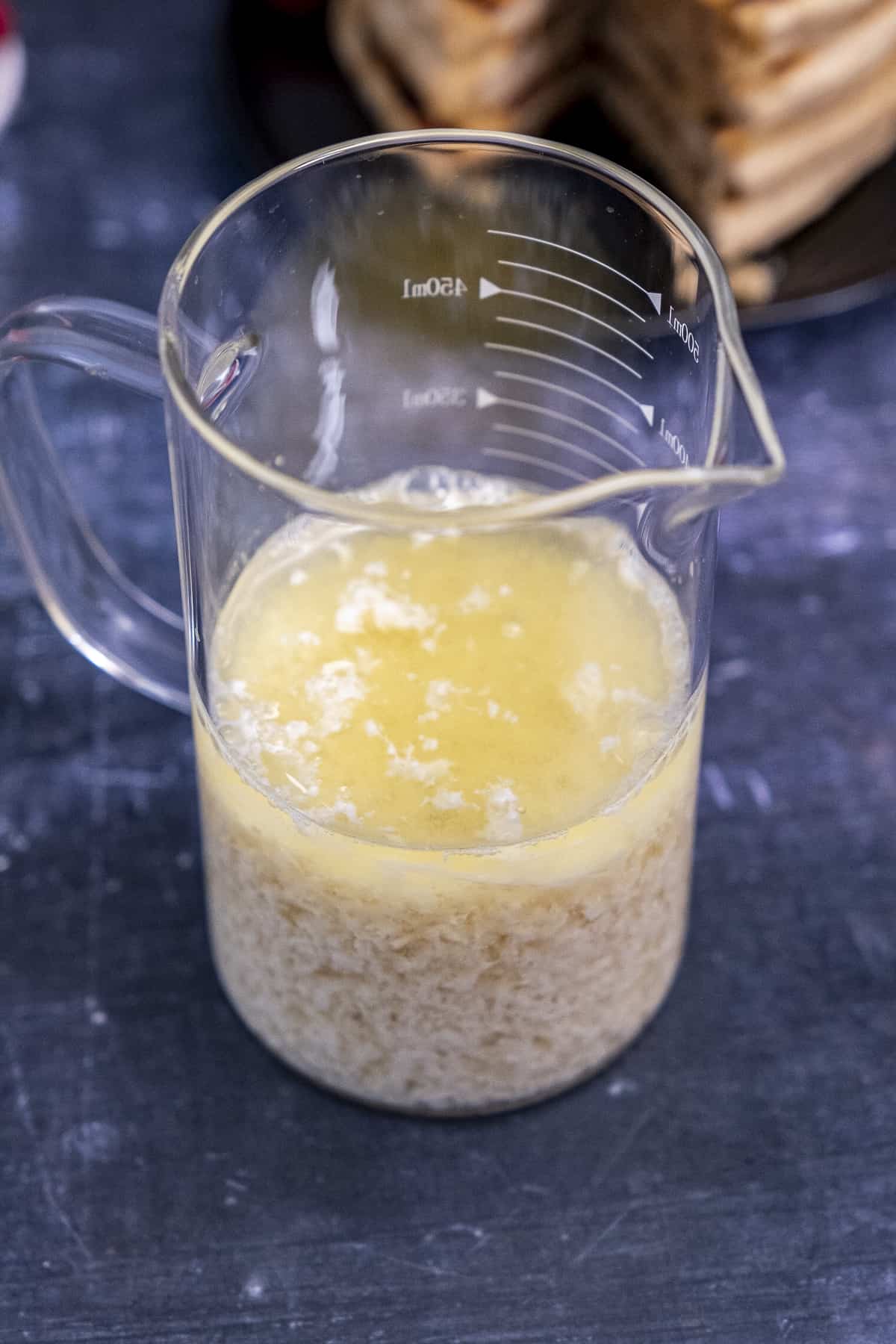 Let's learn how to make buttermilk with almond milk. Then, you can use it to make the fluffiest vegan buttermilk pancakes, a great vegan alternative to our almond milk pancakes.
Jump to:
Why should you make this recipe?
It only takes 2 minutes to make and you only need 2 ingredients to make it.
It adds an amazing fluffy texture to any baked good. And, it works as an excellent vegan substitute for regular buttermilk.
This recipe is also freezer friendly and will stay good for up to 2 months. However, it is so quick to make and we prefer making it fresh and as needed.
About The Ingredients
To make your own vegan almond buttermilk substitute, you only need 2 ingredients: Almond milk and apple cider vinegar.
Almond milk: Always use unsweetened almond milk. Make sure it is at room temperature. These factors help the acid curdle the proteins effectively and quickly.
You can either buy unsweetened almond milk from the store or make your own using our homemade roasted almond milk recipe. Here in this recipe, we use a store-bought product (Alpro) and it works perfectly.
To make this vegan buttermilk recipe, other non-dairy milk options you can use include soy milk (second-best plant-milk to use), oat milk, cashew milk, pea milk and coconut milk.
Apple cider vinegar: This is a lightly-colored vinegar that has been made from fermented apple juice. It helps almond milk to curdle. It is pretty neutral in flavor when used in baked stuff. You won't taste it in whatever you bake.
You can use any other light-colored vinegar like distilled vinegar (which is colorless), white vinegar, or rice wine vinegar. And, if you don't have vinegar on hand, you can use lemon or lime juice instead.
How to Make
Making buttermilk with almond milk is easier than you might think! This recipe only uses 2 ingredients and only takes 2 minutes! Now, you can make a delicious non-dairy substitute for buttermilk without spending a fortune! Let's see how.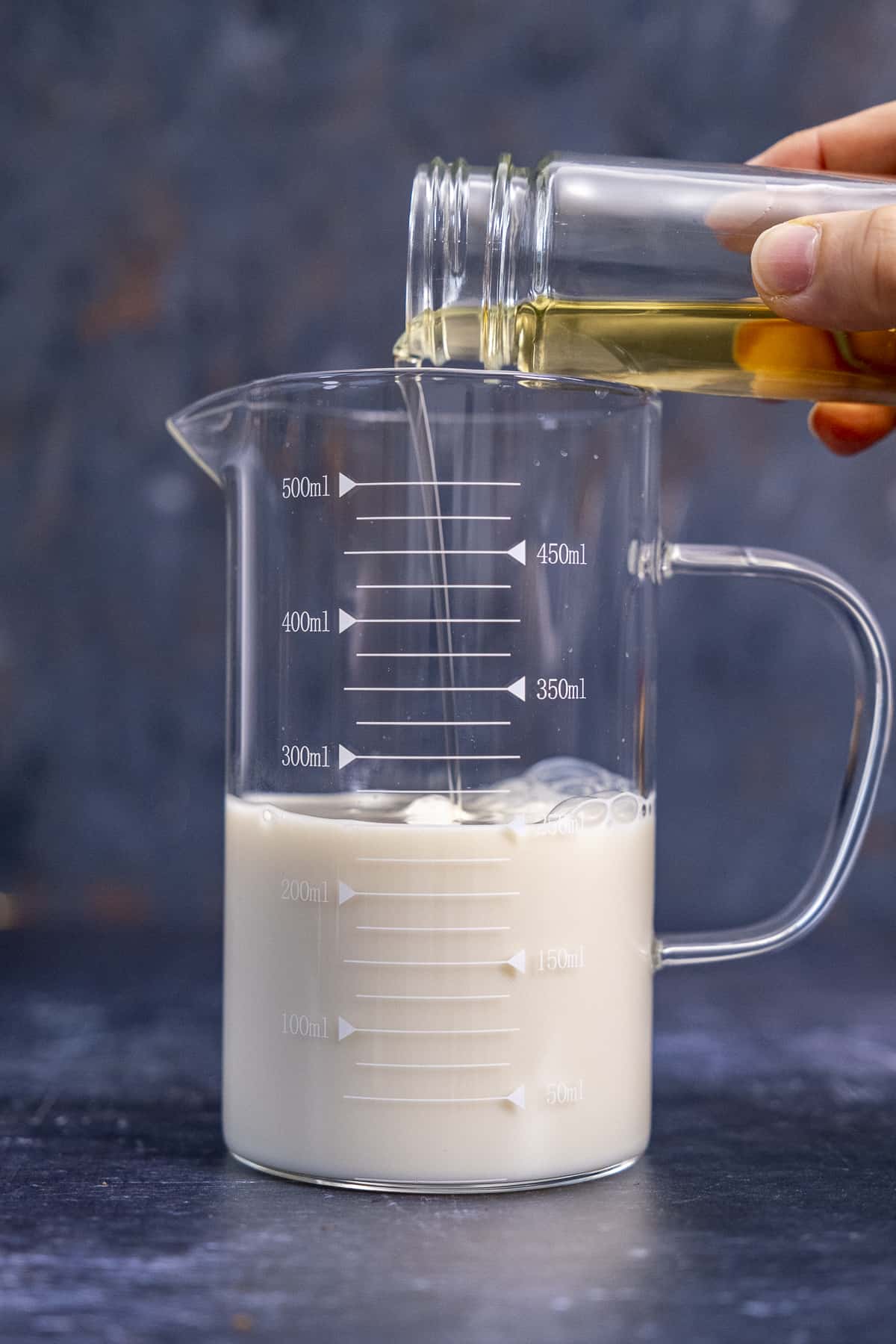 Combine the ingredients: Place the almond milk into a medium-sized cup or bowl. Then, add the vinegar to the milk and stir it well.
Let the mixture curdle: Allow the mixture to sit at room temperature for about 1-2 minutes or until the almond milk starts to curdle.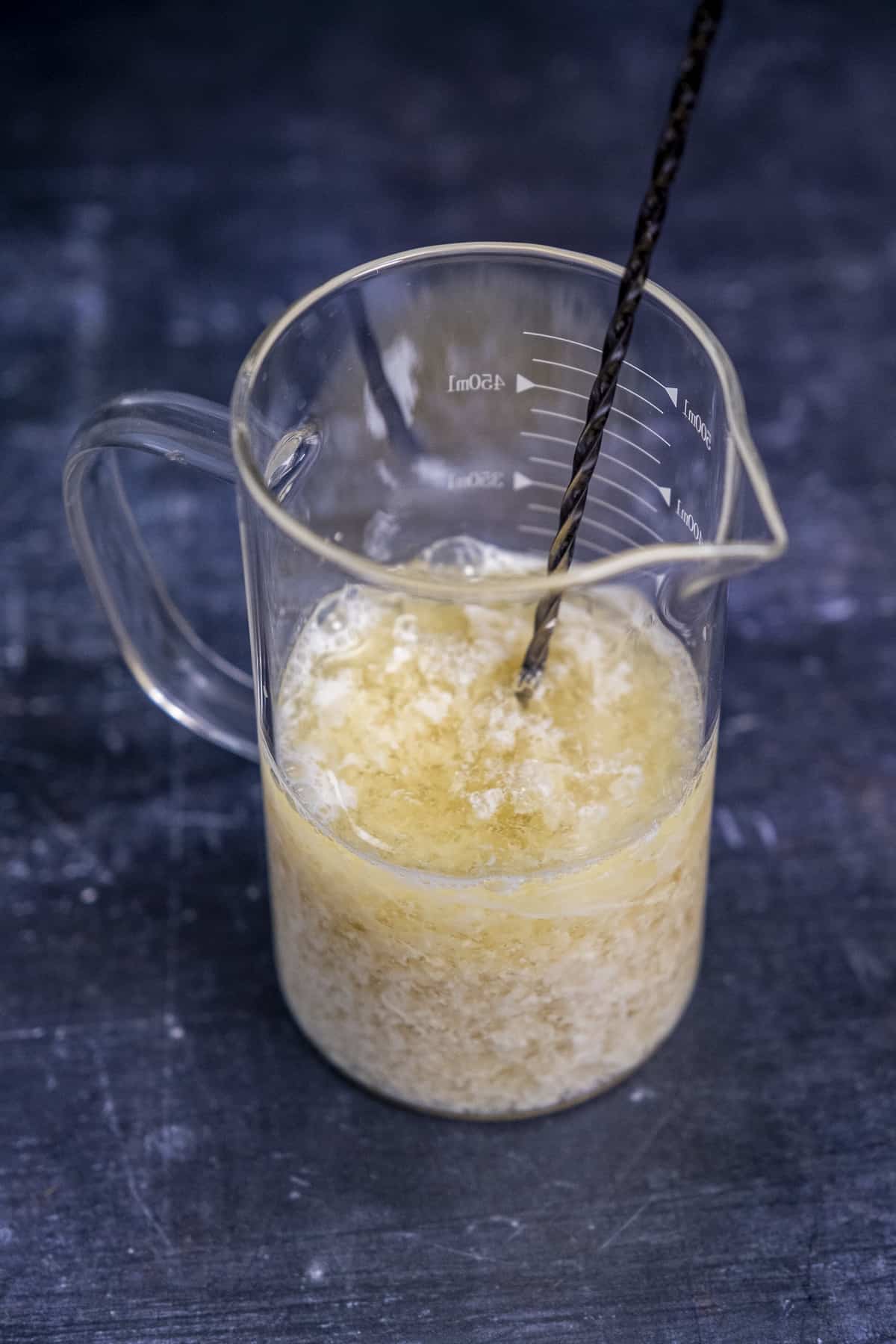 Use it in recipes: Give it another mix and use it as you would regular buttermilk. If you are substituting normal buttermilk, use a one-to-one ratio.
Expert Tips
You can increase or decrease the amount of non-dairy buttermilk you are making. Just keep the ratio of ingredients the same. For every cup of unsweetened almond milk (or the alternative milk you choose) use 1 tablespoon of apple cider vinegar.
If you aren't the biggest fan of almond milk but still want a dairy-free substitute for buttermilk, you can use this recipe using any other plant-based milk as long as it's unsweetened. However, you will have the best results using almond milk or soy milk.
When making vegan buttermilk, you will get the best results when using room temperature milk. Simply leave the measured out milk on the counter (covered) for 30 minutes to an hour. The exact time will depend on the temperature of the room.
Instead of apple cider vinegar, any other light-colored vinegar will work to make almond buttermilk. This includes rice wine vinegar, white wine vinegar, or distilled vinegar.
If you don't have any type of vinegar on hand, you can also substitute it using lemon juice or lime juice. They have enough acidity to curdle the almond milk and add a tangy and slightly sour taste.
If you allow the almond buttermilk to sit for too long without using it, it will separate. This is completely normal and fixable. All that you have to do is stir it well before adding it to your recipe.
To store, place it inside of an airtight container and keep it in the fridge for 2-3 days. However, for the best results, simply make the buttermilk right before you need to use it. It only takes 2 minutes!
Uses
Our all time favorite way to use this almond buttermilk is to make vegan pancakes. They always come out super thick and fluffy.
You can use it in vegan pumpkin rolls. Simply substitute the almond milk in the recipes with this dairy-free buttermilk. It will help add more moisture and fluffiness to the bread.
You can make egg-free pancakes, but instead of regular milk, use this vegan buttermilk. You can also substitute butter in the recipe with a vegan alternative if you want to make them completely vegan.
This vegan buttermilk can even be used to make a vegan batter when frying oyster mushrooms.
You can also make a wide variety of baked goods including cakes, cupcakes, muffins, biscuits, waffles and scones. And the recipe doesn't even have to be completely vegan!
FAQs
What is a vegan substitute for buttermilk?
You can buy ready-made vegan sour cream or vegan yogurt. However, the best dairy-free alternative to buttermilk is homemade vegan buttermilk. 
Can almond milk make buttermilk?
Of course, it can! A question we get a lot is "Can almond milk curdle?" You'll see from this recipe that it is entirely possible to curdle almond milk and make a delicious and cost-friendly vegan buttermilk.
Can I make this buttermilk with oat milk or pea milk?
You can make buttermilk vegan using any type of unsweetened plant-based milk. Just make sure that it is at room temperature before adding your acidic ingredient.
Does almond milk need to be refrigerated?
You only need to refrigerate almond milk once the container has been opened. However, unprocessed and freshly made almond milk should be kept in the fridge to extend its shelf life.
More Recipes with Almond Milk
More Vegan Recipes
As always: If you make this recipe, let us know what you think by rating it and leaving a comment below. And post a pic on Instagram too—tag @give_recipe so we can see!
Sign up for the FREE GiveRecipe Newsletter to get the new recipes into your inbox! And stay in touch with us on Facebook, Pinterest, YouTube and Instagram for all the latest updates.
Print
📖 Recipe
How To Make Almond Milk Buttermilk
A great vegan substitute for buttermilk than you can make with 2 ingredients. Use it in making cakes, cookies, waffles or pancakes and get the fluffiest result every time.
Author: Zerrin & Yusuf
Prep Time:

2 minutes

Total Time:

2 minutes

Yield:

1 cup

1

x
Category:

How To

Method:

Mixing

Cuisine:

American

Diet:

Vegan
1 cup

(240ml) unsweetened almond milk

1 tablespoon

apple cider vinegar
Instructions
Put almond milk in a medium sized cup. Pour vinegar into it and stir well.

Let it sit for 1-2 minutes to curdle.

Use it in recipes that require buttermilk.
Notes
You can increase or decrease the amount with the same 1:1 ratio. 

You can make this recipe with any unsweetened plant-based milk. But you will get the best result with almond milk or soy milk.  

Works better when the vegan milk is at room temperature.

Any light-colored vinegar works well. 

You can substitute lemon juice for vinegar if you don't have vinegar on hand.

If you don't use it immediately, it separates. It is normal. Just give it a stir and then use it.

You can store it in the fridge for 2-3 days if you have any leftovers. But we prefer making it right before using it in a recipe.
Nutrition
Serving Size:

1 cup

Calories:

42

Sugar:

0.1 g

Sodium:

186.8 mg

Fat:

2.9 g

Carbohydrates:

1.7 g

Fiber:

0 g

Protein:

1.5 g

Cholesterol:

0 mg
Keywords: vegan buttermilk, almond milk buttermilk, buttermilk substitute