This recipe for Quick Pickled Beets is made with all-natural, preservative-free ingredients. The basic ingredients we use creates a beautiful combo of sweet, tangy, and sour flavors.
Who doesn't like pickles? But nobody has the patience to wait for the long fermentation process. That's why we love refrigerator pickles! They are easy to make and ready after 24 hours!
Try these beet pickles with one of our delicious salad recipes. We do love them on a bowl of buckwheat salad. And we sometimes serve them as an appetizer combined with quick pickled cabbage.
Jump to:
Why Should You Make These Pickled Beets
Super easy to make, not to mention quick!
These quick pickled beets easily last up to 4-5 weeks in the fridge.
It is an delicious way to add more flavor and texture to your salads.
It is a great appetizer! You can serve it with hummus or on top of crackers.
And finally, the pickled beet juice (the juice in the jars) tastes just so good! You can drink it if you want.
About The Ingredients
Our pickled beets recipe has no sugar in the brine and requires a few basic ingredients. You can check out some optional add-ins you can try below.
Beets: We use boiled beets for this recipe. It helps retain their color, flavor, and nutrients. However, you can also use roasted, steamed, or canned beets if you'd like.
Garlic: It is one of the must ingredients when pickling, especially when making refrigerator pickles. As they are quicker than fermented pickles, we need garlic to have a similar taste.
Fresh dill: We use it for a nice flavor. You can use other fresh herbs like parsley too.
Lemon Juice: We also add some lemon juice. It is entirely optional but highly recommended. It adds more acidity but also a ton of refreshing citrus-based flavors. To substitute the lemon juice, only add ½ cup extra vinegar.
Vinegar: For these quick pickled beets, we've used apple cider vinegar. Again, it adds a refreshing flavor that pairs wonderfully with the beets, dill, and lemon juice. If you would like to use a different vinegar, you can choose white vinegar, rice wine vinegar, white wine vinegar or red wine vinegar too. You can take a look here to learn more about other vinegar options.
Salt: Use pickling salt, sea salt or kosher salt. Never use table salt for pickling.
Alternative Add-Ins:
This recipe is already very flavorful, but there is always room for change. You can combine beets with some other vegetables like red onions and carrots. You don't need to cook these beforehand.
We don't use sugar in this recipe as we find the sweetness of beets quite enough. But you can use our ultimate pickle brine recipe and add granulated white sugar if you'd like your pickles sweeter. Just put 1 tablespoon of sugar (with salt) in the boiling hot water and mix it well.
If you want to add some additional seasonings to the recipe, we recommend starting with spices. The best spices for these pickled beets include red pepper flakes, whole black peppercorns, bay leaves and mustard seeds. You can even throw a cinnamon stick or whole cloves into each jar.
You can add them right into the jars or into the brine when heating it. Spices don't change a thing (except the flavor) in the recipe.
How To Prepare And Cook Beets
First, we'll look at exactly how you should prepare raw beets for pickling. It is incredibly easy, but there are a few specific steps you need to follow.
Cook the beets: Add the beets to a large pot filled with water. Bring the water to a boil. Once boiling, reduce the heat and allow it to simmer for roughly 30 minutes or until the beets are tender. Alternatively, roast them in the oven. Just wrap each beet in foil and roast them in a baking sheet.
Cool the beets: Strain the cooked beets and let them cool, but not completely.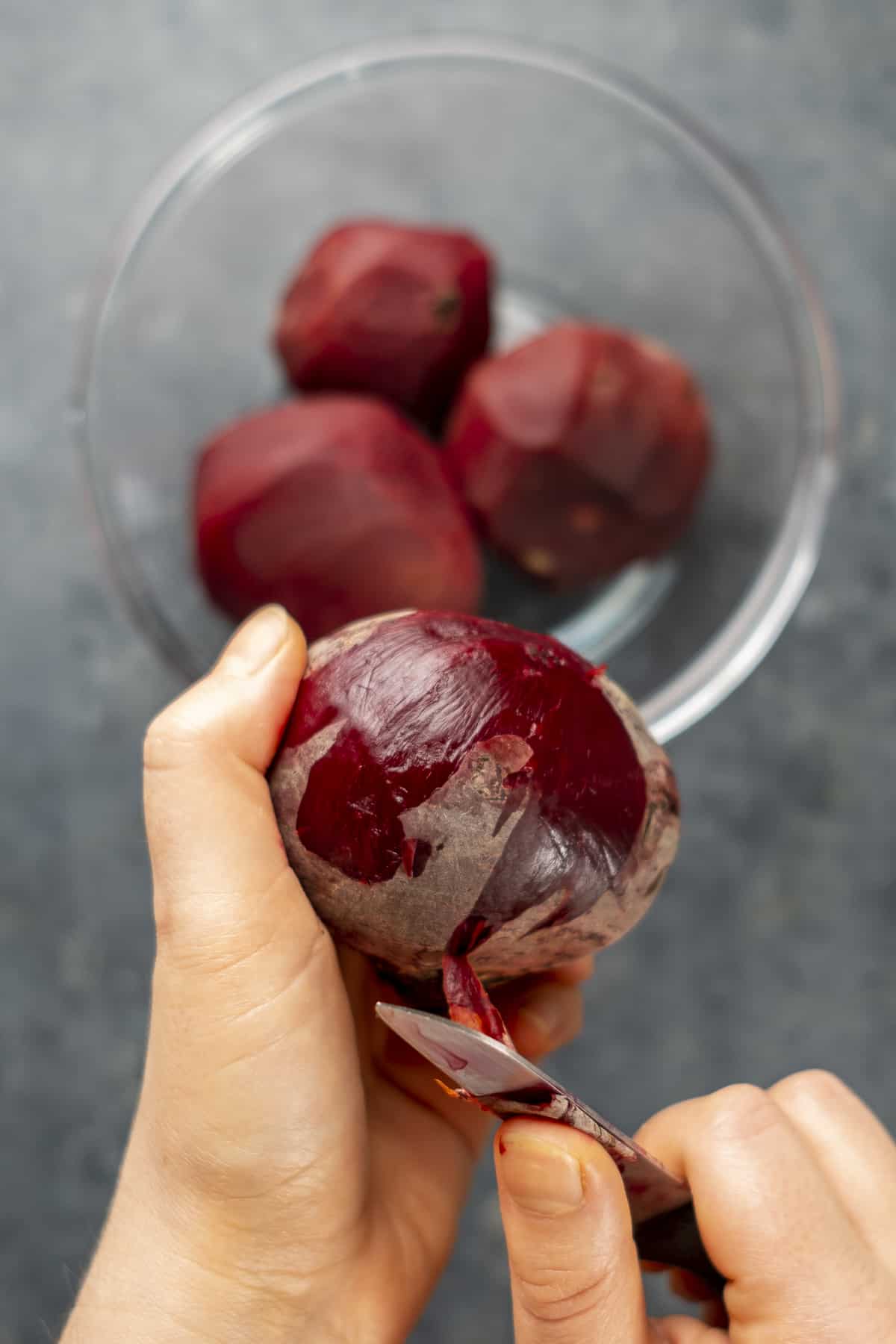 Peel the beets: While the beets are still cooling, while wearing gloves, peel off their skins. It comes off easily when the beets are still slightly warm.
Cut the beets: Once the beets are completely cold and peeled, cut them into thick slices. You can change up the shape. But keep in mind that it will also ultimately change their texture.
How To Pickle Cooked Beets
So, once you've prepared your beets (or if you are using an alternative option), you can move on to actually pickling them.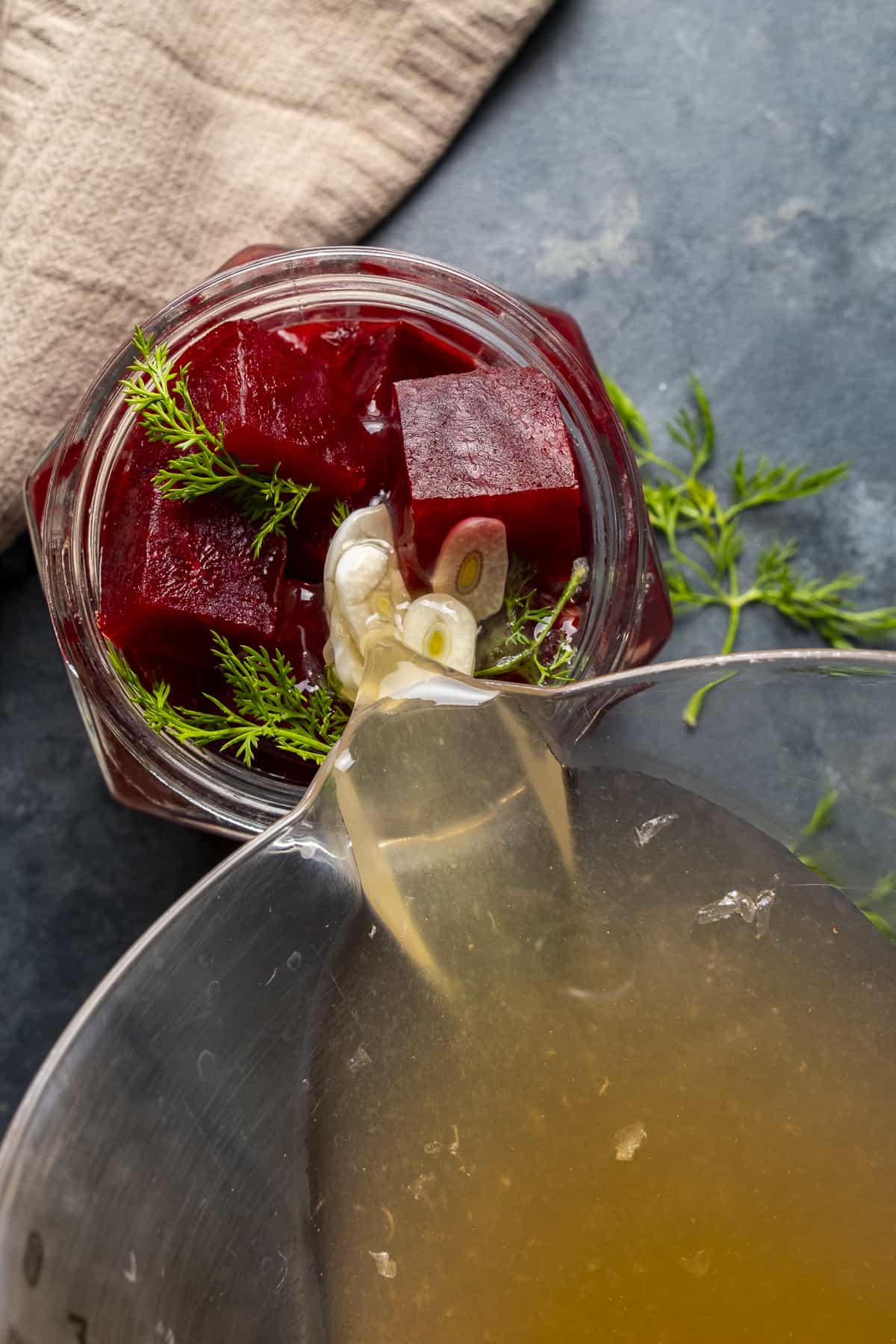 Fill the jar with your fresh ingredients: Place the thick beet slices, garlic slices, and fresh dill into a pickling jar. At this point, you can also add any additional flavorings (like coriander seeds or mustard seeds) if you'd like to. Set the glass jar aside.
Make the easy pickled beets brine: Whisk together the boiling water and salt in a mixing bowl. Once the salt has dissolved, whisk in the lemon juice and vinegar.
Pour and cool the brine: Pour the warm pickling liquid over your beet-filled jar. Close the lid and allow it to cool completely at room temperature.
Leave to pickle: Once your quick pickled beets are cooled, put them in the fridge and leave them for at least 24 hours. Store any remaining pickled beets in the refrigerator for up to 4-6 weeks.
Variation
Although pickled beets are mostly cooked beforehand, you can also pickle them raw. Yes, you heard it right. If you want to skip the cooking process or want them crunchier, slice them very thinly using a sharp knife. And follow the rest of the recipe as it is.
Alternatively, you can follow our Armenian cucumber pickle recipe and use raw beets to make fermented pickles.
Tips
For this beet pickles recipe, you can use boiled beets, roasted, steamed, or even canned beets!
You can wear gloves when working with beets to avoid the stains they will leave on your hands.
When you cover the beets with your brine, ensure they are completely covered in the jar. If they aren't, then transfer them to a smaller glass jar or make more pickling liquid. If they aren't covered, it exposes them to bacteria and will cause them to pickle unevenly.
This is a no-sugar refrigerator pickled beets recipe. We like the amount of sweetness the beets naturally add. But, if you want to have it sweeter, start with only one tablespoon of sugar. Add it along with the salt to the boiling water.
It may be tempting to eat these quick pickled beets immediately. And you certainly can. But we highly recommend giving them at least 24 hours to develop flavor and texture.
These are refrigerator beet pickles, so you have to store them in the refrigerator after they completely cool down.
When you remove the pickled beets from the jar, always use a clean fork. This will cause bacteria and shorten the length of the storage.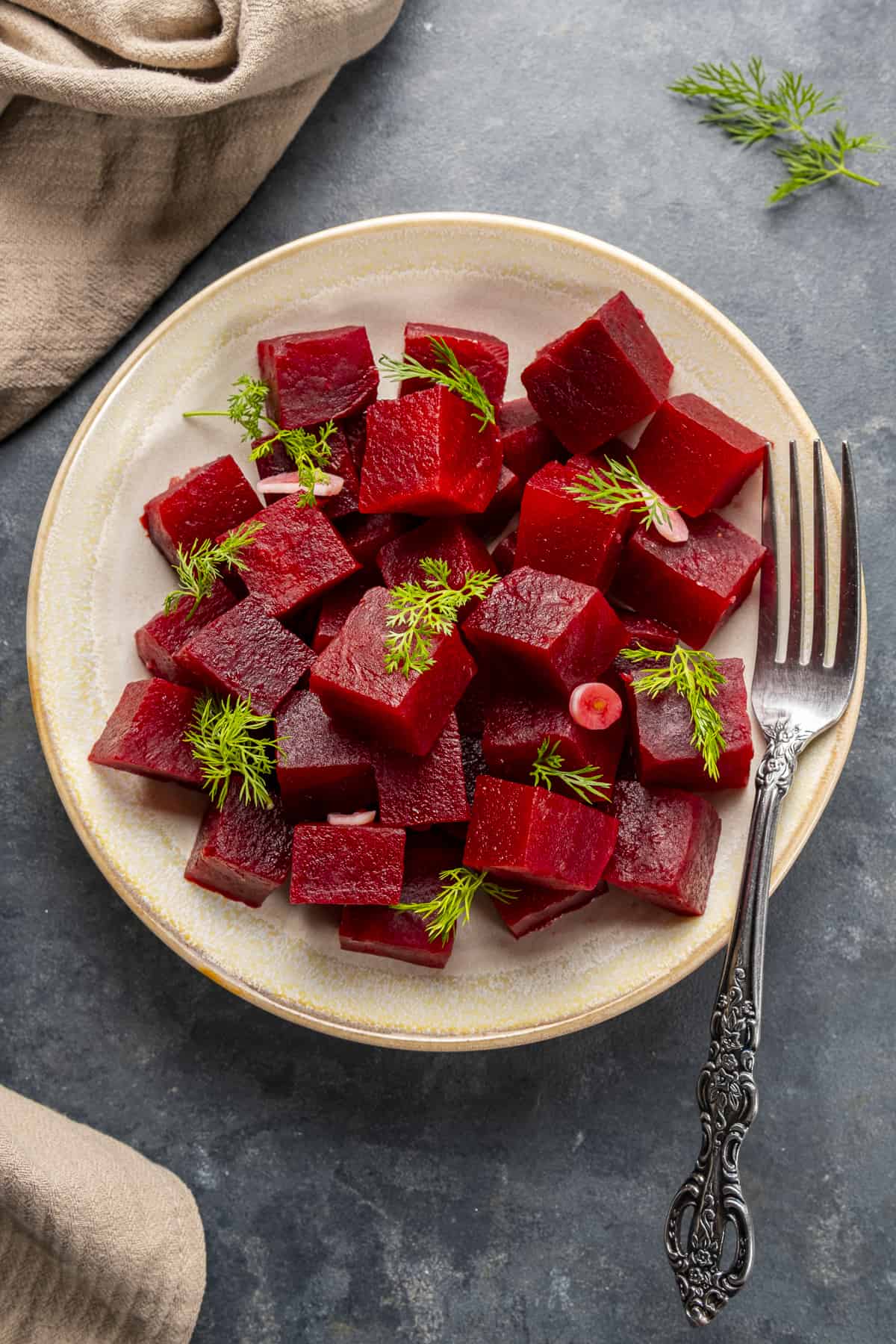 FAQs
Are beets supposed to be soft when cooked? 
Yes, they are soft but not as soft as potatoes. They still have a little crunch.
How long do beets have to sit in the pickling brine?
For our recipe, you only have to hold yourself back for a day (24 hours). They taste even better after 48 hours.
Can you pickle with just vinegar?
Technically yes, but it won't be as appealing. Any vinegar with an acidity of 5% will work fine. But, the flavor will be pretty bland and too tangy. So, it'a better to mix it with water and salt.
How long do pickled beets last in the fridge?
That depends entirely on how they were preserved. If you properly canned them (for long-term storage), they can last 12-18 months! And, most quick pickles, like the homemade pickled beets we made today, will last up to 4-6 weeks unopened and 2-3 weeks once they are opened.
More Beet Recipes
As always: If you make this recipe, let us know what you think by rating it and leaving a comment below. And post a pic on Instagram too—tag @give_recipe so we can see!
Sign up for the FREE GiveRecipe Newsletter to get the new recipes into your inbox! And stay in touch with us on Facebook, Pinterest, YouTube and Instagram for all the latest updates.
Print
📖 Recipe
Quick Pickled Beets
A super quick way of pickling beetroots. No need for canning or sanitizing jars. You can enjoy them just after 24 hours.
Author: Zerrin & Yusuf
Prep Time:

10 minutes

Cook Time:

30 minutes

Total Time:

40 minutes

Yield:

2

jars

1

x
Category:

Side Dish

Method:

Pickling

Cuisine:

Turkish
For Pickling:
4 medium beets

2 cloves garlic, sliced

¼ bunch of fresh dill
For pickle brine:
1

and ½ cup boiling water

2 teaspoons

salt

2

lemons, juice only

1 cup

vinegar (apple vinegar, white vinegar)
Instructions
Prepare the beets. Place the beets in a pan and fill it with water. Bring it to a boil. Reduce the heat and let it simmer until the beets are tender, for about 30 minutes. Fill a large bowl with cold water. Transfer the beets into it. Let them cool.

Peel the beets and cut them in thick slices. Place them in a jar (1 liter glass jar). 

Put fresh dill and garlic on the top. 

In a large bowl, combine boiling water and salt. Make sure that the salt dissolves well. Add in lemon juice and vinegar. Mix well.

Pour the brine over the beets. Seal it and let it cool completely. 

Put it in the refrigerator when it is completely cool.

You can serve them after 24 hours. 

Store the remaining pickled beets in the refrigerator for up to 4-6 weeks unopened and 2-3 weeks when opened.
Notes
You can use roasted, steamed or canned beets for this recipe.

Make sure to cover all beet slices with the brine.

We don't use sugar in this pickling marinade as we find the sweetness of beets is enough. But if you want a little more sweetness, then add 1 tablespoon of sugar in the brine. You can add it into boiling water along with salt.

Although you can immediately eat them after they are completely cool, we recommend eating them at least after 24 hours. 

Use a clean fork each time to get beet pickles from the jar. Don't use the same fork that you use to taste the pickle. This will cause bacteria and shorten the length of the storage.
Nutrition
Serving Size:
Calories:

77

Sugar:

8.9 g

Sodium:

1234.7 mg

Fat:

0.4 g

Carbohydrates:

17.3 g

Protein:

1.8 g

Cholesterol:

0 mg
Keywords: quick pickled beets, refrigerator beet pickles