Homemade Turkish Meatballs known as kofte are the best things to happen on your dinner table. These are spicy, tender and perfectly juicy. It's not a secret any more to make meatballs at home that are much tastier than store-bought ones.
Turkish meatballs turn a dinner table into an authentic feast when served with sumac onions, Turkish bean salad called piyaz and Turkish cold cucumber dip aka cacik. They are easy to make and make a perfect family dinner. That's why this is one of our most popular Turkish food recipes.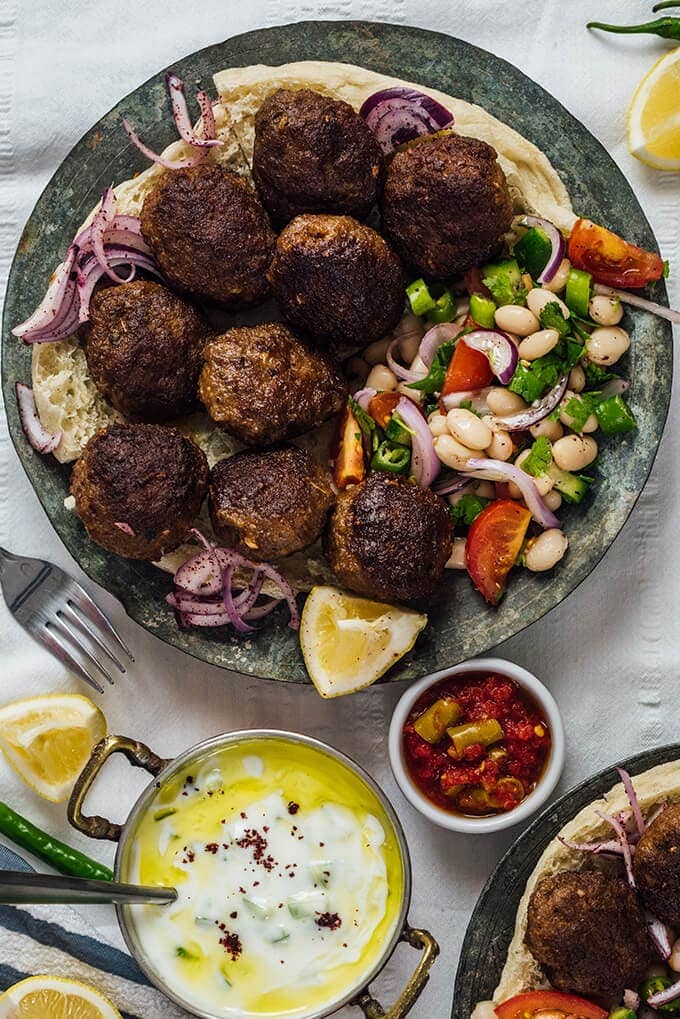 We learnt how to make such scrumptious meatballs from a small meatball restaurant (Small ones are always better than the big ones at making meatballs). One day, we just couldn't wait any longer to ask for their kofte recipe when we were enjoying Turkish baklava as an after dinner treat. The chef was so kind. He said "I'll give my recipe provided that you won't tell it to other chefs." And added "You're not planning to open a köfte restaurant here, are you?"
Jump to:
What Is Kofta or Kofte?
Kofte is the term used in Turkish cuisine for meatballs. It is a ball shaped ground beef dish. In a basic kofte recipe, ground beef, lamb or a combination of these two is combined with bread crumbs, onion, garlic and spices. Then shaped in balls and cooked over grill, stove or in oven. There are zillions of varieties in the country, one of which is spicy kofta kebab.
And we are sharing the most common kofta recipe here. You can serve these either on a plate with some pita on the side or in a sandwich bread or in a wrap using lavash or flour tortilla.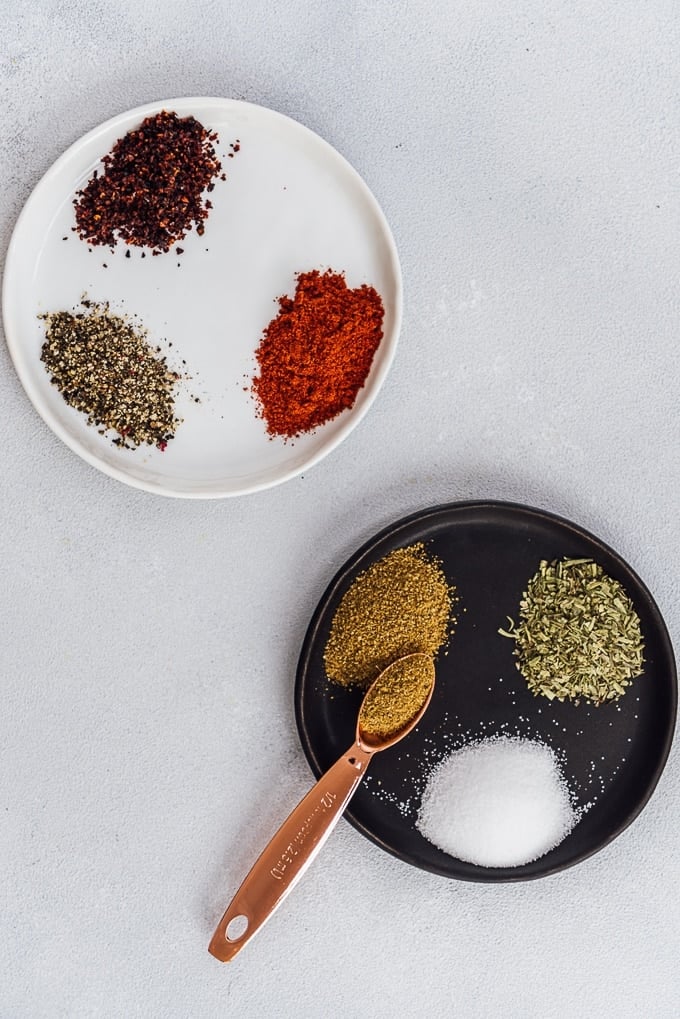 Turkish Kofta Spice Mix
Although what spices to add in a kofta mixture is up to your taste, the best Turkish kofte has the following spices: salt, cumin, black pepper and dried thyme. In addition to these, some kofta recipes include a few more spices such as chili powder, red pepper flakes, Urfa Biber or Aleppo pepper. These are basic spices we use when making Turkish kofta, but you can get creative and add your favorite spices as well. We sometimes add a pinch of cinnamon or curry powder when we need a change, but these are not included in an authentic Turkish kofta recipe.
Turkish Kofte Recipe Ingredients
We mostly make it with ground beef, that is 80% lean. If you like the flavor of lamb, you can use a combination of lamb and beef. It will become even moister that way.
Besides ground beef, we use kofte spice mix, onions (finely chopped or pureed), garlic and bread crumbs. You can substitute 2 slices of bread (crumbled) for bread crumbs. Mom adds finely chopped parsley in the mixture and we love it too. It makes a wonderful twist on classic meatballs.
Key Ingredients For The Fluffiest Turkish Kofte
Besides the ingredients above, there are three ingredients that will help you have fluffy meatballs. These are: baking soda, lemon juice and water. Mix these in a small bowl and pour in the ground beef mixture. Combine them all and let the mixture sit in the refrigerator at least 2-3 hours for the best result.
How To Make Kofte Recipe
This is the best kofte recipe we've ever made. If we can make it, you can too. It has five easy parts:
First, in a large bowl, combine ground beef, bread crumbs, onion and garlic.
Add in spices.
Second, in a small bowl mix baking soda lemon juice and water. Pour it in the ground beef mixture.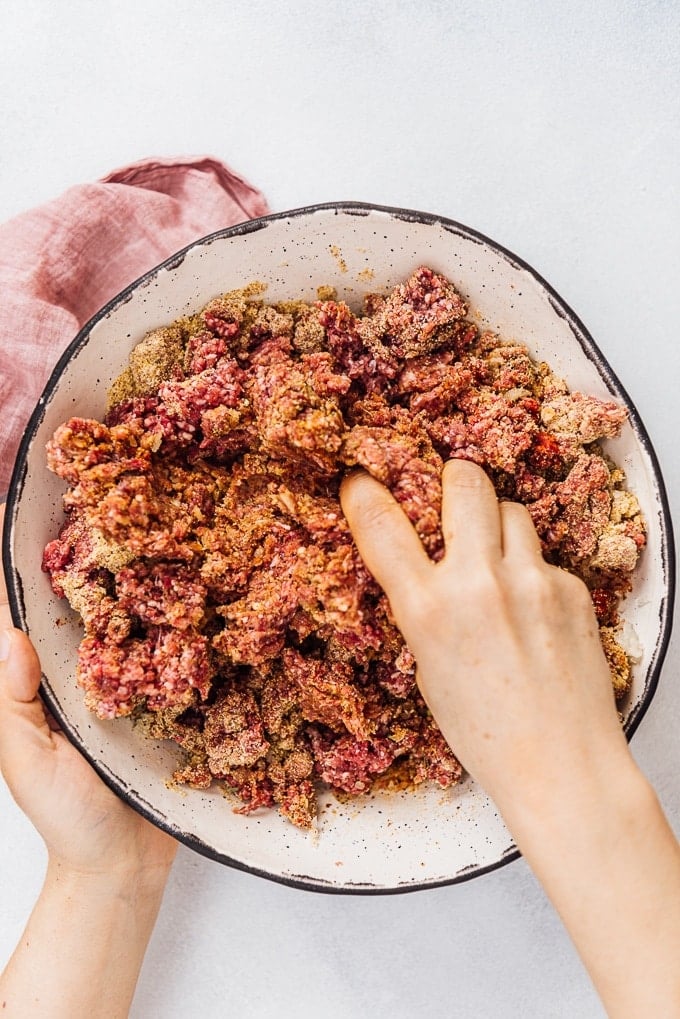 Third, using your hand, mix everything well. Knead it for about a minute and chill in the refrigerator covered for 2-3 hours.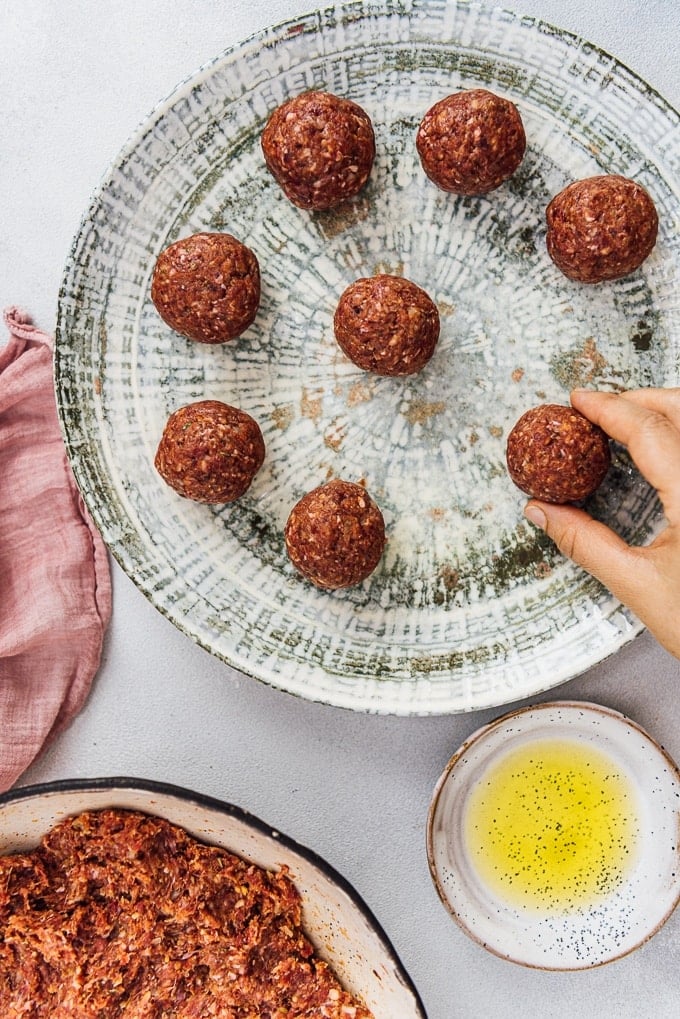 Fourth, roll the mixture into balls. Brush a large plate with a little olive oil and place each meatball on it. Olive oil will prevent them from sticking on the plate.
Fifth, cook the meatballs in a cast iron pan in batches. Heat a little oil in the pan and place the meatballs in it. Cook them over high heat first for about 30 seconds, flipping them over. Then bring the heat to the lowest and keep cooking until done, shaking the pan occasionally.
Tips On Turkish Meatballs
It is simple and easy to make these at home but has some secrets. You feel that there is always something missing in your homemade koftes. When you make Turkish meatballs from scratch, you need to know some tips to make them as tasty and juicy as the ones you eat out.
What makes Turkish meatballs that tasty is the type of meat used. You need to buy the right ground beef for flavorsome meatballs. Forget about lean ground beef and ask for 20% fat, which means 80% lean. You need fat to keep your meatballs moist on the inside.
Another thing when buying ground beef is asking for freshly ground. Don't buy packaged ground beef, you can never be sure the type of beef inside those packages.Also, it's not good when it sits for a long time. Finally, have it double ground.
The key ingredient for oh-so-good meatballs is baking soda. It helps them have that tenderness.
You need to prepare the meatball mixture and let it rest in the refrigerator for 2-3 hours. Overnight is the best.
You should dice the onions super finely or puree it.
If you are at home and don't have a grill or barbecue, the best way to cook Turkish meatballs is in a cast iron pan.
Start cooking them on the highest heat, flipping them over so that all sides equally change the color, for 2 minutes. Then bring it to the lowest heat and continue cooking until done, for about 10 minutes.
What To Serve With
Meatballs are probably the best Turkish fast food you can either eat out or make at home. You can find its several varieties in each city around the country. Turkish meatballs are grilled and served with a traditional coban salad and pilaf with bulgur and lentils on the side.
Turkish cacik (Greek tzatziki) gives a nice refreshment when served with meatballs. Other sides to serve with meatballs are herbs, pickles, hot tomato sauce, roasted onions or fried oyster mushrooms, garlic or peppers. These are accompanied by yogurt drink ayran, which is a cold drink that goes well with any meat dish.
If your family already loves pasta and meatballs together, serve these with Fettuccine In Easy Creamy Tomato Sauce.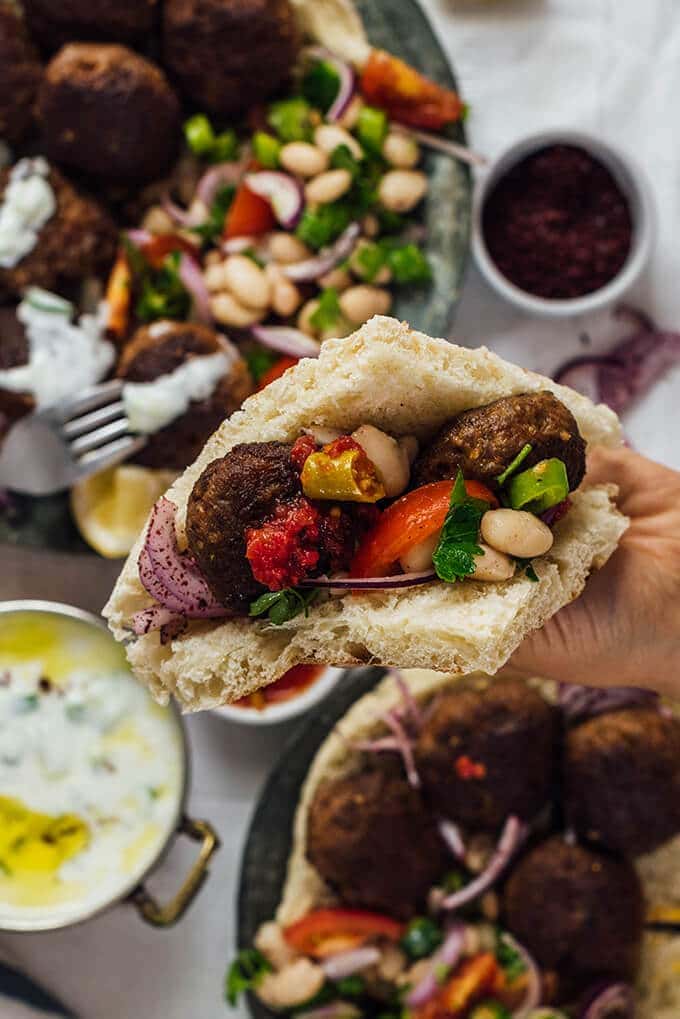 Can Kofte Be Frozen?
Moms in Turkey have always meatballs in the freezer and these are their number one option whenever they feel stuck to decide what to cook for dinner. It's for sure that their family will devour it. They can cook these kofte meatballs in several different ways: Simply fry them, grill on an iron pan, cook meatball stew with vegetables and tomato sauce made from tomato paste or make a Middle Eastern eggplant kebab in oven.
How to Freeze
Form the ground beef mixture into patties. Lay them over a large plate in a single layer. Let them sit in the freezer for 15-20 minutes. Remove from the freezer and put them in freezer bags. They don't stick to one another this way.
You can take the meatballs straight from the freezer and cook. No need for defrosting. You can imagine how time and life saving it is when you have starving people running around you on a busy weekday.
You won't want to buy meatballs from stores anymore once you try this recipe. I highly recommend you to make a big batch of these kofte patties and freeze them for busy weeknight dinners. Sometimes I form the patties larger, just as big as burgers and turn my Turkish meatballs into amazing hamburgers.
More Meatball Recipes
Other Turkish Recipes
As always: If you make this recipe, let us know what you think by rating it and leaving a comment below. And post a pic on Instagram too—tag @give_recipe so we can see!
Sign up for the FREE GiveRecipe Newsletter to get the new recipes into your inbox! And stay in touch with us on Facebook, Pinterest, YouTube and Instagram for all the latest updates.
Print
📖 Recipe
Homemade Turkish Meatballs Kofte Recipe
Spicy and juicy Turkish meatballs from scratch. You can use the same recipe to make hamburgers.
Author: Zerrin & Yusuf
Prep Time:

8 hours

Cook Time:

20 minutes

Total Time:

8 hours 20 minutes

Yield:

50

meatballs

1

x
Category:

Dinner

Method:

Cooking

Cuisine:

Turkish
2

pounds ground beef, 80% lean

½ cup

breadcrumbs

2

onions, finely chopped or pureed

4

cloves garlic, mashed (optional)

1

and ½ teaspoon salt

1 teaspoon

black pepper

1 teaspoon

cumin

1 teaspoon

red pepper flakes or Aleppo pepper, optional

1 teaspoon

dried thyme

1 teaspoon

chili powder, optional

¼ cup

water

1 teaspoon

baking soda

1 teaspoon

lemon juice
Instructions
In a large bowl, combine ground beef, breadcrumbs, finely diced onion and mashed garlic.
Add in the spices.
In a small bowl, mix baking soda, water and lemon juice. Pour this into the ground beef mixture. Mix well with your hand. Knead it for about a minute so that everything is combined well.
Cover and let it sit in the refrigerator overnight or at least 2-3 hours.
Roll them into meatballs.
Heat olive oil in a cast iron pan or any non-stick pan. Cook the meatballs over high heat, flipping them over or shaking the pan occasionally so that all sides are cooked for about 3 minutes. Don't overcrowd the pan, cook the meatballs in batches until they finish or save some to freeze.
Notes
If you can't find 80% lean beef, use a mixture of lamb and beef (50% lamb, 50% beef).
Prep time includes waiting the meatballs in the refrigerator.
Nutrition
Serving Size:

6 meatballs

Calories:

332

Sugar:

2.1 g

Sodium:

865.2 mg

Fat:

23.1 g

Carbohydrates:

9.1 g

Protein:

20.8 g

Cholesterol:

80.2 mg
Keywords: kofte recipe, turkish meatballs, kofta recipe