Many people find mushroom a bit tasteless because of its spongy texture. You know it's not juicy and doesn't have an outstanding flavor and you need to improve its taste with some additions. Oyster mushroom is definitely not that kind. It is not juicy just like regular mushrooms, but the flavor is irresistible! Oyster mushroom has several other names such as Indian oyster, phoenix muhroom, lung oyster and its Latin name is pleurotus pulmonarius.
I discovered oyster mushroom a few years ago at our local bazaar. They were like flowers with their layers, so easily got my attention. The seller was yelling "protein is here, protein is here!", so I was tempted by these cute mushrooms. The seller gave me the recipe too! "Melt little butter, fry mushrooms, sprinkle a pinch of salt. Enjoy!" he said. So easy, isn't it? I followed his instructions for my first dish with oyster mushrooms, and we loved it! Its smell was so tempting even when cooking. I have tried several versions since then. It really doesn't need any additional flavors, but I love to have changes on dishes, so this time I used a clove of garlic when frying and to give it some color, I added green onions.
Oyster mushroom has a very short season here, if it's the same in your area, don't miss it! You can serve it as a side dish with a vegetable dish. Stalk of this mushroom is tough even when cooked, so you can prefer cutting them out. I love their design, so I prefer leaving a bit of stalk to give it a whole shape.
Fried Oyster Mushroom
Prep Time:

5 minutes

Cook Time:

10 minutes

Total Time:

15 minutes

Yield:

2
Ingredients
100g oyster mushroom, layers divided
1 tbsp butter
1 clove garlic, mashed
2 green onions, chopped
Salt to taste
A few black peppercorns
Instructions
Melt butter in a non stick pan.
Add mashed garlic and saute it for a minute.
Then toss in oyster mushrooms. Cover it and cook for a few minutes.
Add chopped green onions, salt and peppercorns, stir.
Cook them until mushrooms get golden.
Serve hot.
Here is another version. I just fried mushrooms in butter, sprinkled salt and topped them with shaved kasar cheese when they are still hot.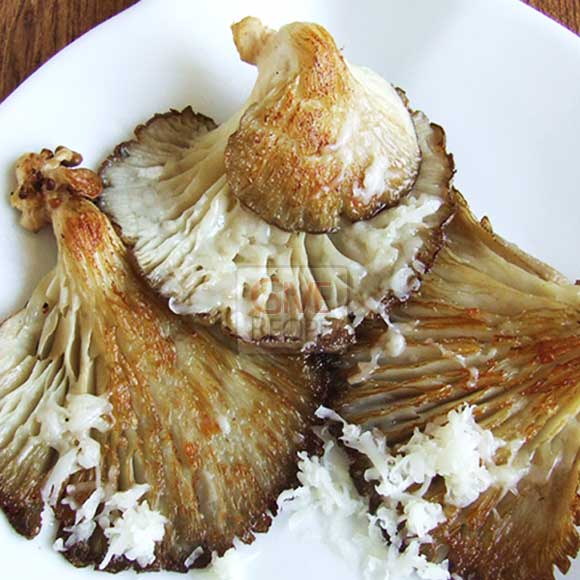 We love any version of oyster mushroom, so it's up to you to creat something new with it or have it plain.
IF YOU LIKED THIS RECIPE, THEN YOU WILL LOVE THESE: