Fried Oyster Mushrooms make a surprisingly tasty side dish or snack. Flavored with butter, salt and black pepper, these are ADDICTIVE! Use them in sandwiches, pasta, rice or eat as they are pairing with cold beer.
This post was originally published in 2011 and we are updating it today with additional information and new pictures.
Have you ever tasted fried oyster mushrooms? You will be addicted once you try. They are tender with a hearty and meaty flavor, so a great appetizer option for meat lovers or for those who are not into roasted asparagus with mozzarella or buffalo wings. They disappear so fast and one bowl is never enough.
You don't need any frying batter because the mushrooms aren't deep-fried in this recipe, which makes it much easier. Yummy, simple and easy. What else would you need for a perfect snack?
Many people find mushroom a bit tasteless because of its texture. You know it's not juicy and doesn't have an outstanding flavor when raw. Oyster mushroom is definitely not that kind. It is not juicy just like regular mushrooms, but the flavor is irresistible! Oyster mushroom has several other names such as Indian oyster, phoenix muhroom, lung oyster and its Latin name is pleurotus pulmonarius.
What Are Oyster Mushrooms
Oyster mushrooms are common edible mushrooms. Unlike the name suggests, these mushrooms are found on land. Their shape looks like an oyster, that's why they are called oyster mushrooms.  They can be green, pink or yellow. They are easy to grow, so you can find them almost everywhere in the world. You need to check some particular trees like oak, maple, elm also known as hardwoods. They have a great meaty flavor and go well in sandwiches, stews, pastas and soups. Also, they make a wonderful alternative to nachos on a game day or movie night. The best time for oyster mushrooms is anytime from spring to fall.
I discovered oyster mushrooms a few years ago at our local bazaar. They were like flowers with their layers, so easily got my attention. I was tempted by these cute mushrooms. The seller gave me the recipe too! "Melt a little butter, fry the mushrooms and sprinkle a pinch of salt. Enjoy!" he said. Sounds easy, doesn't it? I followed his instructions for my first dish with oyster mushrooms, and we loved it! Its smell was so tempting even when cooking.
How to Make Fried Oyster Mushrooms
I have tried several versions since then. It really doesn't need any additional flavors, but I love to make changes on recipes, so this time I used a clove of garlic when frying and to give it some color, I added green onions.
Melt butter in a skillet. Cut the oyster mushrooms in bite size and place them in the skillet in a single layer. Add in garlic cloves with their skin on and chopped green onions. Turn the mushrooms over when their bottom is golden and season with salt and black pepper. Shake the skillet often and reduce the heat when it is needed until golden. Transfer them in a bowl and repeat the same steps for the remaining mushrooms.
Fried Oyster Mushrooms Vegan
You can easily adjust this recipe to make it vegan. I love the combination of butter and mushroom flavors, so I make it with butter. However, olive oil works fine too. heat 2 tablespoons olive oil and fry the mushrooms in batches. Add extra olive oil when needed.
Or go make our Sauteed Oyster Mushroom Recipe. Completely vegan and as delicious as the fried version.
Can I Use King Oyster Mushroom For This Recipe?
Yes, you can. King oyster mushroom is the largest species of oyster mushrooms, so you will probably need to fry them longer. Just check whether they are tender enough before removing them all from heat. You don't need to cut the stems of these mushrooms, just trimming off the very end of their stem is enough. The best thing about king oyster mushroom is that they don't lose their shape when cooked, so they have a nice and tempting look.
Oyster Mushroom Benefits
Oyster mushrooms are one of those low-calorie foods with high nutrients. They are known as natural antioxidants, so good for body cells. Plus, these mushrooms have cholesterol lowering effect. Grilling them is a great idea if you want to avoid frying for health issues. They are as tasty when grilled.
Here is another version of the recipe. We just fried mushrooms in butter, sprinkled salt and topped them with shaved cheese when they were still hot. We love any version of oyster mushrooms, so it's up to you to create something new with it or have it plain.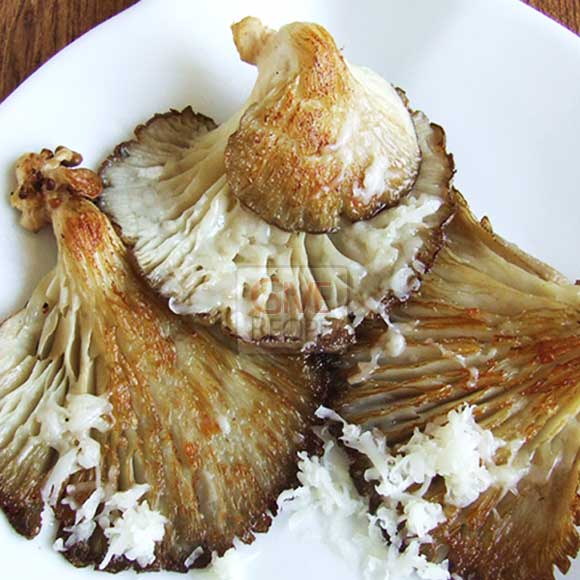 If you like this recipe, please leave a rating and share it with your friends!
Print
Fried Oyster Mushrooms
Oyster mushrooms fried with butter in a skillet. Simple and easy yet so tasty!
Author:
Prep Time:

5 minutes

Cook Time:

10 minutes

Total Time:

15 minutes

Yield:

4

1

x
Category:

Appetizer

Method:

Stir-Fry

Cuisine:

Turkish
Scale
Ingredients
12 ounce

s oyster mushrooms, layers divided or cut into large pieces

2 tablespoon

s butter

4

cloves garlic, unpeeled

2

green onions, chopped
Salt to taste
A pinch of black pepper
Instructions
Melt 1 tablespoon butter in a non stick skillet.
Add in garlic and place the mushrooms in a single layer.
Cook until their bottom is golden, for 2-3 minutes. Turn them over so that both sides get golden.
Add in chopped green onions, salt and black pepper.
Cook until tender and transfer them in a bowl.
Repeat the same steps for the remaining mushrooms.
Serve when they are still hot.
Nutrition
Calories:

204

Sugar:

5.1g

Sodium:

663.1mg

Fat:

7.6g

Carbohydrates:

28.6g

Protein:

15g

Cholesterol:

15.3mg
IF YOU LIKED THIS RECIPE, THEN YOU WILL LOVE THESE: