King oyster mushrooms, also known as king trumpet mushrooms, are incredibly versatile ingredients that make the perfect meaty substitute in virtually any dish! Let's learn all about these fungi and exactly how to prepare and cook them best!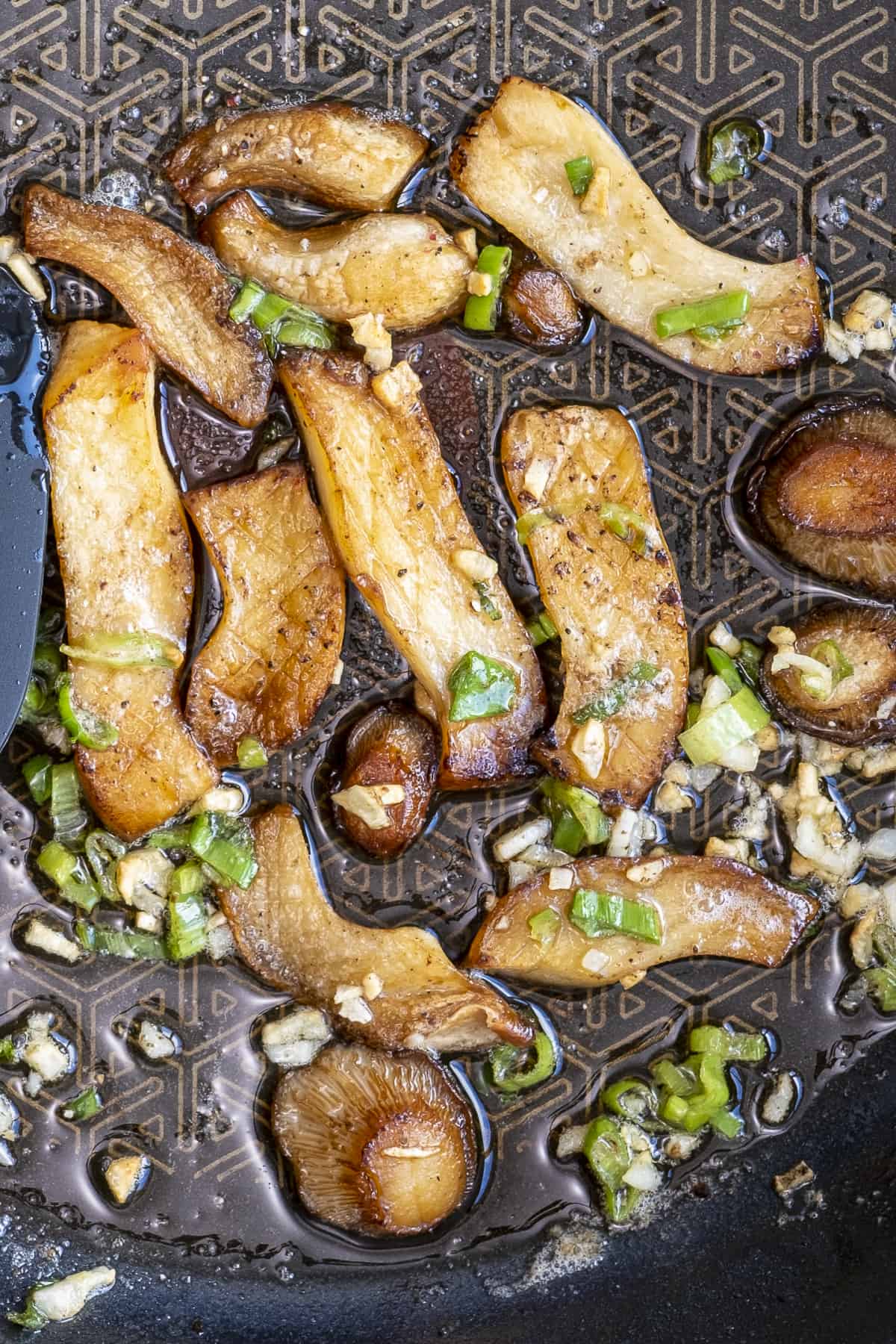 King oyster mushrooms or royal trumpet mushrooms are only one variety in the world-famous oyster mushrooms family. But, it is by far the largest and most flavorful of them all! We will look at exactly how you can find these mushrooms, how to prepare and store them, and finally, how to cook them with only a few basic flavorful ingredients.
Jump to:
What Are King Oyster Mushrooms?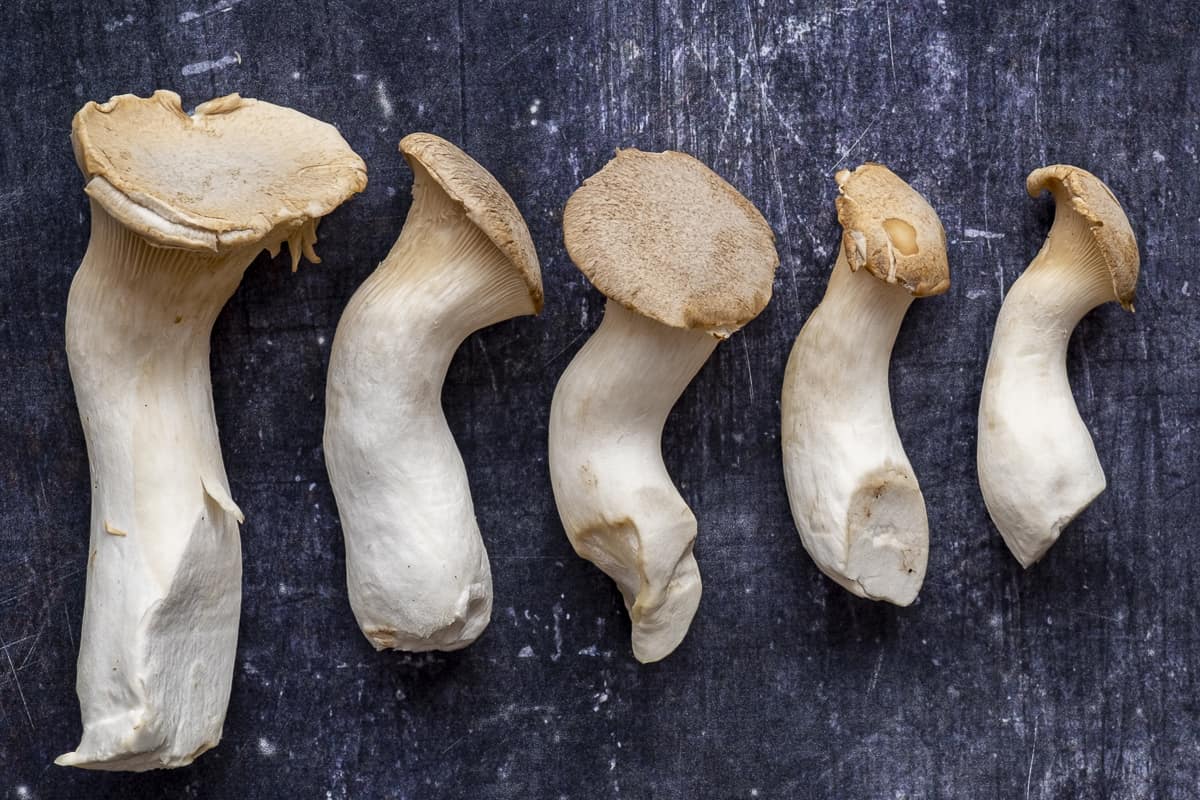 These mushrooms go by many names eryngii mushrooms, king trumpet mushrooms, French horn mushrooms, and royal trumpet mushrooms. Which name is used depends on the region you are in.
King oyster mushrooms are incredibly popular around the world, especially in the Mediterranean regions of Europe, the Middle East, and North Africa. It is also extremely popular in Asian cuisines, especially Korean and Chinese.
They don't look like any of their relatives in the oyster mushroom family. Unlike the other varieties, which are in clusters, king oyster mushrooms grow individually. These mushrooms are often very large but you might see baby king oyster mushrooms too. They have very thick stems with a small cap on top. These stems are very flavorful with a meaty texture and give some bulk to any dish.
King oyster mushrooms usually have white stems with brown or tan caps. The top of the caps are smooth, however, the bottom is packed with thin tiny gills.
Why Are They Expensive?
In general, all kinds of oyster mushrooms are expensive. This is because they require a lot of maintenance and care when grown indoors. It is also very hard to get these mushrooms to grow to precise sizes and shapes (which the public deems desirable). This means that the outcome of their growth is fairly unpredictable.
Furthermore, finding them in the wild isn't as easy as compared to other varieties. Not to mention it is a lot more laborsome, which usually costs money.
King mushrooms are the most expensive variety in the oyster mushroom family. This is because they grow individually, unlike their siblings that grow in clusters.
How Do They Taste?
These mushrooms have a very unique flavor profile. They are incredibly meaty in flavor. Many people describe them as having an extremely savory and umami flavor as compared to their siblings.
We would describe them as also having some woody and earthy notes hint of nuttiness. We have also noticed some having a seafood-like flavor.
They also have a very tough and chewy texture because of their thick dense stems. This texture closely resembles that of calamari, scallops or abalone.
A question we also get often is whether or not king oyster mushrooms taste like chicken. We would say it mostly depends on how you cook them. For example, if you are giving them a crunchy coating like you do for chicken fries, they will taste more like chicken.
We've made crispy fired oyster mushrooms and they really taste like chicken. So we think you can create a fried trumpet mushroom recipe in the same way. That being said, just pan-frying them, while still being meaty and delicious, chicken isn't the first thing that comes to mind.
How To Prepare Trumpet Mushrooms
They are very easy to prepare thanks to their shape! First, you have to clean them to remove any dirt. You can just brush them gently or wipe them with a damp kitchen towel.
Then, you can slice the mushrooms lengthwise. Optionally, you can cut the brown caps first and then slice the stem. We like to divide them in two, but for giant oyster mushrooms, you can slice them three times. For baby king oyster mushrooms you don't have to slice them at all or just cut them into two as well.
Best Ways of Cooking Them
Cooking king oyster mushrooms is very easy, and there are loads of ways you can do this. They can often be used in recipes with pearl oyster mushrooms. You can slice the thick stems into rounds or slices, score them, and sear them in a hot pan, use in a stir fry recipe or roast them in the oven. This helps prevent their texture from becoming rubbery and allows their flavor to be released.
You can also make king oyster mushroom skewers and serve them as a side dish. Thread the slices individually or with accompanying vegetables. Brush the skewers with a basting sauce or simple garlic butter. You can even use the simple marinade we use when grilling oyster mushrooms.
Another thing we love about these mushrooms is that they can be shredded with a fork. This will allow you to make vegan pulled pork, shredded sandwiches, vegan scallops or incorporate it into rice, pasta dishes and soups.
But, instead of making a shredded mushroom item, you can finely chop the stems and make a meatloaf or meatballs. There is no end to what you can do with these meaty and versatile fungi.
How To Cook Them Easily
If you know how to cook oyster mushrooms in a pan, you already know the method.
Our king oyster mushroom recipe is incredibly quick and easy to make. And, it helps enhance the natural flavors of the mushrooms. They also make an excellent meat substitute for vegans and vegetarians.
To make this recipe, the ingredients we need are: King oyster mushrooms, olive oil, butter, garlic, green onions, salt and pepper. You can add some soy sauce too, but we love them without.
Now let's move onto the instructions:
Prepare the king oyster mushrooms. Clean the mushrooms with a brush or kitchen towel and slice them.
Cook the mushrooms. Heat the oil and butter in a pan over high heat. Once the butter has been melted, add the mushroom slices in a single layer and reduce the heat to medium-high heat. Then, cook the slices for about 3 minutes per side or until they are golden.
Add the remaining ingredients. Once the mushrooms have been cooked, add the chopped garlic cloves, green onions, salt, and black pepper. Baste the mushrooms with the flavored sauce and cook them for another minute. Serve them immediately while they are still hot and fresh.
Where to Buy Them
These mushrooms are pretty much available year-round and can easily be found in your local grocery store or at a farmers' market. You can also look at a Whole Foods or Asian grocery shop.
However, there are also a ton of online mushroom shops from which you can order specific mushrooms and quantities. They will deliver fresh king oyster mushrooms within a few days.
Storage
The best way to store these mushrooms is by placing them in a paper bag. Make sure the bag isn't tightly closed so that the mushrooms can still breathe. Remember, they're alive, so airtight containers will suffocate them.
Furthermore, plastic bags can cause them to sweat and become mushy. Mushrooms are very sensitive to moisture, so unless you are planning on using them within a day or two, rather opt for the paper bag.
How To Grow Them At Home
Growing mushrooms is easy and difficult at the same time. You have to do a lot of research before just diving in. Usually, a growing kit is the easiest way to start your journey. These kits include specific instructions for that kit, so it is best to follow the instructions on the package given.
There are 3 stages to growing mushrooms. First, you have to prepare the growing area. Then, you have to fruit the mushrooms for about 3-6 weeks. This is how the mushroom seeds start to grow. This stage itself contains several steps at different times.
Finally, you can harvest the mushrooms after about 8 weeks. You can have a look at this comprehensive guide which will help you grow mushrooms from king oyster mushroom spawns.
FAQs
Can you eat them raw?
You can, but they don't have a very appealing texture and are pretty much flavorless. Cooking them releases their flavor and softens up their texture.
How can I understand if they go bad?
When they develop a wet and slimy texture, they have gone bad. If they also darken in color, it is another sign that they are starting to go off. These should be discarded immediately.
Can you freeze them?
Do not freeze any type of mushrooms. They have a very porous and fragile texture. So, if they become wet when they defrost (which is unavoidable) they will become mushy and bland.
What part of king mushrooms do you eat?
You can eat the whole thing. Unlike other types of oyster mushrooms, the stems of king oyster mushrooms are not rubbery.
As always: If you make this recipe, let us know what you think by rating it and leaving a comment below. And post a pic on Instagram too—tag @give_recipe so we can see!
Sign up for the FREE GiveRecipe Newsletter to get the new recipes into your inbox! And stay in touch with us on Facebook, Pinterest, YouTube and Instagram for all the latest updates.
Print
📖 Recipe
King Oyster Mushroom Recipe (Trumpet Mushrooms)
King oyster mushrooms are simply fried in a pan with oil and butter and flavored with garlic and green onions. This is the easiest and quickest way of cooking these mushrooms. 
Author: Zerrin & Yusuf
Prep Time:

5 minutes

Cook Time:

6 minutes

Total Time:

11 minutes

Yield:

2

Category:

Lunch

Method:

Pan-frying

Cuisine:

American

Diet:

Vegetarian
6-8 baby king oyster mushrooms (or 2 giant king oyster mushrooms)

1 tablespoon olive oil (or sesame oil)

1 tablespoon butter

1 clove garlic, minced

1 green onion, chopped

A pinch of salt

A pinch of black pepper
Instructions
Slice the mushrooms into two (or more if they are giant) in lengthways.

Heat a pan over high heat. Add in oil and butter.

When the butter melts, place the mushroom slices in the pan and bring the heat down to medium-high.

Cook them for about 3 minutes per side (depending on their size) or until golden. 

Add in garlic and green onions. Sprinkle salt and pepper.

Baste with the butter and cook for another minute.

Serve hot.
Notes
If you want, you can score a crisscross pattern into the cut sides.
King oyster mushrooms cook really fast, so keep an eye on them. Check whether they are golden after 3 minutes and then turn them over if they are. 
Cook them right before serving. 
If you want to cook them ahead, do so. You can easily reheat them in a pan on high heat.
Nutrition
Serving Size:
Calories:

166

Sugar:

1.8 g

Sodium:

1191.1 mg

Fat:

13.4 g

Carbohydrates:

10.4 g

Fiber:

3.8 g

Protein:

5.2 g

Cholesterol:

15.3 mg
Keywords: how to cook king oyster mushrooms, fried king oyster mushrooms