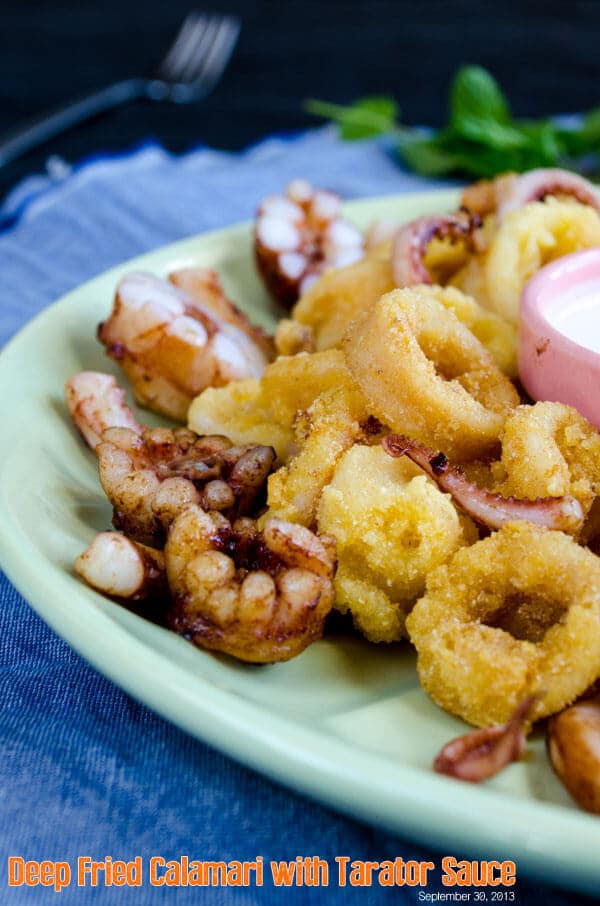 Deep Fried Calamari or squid always reminds me of wonderful vacations we had since it's one of the most loved seafoods at pubs and restaurants in the coastal towns of Turkey. We have it as an appetizer right before dinner almost every night when we are on holiday. I don't know how calamari is cooked and served in other cuisines, but deep frying is the common method in Turkish cuisine. It is always served with a tarator sauce and I must warn you that these two are so addictive!
Deep fried calamari may not be considered as a Fall recipe, I don't even know if it has a special season, but we've seen fresh calamari at the market these days, so why not enjoy it with a glass of cold beer and have a night with summer memories? Well, maybe not me since I'm still breastfeeding Gokturk and not drinking, but Yusuf enjoyed it that way.
It's so easy to make this calamari with crispy outside and juicy inside. You need 4 main ingredients to hve the same result. Baking soda and milk to marinate calamari and corn flour to coat them before frying. We didn't want to lose the lovely pinkish color of tentacles, so we didn't coat them with corn flour. We left the tentacles whole and fried them with little oil in a non stick pan.
Tarator Sauce is like a must when eating deep fried calamari. This appetizing sauce makes this amazingly tasty seafood even more scrumptious and irresistible! Tarator sauce is mostly served with deep fried calamari or deep fried mussels in fish restaurants. Who doesn't love dipping foods into a delectable sauce? Tarator sauce is a mixture of strained yogurt, breadcrumbs, garlic and walnuts. You can have it with any fried food, I'm sure you will want to double your portion with tarator!
I've always had calamari this way, but I'm very much intrigued by Leela's Stuffed Calamari with Crispy Garlic and will definitely try it too!
Deep Fried Calamari with Tarator Sauce
Calamari marinated in milk and baking soda mixture, coated with corn flour and fried. Serve it with tarator, a tasty yogurt dip.
Prep Time:

2 hours 20 minutes

Cook Time:

15 minutes

Total Time:

2 hours 35 minutes

Yield:

2

1

x
Scale
Ingredients
fried calamari:

500g

calamari, cleaned

1 tbsp

baking soda

1 cup

milk

1 cup

corn flour

1 tsp

salt

1 ½ cup

corn oil
tarator sauce:

2 tbsp

breadcrumbs

3 tbsp

strained yogurt

2

cloves garlic, mashed

2 tbsp

ground walnut

1 tsp

olive oil
Instructions
Slice calamari into rings, put them in a bowl.
Sprinkle baking soda over them and rub with your hand.
Pour milk into the bowl and wait it in refrigerator for 2 hours.
Heat oil in a deep pot.
Mix corn flour and salt in a bowl.
Coat calamari rings with corn flour mixture and leave them in very hot oil.
Let them fry for 5 minutes and transfer on a paper towel.
Mix all ingredients of tarator sauce and serve deep fried calamari hot with tarator sauce.
IF YOU LIKED THIS RECIPE, YOU WILL LOVE THESE TOO: