This whole baked sea bass recipe is very quick and easy to make! It is packed with simple Mediterranean flavors like lemon, olive oil, garlic and herbs. It's light, healthy and perfect for any lunch or dinner paired with delicious salads and breads.
If you make this recipe, go check out our favorite side dishes for fish too!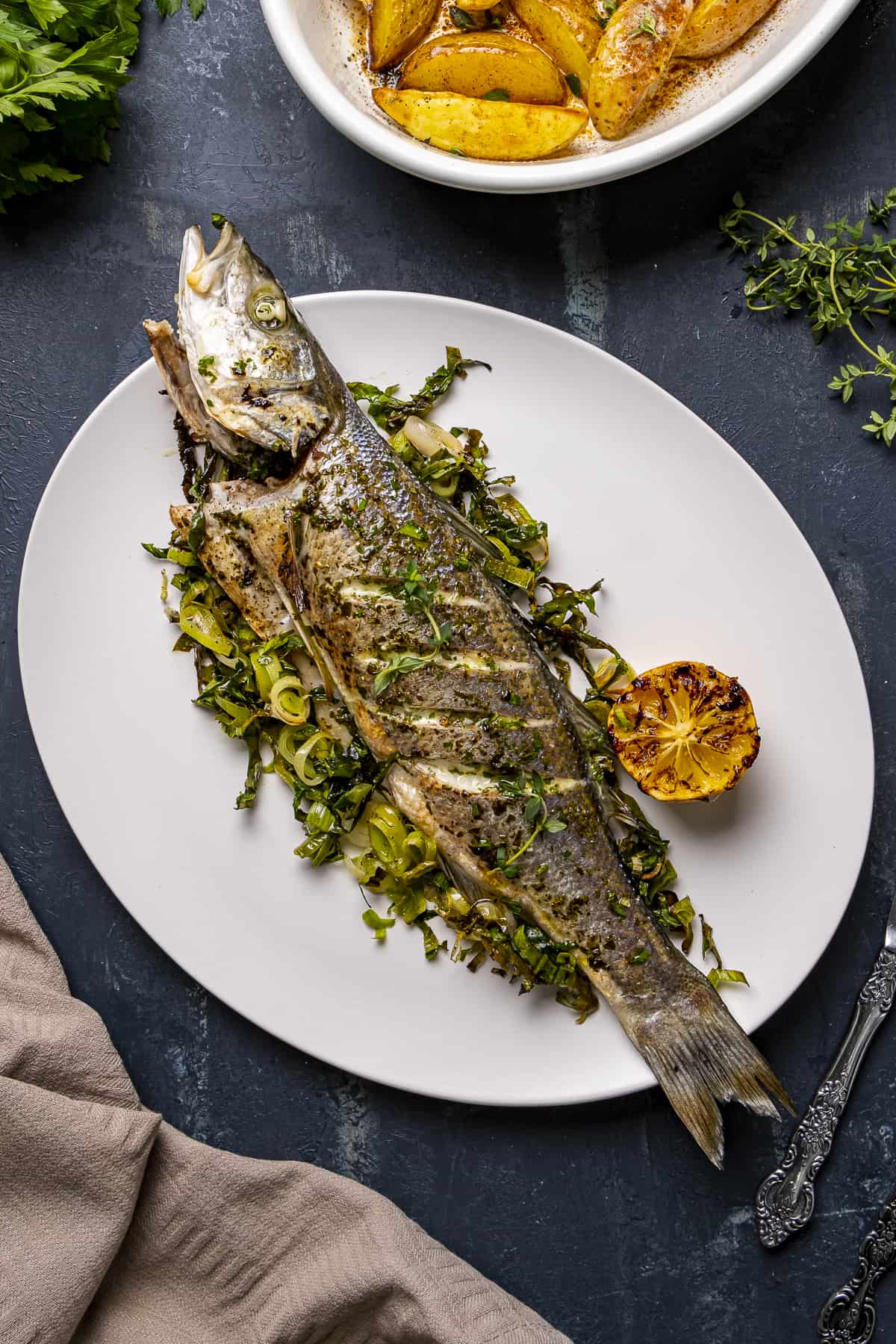 We prepare fresh whole sea bass fish, coat with a parsley and lemon sauce and then roast them in the oven with some leeks and chard leaves. So this is one of those recipes where you cook the main dish and side dish at the same time.
If you are a fan of seafood like us, you might want to see our fried fresh anchovy recipe and fried calamari rings too.
Whole baked fish is a lazy day dinner for us. We sometimes bake it with vegetables, sometimes on its own but we always use that lemon and parsley sauce to spread all over the fish.
Jump to:
Why should you make this recipe?
This easy whole sea bass recipe will become a favorite dinner of yours. Here is why:
It requires very little work. Ready to be baked in 7-10 minutes.
It is a foolproof whole fish recipe. The fish always comes out tender and moist.
It is light and healthy yet super tasty.
It is a full meal when you bake some vegetables with the fish.
It makes a festive dinner for special occasions. A good alternative to chicken or meat.
Ingredients and Substitutions
We can put the ingredients into 3 parts.
Fish: For this sea bass recipe baked in an oven, you can use any type of white fish that you'd like. This can include sea bream or tilapia. Make sure that they are fresh. And, because we use a simple flavor profile, all fish will work great with this recipe.You can also use store-bought fillets but the roasting duration will be much shorter.
Sauce: We make a simple sauce with parsley, garlic, lemon juice and olive oil to spread all over the fish. You can substitute parsley with another herb you like. Fresh dill, basil or thyme would work fine too.
Vegetables: We only use leeks and chopped chard. They add a delicious savory, yet refreshing flavor to the fish. If you want to make a more complex dish, you can also add some other vegetables like potatoes, tomatoes, peppers and onions.
And, for additional aromatics, you can add garlic or fennel. Both of these pair well with most fish and add a ton of flavor. These additional healthy veggies can be served with fish on the same plate as a side dish.
Tips for Buying Fresh Fish
It is so important to use fresh fish when you bake whole fish in the oven. Here are the tips to buy fresh fish from a fish market:
Fresh fish shouldn't smell too fishy. If it does, it has already started to go off! You should feel the smell of the sea in a pleasant way when you sniff it.
It should have clear, vibrant eyes that aren't milky or "popped".
The gills should be pink or red.
Fresh fish shouldn't be slimy at all. The skin should be shiny, moist, and firm. When you press on the skin, it should bounce back.
How to Prepare Whole Fish
Your fish should be gutted and scaled. Fish markets often do this for you. However, if somehow you can't have this done, you can learn how to clean a fish and do it yourself. Do this in a sink to reduce the mess. Then wash the scaled and gutted fish under cold water.
Pat the fish dry with paper towels and continue the cooking process.
Slice 3 to 4 diagonal slits on each side of the fish using a sharp knife. They don't have to be very deep.
Sprinkle some salt and black pepper over the entire fish. Set it aside.
How to Cook It
If you don't know how to cook whole sea bass fish in the oven and if it is your first time, you will see how easy it is. Just follow the steps here. This recipe is extremely quick, simple, and very flavorful, highlighting the fresh flavors of the fish.
Prepare the baking pan: Start by preheating the oven to 450°F (230°C). Then, place the chopped leek and chard in a baking or roasting pan lined with baking paper. Drizzle the ingredients with olive oil, salt, and black pepper. Give them a good stir and set the tray aside. If you want your whole fish plain and with no vegetables, just leave them out. Place the seasoned fish on the tray with chopped greens.
Make the sauce: In a medium mixing bowl, whisk together the finely chopped parsley, lemon juice, garlic, olive oil, and salt.
Next, brush the cavity of the fish with sauce and make sure you place some inside of the slits as well. Reserve some sauce for serving afterward.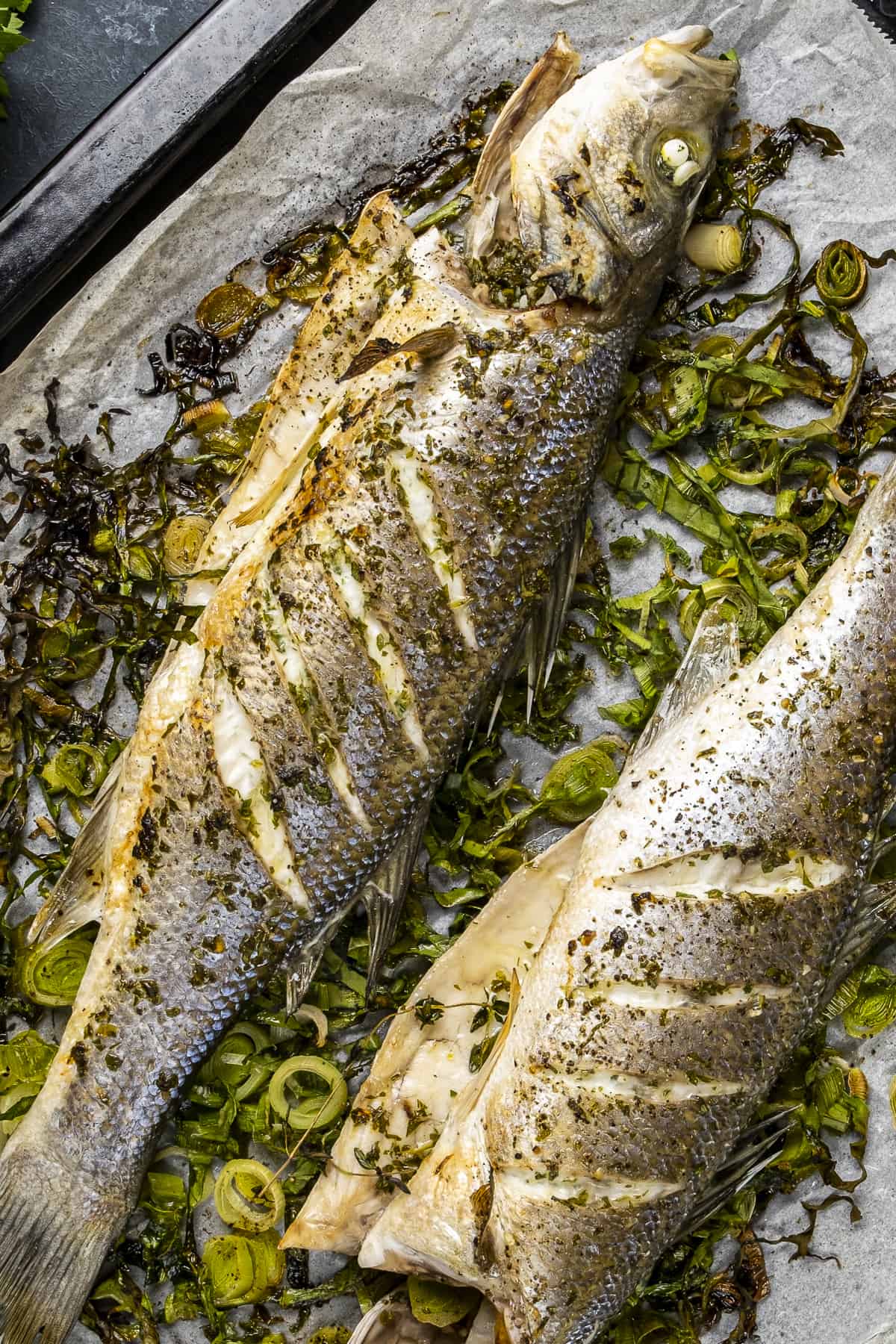 Bake them: Bake the whole fish in your preheated oven for 20 minutes, or until the top becomes golden brown. Serve immediately with some additional sauce and the roasted chard leaves and leeks on the side.
Variations
Bake in an oven bag: Instead of roasting the fish, you can steam it by placing it in an oven bag that's stuffed with herbs. This way your fish will remain moist and cooked through.
Bake the fish on its own: You don't have to bake the fish with greens and sauce. Simply sprinkle the whole fish with salt and pepper. Then, brush it with olive oil and bake as-is on a baking sheet lined with baking paper for 20-30 minutes, or until it is completely baked through and crispy.
Grill: You can also grill this whole fish instead of roasting it. When grilling it, make sure to brush it with more olive oil or the herb sauce every 5-10 minutes to ensure it gets an uber crispy skin.
Pan-fry: Season some flour (or cornmeal) with salt and pepper and coat the fish with this flour. Then, pat off any excess flour. Heat olive oil in a frying pan over medium to high heat and add the fish. Cook for roughly 4 minutes on each side. The skin should be nice and crispy and the flesh white in color. Then, transfer the fish on a paper towel to remove excessive oil and serve immediately.
Expert Tips
Always make sure that you buy and use the freshest fish possible. Fresh fish has shiny and vibrant eyes and a firm skin. Also, the fish shouldn't smell too fishy.
The exact baking time of your fish will vary depending on its size and thickness. Naturally, the thicker and larger it is, the longer it will need to be baked.
Be careful to not overbake the fish. To determine how long to cook whole sea bass, you can bake a 3-5 pound fish for roughly 30 minutes. You can also check the doneness by taking the interval temperature. It should be 145°F (62.7°C). Over baked whole fish is dry and not moist and flaky.
Don't cover the roasting pan with foil when you are baking the fish. If you do, the skin won't brown and get nice and crispy.
This recipe works great for sea bass fillets with skin too. Simply place the fillets' skin sides down. Then, spread the green sauce over the white flesh and bake them for 10-15 minutes. The fillets are much smaller than an entire fish, so won't need to bake as long. You can still check the internal temperature to prevent over-baking it.
You can also bake the whole sea bass as-is (without the veggies and green sauce). To bake the fish plain, line the baking pan with non-stick parchment paper. Then, sprinkle the fish with salt, pepper, and brush it well with olive oil. Roast the fish for 20-30 minutes (depending on the size).
How To Serve and Eat It
It is very easy to serve whole cooked sea bass. We usually divide it into two fillets by cutting along the spine toward the tail and removing the spine in the center. Then we enjoy them with a fork. The bones are easily removable when eating.
If you want, you can watch how to fillet a whole cooked fish to learn the proper method and serve it in the best way.
What To Serve It With
This is a very popular Greek and Turkish style whole fish recipe baked in the oven. It is extremely easy to pair and serve with a wide range of accompaniments.
To start with, our artichoke dip sauce would be a great condiment to serve with this baked sea bass.
It can be served with some bread. Here are our suggestions:
And the following sides would be a good match:

FAQs
How long should you cook sea bass for?
You can bake a 3-5 pound fish for roughly 30 minutes. You can also check the doneness by taking the interval temperature. It should be 145°F (62.7°C). If you are baking fillets, 10-15 minutes will be enough.
Do you bake sea bass skin side down?
Yes, after brushing the fillets with oil, place them on a baking pan skin side down. This will help the skin get nicely brown and crispy.

What temperature is sea bass cooked at?
Bake them at 400-450F (200-230C).
How do I make my sea bass skin crispy?
Don't cover the fish with foil when baking in the oven. Another thing for crispy skin is high heat. So bake the whole fish at least at 400F/200C. 

More Seafood Recipes
As always: If you make this recipe, let us know what you think by rating it and leaving a comment below. And post a pic on Instagram too—tag @give_recipe so we can see!
Sign up for the FREE GiveRecipe Newsletter to get the new recipes into your inbox! And stay in touch with us on Facebook, Pinterest, YouTube and Instagram for all the latest updates.
Print
📖 Recipe
Whole Baked Sea Bass
Fresh whole sea bass flavored with a sauce made with parsley, lemon, olive oil and garlic and simply baked in the oven. Green vegetables like leeks and chard leaves are baked in the same pan with the fish. This is one of the easiest weeknight dinner recipes as it takes just about 10 minutes to put everything in the oven.
Author: Zerrin & Yusuf
Prep Time:

10 minutes

Cook Time:

20 minutes

Total Time:

30 minutes

Yield:

2

Category:

Dinner

Method:

Baking

Cuisine:

Mediterranean
Herbs:
1 cup leeks (finely chopped)

2 cups chopped chard (chopped)

2 tablespoons olive oil

½ teaspoon salt 

½ teaspoon black pepper

1 tablespoon lemon juice
Fish:
2 sea bass or any white fish like tilapia and sea bream), about ½ pound/225g each (cleaned and gutted)

Sea salt

Black pepper 
Sauce:
1 cup parsley, finely chopped

1 lemon (juice only)

1 clove garlic, mashed 

3 tablespoons olive oil

½ teaspoon salt
Instructions
Heat the oven at 450F/230C. 
Herbs:
Place the chopped leek and chard in a baking pan. Drizzle olive oil over them, sprinkle salt and pepper. Give it a good stir. 
Prepare the whole fish:
Rinse the sea bass fish and pat it dry with a paper towel. Cut 3-4 diagonal slits on each side of the fish. 

Sprinkle salt and pepper on them and place them on the greens in the baking pan.
Sauce:
In a medium bowl, mix parsley, lemon, garlic, olive oil and salt. 

Brush the cavity of each fish and the slits on them with this sauce. Save some for serving.
Bake:
Bake the fish for 20 minutes or until their top is golden brown.

Serve it with extra green sauce and on the roasted chard and leek. 
Notes
Make sure the fish you buy is fresh. Fresh fish has shiny and vibrant eyes and a firm skin. Also, the fish shouldn't smell too fishy.

The baking duration might change depending on the size or thickness of your whole fish.

Don't cover the pan with foil when baking. Otherwise, the skin won't get browned and a little crispy.

Don't over-cook.

You can use this recipe for sea bass fillets too. Place the skin sides down, spread the green sauce over the white meat and bake for 10-15 minutes.

If you want, you can leave out the herbs and the green sauce. Then you'll need to line the baking pan with parchment paper or foil, sprinkle salt and pepper all over the fish, oil well with a brush and roast the fish on its own.
Nutrition
Serving Size:
Calories:

577

Sugar:

3.2 g

Sodium:

2581.8 mg

Fat:

40.1 g

Carbohydrates:

13.3 g

Protein:

44.1 g

Cholesterol:

92.3 mg
Keywords: whole baked fish, baked sea bass, whole baked sea bass