Today we will show you how to make Turkish Apple Tea. What we love most about this recipe is that you can use fresh or dried apples. All you need then are some cinnamon, cloves, lemon, and honey. This hearty tea is easy to make and perfect for kids too during cold autumn and winter months.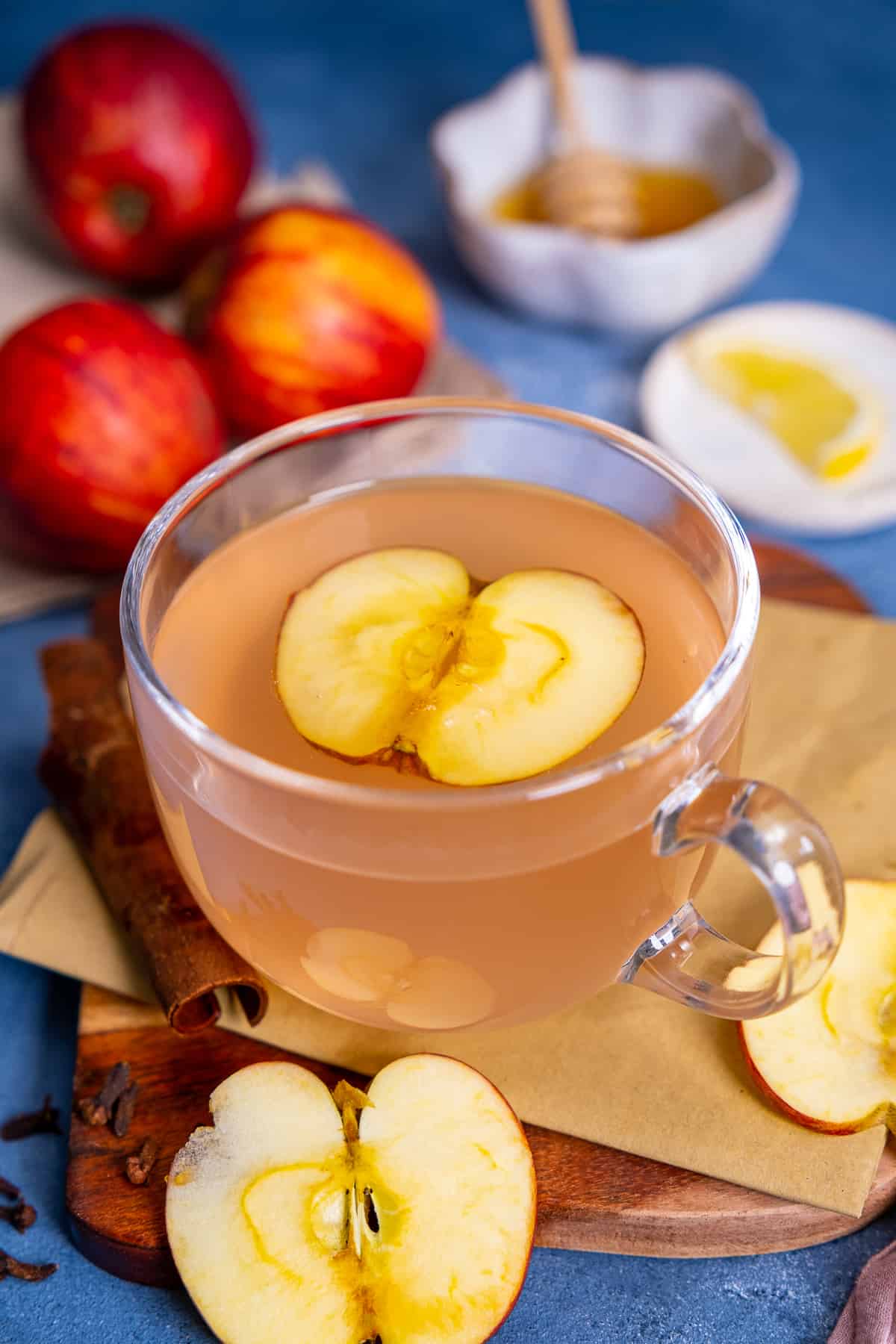 Jump to:
What Is Turkish Apple Tea?
Turkish apple tea, also called "Elma Cayi," is a popular Turkish drink among tourists. It has recently been released on the international market and is sold in the form of instant powder and granules. You simply mix them with some hot water, and you have your tea!
While Turks don't drink it as often, this form of apple tea has become a thing among non-Turkish people visiting Turkey.
Unfortunately, none of the ingredients listed in these products contains apples. They include things like sugar, a pinch of citric acid, citrate, food extract, and added vitamin C.
So, new products came out that contain small pieces of dried apples in tea bags. They are easy to use and have a much better, more authentic, apple flavor. And it's a lot more natural!
Another way this tea is often made in Turkey (in an authentic way) is by combining dried or fresh apple pieces, cinnamon sticks, whole cloves, and a little bit of lemon. Tourists aren't as familiar with this version as the one mentioned above.
Where To Buy, Famous Brands
There are a couple of forms you can buy apple tea from Turkey. The first is in a powdered form. It's as simple as adding water and mixing it well. You can also drink it hot or cold.
Most famous brands are HazerBaba and Turko Baba. You can easily find both of them online markets like Amazon.
Then, you can also buy apple tea bags on Amazon. And the most famous brand is Dogadan. They are easy to use and you just have to place one bag in your mug and then fill it up with hot water.
And finally, you can buy dried apples from the online shop called Grand Turkish Bazaar! And, they are sold in many different sizes too!
Turkish Black Tea vs Apple Tea
These two teas are like day and night. First of all, Turkish black tea is a combination of black tea leaves and water. Apple infusion, as you will see, is made from real apples with spices.
Black tea is very rich, contains caffeine, has a very earthy and strong flavor. On the other hand, Turkish apple tea tastes fruity (with apple flavors), sweeter, tangier and doesn't contain any caffeine.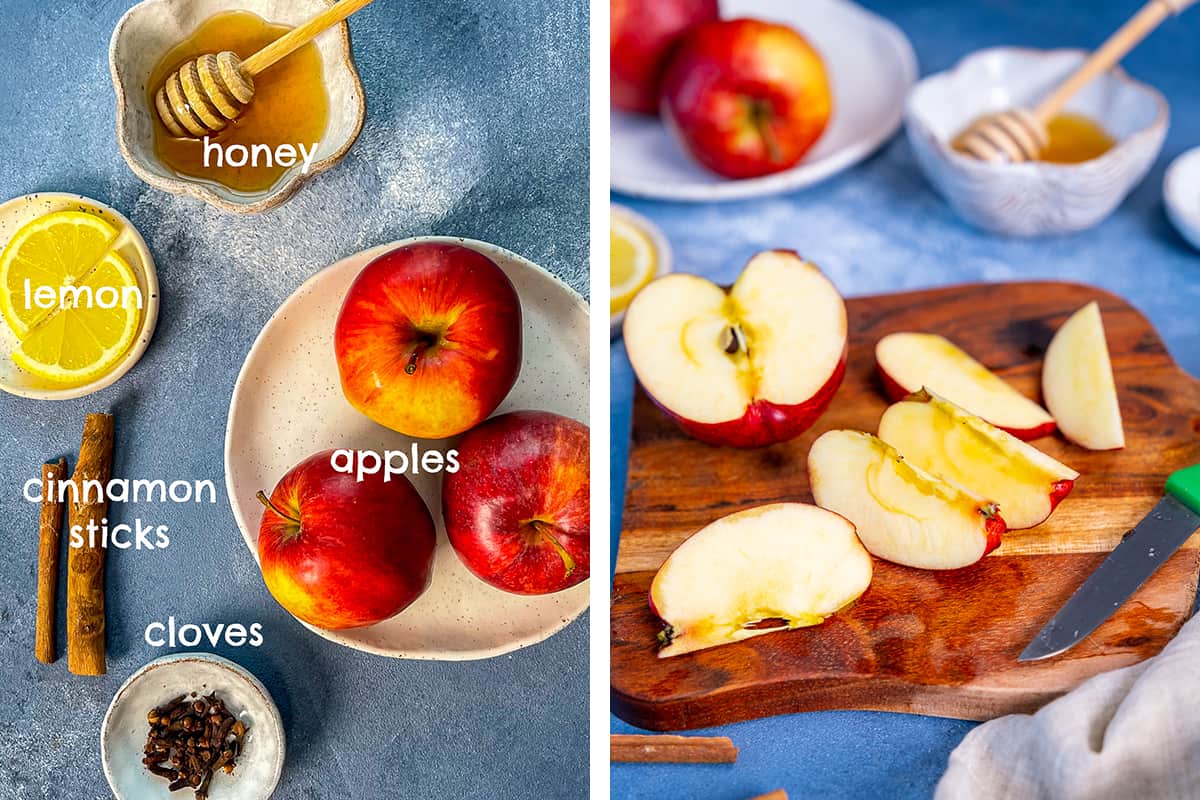 About The Ingredients
Apple: For this hot cinnamon apple tea, you can use either fresh or dried apples. And, you can decide whether or not you want to peel them. We prefer leaving their peel on as they give the apple flavour better.
If you choose a tangy type of apple varietals, you can leave the lemon out of the recipe. However, you can still add it to give the tea an extra tang.
Cinnamon sticks: They pair exceptionally well with apple and helps give the tea a warm undertone. Not to mention that cinnamon is great for fighting flu symptoms too!
Whole cloves: They pair well with cinnamon and only further adds to the hearty, warm flavor profile.
Lemon slice (zest on): This is an optional add-in but adds a nice tangy flavor. Use either a lemon slice or lemon zest.
Honey: It is completely optional for this recipe and you can use other sweeteners as well. They can include anything from granulated sugar, sugar cubes, plant-based syrups (maple syrup or date syrup), and of course, artificial sweeteners (like Xylitol).
The honey in this recipe is a sweetener and shouldn't be cooked with the ingredients. It ruins the flavor and consistency. That's why you should stir it into the hot tea after it has been removed from the heat.
How To Make This Tea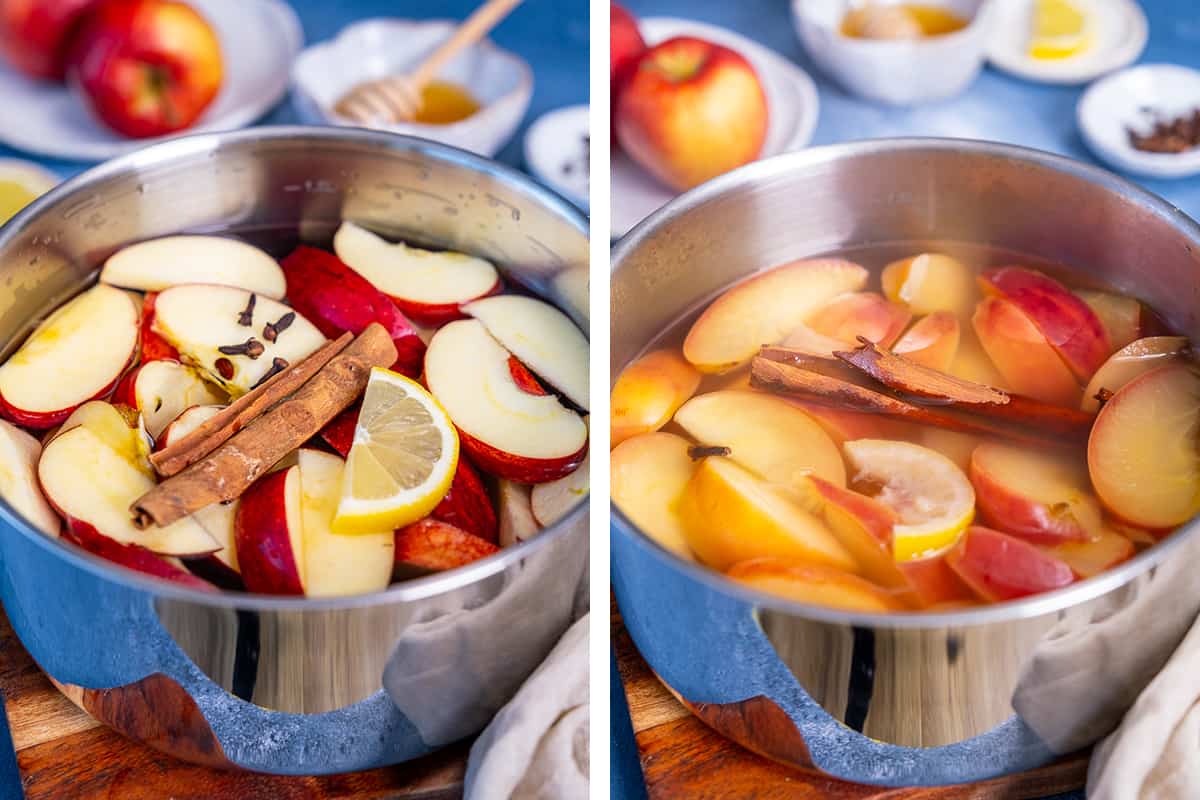 Bring the ingredients to a boil. Combine all of the ingredients, except for the honey, in a saucepan. Bring them to a boil over medium heat.
Simmer the tea. Once the tea starts boiling, reduce the heat. Leave it to simmer for 15-20 minutes.
Strain and serve the tea. Once the tea has simmered, strain it directly into a teapot, gently pressing on the apples to extract as much juice as you can.
Add a little bit of honey to the tea to sweeten it before serving it hot in cups or glasses.
Serving
This cinnamon apple tea can be served strained or not - it's entirely up to you. Just keep in mind that if you don't strain it, the flavor will continue to intensify. Some people don't like strong tea, especially the more bitter flavors that form after a while.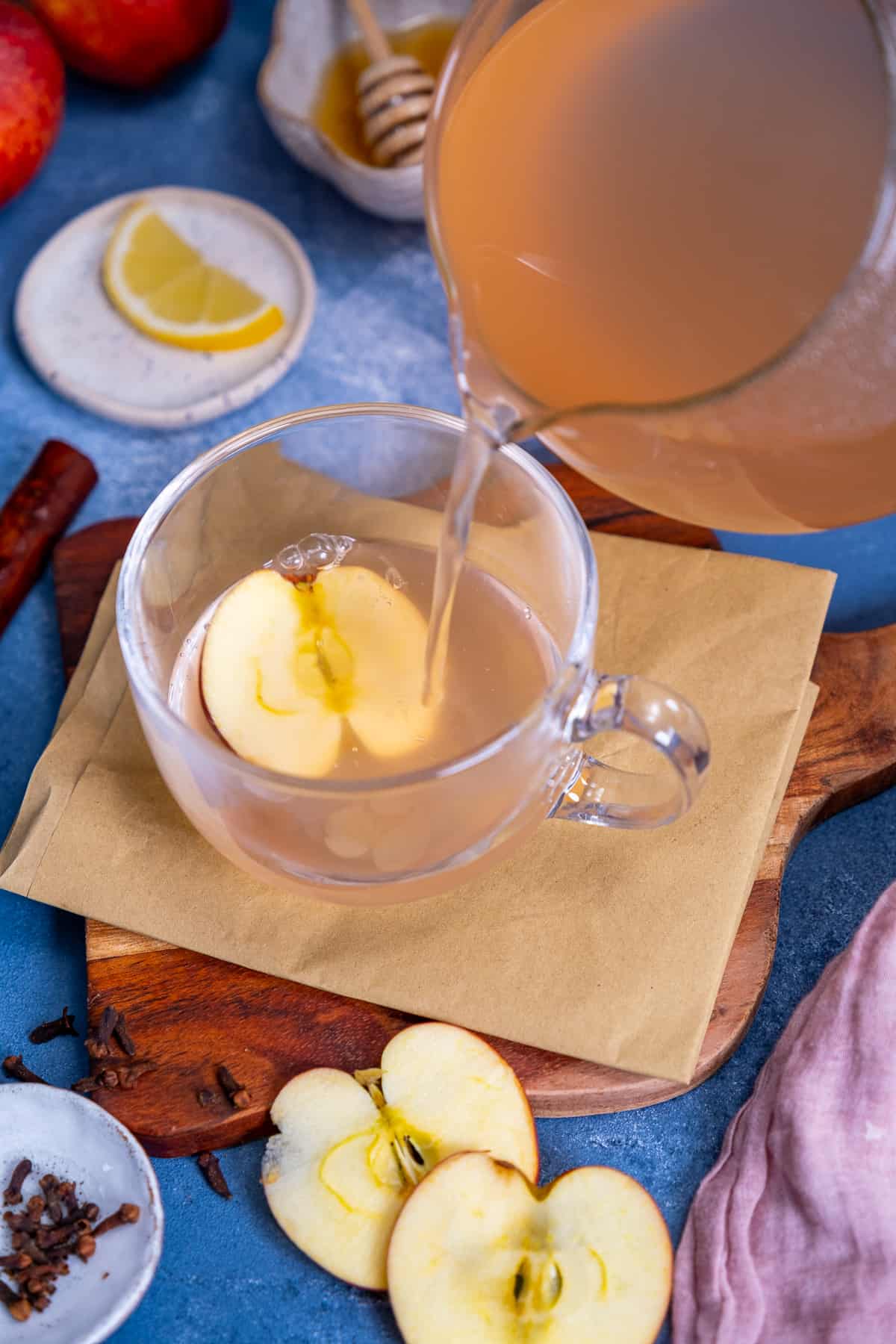 But you know what you prefer and there isn't a wrong way when it comes to straining this tea.
No matter what you choose, it's best to serve these in tea glasses or mugs.
You can serve it with extra honey on the side, so one can add more honey if they want.
Variations
There are a couple of variations you can try for this recipe.
Mix it with black tea or green tea: You can place a bag of black tea or green tea in your cup and then pour apple tea in it. Let it sit for a few minutes and enjoy it.
With more fruit: You can add more apple pieces to the recipe and even incorporate some other fruits like pears or pineapples.
Turn it into an iced tea: Once it completely cools, strain the apple tea into a jar and keep it in the fridge for a few hours. You can serve it with lots of ice and extra apple pieces.
Storing
Any leftover apple tea can be strained directly into an airtight glass jar. Keep the Turkish apple tea in the fridge for a couple of days.
When you are ready to drink it again simply reheat it in a saucepan over medium heat.
Is Apple Tea Good For You?
Apple tea is extremely healthy as long as it is made with real fresh or dried apple pieces. As it is a caffein-free tea, you can have it at any time of the day.
Just like rosehip tea, it is a great beverage during cold winter months or to help fight flu symptoms. 
Apples contain vitamins and antioxidants. So is natural apple tea. It is packed with vitamins and minerals that can offer your body many benefits. It might help you build strong bones, maintain healthy cholesterol levels. It also helps digestion and weight loss.
On the other hand, it is hard to say for the instant powder or granule forms of this tea. They contain lots of sugar.
If you are after a healthy tea and a natural flavor, go for real apples!
FAQs
Does Turkish apple tea contain tea?
This isn't a traditional herbal tea like most people know about. Instead, it's a fruit tea made with apples. So the short answer is, no. It doesn't contain any tea leaves. But it is still a type of tea.
Does apple tea help lose weight?
Drinking any warm beverage can help your body burn more calories. Essentially what happens is that your body works overtime to help regulate its internal temperature. In that way, yes. You can technically lose weight by drinking apple tea. It won't do all of the work, but it will certainly help.
Can I drink apple tea every day?
This is a very healthy tea to drink every day. It's low in calories and as long as you control your sugar intake, it's perfectly fine.
More Turkish Hot Drinks
As always: If you make this recipe, let us know what you think by rating it and leaving a comment below. And post a pic on Instagram too—tag @give_recipe so we can see!
Sign up for the FREE GiveRecipe Newsletter to get the new recipes into your inbox! And stay in touch with us on Facebook, Pinterest, YouTube and Instagram for all the latest updates.
Print
📖 Recipe
Turkish Apple Tea (Elma Cayi)
Turkish apple tea made with fresh apples flavored with cinnamon and lemon zest. A perfect healthy drink during winter months.
Author: Zerrin & Yusuf
Prep Time:

5 minutes

Cook Time:

15 minutes

Total Time:

20 minutes

Yield:

4

1

x
Category:

Drink

Method:

Cooking

Cuisine:

Turkish
3

fresh apples (peel on), sliced (or

¼ cup

dried apples)

2

cinnamon sticks

4

whole cloves

1

slice of lemon (skin on), optional

5 cups

water

1 teaspoon

honey, optional
Instructions
Put everything except honey in a saucepan. Bring to a boil. 
Reduce the heat and let it simmer for 15-20 minutes.
Strain the tea into a teapot, gently pressing on apples to get all the juice from them.
Add in honey if you want to sweeten it a bit.
Serve hot in glasses or cups.
Notes
If you use tangy apples, you can leave the lemon out. But use it if you want an extra tang.
Don't put honey in the saucepan when cooking the tea. Honey shouldn't be cooked like this. You can only add it in the hot tea when it is removed from the heat.
You can keep the leftovers, strained in an airtight jar in the fridge for a few days. Reheat when you are ready to drink.
Nutrition
Serving Size:
Calories:

79

Sugar:

15.7 g

Sodium:

14.1 mg

Fat:

0.3 g

Carbohydrates:

21.2 g

Protein:

0.4 g

Cholesterol:

0 mg
Keywords: apple tea, apple cinnamon tea, turkish apple tea
You might also like: