Sac Kavurma is a simple Turkish dish made with lamb meat, onion, tomatoes, peppers and spices. You only need about 30 minutes to prepare this easy yet festive recipe.
We will be having an in-depth look at how to make one of our favorite diced lamb recipes. We have created a step-by-step guide and some substitutions that will help you make the best and easiest dinner you can.
If you love meat recipes like this, you might want to see our lamb shish kebab and Turkish beef stew with potatoes too.
Jump to:
What Is Saç Kavurma?
Sac Kavurma, also known as çoban kavurma (shepherd's sautéed meat), is a traditional lamb dish with some vegetables and spices. Just like Turkish lamb stew, aka kuzu guvec, this recipe is pretty basic, but the flavors you get from it are incredible! There are versions of sac kavurma made with goat meat and beef.
What really makes this dish unique as well is that it is prepared in a thin metal pan called a sac. The name of this dish directly translates to "meat fried on an iron plate (sac)".
It is a pan without a lid. It is similar to an Asian wok, which has a similar thickness. But the shape of a sac is flatter. You can look for "Turkish sac tava" at online markets. You can see a sample picture of sac tava that we took ages ago right above the recipe card below.
This large metal plate makes it easy to heat quickly and saute the ingredients over very high heat. You should really try to either use a sac or wok if you can. A thick pan won't be able to give you the same amazing results.
Are Sac Kavurma and Kavurma The Same?
There are two types of kavurma in Turkey: Saç kavurma and kavurma. These are not the same dishes.
As we have explained, lamb saç kavurma is a dish made from lamb and onions, more vegetables and some spices. It is cooked in a sac, a traditional cooking vessel.
Kavurma is also a traditional Turkish meat dish, but it is very different. It is essentially the first dish made at the sacrifice festival (Kurban Bayramı in Turkish) known as The Festival of Eid-al-Adha.
You don't need a special pan to make kavurma. A simple steel pot works fine. The lamb meat and lamb fat are cooked together over low heat for hours. Just like making confit. This dish doesn't have any vegetables or additional spices (other than salt).
Kavurma is also known as winter kavurma. It is made from the meat of the animal (sheep or goat) sacrificed at the festival for storage. It is a way of storing meat in the freezer for several weeks or months.
So when you need some meat, remove it from the freezer, cut off some kavurma, use it in the recipe you like and put the rest back into the freezer. You can flavor rice dishes or bean stews with a piece of kavurma throughout winter.
You can even see kavurma in small packages sold at Turkish markets. These are often used when making omelette or menemen (scrambled eggs with tomatoes) for breakfast.
The sign of a good kavurma or sac kavurma is the softness of the meat. In Turkey, it is described as soft as lokoum (Turkish delight) when the meat is perfectly cooked and have a melting-in-your-mouth consistency.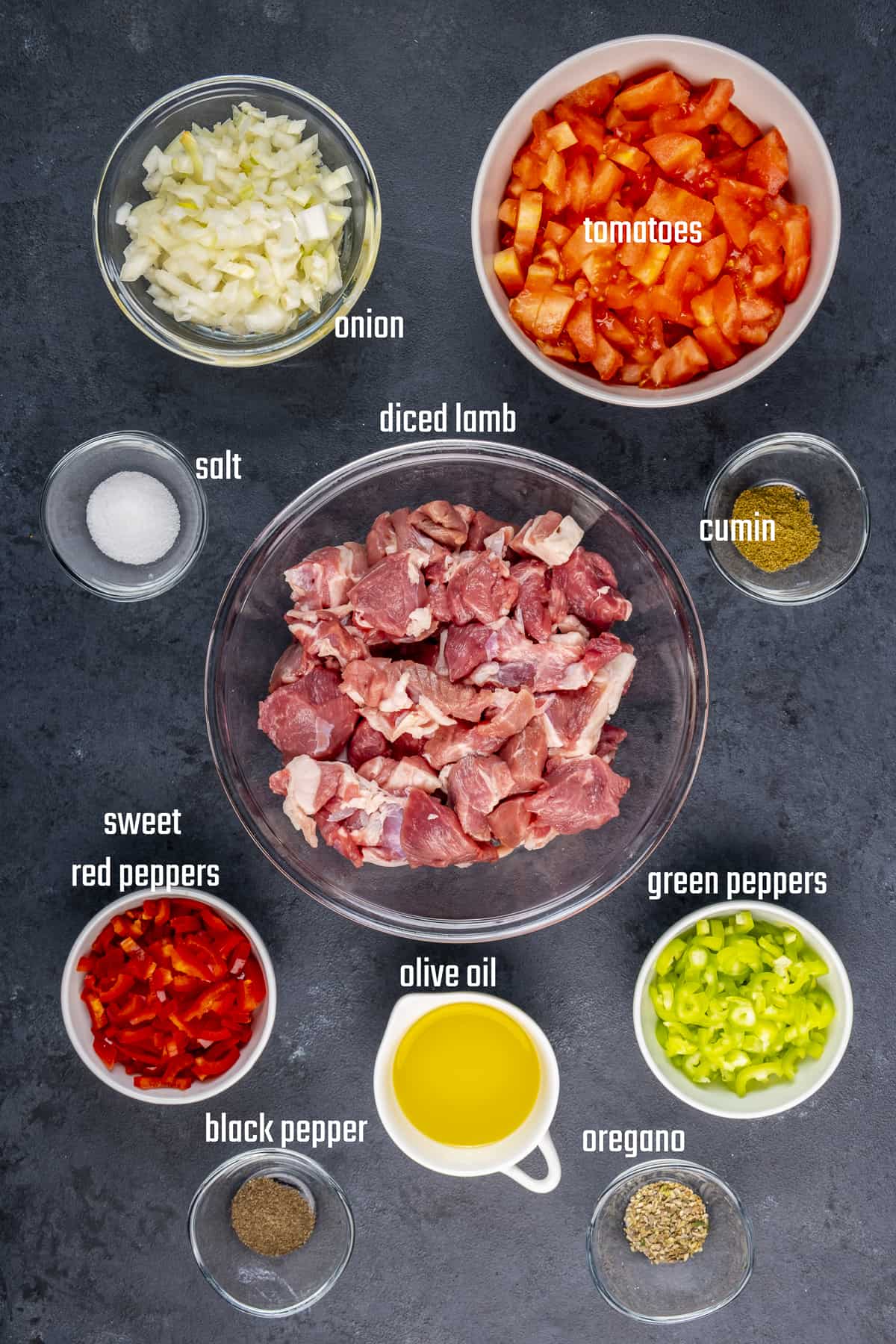 About The Ingredients
Oil: If you want to make authentic lamb saç kavurma, it is best to cook it in its own fat. However, outside of Turkey, it isn't easy to find unless your butcher is willing to find it for you. So, instead, you can use oil, butter or ghee.
Lamb Meat: We prefer using lamb meat for its delicious and juicy flavor. But, you can use beef or goat too if you'd like.
Vegetables: For this recipe, we included some onions, hot or sweet peppers (whichever you prefer), and tomatoes. This is all that you need to create a flavor-packed dish.
Spices: In terms of spices, we also didn't want to over complicate the recipe. So, we just included some black pepper, cumin, and oregano. If you want to make it spicy, add some red pepper flakes or chili flakes.
How To Make
To make this Turkish lamb recipe, you will need to use either a saç pan (if you can find one) or a wok. Otherwise, you can use other thin-based pans. This saç kavurma recipe is very easy to make, doesn't take a lot of time, and can be served in hundreds of ways!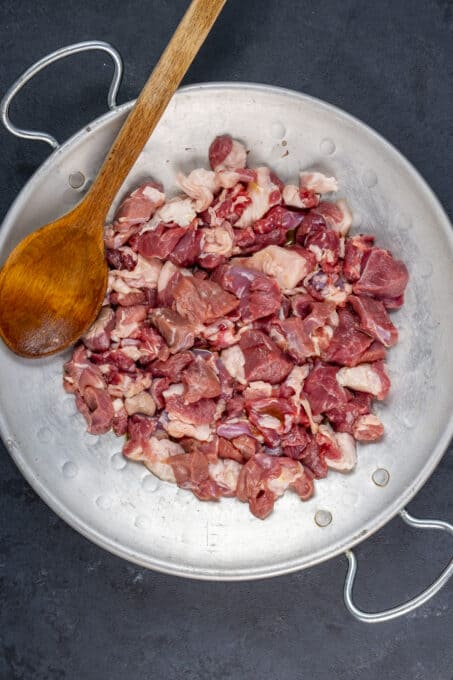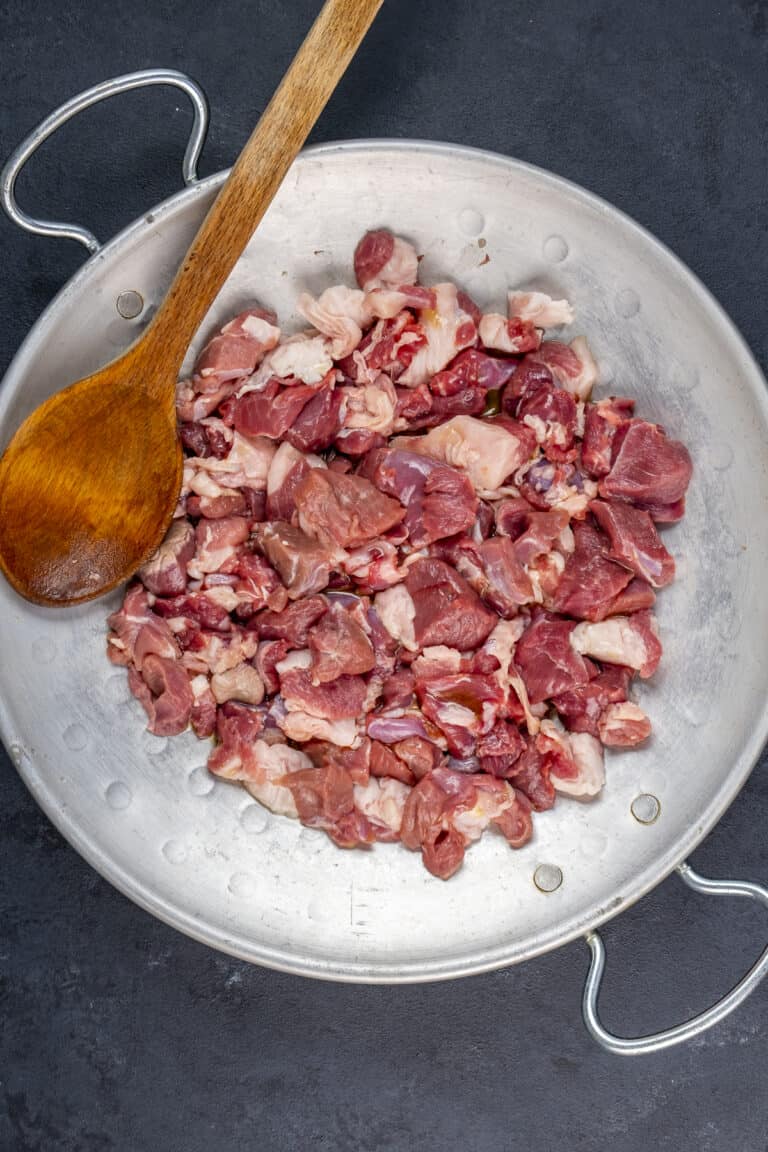 Cook the diced lamb: Preheat your sac or wok over very high heat. Any pan with a thin base will do. Then, add the olive oil and diced lamb. Cook your lamb over high heat for about 7-8 minutes, only stirring occasionally. The meat will release its own juices and then reabsorb them.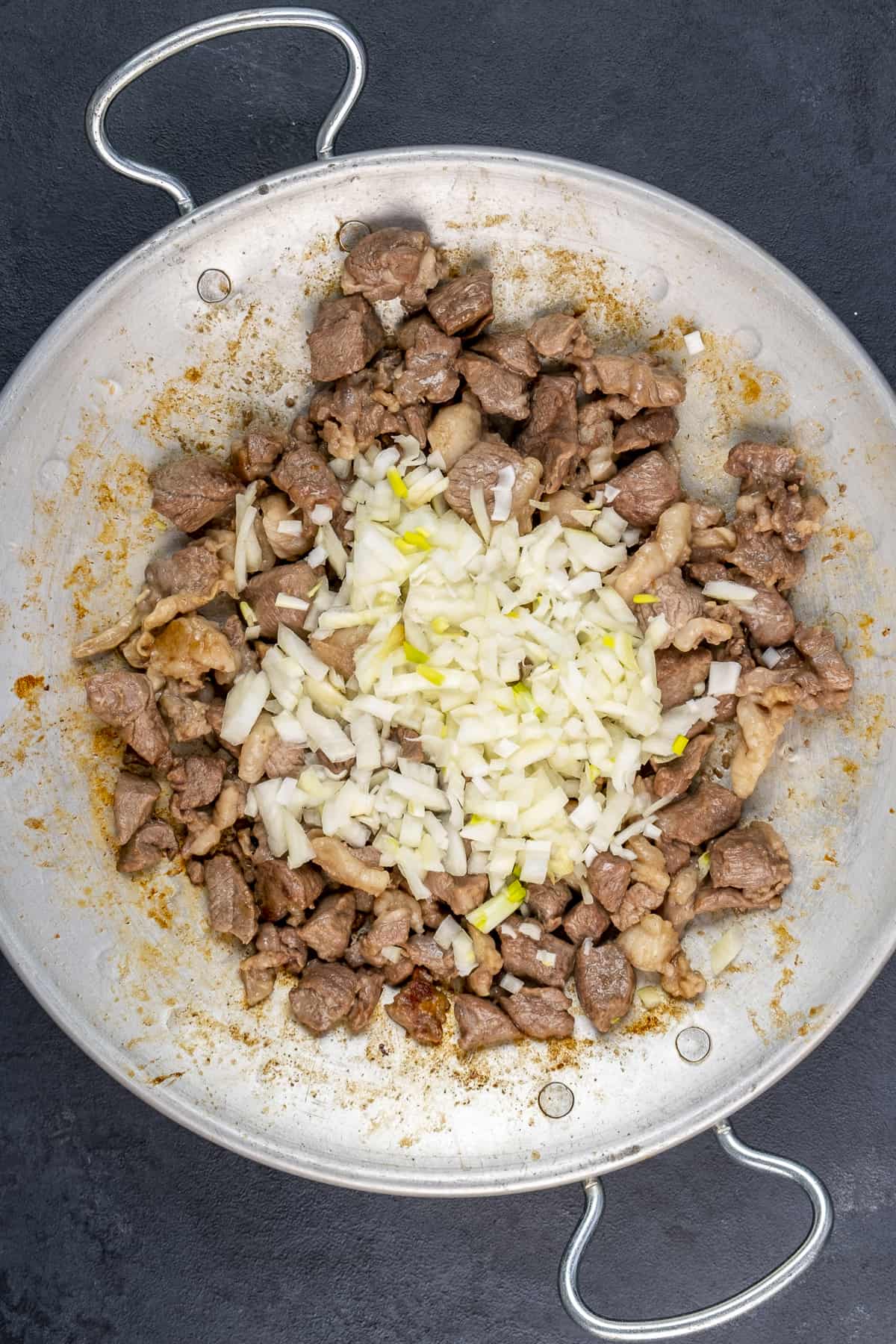 Add in chopped onions: Lower the heat to medium and add your chopped onions. Allow the mixture to continue cooking for another 8-10 minutes, or until the meat is tender.
You may need to add more oil if your lamb doesn't have a lot of fat. This will help prevent the ingredients from sticking and add more flavor and mouthfeel.
Add the remaining ingredients: Once your lamb is tender, you can add the peppers and tomatoes. Cook them for 5 minutes, then add the spices. Give your ingredients a good stir and allow them to cook for a final 2 minutes.
Although it is not a traditional thing, you can sprinkle a little cheese on the top right before removing the pan from the heat. We love it without cheese.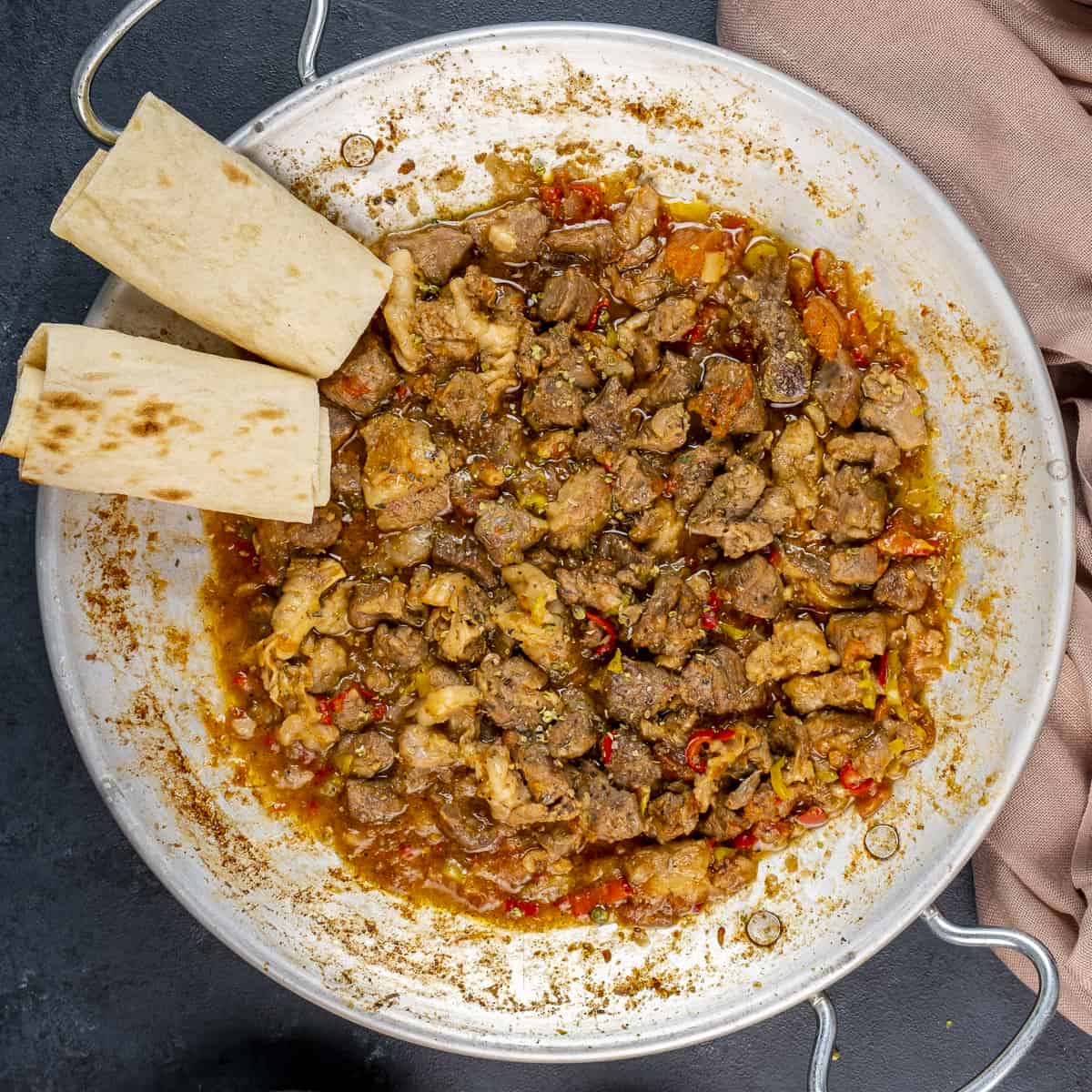 Serve your saç kavurma while it is still warm with your favorite accompaniments.
Tips
For this kavurma recipe, you can also use beef or goat meat if you'd like. But, you will have to cook the meat for longer (in the first step) to ensure it becomes tender and cooks through.
We highly recommend trying to get a hold of some lamb tail fat. Use it instead of the oil and add it inside along with the lamb meat. Lamb tail fat will give your food a ton more flavor.
You absolutely have to cook the meat over high heat first. This is a technique used by professional chefs too. It helps sear the meat and caramelize the outside. This will end up giving your sautéed meat dish a delicious meaty sweetness.
If you see that your meat starts sticking before it has been completely cooked, add a splash of water. This will help loosen the pieces while adding more moisture. Then, just continue making the Turkish sauteed lamb recipe as per usual.
How To Serve
Just like any kebab in Turkey, there are a ton of ways you can serve this saç kavurma dish. Here are some of our favorite traditional accompaniments.
Bread is a fantastic addition to the plate and will also help absorb any meat juices on your plate. Our personal favorites include lavash bread or pide bread.
But, if you don't feel like making bread from scratch, another very filling side dish can be something like our bulgur pilaf or Turkish rice pilaf. Both are very flavorful and will pair well with the meaty flavors of the lamb.
And, for a lighter accompaniment, try our shepherd salad. It is a refreshing choice that only takes a couple of minutes to make.
Finally, for a refreshing yet savory beverage accompaniment, try making our ayran yogurt drink. Its delicious blend of salty and tangy sweetness pairs well with meaty and spicy dishes.
How To Store
If you are lucky enough to have any leftover saç kavurma, then you can easily store it inside an airtight container. Keep it inside the fridge away from any raw ingredients.
You can also freeze this Turkish lamb dish in an airtight container for 3 months.
To reheat your sauteed lamb, place it back into a saç, wok, or thin-based pan. Then, reheat it over medium heat. This method works the best to retain the flavor and moisture of the meat.
Other Turkish Meat Dishes
As always: If you make this recipe, let us know what you think by rating it and leaving a comment below. And post a pic on Instagram too—tag @give_recipe so we can see!
Sign up for the FREE GiveRecipe Newsletter to get the new recipes into your inbox! And stay in touch with us on Facebook, Pinterest, YouTube and Instagram for all the latest updates.
Print
📖 Recipe
Sac Kavurma (Coban Kavurma)
Diced lamb cooked with onions, peppers and tomatoes. The meat is juicy, melting in your mouth and packed with flavors. A simple yet tasty lamb dish from Turkey.
Author: Zerrin & Yusuf
Prep Time:

10 minutes

Cook Time:

20 minutes

Total Time:

30 minutes

Yield:

4

1

x
Category:

Dinner

Method:

Cooking

Cuisine:

Turkish
3 tablespoons

olive oil

1 and ½ lbs (700g) diced lamb

1 large onion, roughly chopped 

3 sweet or hot green peppers, chopped

1 sweet red pepper, chopped 

2 tomatoes, chopped

1 teaspoon salt

1 teaspoon black pepper

½ teaspoon cumin

1 teaspoon oregano
Instructions
Heat a large pan over high heat. You can use any thin-bottomed pan like saç or wok. If you don't have these, use a cast iron pan.

Add in oil and diced lamb. Cook over high heat, stirring occasionally for 7-8 minutes. Let the meat release its juice and then absorb most of it.

Bring the heat to medium heat and add in the chopped onion. Cook until the meat is tender (for 8-10 minutes), stirring occasionally. If the meat you use doesn't have enough fat, you might need to add extra oil at this step.

Add in peppers and tomatoes. Cook for 5 minutes. Don't let them completely cook and get too soft. 

Add in all the spices, give it a good stir, cook for 2 minutes and serve. 
Notes
If you use beef or goat meat, you will need to cook the meat longer. 

If you can find lamb tail fat, use it instead of oil. Put the diced fat with the diced lamb in the pan at the same time.

Cook the meat over high heat first. 

If the meat is about to stick before it gets tender, add a splash of water and continue cooking.
Nutrition
Serving Size:
Calories:

366

Sugar:

2.9 g

Sodium:

708.9 mg

Fat:

22.7 g

Carbohydrates:

4.9 g

Protein:

35.2 g

Cholesterol:

115.5 mg
Keywords: sac kavurma, sac kavurma recipe, kavurma