Well, yes I'm that crazy to make Turkish Delight Recipe from scratch! Why do I bother to make this addictive Turkish treat when we can easily find it at any candy shop or even at markets? If you are a real foodie and if you have a strong interest in food, you just can't beat the curiosity inside you about learning how something is made. So this homemade Turkish Delight stuffed with ground pistachio came out of my culinary curiosity.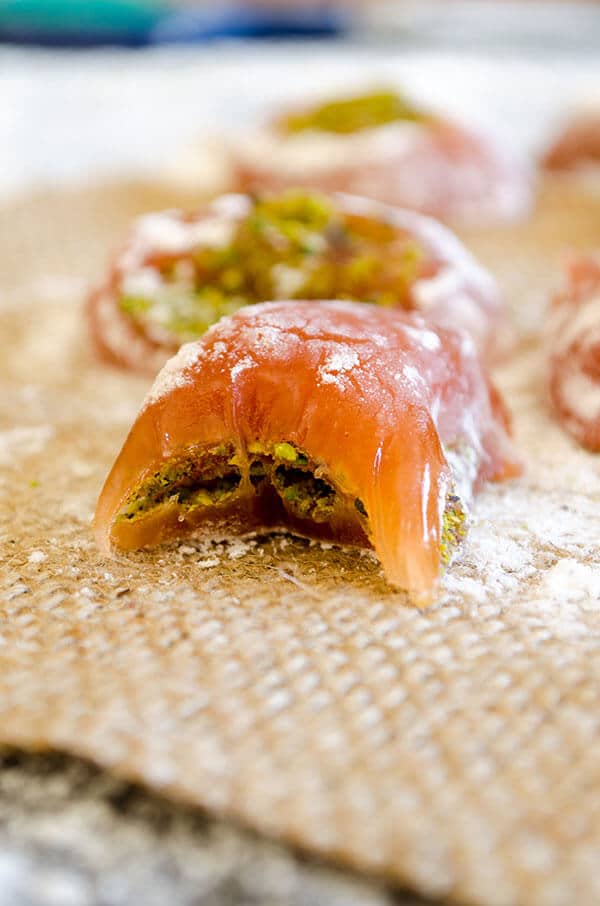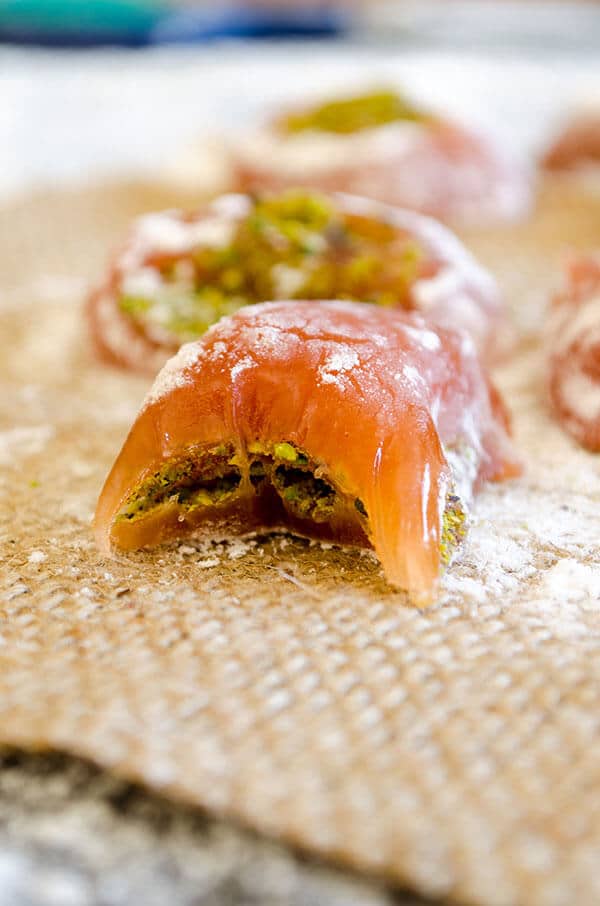 I do love that curiosity inside me. So do my family and friends! I'm sure they didn't believe that I would succeed when I revealed my plan about trying homemade pistachio Turkish delight recipe. I must admit that it was a challenging one and I had to try it twice to reach the result I wanted. Please don't get discouraged, it really is worth making especially if you are not living in Turkey. You will love it more than the Turkish delight you buy from a Middle East market or online.
To tell you the truth, people visiting Turkey from all around the world love this unique dessert way more than Turkish people do. Maybe because we have been enjoying it for ages, maybe because it's everywhere here, it doesn't get that much interest from us. We do love it with a cup of well prepared and foamy Turkish coffee though.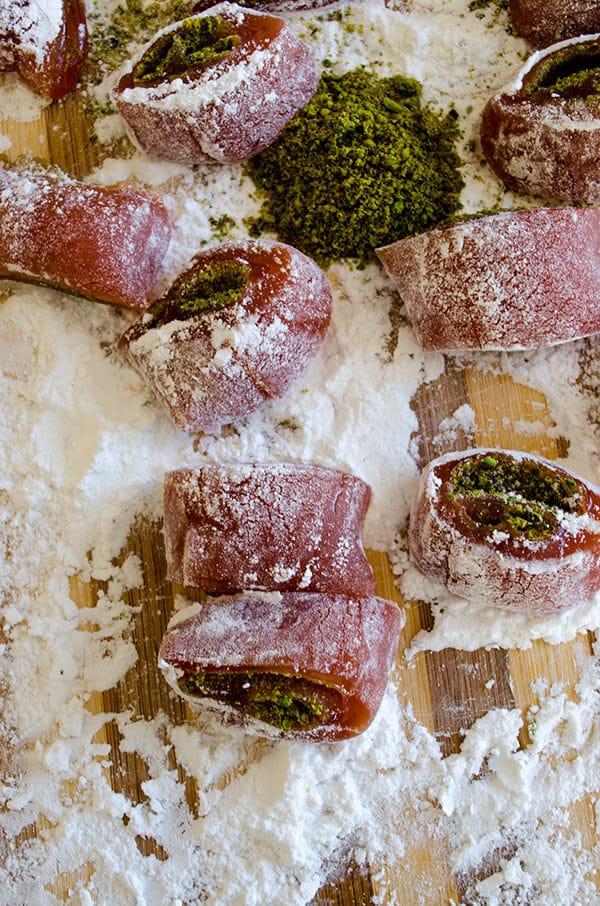 Saying not easy, I don't mean that it's a laborious recipe. The hard thing is that you should watch it closely and stir frequently when it starts to thicken, so you shouldn't go out of the kitchen for long. Also, you should take it from heat at the right time when it's neither too silky nor too stiff.
Turkish delight is often sold in small cubes plain or containing nuts. You might also see the ones stuffed with ground pistachio, walnut or hazelnut. I will be sharing the recipe of that stuffed one in this post. If you want yours plain, just leave the stuffing step out and cut it into cubes.
You should decide on the pan before starting to make your pistachio Turkish Delight. It should be a deep one to give your Turkish delight enough thickness. I used a 24x15cm deep pan for these measurements. Line it with parchment paper and brush it with almond oil. Why almond oil? It doesn't have a strong taste, so you will not feel it when eating your Turkish delights.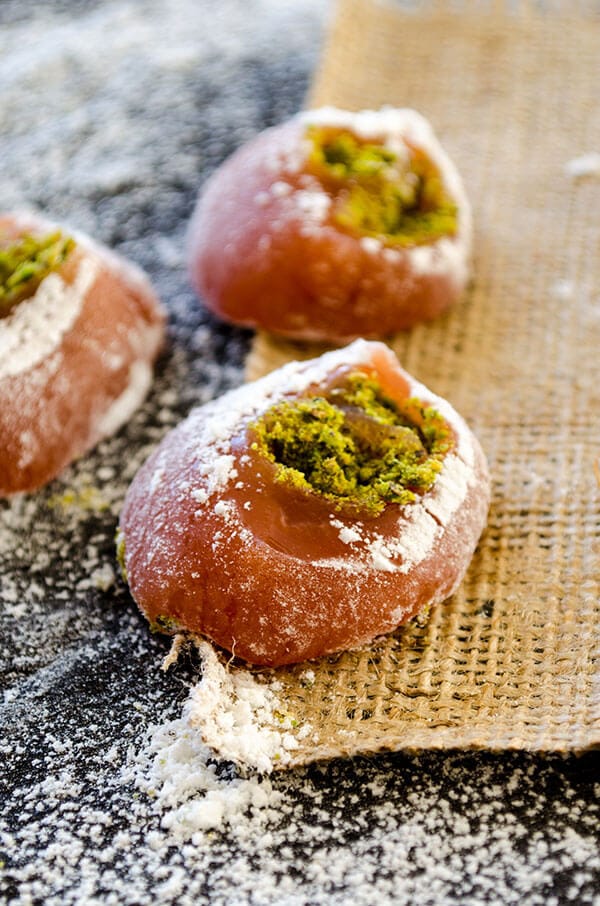 We need a key ingredient for making this Turkish delight recipe: cream of tartar. I had no idea where I could find it before. I couldn't find it at supermarkets here as I expected. I searched on the web and I learnt that I could find it at herb and spice shops which we call "aktar".
You can imagine how much I thank to the seller when I finally bought my cream of tartar. I was ready to make my own Turkish delight now!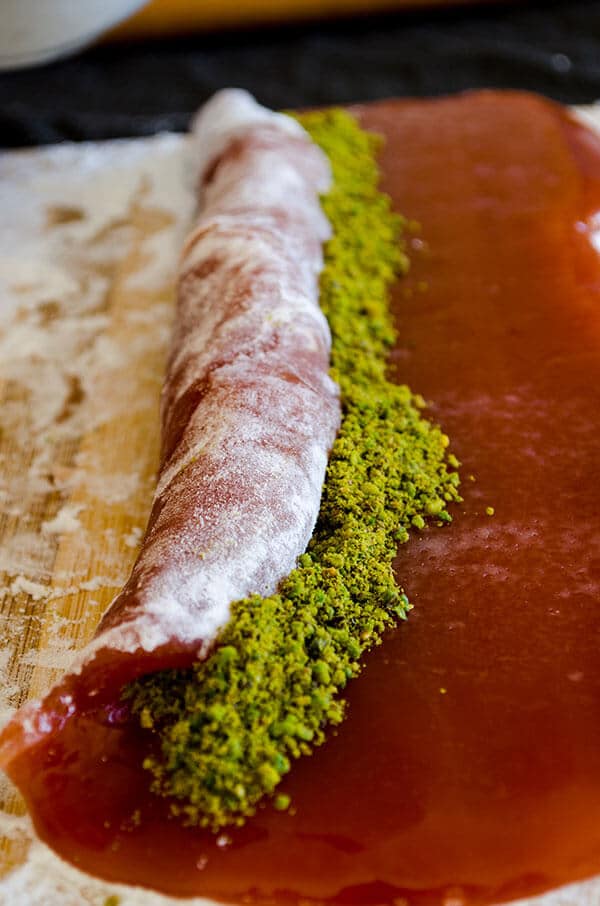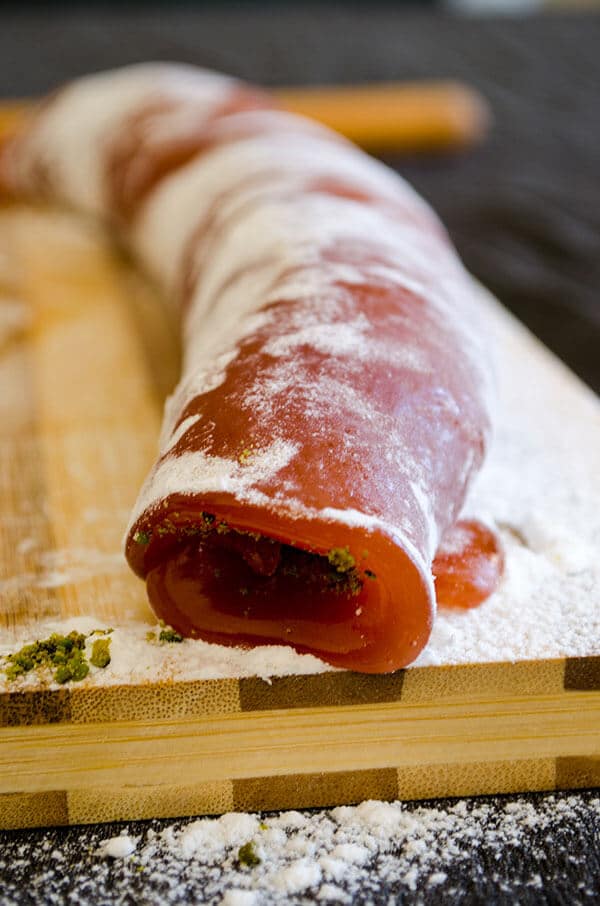 In a typical Turkish delight recipe, rose water is like a must, but I didn't use it as I don't like its scent much. I used a little red food coloring, but it's optional. It has a very nice glittering color without the food coloring, so you can just leave it that way.
I must thank to Fahriye's Kitchen for guiding me making lokum at home!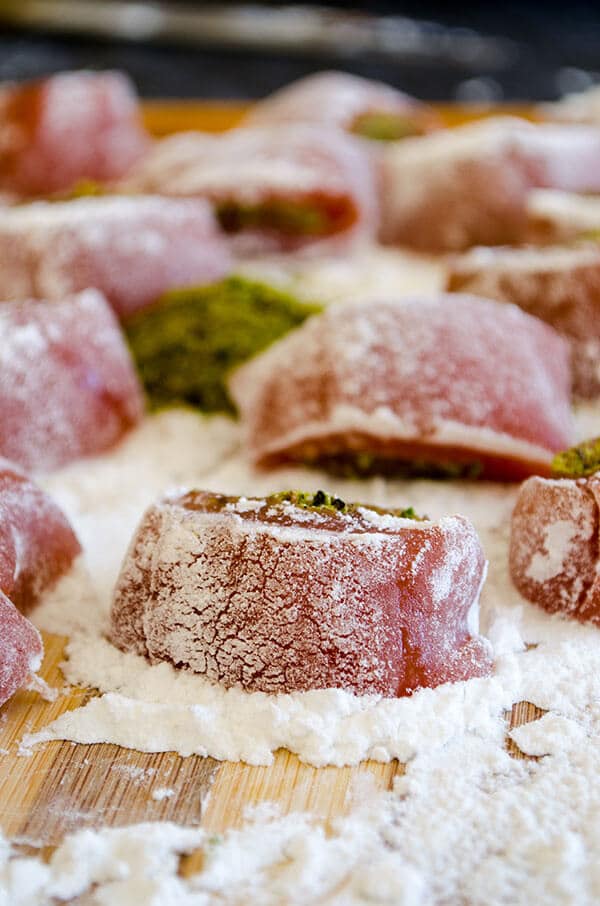 See our other recipe videos here:

Print
Homemade Turkish Delight Recipe
Turkish Delight rolled out and stuffed with ground pistachio.
Prep Time:

10 minutes

Cook Time:

1 hour 20 minutes

Total Time:

1 hour 30 minutes
Scale
Ingredients
1 tsp

lemon juice

2

and ¼ cup sugar

1

+

¼ cup

corn starch

½ tsp

cream of tartar

500

ml water (2 cups)

2 tsp

red or pink food coloring, optional
coating:

¾ cup

powdered sugar

¼ cup

corn starch
filling:

½ cup

ground pistachio

1 tsp

almond oil for brushing the parchment
Instructions
Line a 24x15cm pan with parchment and brush it with almond oil.
Combine lemon juice, sugar and 250ml water in a deep pot on medium heat until sugar dissolves.
Allow it to boil.
Bring it to medium low heat and let it simmer for 1 hour stirring constantly until it reaches 240F on a candy thermometer. Don't take it from the heat yet.
Meanwhile combine cream of tartar, corn starch and remaining 250ml water until smooth.
When the simmering syrup reaches the right consistency, pour a ladle of syrup into starch mixture and whisk it fast. Repeat it a few times until the starch mixture warms up.
When it's completely whisked and warmed up, pour it into the simmering syrup in very little amounts stirring constantly.
When the mixture starts to boil, bring the heat to the lowest and let it simmer for 1 hour whisking constantly. You will see a caramel color and it will be difficult to whisk when it's done.
Whisk in the food coloring or leave it as is.
Pour it into the prepared pan and spread evenly. Let it sit overnight uncovered at room temperature. The top should be hard at the end of this time. Wait it longer if it's still sof tor sticky.
Combine powdered sugar with corn starch in a bowl or on the counter.
Dust scissors with sugar and starch mixture and cut it into squares and toss them in the same mixture if you like it plain.
Continue reading if you want to stuff them with pistachio.
Take the stiff mixture from the pan with the parchment under it.
Roll it out just like a regular dough. Don't make it very thin.
Put ground pistachio on one end and roll it up tightly.
Coat it with sugar-starch mixture and cut with scissors.
Toss them in the same mixture and serve.
Store them with a good amount of sugar&starch mixture in an airtight container up to a month.
IF YOU LIKED THIS RECIPE, THEN YOU WILL LOVE THESE: