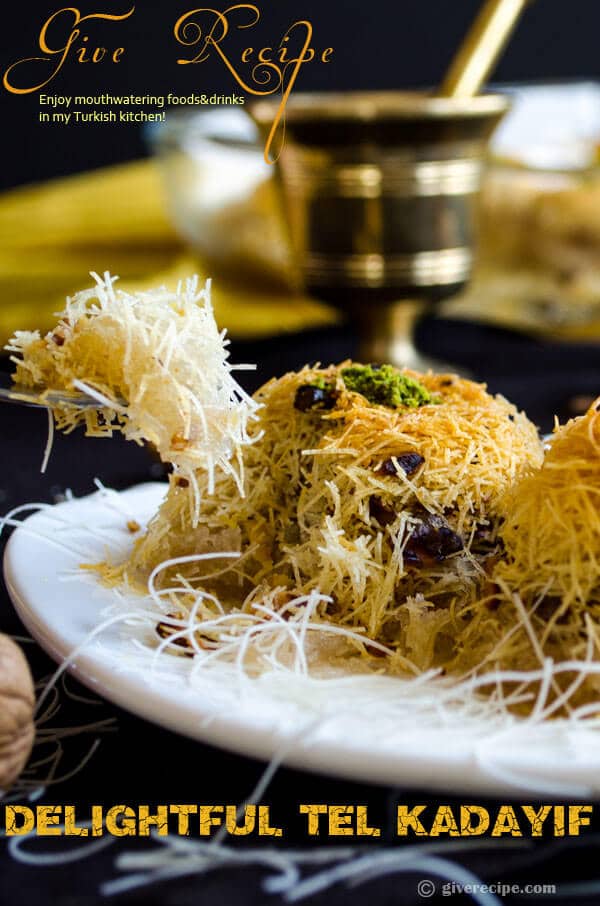 Tel Kadayif (Shredded Kadaifi) is one of the most well known Turkish desserts with a sweet syrup. Tel is the word we use to describe those tiny shreds. Baklava is on top of the list of desserts soaked in syrup in Turkish cuisine and kadayif comes right after it. They are equally loved and eaten in Turkey, but for some reason baklava is more famous around the world. Tel kadayif is like tiny and crunchy noodles made from flour and water. It is enhanced with butter, walnut or pistachio, cooked in oven until golden and then soaked in syrup so that it becomes a soft and sweet treat. Unlike baklava, it's easy to make kadayif at home, the only thing you need to find is shredded kadayif dough.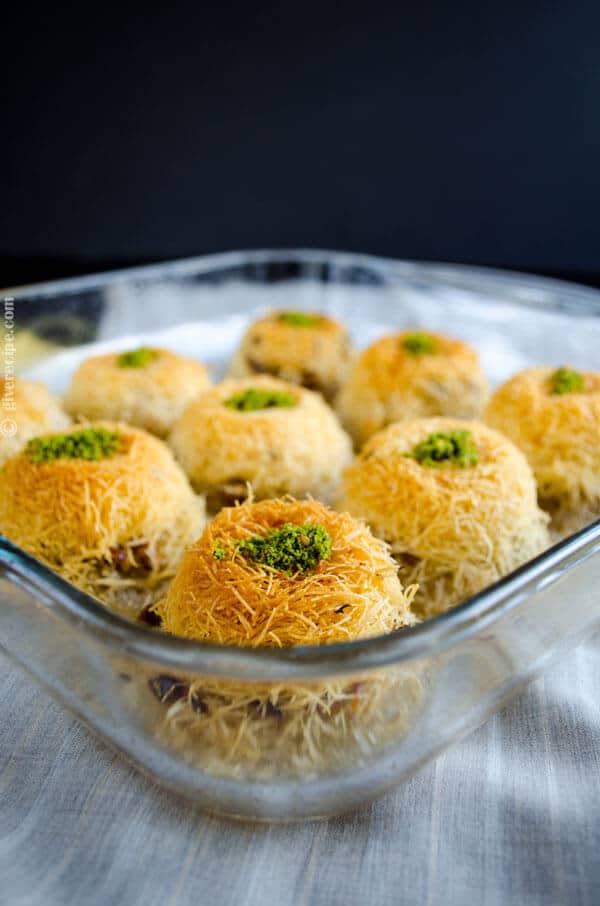 Kadayif is mostly made in large trays and served in squares or in rolls as in this kadayif from Diyarbakir. These are the traditional ways of making and serving tel kadayif. Another way of serving it is in small portions as you see above, which is not so common. You can only see these small stuffed portions if it is homemade.
I love these stuffed ones more than the traditional ones since they look cuter as an individual portion. Also, you eat less and gain fewer calories this way since these are smaller. Did you get curious now? Do you want to learn how these tiny shreds can be stuffed?
Stuffing these shredded dough pieces doesn't require a lot of effort if you have a small coffee cup. Kadayif shreds easily take the shape of that cup when combined with melted butter and then stuffed tightly into the cup. Stuff half of the kadayif with shreds, toss over walnuts and fill the rest with shreds. Press on the shreds so that they hold well and flip the cup upside down on a tray. This is how we stuff these tiny shreds.
Butter is a must for this Turkish dessert, you can't get the same result with olive oil or other types of oil. It helps shreds stick together and it matches with sweet flavor better.
An important tip when making desserts with syrup: Either syrup or dessert must be hot. If both of them are hot or cold, your dessert can't absorb the syrup.
You can treat your guests with this delectable dessert from Turkey! They will be inspired with these individual portions of tel kadayif.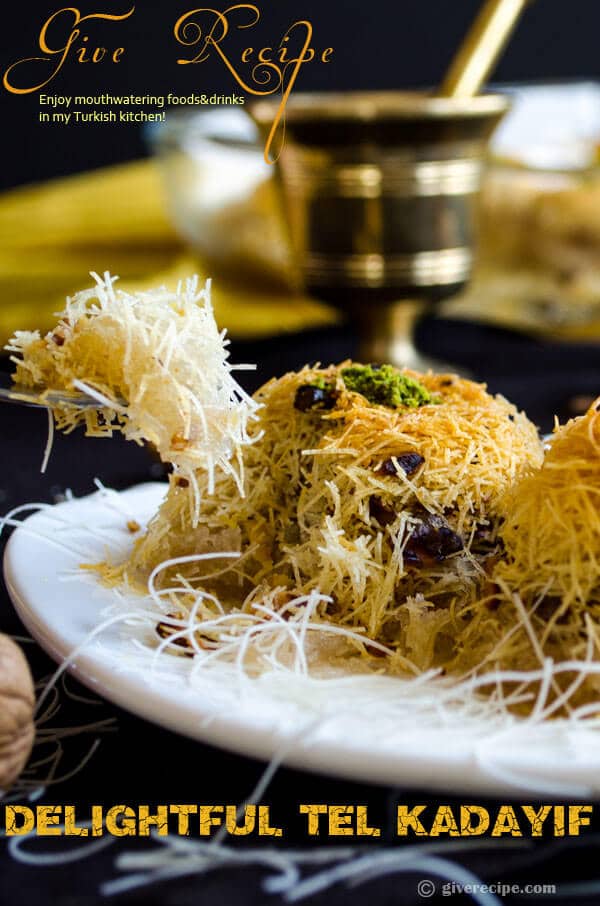 Print
Stuffed Tel Kadayif
A delightful Turkish dessert made with shredded kadayif dough.
Prep Time:

10 minutes

Cook Time:

50 minutes

Total Time:

1 hour
Scale
Ingredients
180g

kadayif

90g

butter, melted and cooled
Syrup:

2 cups

water

¾ cup

sugar

1 tbsp

lemon juice
Filling:

60g

walnuts, crumbled
Topping:

6 tsp

pistachio powder
Instructions
Mix sugar and water in a pot and bring it to boil.
Boil it over low heat for 15 minutes.
Add in lemon juice and boil for another 3 minutes and let it cool.
Preheat oven at 180C.
Drizzle melted and cooled butter over kadayif shreds and mix them gently with your hands to spread butter evenly.
Take a small coffee cup (Turkish cofee cup) and fill half of it with buttered kadayif.
Make a hole and place a little crumbled walnut there.
Fill the rest of the cup with shreds pressing on them.
Grease an oven pan and flip the cup upside down in the pan.
Repeat the same steps for the rest of the shreds.
Bake them for 50 minutes, until golden.
Pour the cold syrup on kadayif right after taking it from oven.
Cover it with another pan or tray and let it absorb all syrup for 1-2 hours.
Top with pistachio before serving.
IF YOU LIKED THIS RECIPE, YOU WILL LOVE THESE TOO: