Today we will make Turkish lokma, also known as fried sweet dough balls. Mini balls are made from a yeast-leavened dough, then fried and soaked in a simple sugar syrup. These dough balls are deliciously juicy, have a soft and tender inside, and have a chewy, slightly crisp exterior.
Jump to:
What Are Lokmas?
Lokmas are fried dough balls (the size of a golf ball) that are soaked in syrup. It is one of the most famous desserts you can see on the streets of Turkey. There is often a long queue in front of street vendors selling this simple yet delicious sweet.
A good lokma is crispy and golden outside and soft and light golden inside. You should hear the noise of crispiness when you bite it. Also, it should be juicy inside, but not doughy.
Another thing that makes the lokma dessert unique is that the fried balls are immediately added to cold sugar syrup. This allows them to absorb the sweet syrup and get infused with its flavors.
Lokma pastry can be served with some ground cinnamon, sesame seeds, crumbled walnuts and other garnishes. But more often than not, they are served plain.
How To Make This Recipe
Today, we will show you how to make authentic lokma recipe from scratch. It is easy and essentially foolproof! By the end, you will have deliciously sweet, soft, and puffy fried dough balls, perfect for snacking on.
Make The Syrup
It is the same syrup we use in our easy baklava recipe and tulumba tatlisi.
Combine the sugar and water in a saucepan and bring it to a boil over medium heat. Stir well until the sugar dissolves.
Once the syrup has started to boil, reduce the heat to a medium-low setting. Add the lemon juice and lemon slice. Leave the syrup to simmer for 10-15 minutes or until it gets a syrupy consistency.
Remove the syrup from the heat and allow it to cool down completely.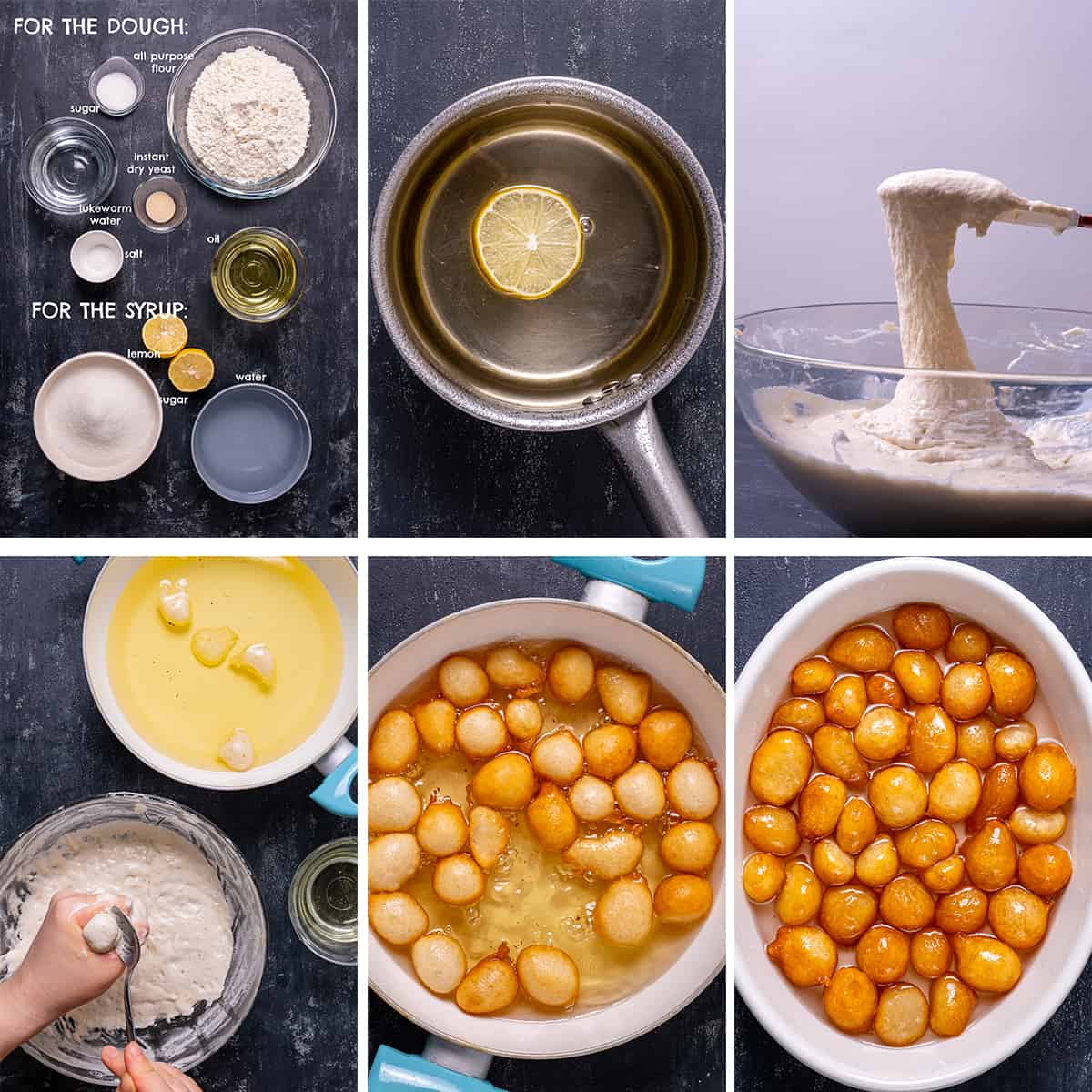 Make And Fry The Dough
Make the dough: To start, combine the flour, yeast, sugar, and salt in a large mixing bowl. Slowly add the lukewarm water while whisking. The dough will gradually become runny and sticky - slightly thicker than cake batter.
Rest the dough: Once your dough has come together, cover the bowl with plastic wrap. Leave it to rise for 50-60 minutes or until it doubles in volume.
Preheat your oil in a large pot or saucepan over medium heat. The oil shouldn't be very hot.
Stir the risen dough with the spatula to help release the air inside. Set it aside. Then, place about ¼ cup of oil in a small bowl or mug and position it next to your dough bowl.
Grab some dough in the palm of your hand and squeeze it until a small ball-shaped piece of dough forms between your thumb and forefinger. Dip a teaspoon in the jug of oil and scrape the dough off between your fingers.
Place it to the preheated oil. Repeat this process until the pot is full of tiny dough balls. And remember, you have to dip the teaspoon in oil, otherwise the dough will stick to it.
Once your pot is full, fry the balls until they become golden brown on all sides.
Do not overfill the pot. It won't allow the balls to fry evenly or get a crispy texture otherwise.
Assemble
When all your balls have been fried to perfection, strain them from the hot oil and add them directly into your cold syrup. The balls must be hot while the syrup is cold. This is the best way for them to absorb the sweet syrup.
Leave them to soak for 3-4 minutes.
Once soaked, strain them from the syrup using a slotted spoon. Transfer them to a separate bowl or plate, keeping the remaining syrup inside the saucepan.
You can serve the balls immediately or store leftovers at room temperature for a couple of days.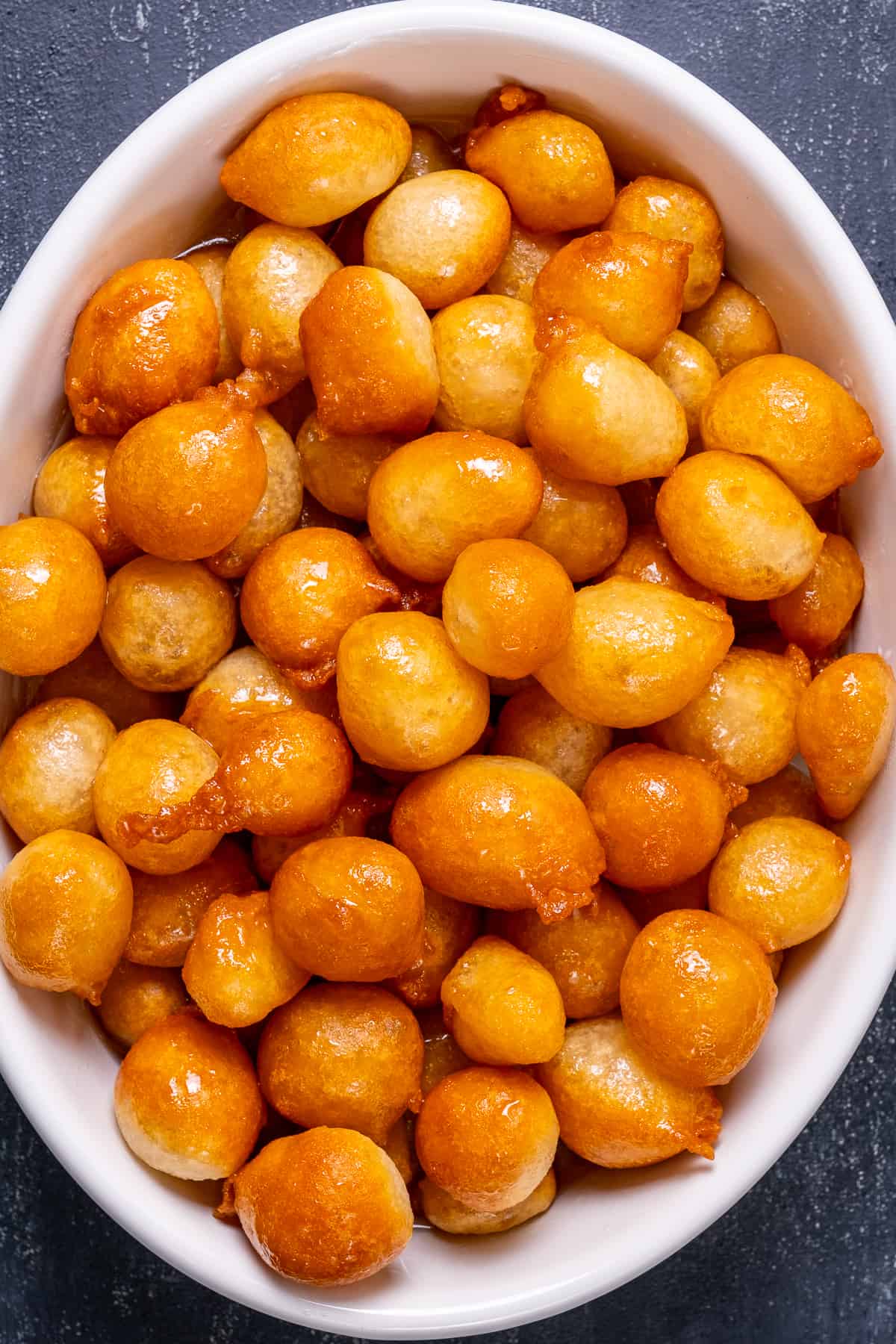 Tips
While frying the dough balls, you may see that the oil gets too hot. The balls will become golden too quickly before the inside gets time to cook. In this case, turn off the heat after the first batch has been fried. Wait for about 5 minutes and then turn the heat back on to fry another batch.
If you don't like shaping the dough balls in the traditional way (using your hands), you can use a piping bag instead. Squeeze a small amount of dough through the tip, then cut it off with scissors over the hot oil. Remember to dip the scissors in the cold bowl of oil before cutting the dough.
Again, the syrup must be cold before you add the hot fried balls. This is the best way for them to absorb the sweet sticky syrup. And the balls should be hot as well. The heat makes them more absorbent.
Serving
Usually, lokmas have the best taste and crispiness when they are till hot. You can sprinkle over some cinnamon or nuts if you want.
It is often served with Turk Kahvesi (Turkish coffee) or tea. Another great accompaniment for it is dondurma (Turkish ice cream), especially during summer.
Storing
If you are lucky enough to have leftover lokmas, you can store it inside an airtight container. Keep it at room temperature for up to 4 days.
Some people like storing theirs inside the sugar syrup, but for us, it makes them too soft and soggy.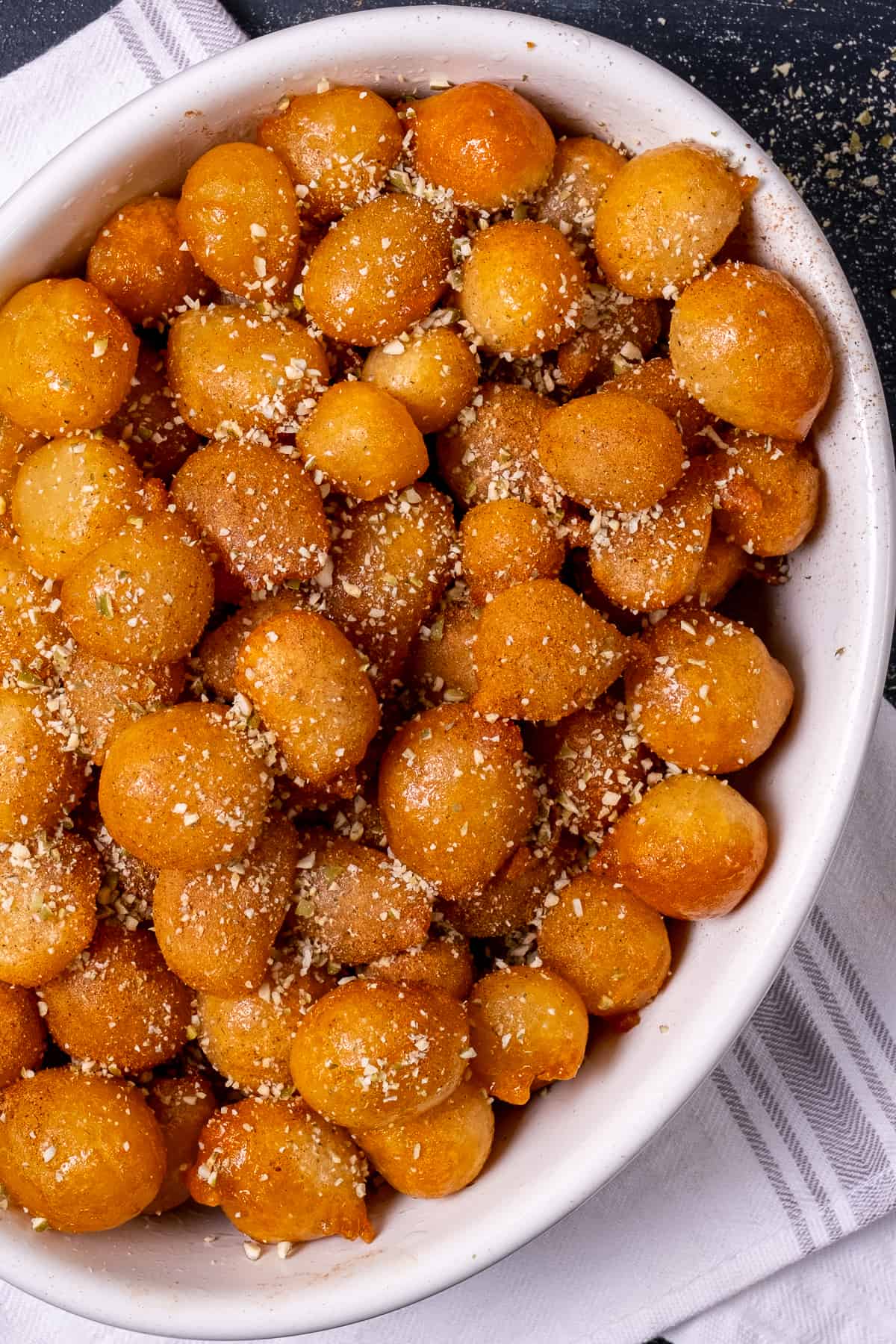 A Traditional Turkish Dessert
Lokma is a common treat especially in Izmir, a city in the Aegean region of Turkey. And there are companies in this area making it for such occasions.
Lokma is traditionally made in big amounts and served to large group of people at special occasions like weddings, openings of workplaces, even at funerals.
This simple dessert is also a treat served 40 days after somebody passes away. It is made in large batches and offered to neighbors and people passing by. This is a tradition that is known as a good way of showing respect to the person who is lost.
While there is a big cultural significance associated with these sweet balls, they are also just made as a snack or dessert.
Besides being a traditional treat at special occasions, lokma has also become one of the best summer treats you might encounter on the beach. Tourists and locals love to eat this hot served lokma even under the sun in summer. You start to feel a sudden craving for it right after you stop swimming or when lying on the beach.
In Turkey, there are two versions of the dessert lokma. One of them is called "Izmir lokmasi". It is shaped like traditional doughnuts with a hole in the center, but much smaller in size. The traditional spherical ones are called "saray lokmasi." And we are sharing the recipe of this one today.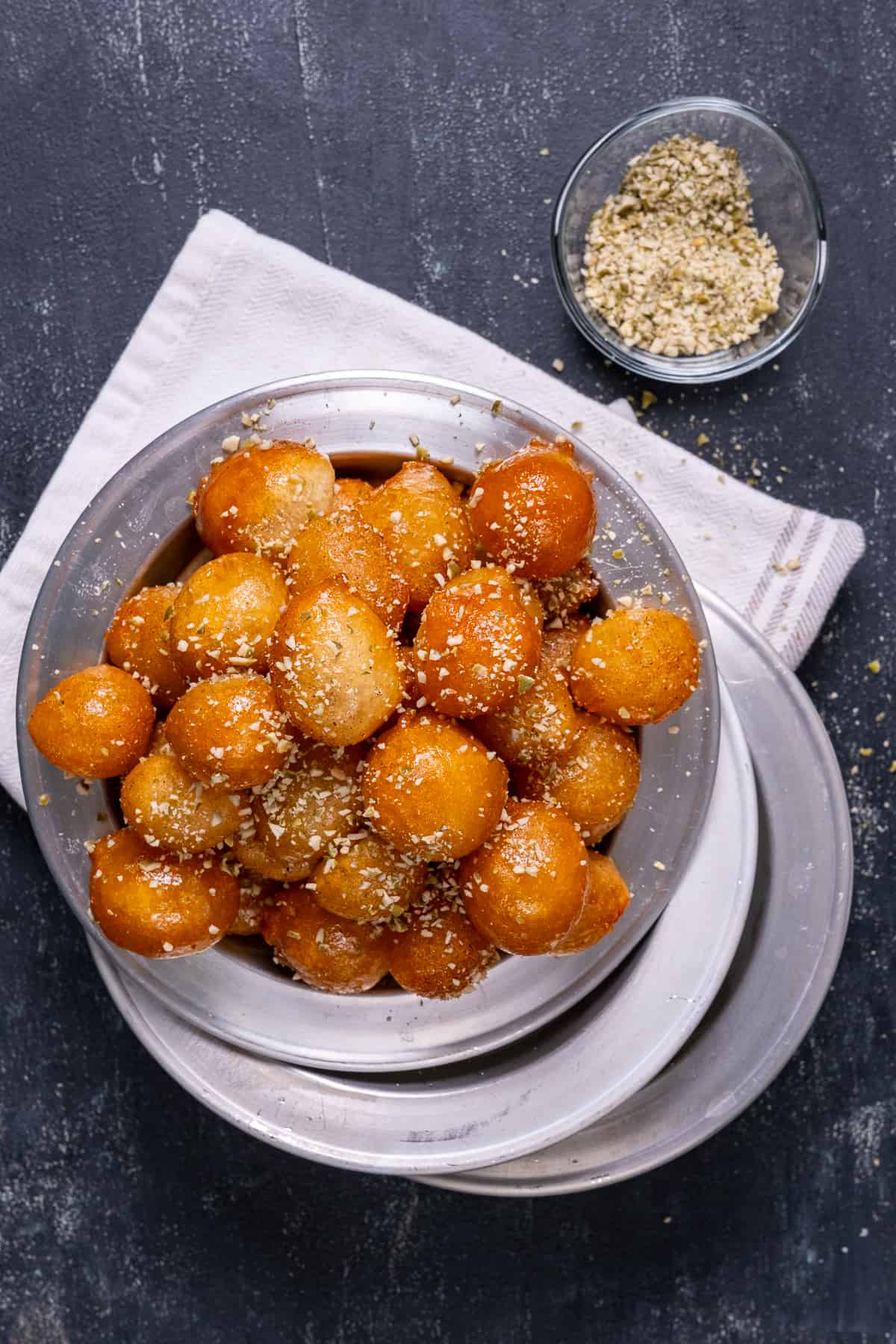 Origins
It has become a popular treat in Turkey, but the origins of lokma are in Arabic cuisine. According to an article in Wikipedia, it emerged in the 13th century in an Arabic cookbook with the name luqmat al-qadi, meaning judge's morsels. It immediately caught the attention of Ottomans and became a dessert of the palace and then spread around the Middle East, the Balkans and Caucasus. Each cuisine has its own variation.
In Iraq, this dessert is known as luqaymat (morsel) and it is sometimes flavored with cardamom and saffron.
Other names used for this sweet in the Middle East are awameh and zalabya, but the shapes and toppings might change.
In Cyprus, lokma is made in the same way as in Turkey. But they are garnished with a light sprinkle of powdered sugar.
And finally, there is Greek version of this dessert. Unlike Turkish lokmas, Greek Loukoumades (lokmades) are not dipped in sugar syrup but they are topped with honey instead. So these fried dough balls are also known as honey balls in Greece. They could also be topped with cinnamon, chocolate sauce, powdered sugar or coarsely chopped walnuts.
Also, Jewish Greeks call them zvingoi (sponge) and make them as a special sweet during Hanukkah.
Lokma Vs Gulab Jamun
These look very similar but differ in two main ways.
The first is the batter. Gulab Jamun is an Indian dessert. The batter is mainly made from milk powder, milk and ghee. This gives the balls a very different consistency and flavor.
The second difference is about the syrup. While both desserts use sugar syrup, gulab jamun is always flavored with rose water and with spices like cardamom and saffron.
More Turkish Desserts
As always: If you make this recipe, let us know what you think by rating it and leaving a comment below. And post a pic on Instagram too—tag @give_recipe so we can see!
Sign up for the FREE GiveRecipe Newsletter to get the new recipes into your inbox! And stay in touch with us on Facebook, Pinterest, YouTube and Instagram for all the latest updates.
Print
📖 Recipe
Lokma Dessert Recipe (Fried Sweet Dough Balls)
Fried sweet dough balls soaked in sugar syrup. Crispy on the outside, soft and juicy on the inside.
Author: Zerrin & Yusuf
Prep Time:

1 hour 20 minutes

Cook Time:

25 minutes

Total Time:

1 hour 45 minutes

Yield:

3

0

1

x
Category:

Dessert

Method:

Frying

Cuisine:

Turkish
Syrup:
2 cups

water

2

,5 cups sugar

1 tablespoon

lemon juice

1

thin slice of lemon
Dough:
3

,5 cups flour

1 teaspoon

instant dry yeast

1 tablespoon

sugar

A pinch of salt

2 cups

lukewarm water
For Frying:
2 cups

oil (vegetable or sunflower oil)

¼ cup

oil to dip the teaspoon when shaping the dough
Instructions
Syrup:
Put sugar and water in a saucepan. Bring it to a boil over medium heat. Stir until the sugar dissolves. 

Once it boils, reduce the heat to medium low. Add in lemon juice and lemon slice. Let it simmer for 10-15 minutes or until it has a syrupy consistency. Remove from the heat and let it completely cool down.
Dough:
In a large mixing bowl, whisk together flour, yeast, sugar and salt. 

Gradually pour the water and keep whisking. You will get a runny and sticky dough. A bit thicker than a regular cake dough. 

Cover the bowl with plastic wrap and let it rise for 50-60 minutes or until it doubles. 

Uncover it and stir with a spatula to release the air inside it. Put it aside.

Heat oil in a saucepan over medium heat. 

Put ¼ cup oil in a small bowl and place it next to the dough bowl. You will use it to dip the teaspoon when shaping the dough.

Take some dough in your palm and squeeze it so that you see a ball shape of dough between your thumb and forefinger. Dip a teaspoon into the oil in the small bowl and using this spoon, scrape that dough ball between your fingers. Immediately place it in the hot oil. 

Repeat this until the saucepan is full, but don't overcrowd it. Make sure to dip the teaspoon you use in the oil before scraping the dough. Otherwise it will stick to the dough.

Fry the dough balls until golden. 

Transfer the fried balls into the cold syrup when they are still hot. Let them sit there for 3-4 minutes and then transfer onto another bowl using a slotted spoon. Leave the syrup in the saucepan.

Store the leftovers at room temperature for up to 4 days.
Notes
When frying the dough balls in batches, the oil might get too hot. And the balls might get golden very fast but their inside remains doughy. To avoid this, it is better to turn the heat off after the first or the second batch, wait for about 5 minutes and then turn it on again.

If you find the traditional way of shaping the dough messy, you can just use a piping bag. Squeeze a small dough and cut it with scissors right into the hot oil. 

Make sure the syrup cools completely before dropping the fried dough balls into it. 

Don't let the fried dough balls cool before putting them into the syrup. They should be warm to absorb it.
Nutrition
Serving Size:
Calories:

248

Sugar:

17.1 g

Sodium:

79.3 mg

Fat:

15.1 g

Carbohydrates:

28.3 g

Protein:

1.6 g

Cholesterol:

0 mg
Keywords: lokma, lokma dessert
You might also like: