Is there anyone who hasn't heard about baklava? It is a well known Middle East dessert around the world and it has varieties. It is either filled with crumbled pistachio or crumbled walnuts. Although pastry shops sell both types, it's a tradition in Turkey to make it at home to celebrate Eid ul-Fitr. I don't know why but homemade baklava is always much more tasty than the most pricy one in the industry. It's absolutely more valuable to serve your guests the baklava you make during Eid. I feel like this tradition will die unless young women learn how to make it. I accept it is not very easy to make it at home, but you are encouraged enough if you have your mother or grandmother with you.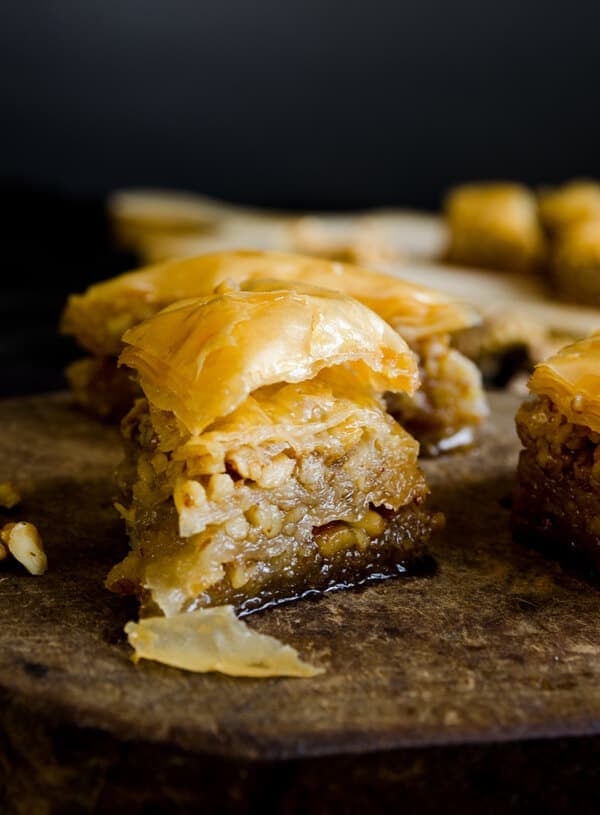 Layers of good baklava must be very thin, as thin as parchment paper which makes it a challenging dessert to make. Several dough layers are put together and rolled out together. Instead of flour, corn starch is used to prevent them from sticking to one another.
MY LATEST VIDEOS
I highly recommend you to have a look at Ozlem's wonderful post including steps and tips of making baklava with the pictures taken in her culinary tour in Istanbul: Baklava 101 from the Masters&Tips to Make the Real Thing at Home.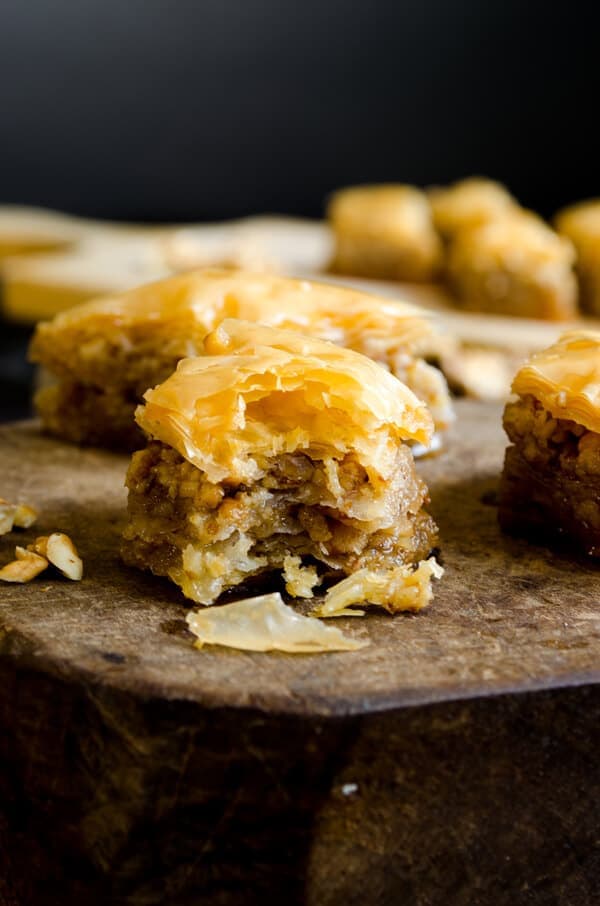 I find it interesting, but Stuffed Grape Leaves are served on the same plate with homemade baklava in Eid in central Anatolia. I guess by serving these two laborious foods, you want to show your guests how valuable they are for you. You must watch how much you eat during Eid otherwise you might easily get bored of baklava after eating it at every home you visit.
Did you know there is a special way to eat baklava recommended by masters of it? Grab it with two fingers, turn it upside down and eat it that way. Masters from Gaziantep say that you must first feel the sweetness of this dessert on your palate. The bottom layer is the sweetest part of it, the top layer is left crispy. That's why you turn it upside down when eating. We don't always eat it that way though.
No, I am not the one who made this mouthwatering baklava for this Eid. It is more than difficult for me with my little prince, right? I'd love to try it one day though when mom is with me and when Göktürk grows older.
This crispy and irresistibly tasty baklava is made by a very sweet neighbor. When we visited her this Eid, she gave us a small box of her baklava as a gift! What a neighbor! She even gave the recipe and I wrote it down for you.
See our other chocolate recipe videos here:

Print
Homemade Baklava for Eid
Irresistible homemade baklava stuffed with walnuts.
Prep Time:

1 hour

Cook Time:

50 minutes

Total Time:

1 hour 50 minutes

Yield:

25

1

x
Scale
Ingredients
Dough:

4 cup

s flour

1

egg

½ cup

lukewarm milk

½ cup

juicy yogurt

1 tbsp

baking powder

½ cup

corn oil
For rolling out:

500

g corn starch
Filling:

1

and ½ cup walnut, crumbled
topping:

150

g butter
Syrup:

5 cup

s sugar

3

and ½ cup water

1 tbsp

lemon juice
Instructions
Mix all ingredients for dough and combine well. It will not be a too soft dough. Wait it for 20 min.
Divide it into three and make 16 small balls from each, so you will have 3 groups of balls, each with 16 balls.
Sprinkle corn starch over them.
Take one of the balls and roll it out a little using corn starch. Sprinkle corn starch over it and put it aside.
Roll out 15 balls in the same way and put them on the first one sprinkling starch between layers and they overlap.
Repeat the same for the other two groups.
Preheat oven to 190C.
Brush a round oven tray with a little oil.
Now take the first rolled group and roll all of them together as big as thin as you can. Use starch when needed.
Place these layers into the tray and add half of the walnuts on it.
Roll out the second group of 16 layers in the same way and place them right over the walnuts.
Sprinkle the rest of walnuts on it.
Roll out the third group and place it over the second walnut layer.
Cut it into slices with a thin and sharp knife.
Melt butter and pour it hot over it.
Bake it at 190C until golden, about 50 min.
Let it cool.
Mix sugar and water in a pot and bring it to boil.
Let it boil for 15 min.
Add in 1 tbsp lemon juice, boil for 2 more minutes.
Pour the warm syrup over cold baklava and let it absorb the syrup well.
Serve at least after 4 hours.
IF YOU LIKED THIS RECIPE, THEN YOU WILL LOVE THESE: