Homemade baklava is a sweet and tasty treat that comes from a long tradition. It's made by stacking thin sheets of dough called phyllo, with a filling of chopped nuts in between. After baking it to a golden crisp, it's soaked in sweet syrup. The process might take some time and patience, but biting into your own baklava is truly a joy worth the effort.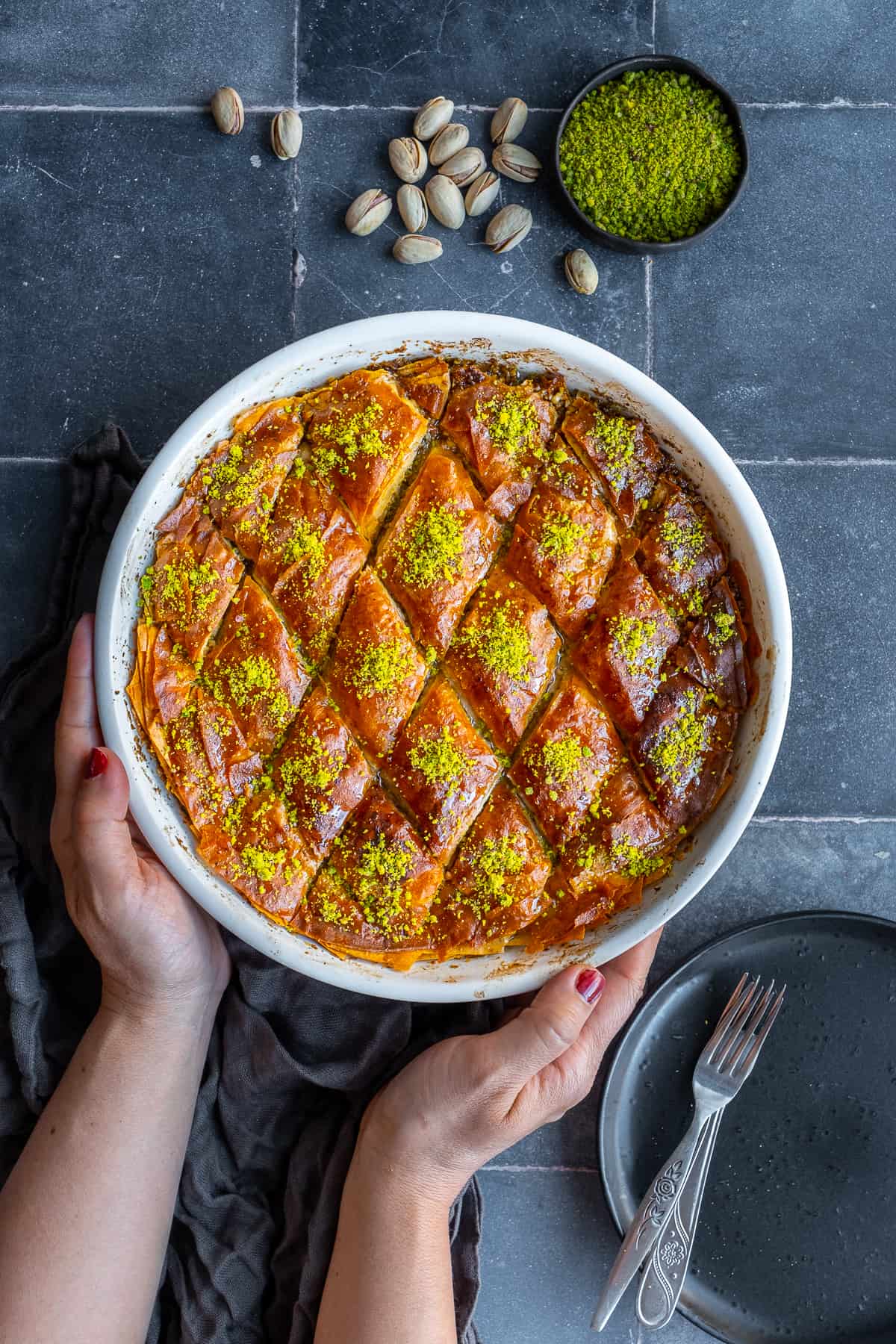 Baklava, a beloved sweet from the Middle Eastern and Mediterranean cuisines, has many delicious variations. These differences can come from the types of nuts used, the spices added, the composition of the syrup, and even the shape of the final baklava dessert.
If you like baklava, check out our best filo dough recipes too!
Jump to:
Can You Make Baklava At Home?
Yes, you can definitely make baklava at home!
With some patience and the right ingredients, like phyllo dough, nuts, and syrup, you can create this delicious dessert in your own kitchen. 
The process involves layering thin sheets of phyllo dough, adding a filling of chopped nuts, and drizzling it with a sweet syrup.
While it might seem challenging at first, it's quite doable and the result is definitely worth the effort. Plus, there's nothing quite like the taste of homemade baklava!
Today, we are going to share the ingredients for baklava and how to make baklava at home. We'll start with the basic steps, then we'll explore different fillings and syrups you can use. We'll also share our handy tips for the best result.
Why You Will Like This Recipe
If you're a fan of sweet treats, you're going to love our homemade baklava recipe. Here's why:
Make Ahead: You can make it ahead of time. It even tastes better after it sits for a day or two, making it perfect for parties or special occasions when you want to prepare things in advance.
Straightforward: While baklava might seem complicated because of all those layers, our recipe is really simple to follow. We break down each step and share the tips so you can easily create this traditional dessert at home.
Customizable: You can customize it. Choose your favorite nuts for the filling and adjust the sweetness by using more or less syrup.
Delicious: Most importantly, our easy phyllo dough baklava recipe is absolutely delicious! It's sweet, crispy, and full of nutty flavor.
What Is Authentic Baklava Made Of?
It is made of three main parts: phyllo dough (filo dough), a nut mixture, and a sweet syrup.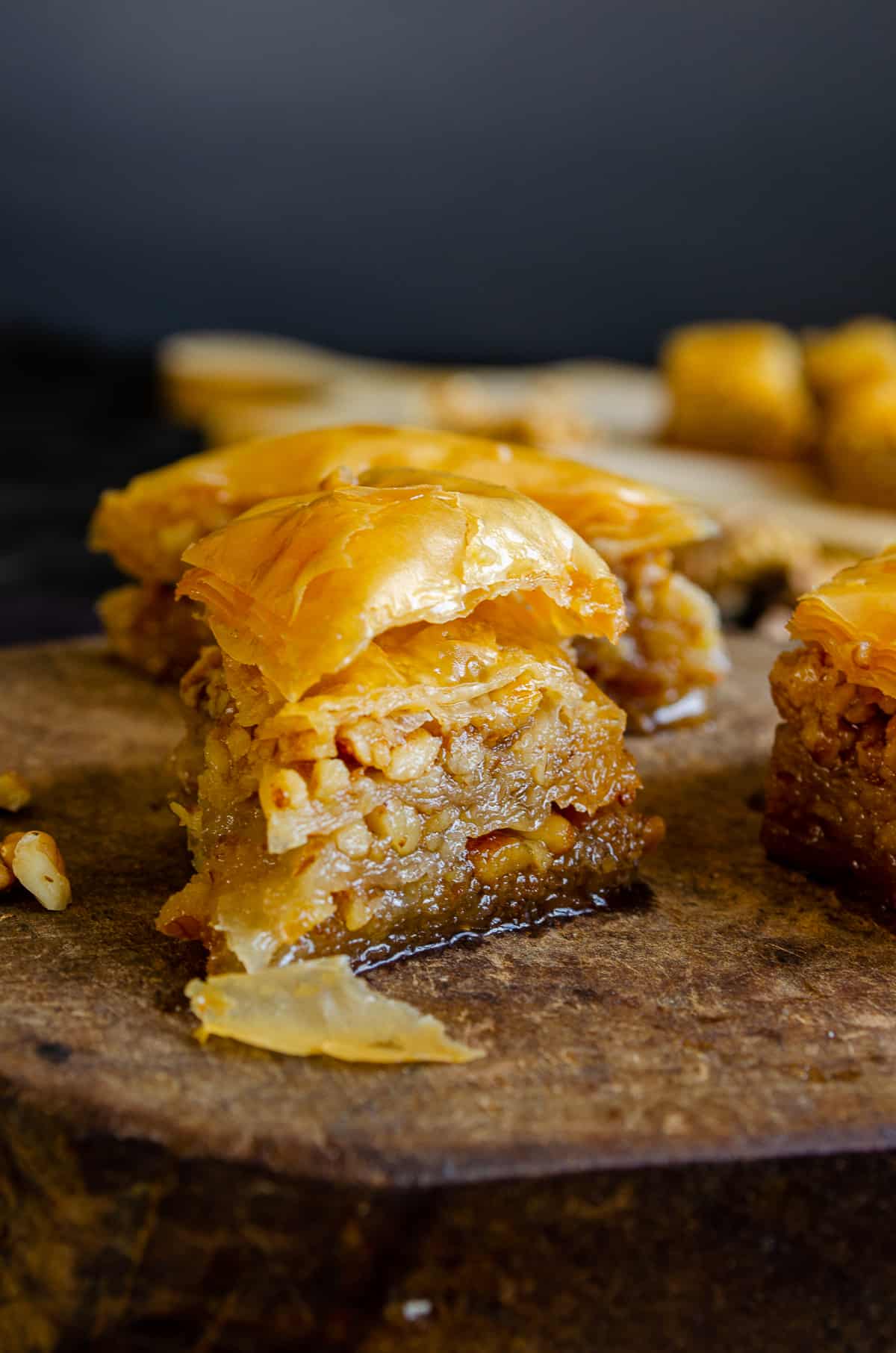 Phyllo Dough: This is a very thin dough that can be bought from a store, but you can also make it at home. It's like a paper-thin sheet that is layered to make the baklava.
Nut Mixture: The nut mixture that goes between the layers of phyllo dough can be made from different kinds of nuts. Usually, people use pistachios, walnuts, or almonds. These nuts are chopped up into small pieces.
Sweet Syrup: After the baklava pastry is baked, a sweet syrup is poured over it. This syrup is usually made from sugar, water, and a slice of lemon or a tablespoon of lemon juice. This is a very similar syrup used in several other Turkish desserts like ravani and kuneffe.
So, in simple words, authentic baklava is made by layering thin sheets of dough with a mixture of chopped nuts, baking it until it's golden and crispy, and then pouring a sweet syrup over it. The result is a delicious treat with a sweet, nutty taste and a crispy, sticky texture.
Alternative Add-Ins
There are several creative add-ins that you can use to customize your baklava. Here are a few alternatives:
Chocolate: Melted chocolate can be drizzled on top of the baked baklava for a decadent touch.
Coconut: Shredded or flaked coconut can be mixed into the nut filling, giving the baklava a tropical twist.
Rose Water: This is usually added to the syrup. It gives the baklava a subtle, floral aroma which can be very pleasant.
Orange Blossom Water: Similar to rose water, orange blossom water is usually added to the syrup and gives a sweet, citrusy floral note to the baklava.
Cardamom: This spice can be mixed into the nut filling. It has a sweet, spicy flavor that complements the other flavors of baklava well.
Greek Baklava vs Turkish Baklava
Greek baklava and Turkish baklava are two delicious versions of the same dessert. They are similar, but have a few differences:
The Syrup: One big difference is the syrup that's poured over the baklava after baking. Greek baklava uses a honey-based syrup, which makes it taste a bit sweet and gives it a distinct honey flavor. It might also be flavored with a cinnamon stick. On the other hand, Turkish baklava uses a syrup made from sugar and water with a little slice of lemon.
The Nuts: The type of nuts used in the filling can also be different. Greek baklava often uses walnuts or almonds, while Turkish baklava usually uses pistachios or a mixture of walnuts and pistachios.
The Layers: Turkish baklava tends to have more layers of phyllo dough, which can make it a bit lighter and flakier than the Greek version.
Both versions are very tasty, and the best one really depends on your personal preference. Whether you like the sweet honey flavor of Greek baklava, or the lighter, flaky texture of Turkish baklava, both are worth a try!
What Are The Best Nuts In Baklava?
When making baklava recipe from scratch, you can use a few different kinds of nuts. Here are the most popular choices:
Pistachios: These are often used in Turkish baklava. They give a unique flavor and a bright green color that looks really nice.
Walnuts: A lot of people use walnuts, especially in Greek baklava. They have a strong, slightly bitter taste that works well with the sweet syrup.
Almonds: Almonds are another good option. They are a bit milder and sweeter than walnuts.
Hazelnuts: These nuts are not as commonly used, but they also make a tasty baklava. They have a rich, slightly sweet flavor.
Remember, you can also mix these nuts together.
You might also be wondering, "Can I use peanuts in baklava?"
While peanuts aren't traditionally used in baklava, you can use them if you want to try something different. So, while you might create a tasty dessert with peanuts, it would be a different twist rather than a classic baklava dessert recipe.
How To Prepare Phyllo Sheets
Preparing phyllo dough sheets for baklava is a simple task, and here's how you do it:
Thaw the Phyllo Dough: Let the package sit in the fridge for about 24 hours. Then, leave it at room temperature for about 1 hour before you want to use it. This makes it easier to handle.
Trim the Sheets: The size of your phyllo dough sheets might be bigger than your baking dish. If that's the case, you'll need to trim them. If you're using a round baking pan, you can put the pan on top of a stack of phyllo sheets and cut around it with a sharp knife. For a rectangular pan, just measure the length and width of your pan and cut the sheets to those dimensions.
Keep It Moist: Phyllo dough can dry out quickly, so it's important to keep it covered with a damp towel while you're working.
What If The Phyllo Dough Rips While Assembling?
Don't worry. This happens quite often when making filo pastry baklava and it's not a big issue. Just keep going! You can patch the ripped dough by placing another sheet or piece of phyllo over the tear.
Also remember, the ripped sheets are best used in the middle layers, as they'll be less noticeable there.
How To Make It
Making baklava with honey is a simple process that involves a few steps: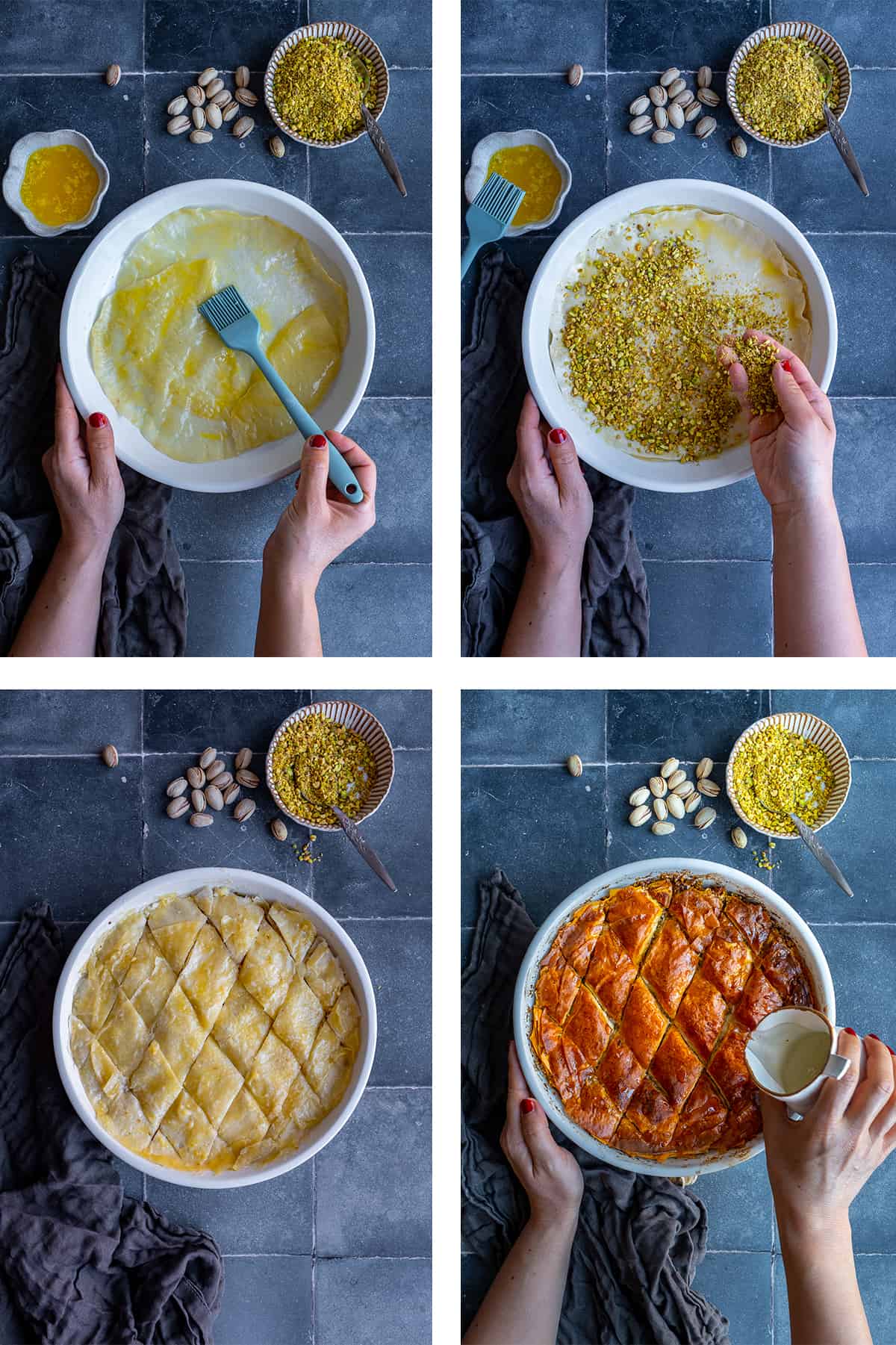 Prepare the syrup: Mix sugar, water, honey, cinnamon stick and a slice of lemon in a pot. Heat it until the sugar melts, then let it cool down.
Prepare the filling: Chop your chosen nuts into small pieces. You can use your food processor for this. Make sure that the nuts don't get too fine. Leave them a bit chunky.
Layer the phyllo pastry: Brush a baking pan with melted butter. Put a sheet of phyllo dough in the pan, then brush it with butter. Repeat this until you have a stack of 6 buttered sheets. Make sure not to use too much butter, brush the sheets just lightly.
Add the filling: Sprinkle some of the chopped nuts over the phyllo sheets.
Repeat the layers: Add another five layers of buttered phyllo, then more nuts. Do this until all your ingredients are used up.
Bake: Put the baklava in the oven and bake it until it's golden brown.
Add the syrup: After you take the baklava out of the oven, pour the cooled syrup over it.
Let it sit: Leave the baklava to soak up the syrup for a few hours, or even better, overnight.
Serve: Cut your baklava into pieces and serve. Enjoy the sweet, nutty, crispy deliciousness!
Expert Tips
Here are some easy tips to help you make the best baklava recipe:
Thaw your phyllo dough right: Take it out of the freezer and put it in the fridge the night before you want to make baklava pastry.
Keep your phyllo dough covered: It can dry out fast, so keep it under a damp kitchen towel.
Butter the phyllo sheets well: This helps make the baklava crispy.
Cut your baklava before baking: It's easier to cut into pieces before it's cooked and crispy.
Pour cool syrup on hot baklava or hot syrup on cool baklava: This helps the syrup soak in better.
Give it time to soak: After pouring the syrup, let your baklava sit for a few hours or even overnight. This gives it time to soak up the syrup and become even tastier.
Vegan Variation
Homemade baklava can definitely be made vegan-friendly with a few simple tweaks to the traditional recipe. Here's how:
Substitute for Butter: Traditional baklava recipes often use butter to add richness and help make the phyllo dough crispy. In a vegan baklava recipe, you can easily substitute the butter with a plant-based alternative. One of the best choices is coconut oil because of its similar consistency to butter. Alternatively, you can use a vegan butter or a neutral tasting oil like sunflower oil.
Syrup Sweetener: Honey is often used in baklava syrup but is not vegan. So, you can make a syrup using granulated sugar, water, and lemon juice instead.
Can I Make Baklava Dough At Home?
Absolutely, you can make your own baklava dough, also known as phyllo dough, at home!
You'll need basic ingredients like flour, water, vinegar, oil, and an optional egg to make the dough.
Making traditional baklava dough involves flattening dough balls into small circles, stacking them with cornstarch sprinkled in between, and rolling them out until they double in size.
After a round of separating and stacking again with more cornstarch, they are rolled out to paper-thin circles.
Finally, they are separated, covered, and ready to use immediately. This method requires time and practice but is rewarding for homemade baklava.
Making your own phyllo dough at home isn't too difficult, but it does take a bit of time and practice. Remember, patience is key and the more you do it, the better you'll get!
Storing
After it's cooled and soaked in the syrup, place your homemade baklava in an airtight container at room temperature. You don't need to refrigerate it; cold can make it less crispy.
Properly stored, it can last up to 2 weeks. If you want to keep it longer, freeze it in a well-wrapped, freezer-safe container and thaw at room temperature when ready to enjoy.
Serving Suggestions
Here are the most popular ways of serving baklava:
With Tea or Coffee: Baklava is traditionally served with Turkish tea or Turkish coffee. The slight bitterness of the tea or coffee complements the sweetness of baklava beautifully.
With Ice Cream or Whipped Cream: For an extra indulgent dessert, serve baklava with a side of Turkish ice cream or a dollop of clotted cream (kaymak). The cool, creamy textures can balance out the rich, crispy layers of the baklava.
With a Sprinkle of Extra Nuts or a Drizzle of Syrup: Just before serving, you could sprinkle some finely chopped nuts on top for extra crunch, or drizzle a little extra syrup or honey over the top for added sweetness.
As Part of a Platter: Baklava makes a great addition to a platter, especially if you're serving a Middle Eastern or Mediterranean meal. It can be served along with yaprak sarma or biber dolma.
Did you know there's a special trick to enjoy baklava even more?
People who really know their baklava say this: the bottom part is the sweetest. So, here's what you do. Pick up the baklava with two fingers, flip it so the bottom part is now on top, and then eat it. You'll taste the sweet flavors even better this way!
FAQs
Why is my baklava soggy?
This can happen if the syrup is not properly absorbed. Make sure to pour cold syrup on hot baklava or hot syrup on cool baklava to help it soak in better.
Why is my phyllo dough tearing?
Phyllo dough can dry out quickly, so it's important to keep it covered with a damp kitchen towel when you're not using it.
Can I use different types of sweeteners for the syrup?
Yes, some people use agave syrup, maple syrup or brown sugar for a different flavor.
Do I need to use butter? Can I use oil instead?
While butter is traditional and gives a rich flavor, you can use oil as a vegan alternative. Just make sure to use a neutral oil that won't overpower the taste of the nuts and syrup.
Other Turkish Desserts
You might also like:
As always: If you make this recipe, let us know what you think by rating it and leaving a comment below. And post a pic on Instagram too—tag @give_recipe so we can see!
Sign up for the FREE GiveRecipe Newsletter to get the new recipes into your inbox! And stay in touch with us on Facebook, Pinterest, YouTube and Instagram for all the latest updates.
Print
📖 Recipe
Homemade Baklava
Our homemade baklava recipe is a sweet and nutty treat that you'll love. We layer thin, crispy pastry sheets with a rich filling of your choice of nuts, then top it all off with a delicious syrup. It's a straightforward recipe that lets you make this classic dessert right in your own kitchen. 
Author: Zerrin & Yusuf
Prep Time:

20 minutes

Cook Time:

30 minutes

Total Time:

50 minutes

Yield:

2

0

1

x
Category:

Dessert

Method:

Baking

Cuisine:

Turkish
Honey Syrup:
1 cup

(

200 g

) granulated sugar

1 cup

(

240

ml) water

½ cup

(

145 g

) honey

1

cinnamon stick

1

thin slice of lemon or (

1 tablespoon

lemon juice)
Basic Baklava Filling:
2

and ½ cups (

350 g

) nuts (We used a combination of pistachios and walnuts. Hazelnuts and almonds are great too. You can even use a combination of all these)
Baklava:
30

phyllo dough (filo pastry) sheets, thawed ( or homemade filo pastry)

1

and ½ sticks (

170g

) butter, melted
Instructions
Thaw the phyllo pastry (if required on the package): 

Put the packaged phyllo dough in the fridge. Leave it there for about 24 hours. This lets it thaw slowly, which is the best way to do it. After it's thawed in the fridge, leave the phyllo dough at room temperature for about 1 hour before you want to use it. This makes it easier to handle. 


Prepare the syrup:

 Combine the sugar, water, honey, cinnamon stick and lemon slice in a saucepan. Stir over medium-high heat until it starts to boil. Then, lower the heat and let it simmer for 10-15 minutes. After that, remove the lemon slice and the cinnamon stick and set it aside to cool.

Prepare the filling:

 Coarsely chop your selected nuts, ensuring a chunky texture rather than a fine grind. Set aside.

Prepare the oven, phyllo sheets and pan:

 Preheat your oven to 350°F (180°C). Trim the phyllo dough sheets to fit into your round baking pan (we use a 10-inch /25 cm round baking pan). Cover them with a kitchen towel so that they don't dry. Then, brush the bottom and sides of your pan with some of the melted butter.

Layer the baklava:

 Lay one sheet of phyllo dough in the pan, and brush it with melted butter. Repeat with 5 more sheets, so you end up with 6 sheets layered and buttered. Sprinkle ¼ of your chopped nuts evenly over the buttered phyllo dough.
Continue this process, creating 4 layers of nuts and 5 layers of buttered phyllo dough. Each phyllo layer should consist of 6 sheets, and remember to sprinkle the nuts after every fifth buttered sheet.
Once your final layer of phyllo is in place, make sure to also butter the top layer. Using a sharp knife, cut the baklava into diamonds or squares before baking. 

Bake:

 Bake the baklava for about 30 minutes, or until it is golden brown and crisp.

Pour the syrup over hot baklava:

 Immediately after removing the baklava from the oven, pour the cooled syrup over it slowly, ensuring it goes into the cuts. This will create a pleasing sizzle. Let it rest uncovered for 4-5 hours, allowing the flavors to fully merge together.

Garnish:

 When serving, you can garnish it with ground pistachio if you want.
Notes
Thaw your phyllo dough in the fridge the night before you want to make baklava pastry.
Keep your phyllo dough covered under a damp kitchen towel while working with it.
Cut your baklava before baking.
Pour cool syrup on hot baklava. So make the syrup first.
After pouring the syrup, let your baklava sit for a few hours or even overnight.
Nutrition
Serving Size:

1 slice

Calories:

307

Sugar:

17.4 g

Sodium:

139.8 mg

Fat:

18.1 g

Carbohydrates:

34.1 g

Protein:

4.4 g

Cholesterol:

18.2 mg
Keywords: homemade baklava, baklava recipe from scratch