This Stuffed Green Pepper Recipe is made with ground beef, rice and middle east spices. Makes a flavor-packed family dinner for busy weeknights. These beef and rice stuffed peppers are easy to make and freezer friendly.
Although we often use mini green peppers to make Cheese Stuffed Peppers and serve them as an appetizer, our choice is to make these easy stuffed bell peppers when it comes to a comforting dinner.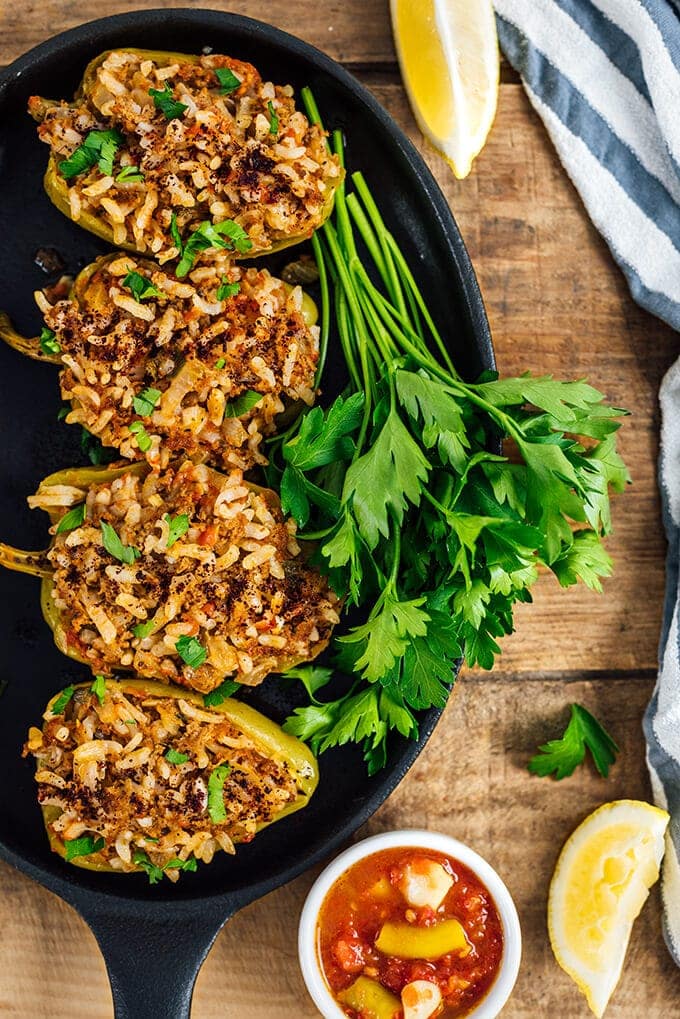 This is an easy recipe for stuffed green bell peppers, so they are one of my favorite freezer friendly recipes. Just like our Stuffed Zucchini Recipe, I prepare them at the weekends and freeze so that I have the easiest dinner on a busy weeknight. You don't even need to thaw before cooking. It's a classic comfort food that everyone in my family loves.
How To Make Turkish Stuffed Green Pepper Recipe
We make both vegetarian and non-vegetarian versions of these easy stuffed peppers in Turkey and they are equally loved in our home. There are three easy parts in the recipe:
First, prepare the green bell peppers. This is the part that makes this recipe easier because unlike classic recipes for stuffed peppers, in which bell peppers remain whole, the peppers are cut in half lengthwise. It is way easier to remove the seeds in this method. Also, you can load the pepper halves with the filing. What's more, it's less likely to end up with mushy filling. If that's what you find difficult when stuffing peppers, go ahead and halve the peppers before stuffing them.
Second, prepare the filling. This is a stuffed green peppers recipe with rice and ground beef. Combine these two with all the remaining ingredients in a large bowl. The spices really enrich the flavors in this recipe, so I suggest that you use them all. If you love spicy foods, I'm sure you will love these peppers. However, if there is a spice you are not a fan of, you can definitely leave it out. I just recommend you not to skip olive oil and lemon juice. If you are into a vegetarian, you can easily turn it into a stuffed green peppers with rice recipe by leaving out ground beef and replacing it with extra rice.
Third, stuff the peppers with the filling and cook them in a shallow pan. When stuffing the peppers, make sure you leave enough room for the rice to cook.
I guarantee this will become your favorite stuffed green pepper recipe!
Beef And Rice Stuffed Peppers Leftover Filling
The size of bell peppers I use is never the same, so it's hard to give the exact measurement for filling ingredients, so I usually end up with some leftover filling. So what can we make with it? I either place it around the stuffed peppers in the pan or freeze it separately to use it later. Sometimes I don't use it to stuff peppers, I cook it as it is and serve it as a side dish instead, which is my son's favorite.
What Goes With These Easy Stuffed Peppers
I love to sprinkle sumac on top of the filling right before serving, but it's totally optional. I love the extra tangy flavor of this Middle Eastern spice. Also, it is almost a must to serve these with lemon and plain yogurt on the side. If we make the meatless version, we mostly serve it at room temperature and with extra olive oil. We sometimes serve it with Turkish Yogurt Cucumber Dip Cacik. A fresh tomato and cucumber salad like Turkish Shepherd Salad goes well too if it's summer time.
How to Reheat Stuffed Green Peppers
Did I tell you how much I love this stuffed green pepper recipe? It is easier to reheat these too. When heating the leftover stuffed bell peppers, take one tablespoon of the liquid in the pan and drizzle over the filling inside the peppers so that it doesn't get dry and heats equally. Heat covered over medium low heat on the stove. If there is no water left in the pan, add some extra water and then heat.
Print
Stuffed Green Pepper Recipe
Bell peppers stuffed with rice and with or without ground beef makes the easiest weeknight dinner when prepared and frozen beforehand.
Author:
Prep Time:

20 minutes

Cook Time:

40 minutes

Total Time:

1 hour

Yield:

20

1

x
Category:

Dinner

Cuisine:

Turkish
10

sweet bell peppers

250g

(

9 oz

.) lean ground beef

1

and ½ cups rice, well rinsed and drained

4

medium sized onions, finely chopped

4

cloves garlic, finely chopped

2 tablespoons

tomato paste

2 tablespoons

parsley, chopped

1 tablespoon

dried mint

2 teaspoons

ground black pepper

1 teaspoon

chili powder

¼ teaspoon

cumin

3 teaspoons

salt

1 tablespoon

lemon juice

¼ cup

olive oil

1

and ½ cups water
Vegetarian Version:
10

sweet bell peppers

1

small tomato, chopped

10 tablespoon

rice (

one

for each pepper)

4

medium sized onions, finely chopped

2 tablespoons

tomato paste

2 tablespoons

parsley, chopped

1 tablespoon

dried mint

1 tablespoon

currants

1 tablespoon

pine nuts

2 teaspoons

ground black pepper

½ teaspoon

cinnamon

3 teaspoons

salt

1 tablespoon

lemon juice

½ cup

olive oil

1

and ½ cups water
Instructions
In a large bowl, combine all the ingredients except bell peppers and water.
Halve the bell peppers lengthwise and remove seeds. Alternatively, cut the tops of peppers, discard the seeds. Don't throw away the tops so that you can put them back on the peppers after they are stuffed.
Spoon the filling mixture into the bell peppers and place them in a large shallow pan.
If there is little filling left, place it around the peppers. If there is still a lot, you can freeze it for a later use.
Pour ½ cup water into the pot, cover with the lid and cook for 5 minutes over medium low heat. Pour the rest of the water and cook over the lowest heat for about 30min. or until the rice is cooked.
Optionally, drizzle extra olive oil over peppers after they are cooked and serve with lemon wedges on the side.
Notes
If you cook the filling mixture, the duration of cooking the dish gets shorter. But you don't have to cook the mixture in advance, you can just mix all ingredients as raw.
The nutrition facts are given only for the first list of ingredients, not for the vegetarian version.
Keywords: stuffed green pepper recipe, recipe for stuffed green bell peppers, easy stuffed peppers