These Baked Stuffed Onions make a fantastic dinner recipe that will impress your taste buds. Onions are cooked, stuffed with a spicy rice and ground beef filling and baked in a tomato sauce to perfection. And, you can easily make it vegetarian.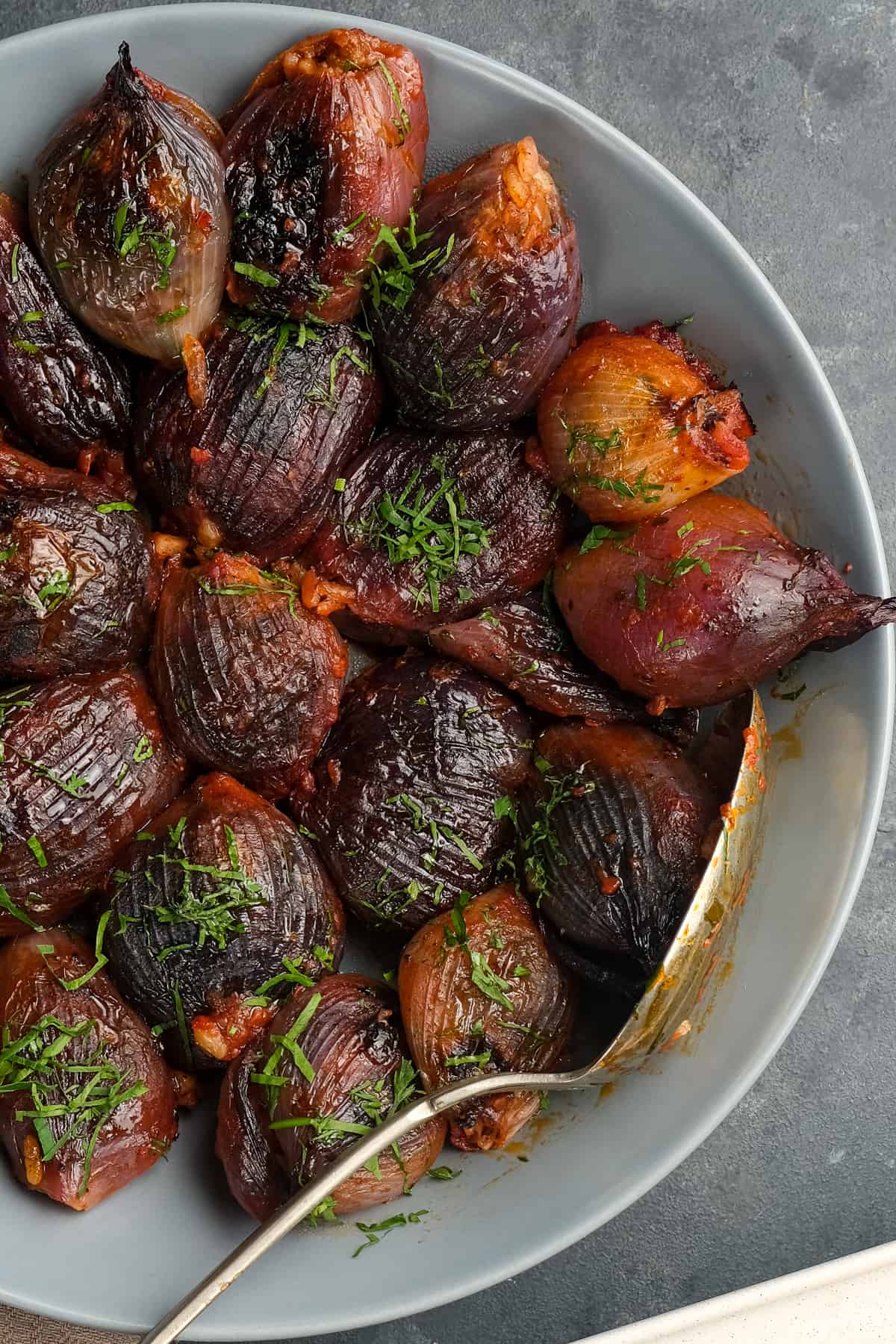 Stuffed vegetables are one of the classic Turkish foods. We have several versions of them. You should see our stuffed grape leaves, stuffed green peppers, and Turkish stuffed zucchini too!
Jump to:
Why We Love This Recipe
These are one of the best traditional Turkish dishes, so we feel at home when we make these.
They have an incredibly well-balanced middle eastern flavors. All of the ingredients in this recipe create a seamless balance of savory and sweet flavors.
These make a much fancy looking dinner.
You can make this recipe ahead of time. Because they can take a while to make, this is the perfect recipe to make ahead of time and they store very well.
They make incredible leftovers. You can either store them in the fridge or freeze them for up to three months!
They also make a perfect snack or appetizer, but can also be served as an accompaniment or main dish.
About The Ingredients
Onions: Use either purple or white onions. We love the color of purple ones when baked, so we prefer them.
Meat: We traditionally use ground beef for this recipe, however, you can use any type of ground meat you want. Try some ground lamb, pork, chicken, or even a combination of these meats.
Rice: Although there isn't a strict rule about the type, we love to use Turkish osmancik rice for stuffing veggies. Osmancik rice is a type of long-grain rice that is easy to cook. It is sold as stuffing rice (dolmalık pirinç) or pudding rice (sütlaç pirinci). Short-grain or medium-grain rice works fine too. Alternatively, you can use a combination of rice and bulgur as we do in our stuffed dried eggplant recipe.
Spices: We use black pepper, red pepper flakes and dried mint in the filling. You can substitute paprika or sweet chili powder for red pepper flakes. We love using dried mint for all of our dolma, stuffed vegetable recipes, so do not leave it out. It adds an incredibly delicious and refreshing flavor that cannot be matched by any other spice. We even use it in the sauce we pour over stuffed onions when baking.
Tomato paste: We use homemade sun-dried tomato paste both in the filling and in the sauce for the richest flavor. Try to use a good quality tomato paste.
Herbs: We only use fresh parsley in the filling but you can add fresh mint and basil too.
Olive oil: Use a good quality of olive oil. The quality of olive oil matters especially if you plan to make it vegetarian. We want to feel the flavor of olive oil more when there is no meat in stuffed vegetables. We even serve them with an extra drizzle of olive oil.
Optional lemon juice: We sometimes use fresh lemon juice in the filling or serve the dish with a wedge of lemon on the side. If you want to add some sour touch on these, include a lemon in your ingredient list.
How To Make The Recipe
This recipe is much easier than it looks and once you get the hang of the stuffing process, you can whip it up in no time! These baked stuffed onions will add a very classy look to your dinner table and make excellent snacks, accompaniments, or an entire meal on its own.
First, prepare the filling: Heat the olive oil over medium heat and fry the onions until they become translucent. Add the tomato paste and cook it for about a minute. Lower the heat and add the ground beef.
Make sure to break it apart so that there aren't any chunks.
Then, add the cooked rice and the spices for the filling. Cover the mixture and allow it to cook for 5 minutes. Remove the filling from the heat and stir in the chopped parsley.
Second, prepare and stuff the onions: Peel the onions and remove the tops. Cut one side from top to bottom straight into the center of the onion, but not all the way through.
Cook the onions in boiling water for about 10 minutes or until they become tender. Drain them from the water and allow them to cool enough. Then separate the layers of each onion. Preheat the oven to 400°F (200°C).
Place a tablespoon filling in each onion layer.
Wrap it loosely around the filling. The rice should have some space to rise.
Place the onions you stuff with the rice and beef filling in a baking pan or in an authentic clay pot.
Third, make the sauce and bake the onions: To make the sauce, simply combine tomato paste, dried mint, water, and olive oil. Pour the sauce over them.
Now bake them for 30 minutes, until the top of the onions start to brown and the sauce has reduced.
Remove the onions from the oven and allow them to rest for 15 minutes. Serve them with some reduced sauce and if you want, some freshly squeezed lemon juice.
Tips
It is extremely important to not overcook the rice. When you are making the ground beef and rice filling, do not completely cook the rice. It will continue cooking in the oven when it bakes.
When you are preparing the onions, do not cut them in half. You only want to slice them into the center from the top of the onion to the bottom. And don't worry, the layers will easily separate once they have been boiled.
You can cook these stuffed onions in a pan on the stove-top too. You have to add half of the sauce when you start and the remaining sauce later if it's needed. Make sure to use medium heat to prevent the onions from cooking too fast and burning.
These stuffed onions can be stored in the refrigerator for up to 3 days! This means you can easily store any leftovers (if you are lucky enough to have any) or you can make this dish in advance. Alternatively, you can freeze these stuffed onions for 3 months.
FAQs
Are these freezer-friendly?
This delicious stuffed onion recipe is freezer-friendly.  Once the onions have completely cooked, allow them to cool at room temperature. Then, place them inside a freezer-safe container in a single layer.
Make sure to place an airtight lid on the container and even wrap it in some plastic wrap. This will protect the onions from flavoring other frozen foods as they are very pungent. Store the stuffed baked onions in the freezer for up to 3 months.

Can I make them vegetarian?
This recipe can very easily be made into vegetarian stuffed onions with rice. You can substitute the ground beef with some cooked lentils or you can simply leave them out. The filling has enough spices to make an incredibly delicious rice-only filling.
Can I use cooked rice or leftover rice?
You can definitely use leftover rice to add to the filling. Just reduce the baking time of the stuffed onions to make sure that the filling doesn't overcook.

Can I cook them on the stove instead of the oven?
You can definitely fry these in a pan rather than roast them in an oven. Simply place half of your sauce in the pan with the stuffed onions and allow the mixture to simmer. The onions will continue cooking and caramelizing.
More Recipes With Onions
More Stuffed Vegetables
You might also like
As always: If you make this recipe, let us know what you think by rating it and leaving a comment below. And post a pic on Instagram too—tag @give_recipe so we can see!
Sign up for the FREE GiveRecipe Newsletter to get the new recipes into your inbox! And stay in touch with us on Facebook, Pinterest, YouTube and Instagram for all the latest updates.
Print
📖 Recipe
Stuffed Onions
Onions stuffed with a spicy bulgur and minced meat/ground beef mixture.
Author: Zerrin & Yusuf
Prep Time:

30 minutes

Cook Time:

40 minutes

Total Time:

1 hour 10 minutes

Yield:

6

Category:

Dinner

Method:

Cooking

Cuisine:

Turkish
Filling:
2 tablespoons olive oil 

1 medium-sized onion, finely chopped

½ pound/225g ground beef

1 tablespoon tomato paste 

1 and ½ cup rice 

1 teaspoon black pepper 

1 teaspoon red pepper flakes

1 teaspoon dried mint

1 teaspoon salt

½ cup parsley, chopped
To stuff:
8 medium-size onions (red or white)
Sauce:
2 tablespoons tomato paste

1 teaspoon dried mint 

1 and ½ cup water 

2 tablespoon olive oil
Instructions
Filling:
Heat olive oil in a pan over medium heat and cook onion until translucent. Add in tomato paste and cook together for a minute.

Reduce the heat, add in ground beef. Cook it pressing over it so that there are no blocks left. It will release its juice and then absorb it back. Stir occasionally.

Now add in rice and spices. Cook it covered over low heat for 5 minutes. 

Remove from heat and add in chopped parsley. 
Prepare Onions and Stuff Them:
Peel the onions and cut the tops and bottoms. Then cut them on one side into the center from top to bottom. Don't cut them in half, just one side. (You can see it in the picture in the content above). 

Bring a pot full of water to a boil. Put the onions in the pot and let them cook for 10 minutes or until the onions are tender. Drain and let them cool.

When the onions are cool enough, separate out the layers.

Preheat the oven at 400F/200C.

Put about a tablespoon of filling in each onion layer and wrap it loosely around the filling, leaving some space for the rice to rise. Place them in a baking pan.
Sauce:
Combine tomato paste, dried mint, water and olive oil in a bowl. 

Pour it over the stuffed onions in the baking pan. 
Bake and Serve:
Bake them for 30 minutes, until the top of onions are brown and the sauce is reduced.

Remove from heat, let it rest for 15 minutes. Serve with a little sauce and lemon juice(optional) over them.
Notes
When cooking the ground beef and rice filling, don't try to cook the rice completely. It will cook in the oven later.

When preparing the onions, don't cut them in half. Just cut one side of each onion into the center from top to bottom. You will easily separate them in layers when they are cooked.

You can cook them in a pan over the stove too. Then start with half of the sauce and add more if needed.

You can keep the leftovers in the refrigerator for 3 days or freeze them for 3 months. 
Nutrition
Serving Size:
Calories:

263

Sugar:

8.1 g

Sodium:

429.6 mg

Fat:

10.9 g

Carbohydrates:

31 g

Protein:

11.8 g

Cholesterol:

22.6 mg
Keywords: stuffed onions, stuffed baked onions