Kadinbudu köfte is an extremely easy and relatively quick meal to make. It is made with cooked rice, meat, some spices, and eggs. This dish is perfect to make in advance and can even be frozen.
If you love meatballs and are looking for some other fun options to try, you might want to learn how to make Turkish kofte first and then try our izmir kofte in tomato sauce or meatball stew recipe too.
Jump to:
What is Kadin Budu Köftesi?
It is is another popular meatball recipe from Turkish cuisine. It is an extremely delicious version of kofte.
It translates to lady's thigh meatballs. Where the name comes from, nobody knows. Some locals simply say that it resembles thighs of plump ladies.
Nevertheless, these delicious koftes are made with a combination of cooked and raw ground beef and rice.
The rice helps add a ton of moisture to the meatballs, as compared to the more commonly used breadcrumbs. And, it's a way to use any leftover rice you may have in the fridge. Unlike classic Turkish kofte, these meatballs have a subtle sweetness coming from allspice.
After the meatballs are shaped, they are coated with flour and egg and then fried in a shallow pan. This gives them an nice crunchy crust and beautifully browned texture and appearance.
Kadin budu köftesi is often served at room temperature or cold as a part of a mezze platter. They make a great after school/work snack or even a perfect picnic food as they taste great even when cold.
About the Ingredients
Meatballs
Meat: We use 10% fat ground beef but you can use ground lamb instead or a mixture of both.
Rice: It gives a nice texture to kadınbudu kofte. You can use pre-cooked rice or use any leftover rice you have. Long grain rice works the best. Alternatively, you can cook the rice yourself. Use 4 tablespoons of uncooked rice and ½ cup of water. Please find the details of how to cook rice in the notes section of the recipe card below.
Parsley: We love using parsley as it adds an extremely refreshing flavor to the meatballs. If you want, you can leave it out but we don't recommend any substitute.
Spices: The overall flavor of these meatballs is extremely well-balanced and rich. We use simple spices like allspice, cumin, black pepper, and salt. If you don't have allspice, use ½ teaspoon cinnamon, a pinch of ground nutmeg and a pinch of ground cloves.
Egg: And the final ingredient for these meatballs with rice is an egg. The egg is essential as it will help to keep all of the ingredients together. Without it, your meatballs will crumble apart!
Coating
Flour: The coating we use may be simple, but this technique gives amazing results! The flour helps keep the outside of the meatball dry so that the egg can better adhere to it. It also does help give the meatballs a beautiful color.
Eggs: Once the meatballs are coated in eggs, they will give a brown and crispy exterior.
How to Make It
This kadınbudu köfte recipe is extremely easy to make and packed with flavor. The addition of rice and the spices makes it the perfect leftover dish to make on busy weekdays, or an easy way to use any leftover rice.
Cook the meat: Heat some olive oil in a pan and add your onions. Saute them until they become translucent. Then, add half of the ground beef and cook it while stirring occasionally. The meat should be allowed to release its water and re-absorb it again. Once completely cooked, allow the meat to cool completely.
Shape the meatballs: Once the cooked meat has completely cooled, combine it with the remaining raw meat, cooked rice, parsley, allspice, cumin, black pepper, salt, and egg. Mix the ingredients together well using a spoon or your hand. Once you have a uniform mixture, shape them into balls and flatten them slightly. Traditionally they are made in oval ball shape, but you can make them round too.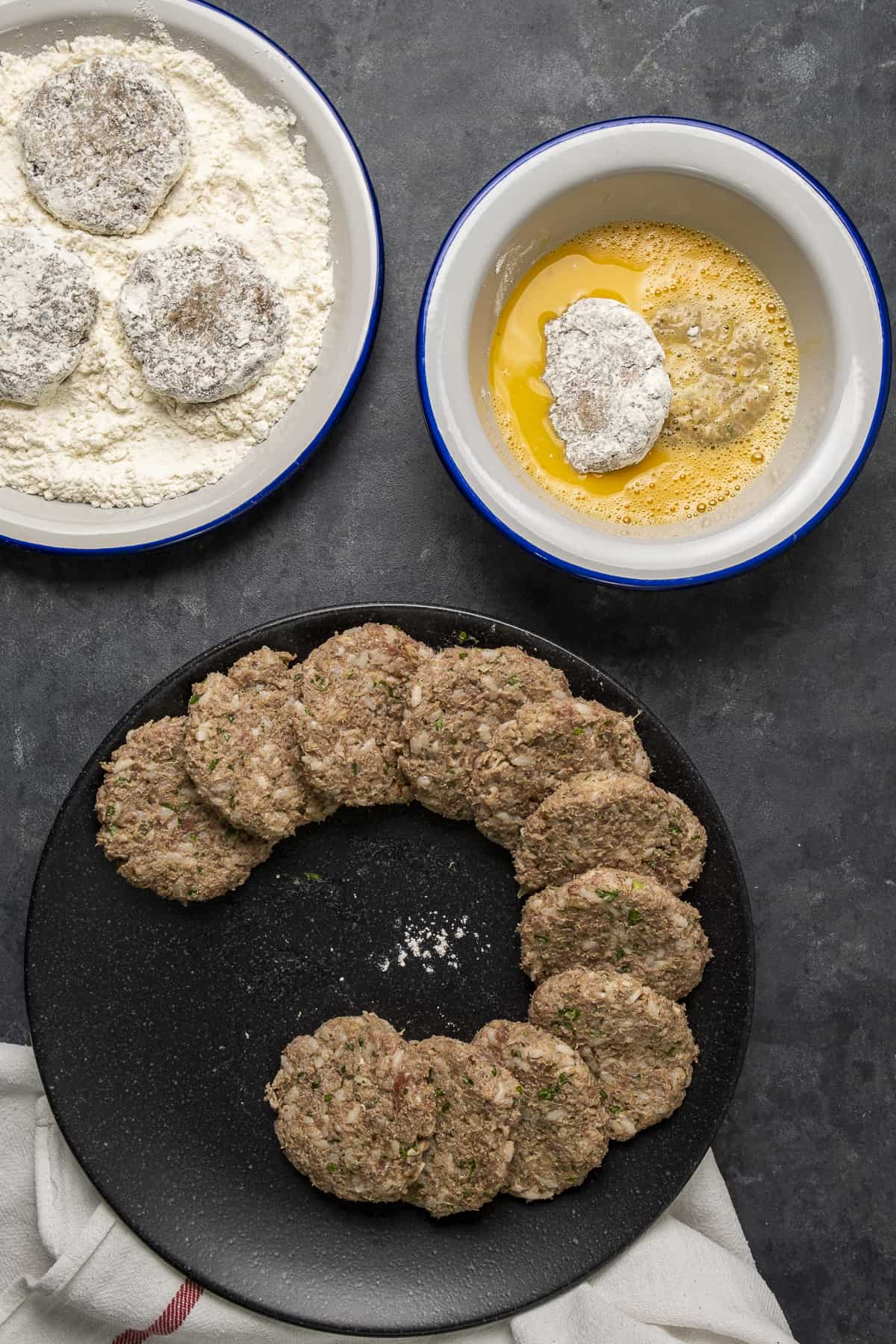 Prepare the coating and meat balls: Place the flour in a bowl or on a flat plate and beat the eggs inside of another. Make sure to beat egg yolk and egg white well. Then, heat some vegetable oil in a shallow pan.
Coat the meatballs: First put meatballs in flour very well. Dust off any excessive flour (to remove clumps) and dip each inside of the beaten eggs.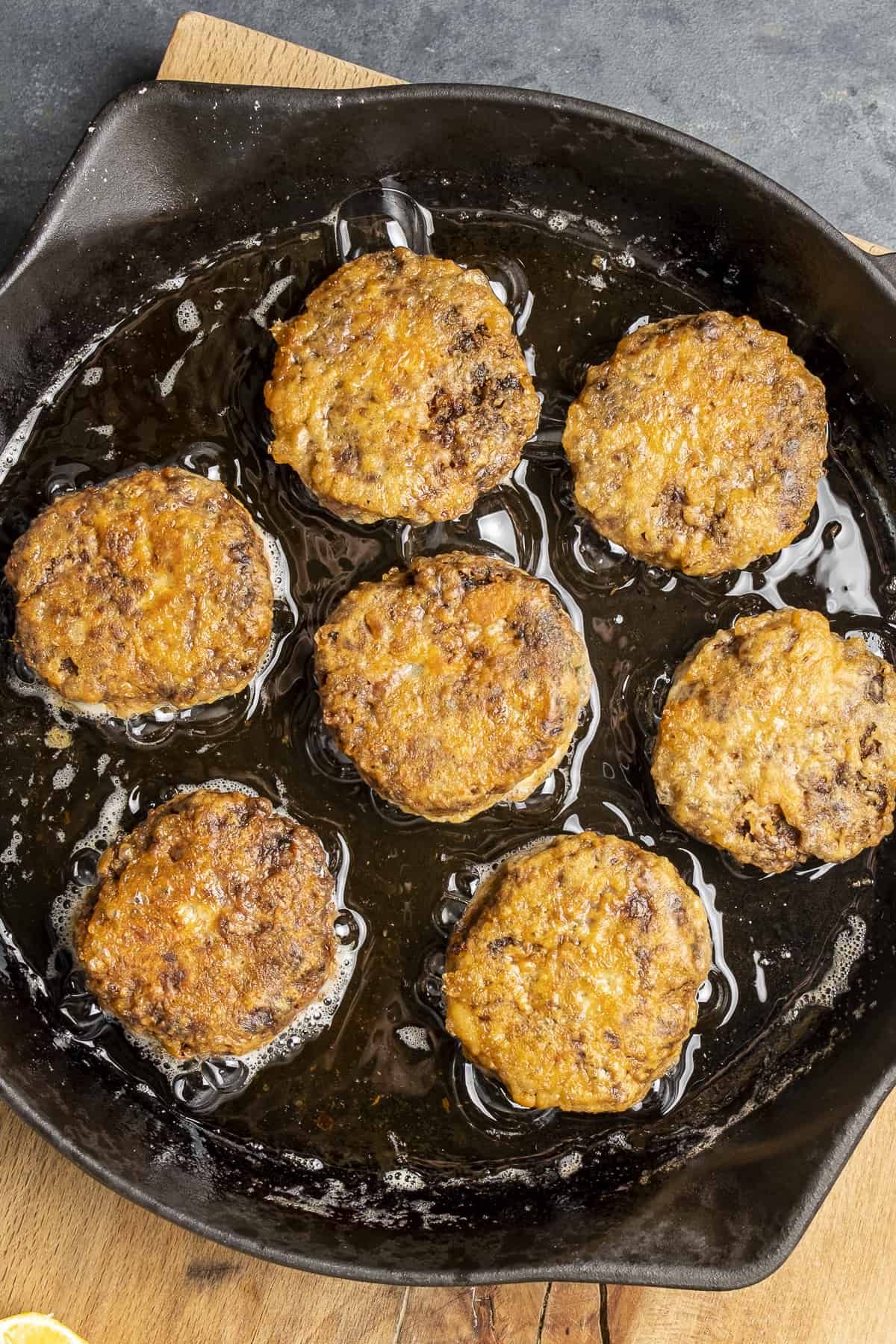 Fry the meatballs: Immediately, place the coated meatballs inside the hot oil. Shallow fry them for roughly 5 minutes on each side, or until they are golden brown.
Transfer the fried kadinbudu kofte balls to a paper towel to drain the oil. Then, serve them immediately while they're still warm. Alternatively, you can allow them to cool at room temperature before serving them.
Serving Suggestions
You can serve kadinbudu köfte with french fries or roasted potato salad.
Also, some refreshing side dishes pair well with this fried kadinbudu kofte recipe. You can simply put some sliced tomatoes and cucumbers on the side. Some more examples are: Turkish yogurt dip cacik, piyaz salad, traditional shepherd's salad and ezme salad.
The best drink to pair with kadinbudu kofte is Turkish yoghurt drink ayran.
Finally, you can make sandwiches with these meatballs.
Storage and Reheating
To properly store the cooked meatballs (if you are lucky enough to have any leftovers), you can first allow them to cool completely at room temperature.
Then, line an airtight container with a paper towel. Place the meatballs inside and store them in the fridge. They will last roughly 2 days.
Alternatively, you can freeze these leftover kadinbudu kofte too. Again, allow them to completely cool before placing them in an airtight container (unlined) or freezer bags. Then, store them in the freezer where they will be good for a couple of months.
To reheat your meatballs, simply preheat an oven to 350ºF (180ºC). Then, place them in a baking dish and heat them for 10-15 minutes. If you are reheating frozen meatballs, you have to thaw them inside a fridge for a couple of hours.
Tips
If you are not using cooked rice, cook it yourself. In a medium saucepan, combine the rice and ½ cup of water and bring the mixture to a boil. Once boiling, reduce the heat and allow the rice to simmer until it becomes tender, but not mushy. Once cooked, drain the excess water and set the rice aside. Allow it to cool completely.
Wet your hand slightly before working with the meatball mixture. It will help prevent it from sticking to your hands. And, it will help you shape beautifully smooth meatballs.
When cooking the meatballs, work in small batches of 3-5 balls at a time depending on the size of your frying pan. This will prevent you from overfilling the pan and unevenly cooking the meatballs.
To keep your cooked meatballs warm until you are ready to serve them, place each batch that has been cooked inside of a baking pan. Then, place the cooked meatballs inside a preheated oven. Only heat the oven to 300ºF (150ºC). This will keep them warm but prevent them from cooking too much.
You can store leftover Kadinbudu kofte inside of an airtight container. And, to reheat them, simply place them inside the oven for 10-15 minutes at 350ºF (180ºC).
More Kofte Recipes
More Turkish Recipes
As always: If you make this recipe, let us know what you think by rating it and leaving a comment below. And post a pic on Instagram too—tag @give_recipe so we can see!
Sign up for the FREE GiveRecipe Newsletter to get the new recipes into your inbox! And stay in touch with us on Facebook, Pinterest, YouTube and Instagram for all the latest updates.
Print
📖 Recipe
Kadinbudu Köfte
Meatballs with ground beef, rice, onion, parsley, egg and spices. These are golden and crispy on the outside and moist and chunky on the inside. They can be served warm or at room temperature. Perfect for parties and picnics. 
Author: Zerrin & Yusuf
Prep Time:

10 minutes

Cook Time:

20 minutes

Total Time:

30 minutes

Yield:

16

Category:

Dinner

Method:

Frying

Cuisine:

Turkish
Meatballs:
2 tablespoons olive oil

1 medium sized onion, finely chopped

500g (1.102 pounds) ground beef (10% fat), divided

½ cup cooked rice (please see notes 1 and 2 below)

½ cup parsley, chopped

1 teaspoon allspice

½ teaspoon cumin

1 teaspoon black pepper

1,5 teaspoons salt

1 egg
 Coating:
2 eggs

5 tablespoons flour
Frying:
½ cup vegetable oil (or sunflower oil)
Instructions
Heat olive oil in a pan. Cook onions until translucent.

Add in half of the ground beef. Cook it, stirring occasionally. Let it release water and absorb it back. Let it cool down.

In a large mixing bowl, combine cooked and cooled ground beef, remaining ground beef (uncooked), cooked rice, parsley, allspice, cumin, black pepper, salt and egg. Mix well with a spoon or your hand. Shape into balls and flatten them.

Put the flour on a plate. 

In another bowl, beat the eggs.

Heat vegetable oil in a shallow pan.

Coat the meatballs with flour by placing them in the flour ball in batches. Make sure they are very well coated with flour. 

Then dip each flour coated meatball into beaten eggs and immediately place in the hot oil.

Fry both sides until golden, about 5 minutes per side. 

Transfer onto a paper towel and serve warm or at room temperature. 
Notes
To cook rice yourself, put 4 tablespoons of rice and ½ cup of water in a saucepan. Bring it to a boil. Reduce the heat and let it simmer until rice is tender but not mushy. Drain excessive water and put the rice aside.
You can buy cooked rice from the store or use leftover rice if you have some in the fridge.
Wet your hands when shaping meatballs.
To keep the meatballs warm until serving time, put each batch of fried meatballs in a baking pan in a preheated oven (at 150C/300F). 
Store any leftovers in an airtight container in the fridge for 2-3 days.
Reheat in the preheated oven at 180C/350F for 10-15 minutes.
Nutrition
Serving Size:
Calories:

163

Sugar:

0.4 g

Sodium:

253.6 mg

Fat:

12.7 g

Carbohydrates:

4.6 g

Protein:

8 g

Cholesterol:

55.2 mg
Keywords: rice meatballs, Turkish kadinbudu