Cig kofte (Çiğ Köfte) is a very traditional Turkish dish that doesn't get enough attention! It is packed with tons of flavor and when served on some fresh lettuce leaves with a squeeze of lemon juice, all of the flavors blend together seamlessly!
Cig kofte is one of the most loved bulgur recipes in Turkey and it is mostly sold in lavash bread wraps on streets. Are you into cooking with bulgur wheat? Check out our kisir recipe and bulgur pilaf recipe too! And if you love street foods, you should try our kumpir recipe as well!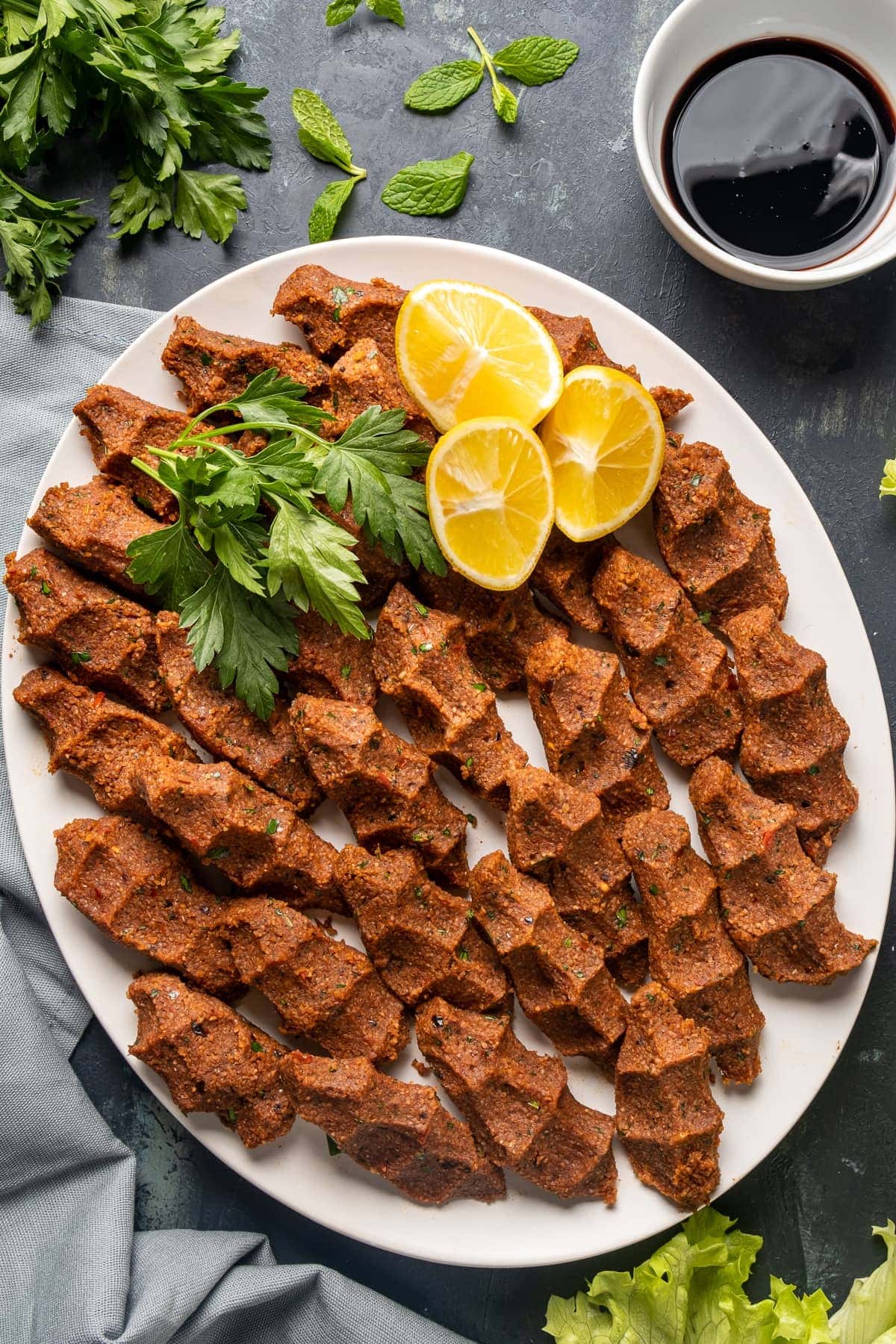 This dish is an extremely popular traditional dish in Turkey, despite not being so well-known in other areas of the world. With a few simple ingredients that are in perfect ratio, you can expect a spicy yet refreshing pallet.
Although this dish definitely requires some work, most of it is in the kneading process. The bulgur wheat must be kneaded for a long time to help soften it and make it edible. This kneading is also necessary to help develop some deep and complex flavor that ultimately gives you this delicious dish.
Today, we will discuss all things ciköfte, from what it is, the ingredients used, some alternative flavors and ingredient substitutions, and ultimately, how to make cig kofte using our amazing traditional recipe!
Jump to:
What is Çiğ Köfte?
Cig kofte, also sometimes called chi kofte or chee kufta, is a very popular traditional dish that can be found virtually in Turkish and Kurdish cuisines.
Originally this dish is made with a combination of very fine bulgur, spices and raw ground beef, but today you find that the majority of cig kofte recipes are vegan and made with only fine bulgur wheat. This is because more and more people have become concerned with consuming raw meat, however, there is a ton of debate regarding whether or not this is cig kofte then and not something else.
Nevertheless, this is still a delicious no-cook 'meatball' recipe packed with Mediterranean flavors.
Ingredients
The main ingredient for this cig kofte recipe is extremely fine bulgur wheat. The fine bulgur wheat is crucial because it helps the mixture get a specific consistency and texture that is easier to shape. Coarse bulgur wheat will only make a lumpy meatball - not at all traditional.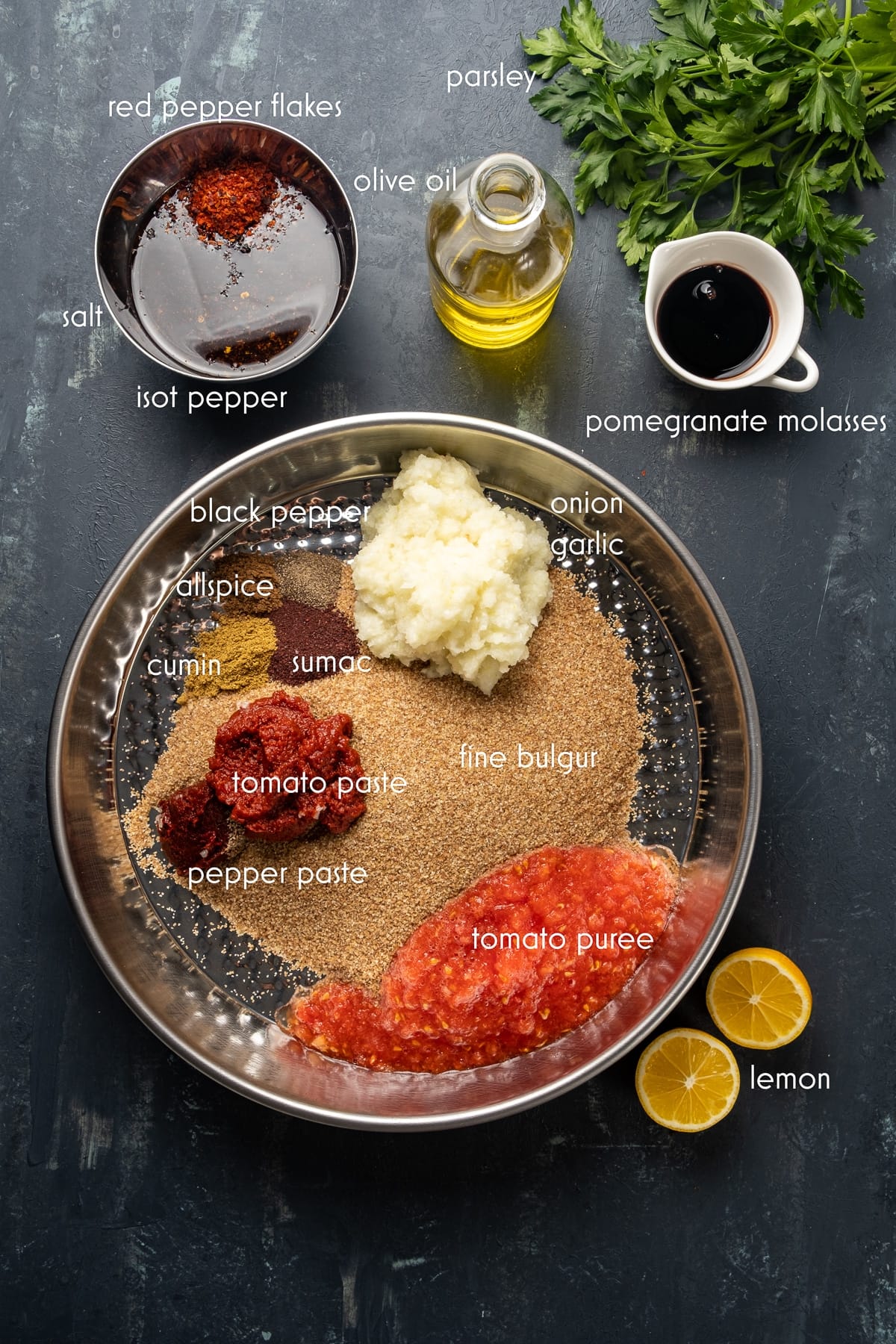 Other cig kofte ingredients include tomato paste and pepper paste, chopped onions and garlic, and a wide variety of Mediterranean spices are added.
If you are making a raw meat version, make sure your meat is completely fat-free and very finely ground. If your meat doesn't closely resemble almost a paste, then you must continue grinding or chopping it.
Can I Make It Without Meat?
Like we've mentioned, the majority of the recipes you will find today are of the vegan version. The recipe we are making today is vegan, however it is also easy enough to add the meat whenever you'd like.
Although there is a vegan version of this cig kofte recipe, we would also recommend that you check out our bulgur and lentil 'meatballs' recipe as these two bulgur recipes contain similar ingredients and are considered as couisins.
Substitutions For Hard-To-Find Ingredients
You can easily substitute many of the ingredients, but keep in mind, although it will still be tasty, it won't have the traditional taste.
We would highly recommend looking online for the ingredients first. You can also try looking at your local Mediterranean food market or grocery store before choosing a substitute.
Isot pepper (or urfa biber) is the type that is used in the original recipe. You can substitute it using Aleppo pepper, and if you still can't find those, use plain chili pepper flakes or smoked hot paprika.
The pepper paste can be substituted with Harissa paste which is also a spicy chili pepper paste.
Pomegranate molasses is another ingredient that you might find difficult to come by, but do not give up. It is more popular now at online stores, so just keep searching it online.
How To Make It
Some recipes are worth the bit of effort and this one is one of them! It is absolutely stuffed with flavor and has a fantastic mouth-feel! It will make a great addition to any finger-food platter.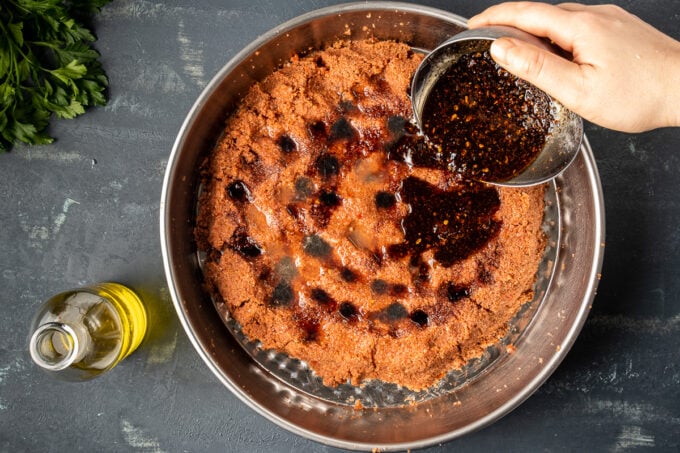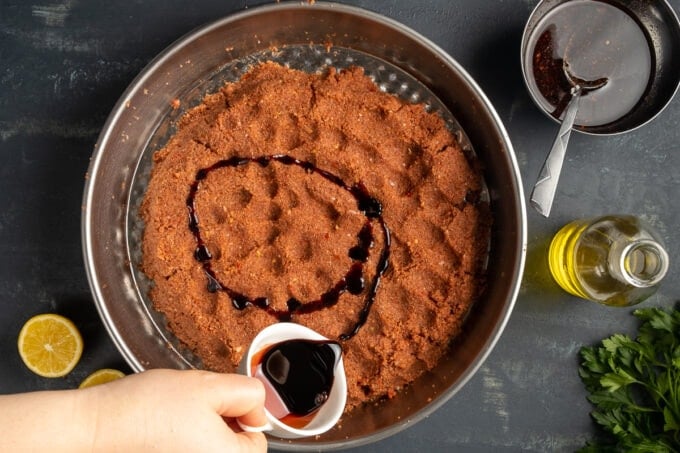 First, combine the ingredients. Place bulgur wheat, spices, pastes, onions, garlic, and water in a large tray (like a cake pan). Knead the mixture with your hands, rubbing the bulgur wheat between your palms for about 2 minutes.
If you want to incorporate meat, add it after you've made the mixture, but leave out the warm water. Rather use ice so that the meat won't get warm fast.
Second, make the oil mixture. In a separate bowl, whisk together the oil, isot, red pepper flakes and salt. Add this into the bulgur mixture along with the pomegranate molasses and lemon juice. Continue kneading until the bulgur is fine and no longer crunchy – this can take up to 50 minutes. After kneading the mixture, season it with extra salt if need be and fold in the chopped parsley.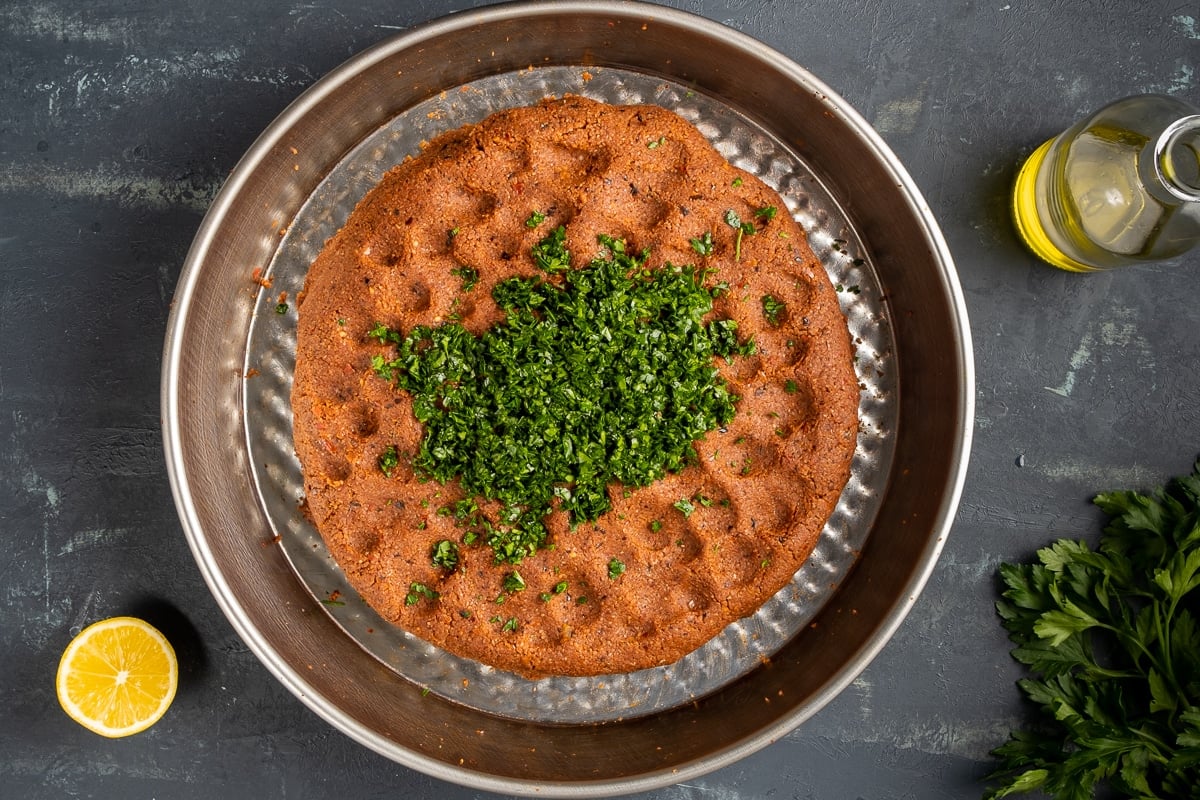 Third, shape the cigkofte. Rub your hands with a bit of olive oil before shaping the mixture. Take about 2 tablespoons of mixture, roll it into a log about the length of your palm, and gently press it with your fingers separated.
This fist-like meatball is the traditional way of making these, and honestly, we've never seen them in any other form.
How to Eat It
These delicious cig kofte balls can be placed into fresh lettuce leaves and drizzled with some extra lemon juice or pomegranate molasses.
Some people will also serve it alongside tomatoes, or on a platter with various other finger-foods.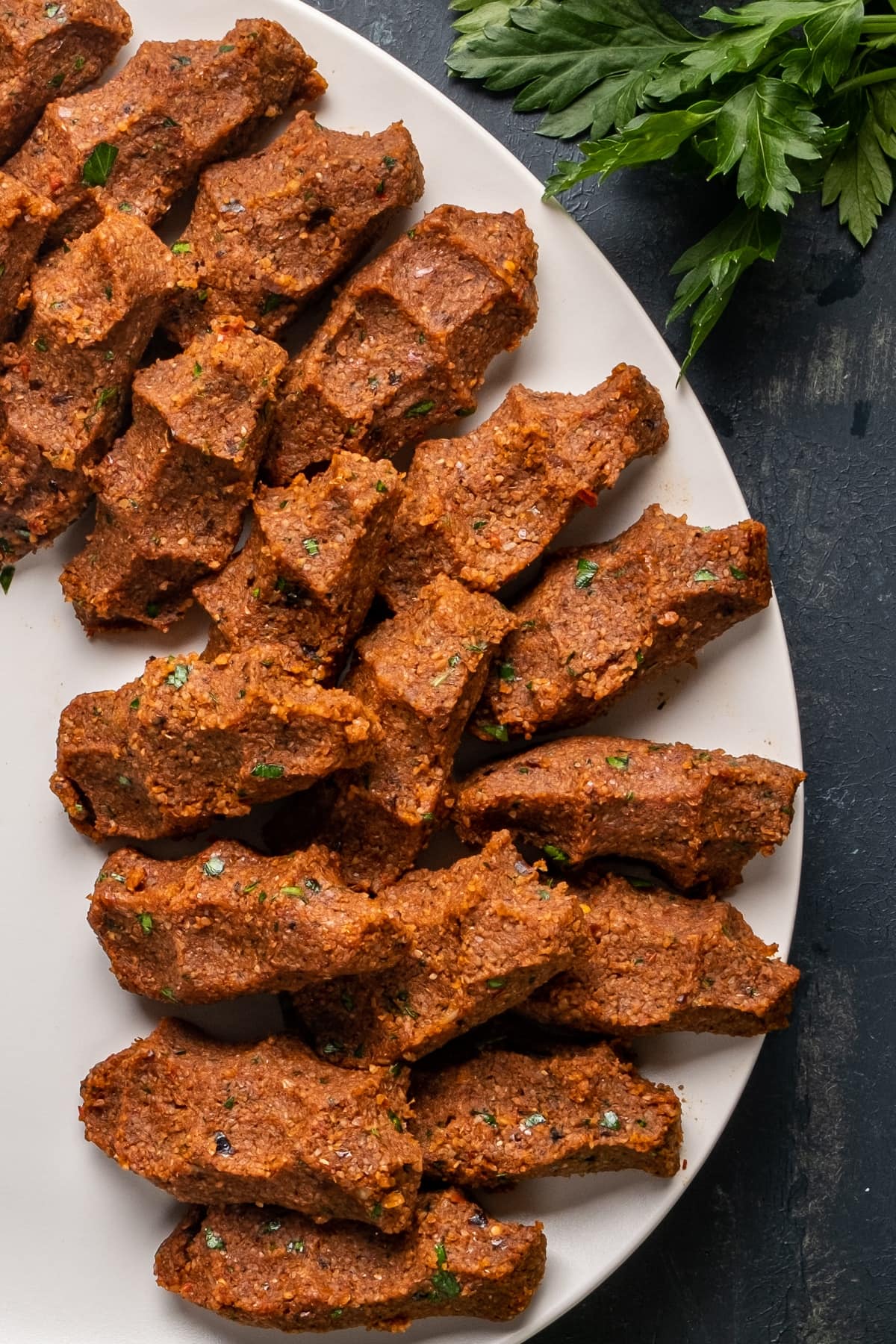 Alternative Flavors
Many people love to add finely ground walnuts to the mixture, preferably the vegan version. The walnuts help soften the bulgur wheat while adding a subtle nutty flavor.
You will also find that different regions have slight variations. For example, an Armenian chi kofte is made with minced green onions.
Is it healthy?
Cig kofte, both the raw meat and vegan version, is considered a very healthy dish especially since it is a type of street food!
Even though you are using raw meat, it isn't really raw – it gets cured. The meat essentially gets "cooked" when it is kneaded with salt and spices.
There are thousands of meat dishes that are made of uncooked meat. They can be cured using a wet liquid (like a marinade or brining liquid) or a dry mixture (like salt or a rub). This makes it much safer to consume compared to actual raw meat.
Other Bulgur Recipes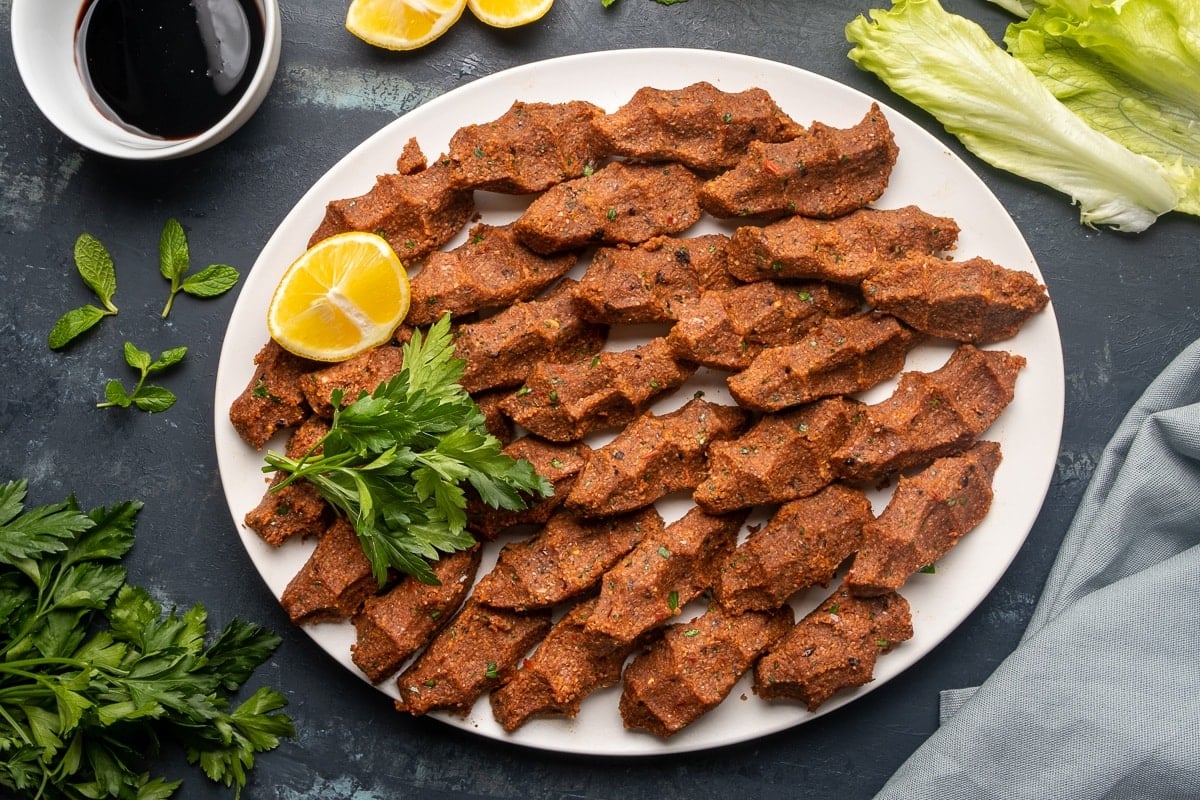 As always: If you make this recipe, let us know what you think by rating it and leaving a comment below. And post a pic on Instagram too—tag @give_recipe so we can see!
Sign up for the FREE GiveRecipe Newsletter to get the new recipes into your inbox! And stay in touch with us on Facebook, Pinterest, YouTube and Instagram for all the latest updates.
Print
📖 Recipe
Cig Kofte
An incredibly tasty finger food with fine bulgur, spices, pureed tomatoes, onion and garlic. Packed with flavors, this is definitely a hard-to-resist appetizer.
Author: Zerrin & Yusuf
Prep Time:

1 hour

Total Time:

1 hour

Yield:

3

6

1

x
Category:

Snack

Method:

No-Bake

Cuisine:

Turkish

Diet:

Vegan
3 cup

fine bulgur

1 teaspoon

salt

1 teaspoon

black pepper

1 teaspoon

cumin

1 teaspoon

sumac

1 teaspoon

allspice

2

medium onions, pureed

2

medium tomatoes, pureed

4

cloves garlic

2 tablespoon

tomato paste

1 tablespoon

pepper paste

1 cup

warm water

100

ml olive oil

4 tablespoon

isot pepper/Urfa biber

1 tablespoon

red pepper flakes 

1

lemon, juice only

2 tablespoon

pomegranate molasses

¼ cup

finely chopped parsley
Instructions
In a large bowl or a tray, combine bulgur, black pepper, cumin, sumac, allspice, pureed tomato, onion and garlic, tomato paste, pepper paste and water. Knead this mixture using your palms for about 2 minutes. 

In a separate bowl, mix together the olive oil, isot pepper and red pepper flakes. 

Pour this mixture along with the lemon juice and pomegranate molasses over the bulgur mixture. Knead it until bulgur is softer and not crunchy at all. This might take 45-50 minutes.

Taste and add more salt if needed.

Add in finely chopped parsley.

Take about 2 tablespoon of the mixture in your hand and shape it by making your hand a fist. Wet your fingers or wear gloves when shaping çiğköfte so that it won't stick.
Notes
To make it with meat:
Use 200g double ground lean beef.
Add it to the mixture after you knead bulgur with spices. Don't add warm water when making çiğköfte with meat. Use a handful of ice instead.
Nutrition
Serving Size:
Calories:

77

Sugar:

1.8 g

Sodium:

71.7 mg

Fat:

3.1 g

Carbohydrates:

12.3 g

Protein:

1.9 g

Cholesterol:

0 mg
Keywords: cig kofte, Turkish cigkofte recipe, Turkish bulgur kofte