Who can refuse to have pide (pitta)? Didn't you know what it is? Pide is one of the best Turkish fast food. It is like a folded version of pizza. There is a variety of Turkish pides; you can stuff it with beef, ground beef, cheese, egg, sujuk and pastirma. No matter what the stuffing is, it is always an irresistible food! It is not very common to make it at home as we have several pide restaurants here, you can even order it to your home. However, you know me and my craziness about homemade food! This was my first attempt to make pides at home, and it was surprisingly fantastic! Also, no restaurant makes it with whole wheat flour, but I do. Despite this difference, my first try was successful. "We won't need to go to a restaurant to eat pides any more!", said hubby.
The greatest thing about this recipe is it's so easy and anyone can make it. I didn't use all the dough at one time. I put some of it in the refrigerator to make pides 2 days later and it was still tasty. It gets even easier when you already have leftover dough and filling. You just roll it out, stuff with filling and bake in preheated oven for 10-12 minutes. That's all!
I love to play with dough and give it this big ball shape!
Look how it has risen!  I love how it looks like a baloon after this time. You will get a very soft dough and it will be easy to shape it.
You can see the soft texture of it here. Prepare the filling mixture while waiting for the dough to rise.
We need some good beef for the filling, chopped good beef!
Lovely colors, aren't they? I can eat it as is!
It's time to have some fun with dough!
Make small balls from your dough.
It's supposed to be in oval shape.
Give it this boat shape by folding both sides a little and sticking the ends.
Serve them hot. Slice them before serving.
Ayran (a cold drink made of yogurt, salt and water) is the perfect drink to serve with pides.
Here is the recipe for Kusbasili Pide as it is called in Turkish.
Pide Stuffed With Beef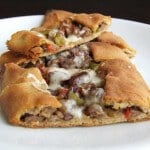 Traditional Turkish pide with chopped beef and melting cheese on the top.
Scale
Ingredients
3 cup

s whole wheat flour

1 tbsp

dry instant yeast

1 tsp

sugar

2 tsp

salt

1 cup

lukewarm water

1/4 cup

olive oil
extra olive oil to brush pides
Filling

500

g beef, chopped in small pieces

1

large onion, diced

2

red bell peppers, chopped

2

green peppers, chopped

3 tbsp

olive oil

1 tsp

salt

1 tsp

black pepper

1 tsp

red pepper flakes

1 tsp

cumin

½ cup

kasar cheese (or any melting cheese), grated
Instructions
Start with dough. Mix flour, yeast, salt, sugar, olive oil and water until well combined. It will be quite wet at the end.
Cover it and let it rise for an hour.
Prepare the filling mixture while waiting for the dough to rise.
Put chopped beef into a pan.
Let it release its water and absorb it back.
Add olive oil when there is little water and stir.
Cover and cook it for 5 minutes or until beef is tender.
Then add peppers, stir and cover.
Cook until peppers get tender, but not mashy. They should be visible enough.
Add spices as the final step. Let it cold.
Preheat oven at 200C (400F).
Dust the counter with flour and make 10 balls from dough.
Lay baking sheet on a tray.
Grab a ball and roll it out giving an oval shape and put it on tray. Put filling mixture on it.
Fold two sides to the center and combine the ends as you see in the picture.
Make sure you stick the dough by pressing with your fingers so that the filling won't ooze out. Repeat it for all balls.
Bake it for 10-12 minutes until golden. Turn off the oven.
Take it out, sprinkle grated cheese on each and brush pides with olive oil and put back into the not working oven, which is still hot inside.
Keep it there until cheese melts, about 2 minutes.
Serve them hot. Slice them before serving.
IF YOU LIKED THIS RECIPE, THEN YOU WILL LOVE THESE: