If you are a bit familiar with Turkish cuisine, you know the world-famous döner kebab, the irresistible, juicy enormous kebab cooked on a vertical rotisserie. Here is an easy homemade version of Turkish doner kebab that tastes as good as the real thing.
There are zillions of kebabs in Turkey, so it won't be wrong to call it "the country of kebabs". Among all these, the most famous ones are doner kebab and chicken shish kabob. Also check out our adana kebab recipe and lamb shish kebab recipe.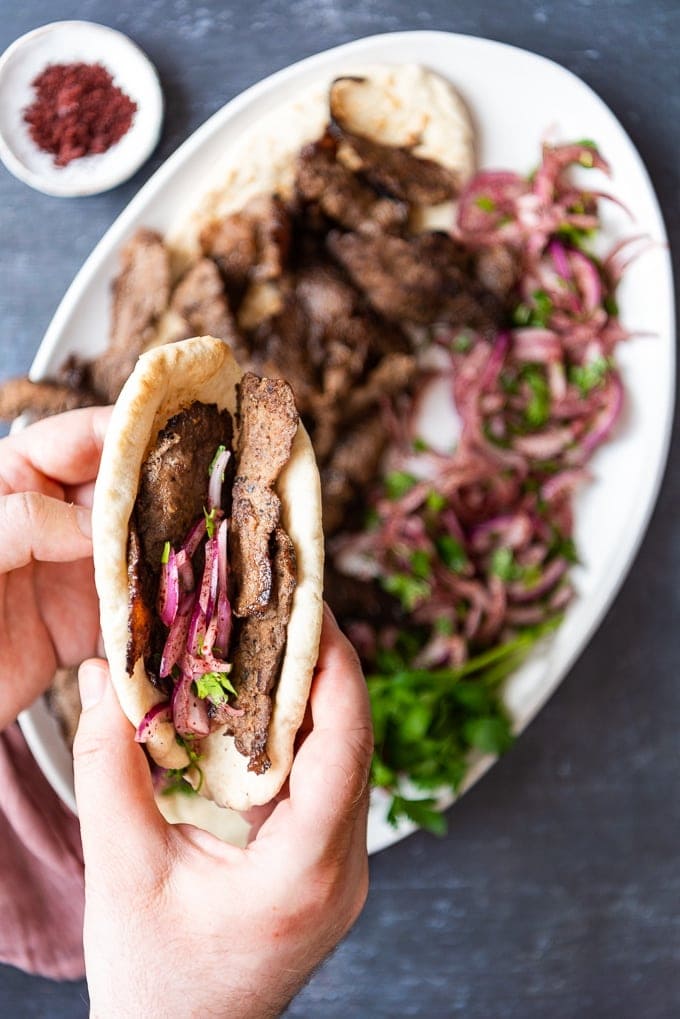 Jump to:
What Is Turkish Doner Kebab?
Döner is just one of the kebabs in Turkey. Meat and fat are stacked on a rotisserie to form a huge cylinder shape. It is cooked vertically and rotating slowly. The outer parts are cooked as it rotates and those parts are carefully shaved thinly. Those thin slices are served in the form of a sandwich or a wrap with lavash bread. The taste of a good doner kebab depends highly on the following:
the quality of meat(lamb or beef)
the ratio of meat and fat
how slowly it is cooked
Although doner is served with a variety of sauces and sides today, you really don't need anything to complement a good quality, delicious döner kebab. That's why there are traditional doner shops in Turkey that are serving plain doner. No sauces or sides.
What Is Doner Meat Made From?
Besides fat, doner meat is made from lamb or beef or a mixture of these two. But what type of lamb or beef to make döner? It is either made with only ground beef/lamb or with a combination of ground meat(beef mince) and soft beef or lamb steaks. Also, there is another version made with chicken, which is cheaper yet as tasty. Several doner kebab shops have two options: Chicken doner kebab and meat doner kebab. Although we love both, our first choice is mostly doner meat.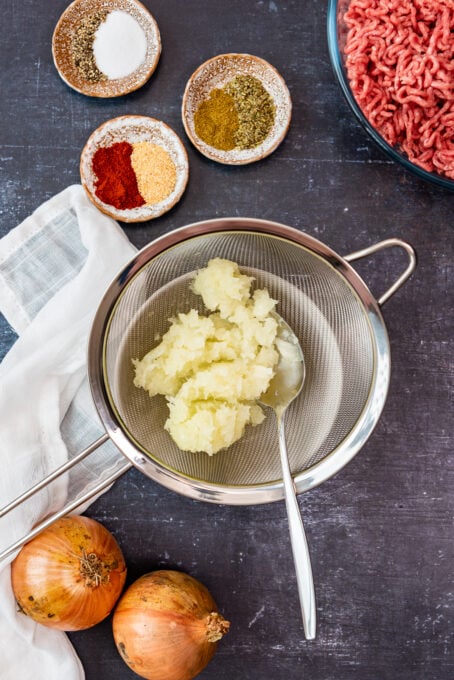 Ingredients For Homemade Doner Kebab Recipe
Onion, pureed and sieved. We need its juice only. Don't add in the pulp.
Ground beef (15% fat). You can use a mixture of lamb mince and beef mince if you want.
Salt
Black pepper
Cumin
Oregano
Garlic powder
Isot pepper/Urfa biber. If you can't find it, use paprika instead, but the aroma of isot pepper is stronger.
Yogurt
Milk
Butter to cook döner in the pan
How To Make Doner Kebab Meat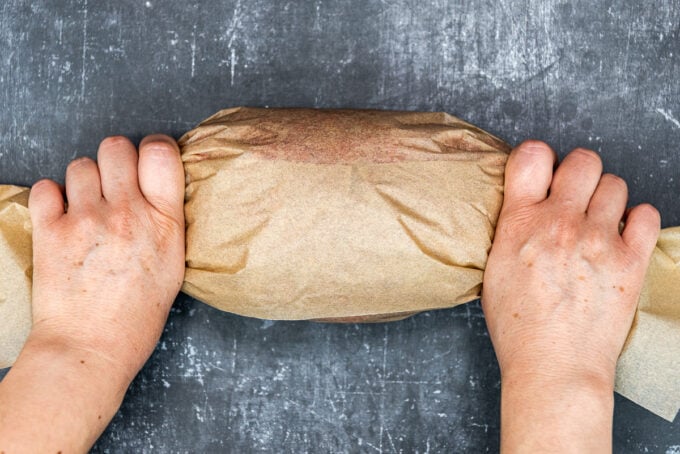 First, prepare the doner meat mixture. In a large bowl, combine the onion juice, ground beef, salt and all the spices, yogurt and milk well. Transfer it on a baking paper, give it a log shape and wrap it tightly. Give it a huge candy shape and let it rest first in the fridge for 2 hours and then in the freezer for 8 hours or overnight.
Next, make thin doner sheets. Remove it from the freezer and let it sit on the counter for 5 minutes so that it is ready to slice. Hold the döner log lengthwise with a piece of baking paper and carefully make large thin slices using a sharp knife.
Now cook the doner slices. Heat one teaspoon butter in a non stick pan over high heat. Line sliced döner pieces in a single layer and cook both sides until nicely brown, about one minute each side. Cook the rest in batches and never overload the pan.
Tip: If you don't want to cook all of it at one time, slice it as you need and wrap the rest and put it back into the freezer. And you can easily repeat the same process when you crave for doner kebab. Make sure it doesn't stay outside the freezer long, so you need to slice it as quickly as you can.
Is Turkish Döner Kebab The Same As Shawarma?
Although the cooking method of Turkish doner kebab and Middle Eastern shawarma is the same, they are not completely the same dish. The sides or sauces that are served with these equally famous street foods make the difference. Shawarma, which is famous in Israel and Arabic countries, is mostly served with tahini and hummus dip while Turkish doner meat is traditionally served with sumac onions.
Another difference between these two street foods is that shawarma is a lot spicier than döner. The seasonings used in the preparation of meat are not the same. A classic shawarma seasoning is made of coriander, cumin paprika, turmeric, cloves, nutmeg, allspice, cardamom and cinnamon. On the other hand, a classic doner kebab seasoning contains fewer spices.
Turkish Doner Kebab Spice Mix
The seasoning in the marinade of Turkish doner meat has the following spices:
salt
black pepper
cumin
oregano
garlic powder
isot pepper/Urfa Biber
You can easily make this doner spice mix at home and keep it in a jar to use in all meat dishes.
Types of Turkish Döner Kebabs
Döner is one of the most famous Turkish street foods and it has three main varieties in the country:
Classic Doner Kebab, which is explained above
Iskender Doner Kebab: It is served over sliced pita with a butter sauce, tomato sauce and a dollop of yogurt on the side. Go check out our Homemade Iskender Kebab Recipe!
Yatik Döner (Cağ Kebabi): As the name suggests (yatık means horizontal in Turkish), this doner is cooked horizontally in the same huge. Unlike classic döner, this one is made with lamb meat and doesn't contain any ground meat. Yatık doner is not as common as the other two doner kebabs in the country, probably because it requires really good quality lamb meat, which is not easy to access everywhere.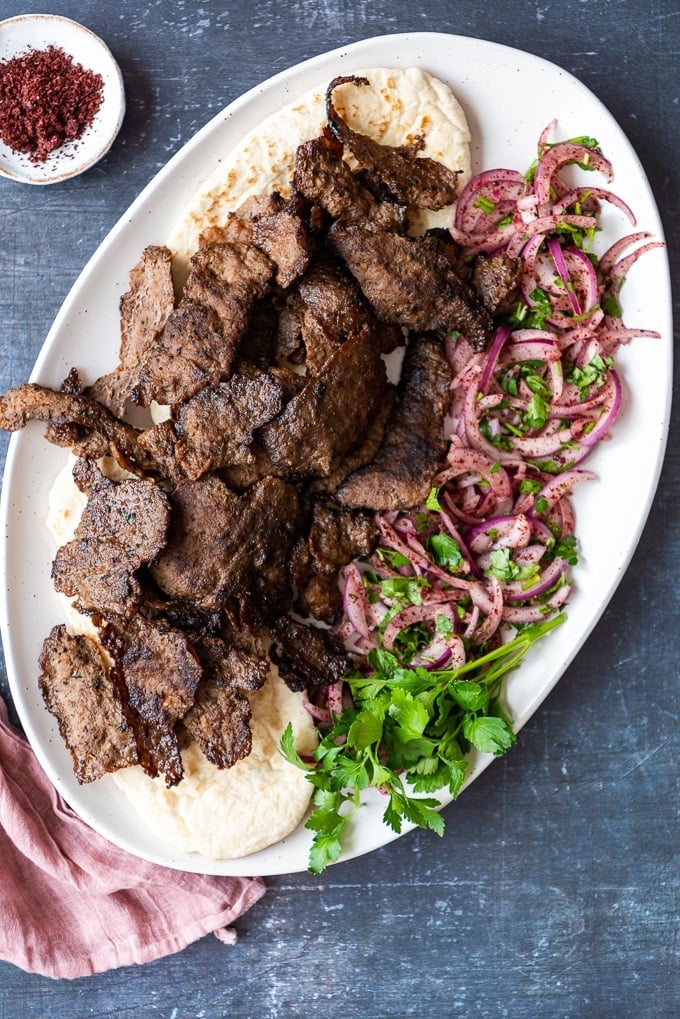 How To Serve Doner Food
You can serve Turkish doner kebab in a few ways:
What Goes Into A Doner Sandwich/Wrap?
A classic doner sandwich/wrap contains sumac onions, a simple shepherd salad and french fries. You don't see ketchup or mayo in a classic doner, but chain doner restaurants or the ones serving in big shopping malls have the option with ketchup and mayo.
More Turkish Fast Food Recipes
As always: If you make this recipe, let us know what you think by rating it and leaving a comment below. And post a pic on Instagram too—tag @give_recipe so we can see!
Sign up for the FREE GiveRecipe Newsletter to get the new recipes into your inbox! And stay in touch with us on Facebook, Pinterest, YouTube and Instagram for all the latest updates.
Print
📖 Recipe
Easy Homemade Doner Kebab
Homemade version of world-famous Tuskish Doner Kebab Meat
Author: Zerrin & Yusuf
Prep Time:

20 minutes

Cook Time:

15 minutes

Total Time:

35 minutes

Yield:

6

1

x
Category:

Dinner

Method:

Cooking

Cuisine:

Turkish
1

large onion

1

kilo/2lb ground beef (15% fat)

2 teaspoons

salt

½ teaspoon

black pepper

½ teaspoon

cumin

1 teaspoon

oregano

1 teaspoon

garlic powder

½ teaspoon

isot pepper (or paprika)

4 tablespoons

yogurt

2 tablespoons

milk

2 tablespoons

butter to cook döner
Instructions
Puree the onion in a food processor. Sieve its juice into a large mixing bowl. We just need the juice.

Put the ground beef, döner kebab seasoning, salt, yogurt and milk in the same bowl. Combine them well using your hand. Give it a log shape.

Transfer it on a baking paper and wrap it tightly. 

Let it rest in the fridge for 2 hours. Then transfer it to the freezer and let it sit there for 8 hours or overnight. 

Remove it from the freezer and let it sit on the counter for 5 minutes. Hold the döner log with a piece of baking paper and carefully make large thin slices using a sharp knife. 

Heat one teaspoon butter in a non stick pan over high heat. Line sliced döner pieces in a single layer and cook both sides until nicely brown. 

Cook döner in batches and never overload the pan. 
Notes
The chilling and freezing times are not included.
Nutrition
Serving Size:
Calories:

420

Sugar:

1.8 g

Sodium:

893.7 mg

Fat:

29.5 g

Carbohydrates:

4 g

Protein:

32.7 g

Cholesterol:

125.2 mg
Keywords: doner kebab, turkish doner kebab, doner kebab meat, doner kebab recipe