Have you ever had a craving for doner kebab? This beloved Turkish  street food has been taking the world by storm. But what exactly is a doner kebab? If you're curious about this delicacy, we've got you covered. Let's dive into origin, ingredients and mouth-watering variations of döner kebab.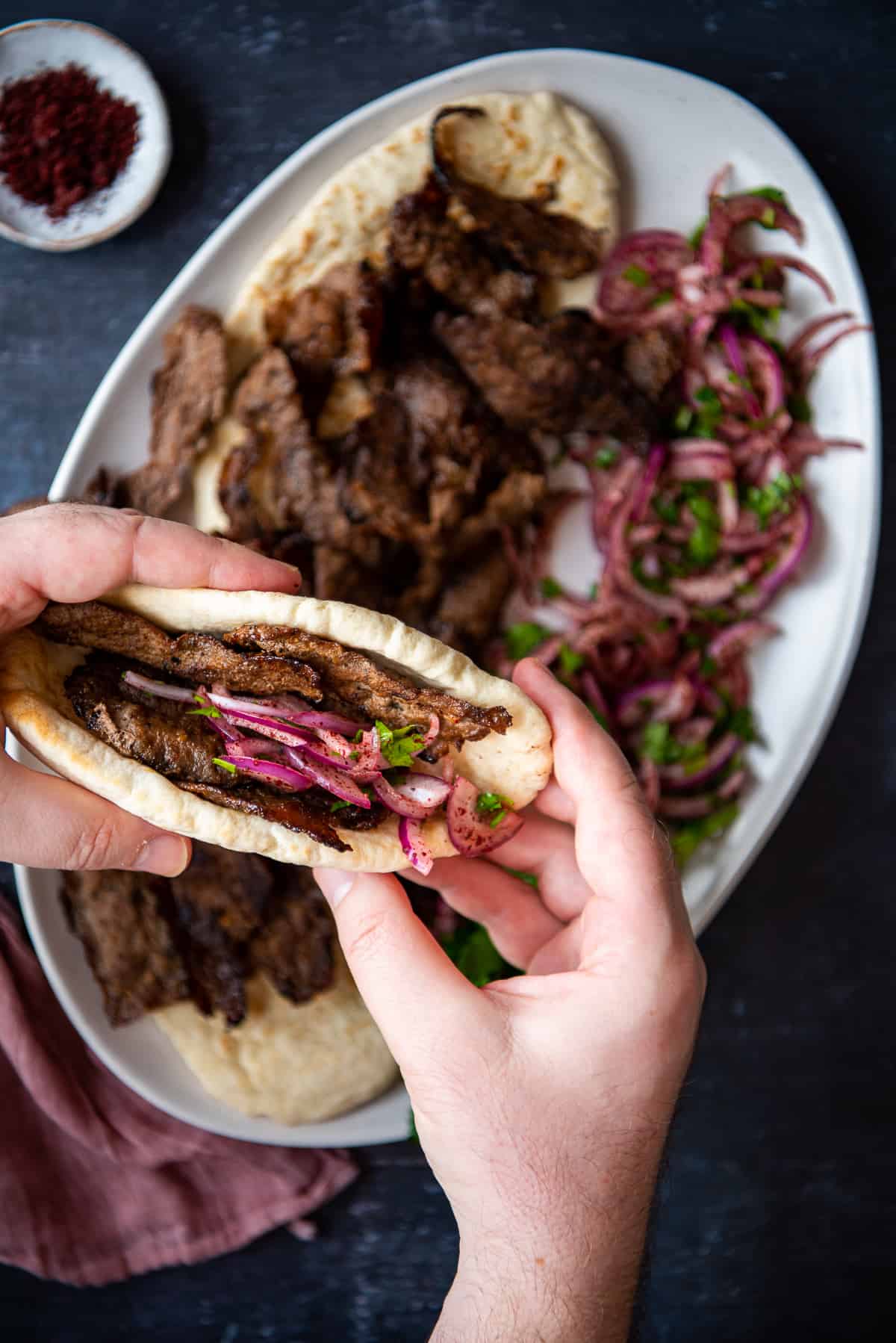 Jump to:
What Is Doner Kebap?
Many people have heard the term "döner kebab," but still very few people actually know what it is. And we don't blame them! With so many different kinds of doner food out there, it's hard to keep track of all the variations!
But first, let's look at the meaning of the word "doner". It's a fairly new word used in the English language and has been borrowed from the Turkish word "döner". This word comes from "dönmek" which means "to turn" or "to rotate".
"Kebab" or "kebap," on the other hand, refers to different kinds of kebab dishes made from roasted and grilled meats.
Together, "doner kebab" perfectly describes what makes döner kebap unique. It is cooked on a rotating spit in front of a vertical rotisserie, so it is called doner, meaning rotating.
There are several types of kebabs in Turkey and doner kebap is just one of them.
The doner meat is usually seasoned with Turkish spices and a yogurt marinade. This kebab can be made from lamb, beef (or a combination of the two), or chicken.
The seasoned meat slices are stacked onto a long skewer in the shape of an inverted cone. The meat cone is slowly turned on a rotisserie next to the cooking element that runs parallel to the stack.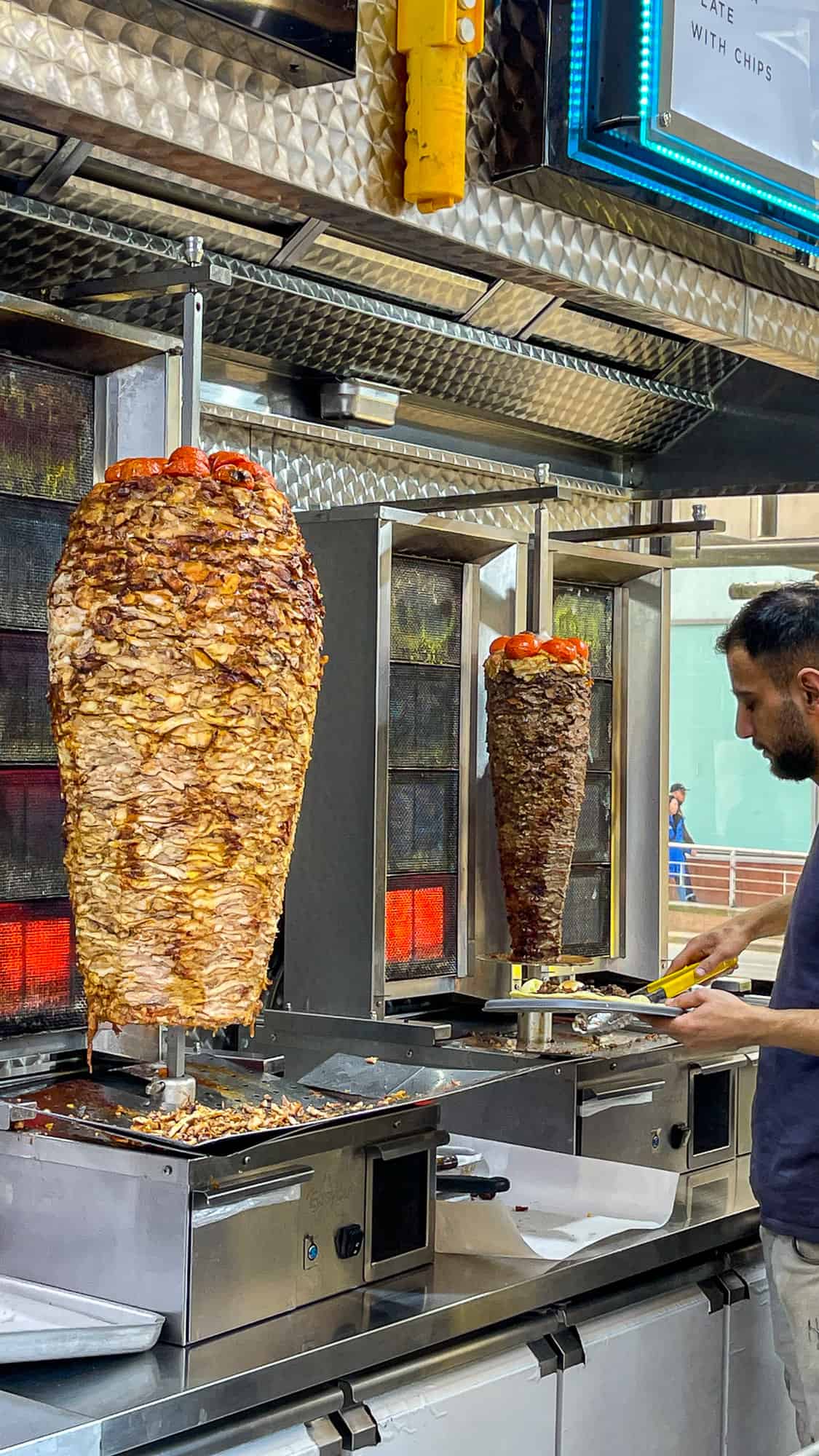 As the stack of meat is cooked, the operator carves thin slices. These meat shavings are served in sandwiches or wraps. Döner can also be served as a doner plate, on some rice, along with lettuce, tomatoes, onions, red cabbage, pickles, chili sauce, or yogurt dressings.
Depending on where you are, the toppings will differ.
Where Is It From?
Now let's take a look at its origin.
From what we can tell today, this method for cooking meat originated as far back as the 17th century, during the period of Ottoman Empire. Many people consider Bursa (a city in Turkey) to be the birthplace of the döner kebab.
Ever since many Middle Eastern and Mediterranean countries (or countries with a strong influence) have placed their own spin on it. It is mainly considered a fast-food dish across the globe.
In Arab cuisine, they have a similar dish called shawarma and in Greece, they have gyros, which is similar to doner kebab. 
Today, you can even find döner kebab in Germany too. It is almost as popular there as it is in Turkey. The first doner shop in Germany was opened in 1960 by Kadir Nurman, a Turkish immigrant. And it has become one of the most loved street foods there. Germans make their own twist and created a new version of it called German doner or Berlin doner.
What Meat Is Used In Doner Kebab?
When making authentic meat doner, you ideally want to use soft lamb steaks to make lamb doner kebab. You can also make doner with beef steaks or a combination of the two. In the homemade versions, we find ground meat (lamb or beef) works better.
Chicken doner kebab is also popular in Turkey. Besides chicken meat, turkey meat is also used in Germany.
Keep in mind, you can never use pork for authentic doner kebabs.
Doner Kebab Seasoning
Doner kebab seasoning mainly depends on the meat you use. If you are making a lamb kebab, you usually only use salt and pepper as seasoning ingredients.
For beef (mixed with lamb) or chicken doner kebabs, you can also use cumin, oregano, Urfa pepper (isot), and garlic powder. You can find it as a blend at markets or make your own doner kebab spice mix using a few simple spices.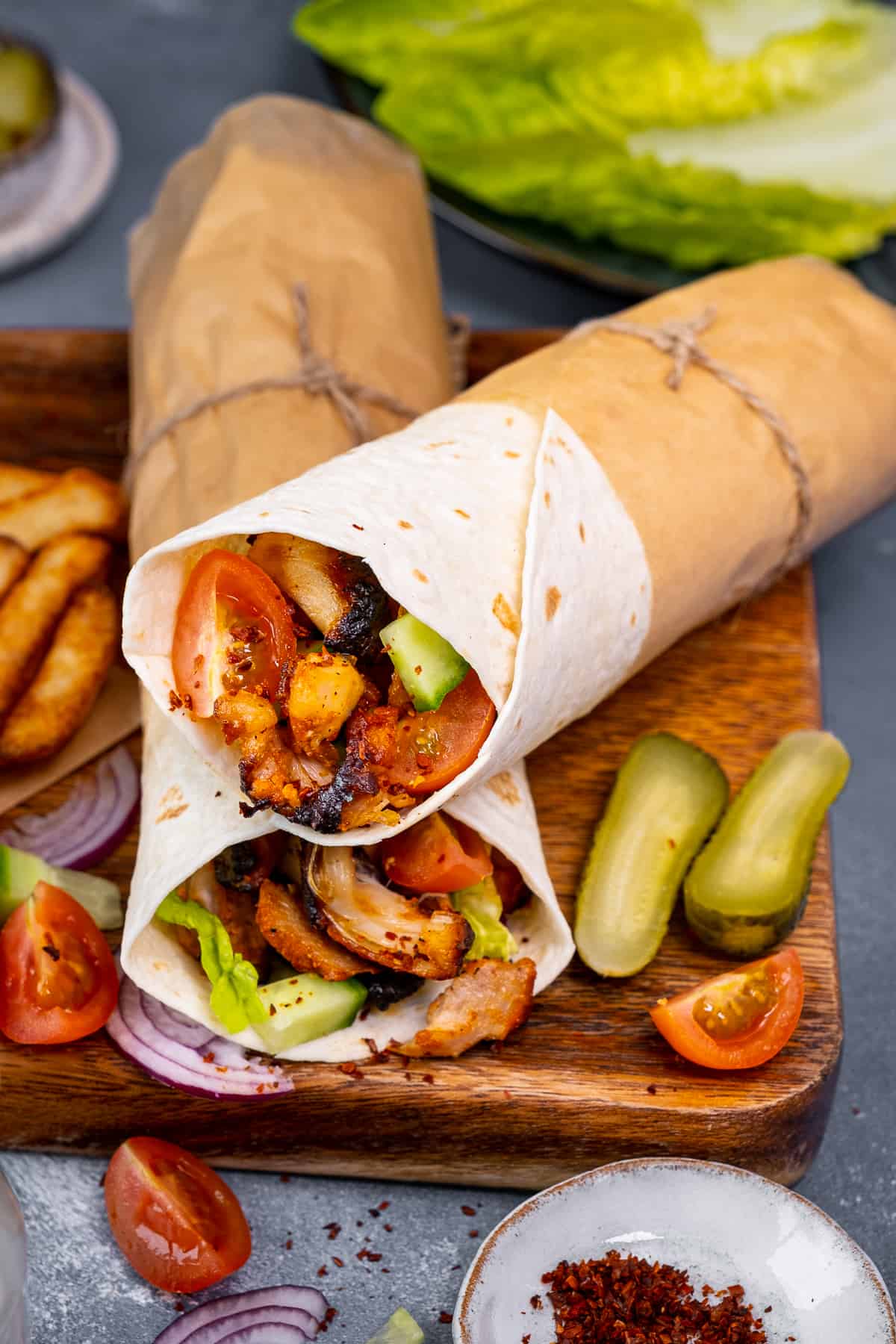 Ways To Serve It
There are a few ways how doner is served. You make your choice when ordering it.
Doner plate:
This is also known as pilavüstü (over rice) döner. The plate consist of a bunch of thinly sliced meat served with rice pilav or bulgur pilav, chips, and a salad. There are many accompaniments that you can make and serve.
Doner Sandwich:
This sandwich is served in either sandwich bread or doner bread (similar to pita). It can be served with fresh accompaniments like tomato, onions, and cucumbers.
Döner Dürüm (wrap):
This traditional wrap is made with a type of lavash, bazlama or yufka (similar to flour tortilla). It is filled with doner meat and sometimes other accompaniments. See our list of side dishes to serve with kebabs to get more ideas.
German Doner vs Turkish Doner
The main difference between German doner kebab and Turkish döner kebap is about how they are served.
German doner kebabs are served in a bread similar to pita bread with sauces. Most Berlin doner dishes are served with either "Scharf" (spicy), kräuter (herb-based), or Knoblauch (garlic-flavored) sauces. 
Turkish döner is served in sandwich bread or in flatbreads. It is also served on a plate on top of pilav. It is accompanied by some lettuce salad and sumac onion salad or coban salad. Classic doner kebab is never served with sauces in Turkey. 
The only doner in Turkey served with sauce is iskender kebap, also known as Bursa kebap. The same doner meat is served on chopped pide bread and topped with a tomato sauce and melted butter.
The other difference might be about the type of meat used.
There are two types of Turkish doner. One of them is meat doner (et döner), which is made with lamb, beef or a combination of these two. Check out our homemade doner kebab recipe to learn how to make it at home. The other type is chicken doner (tavuk döner), which is made with chicken. 
Berlin doner meat mostly consists of beef or veal and chicken. Lamb is rarely used as it is more expensive. Also, you can see doner made with turkey meat in Germany.
Doner Kebab vs Gyro vs Shawarma
Doner kebab vs Greek gyro - one of the most debated topics to date. But their differences are quite obvious and mainly come down to the meat they are made of and what they are served with.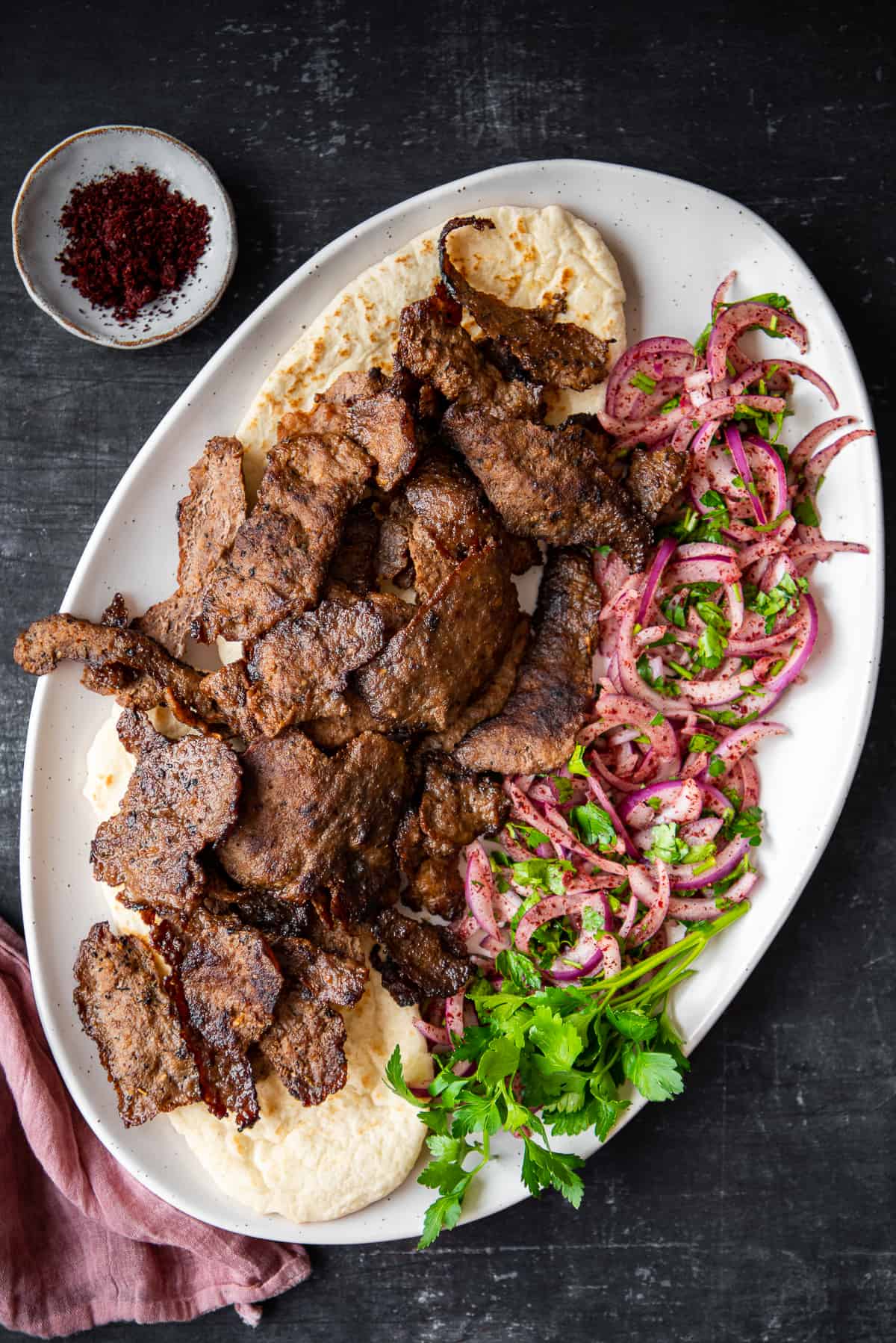 Doner kebabs are originally made with lamb and usually seasoned with salt, pepper, cumin, coriander and paprika. You can also use Isot pepper for a spicy element. This creates a very earthy and smoky flavor profile.
Gyros are originally made with pork and seasoned with lemon juice, garlic and oregano.
When it comes to the topping ingredients for doner kebab and gyros, there are also big differences.
Both can be garnished with fresh tomatoes, sliced red onions, lettuce leaves and French fries. However, gyros are always served with tzatziki and feta cheese. Doner (in Germany) could be served with a garlicky yogurt sauce (without dill or cucumbers).
And the other cousin of doner, shawarma is popular in the Middle Eastern countries including Egypt, Iraq and Saudi Arabia. The meat used in shawarma is the same as the one in döner but the spices are a little different. Shawarma is seasoned with cumin, cardamom, turmeric, paprika and baharat.
Shawarma toppings all go inside a wrap. It can be as simple as tomatoes, onions, and lettuce, but also some hummus, pickled veggies, and toum sauce or amba sauce. Tahini dressings are also very popular in Shawarmas.
FAQs
Is doner kebab meat healthy? 
Yes, it is healthy as long as you know it contains lamb, beef or chicken. When you eat it out, you might not be sure about this. There are doner places in UK, where the content of the doner meat is not revealed. They might be using unusual parts of lamb like offal, feet, ears, tongue to make it cheaper. So it is hard to say all doner kebabs are healthy.
What is the difference between a kebab and a doner kebab?
Kebab is the general name used for all grilled meat (and veggies) in Turkish. Döner is just a type of kebab.
Is Donner meat pig? 
No, it isn't. Doner is made from lamb, beef or chicken but NOT pork.
Other Kebab Recipes
As always: If you make this recipe, let us know what you think by rating it and leaving a comment below. And post a pic on Instagram too—tag @give_recipe so we can see!
Sign up for the FREE GiveRecipe Newsletter to get the new recipes into your inbox! And stay in touch with us on Facebook, Pinterest, YouTube and Instagram for all the latest updates.