This traditional spicy ground lamb kebab is known as Turkish Adana kebab or Adana Kofte. It is yet another extremely delicious and popular dish in Turkey. With only 4 ingredients, these Turkish kebabs are easy to make. Tender, juicy and packed with deep flavors. Serve on flatbreads or make wraps called Adana dürüm.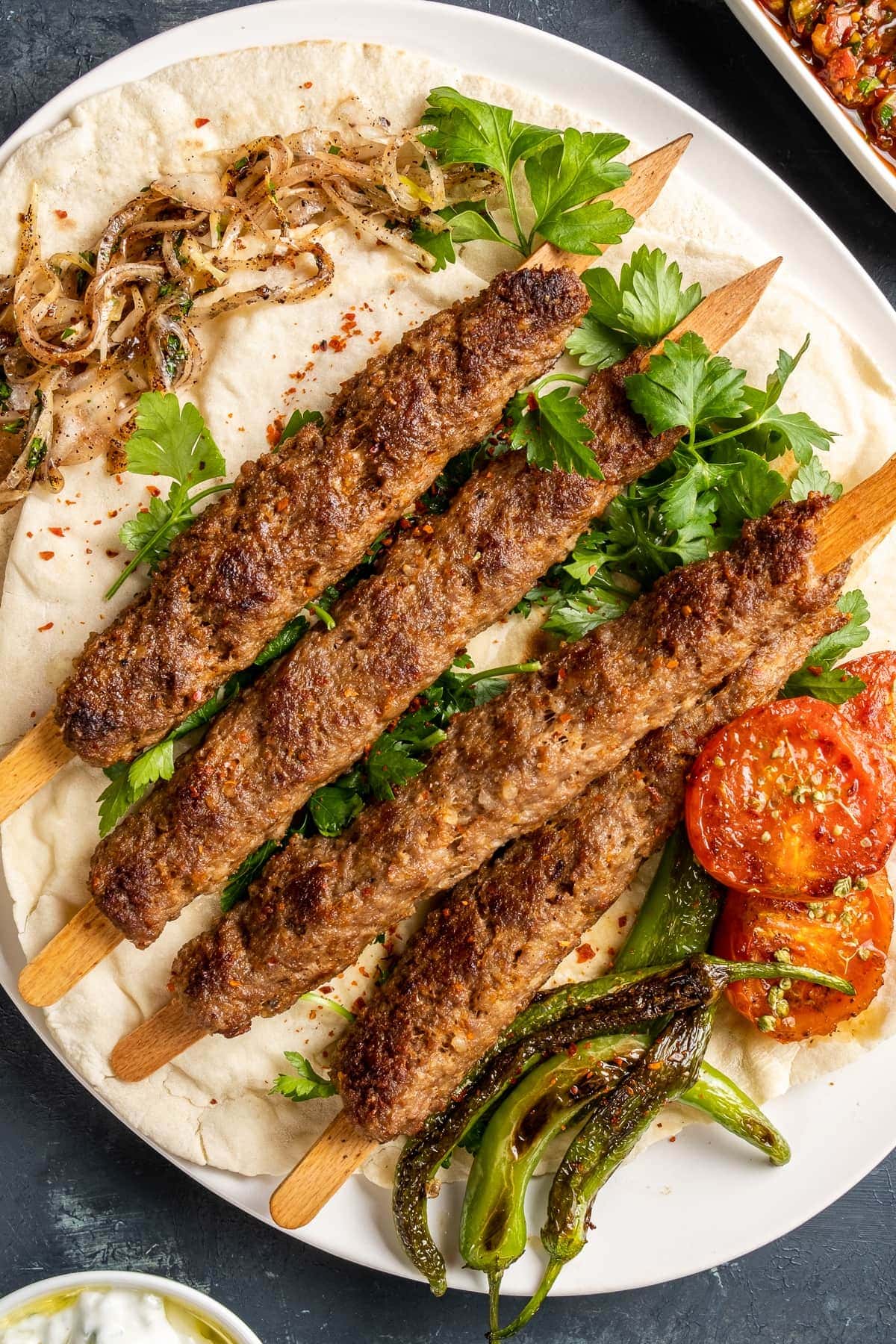 Our love of kebabs in Turkish cuisine is no secret. There is a unique kebab recipe almost in each city of Turkey. From döner kebab and kofta kebab to iskender kebap and marinated lamb shish kebabs or chicken shish kebab, they are all scrumptious.
Today we are making Adana kebabs, which are made with ground lamb and spices. And we even show how we make Adana dürüm (wraps) using our homemade lavash bread.
These kebabs are relatively quick to make and can even be frozen so prep is much quicker the next time. They have very simplistic yet flavorful ingredients and don't contain anything that is difficult to find.
Let's have a look at exactly how these mouth-watering kebabs are made including making them with different meats and skewers. We will also look at different cooking methods, and what Adana kebap can be served with.
Jump to:
What Is Adana Kebab?
Adana kebabs are one of the most delicious Turkish dishes and they originated in Adana, which is the fifth largest city in Turkey. These are very unique kebabs that are made with lamb meat, preferably hand-minced with a special sharp knife called zırh.
This flat kebab is mounted on large skewers, either iron or wooden, and then grilled on charcoal fire. The skewers can sometimes be as long as 2 meters depending on the number of the people ordering it.
Ingredients
Adana kebap recipe is traditionally made from ground lamb meat (lamb mince), red pepper flakes, paprika, and salt. Today, you will find a wide range of varieties that uses other spices as well, but the traditional recipe doesn't.
Normally we would recommend ground beef as a substitute for ground lamb, it wouldn't be Adana kebabı then. Fatty lamb mince is what makes this kebap unique and tasty.
Having said that, you can make the same recipe with ground beef (with 30% fat) if you avoid lamb meat. It is even possible to create a ground chicken Adana kebab recipe if that is what you want.
It is a spicy kebap recipe but you can reduce the amount of the spices if you want, especially the hot red pepper flakes (or chili flakes).
Optional Add-Ins:
Although it is not traditional or authentic, you can add grated onions (juice drained) and garlic in the minced meat mixture. You might need these especially if it is not easy to find fatty lamb in your area. You know, just to make the flavor better.
If the lamb meat is good enough, you don't need many spices to flavor your kebap. But you can always add black pepper, cumin and even sumac if you want to feel more spices.
What Meat Is Used In Adana Kebap?
An authentic Adana kebab (Adana kofte) recipe is made from young male lamb meat. The lamb should only be fed in its natural environment. Just like a good sac kavurma or doner food, lamb meat is the most important key for this delicious kebab. This lamb meat is minced by hand and then combined with lamb tail fat, which is a special fat from the lamb's tail part.
Today, however, like with most traditional recipes, there are a ton of variants on this recipe. Most people use lamb meat only regardless of its gender, age, or origin.
And we are aware that finding tail fat is the world's easiest thing if you are not in Turkey. So we will be using regular ground lamb (with a high fat ratio) in this recipe for Adana kebab. It still comes out super tasty.
How To Make This Recipe
These Adana lamb skewers are yet another delicious and easy recipe to make. Because the traditional recipe doesn't contain a ton of ingredients, you can also easily adapt it to your liking by adding some other spices!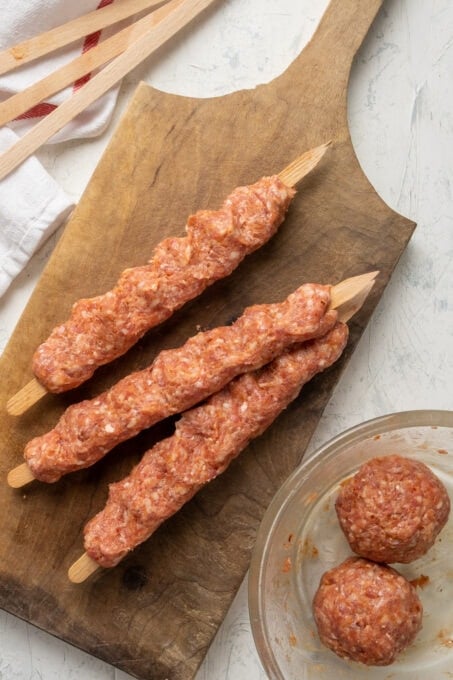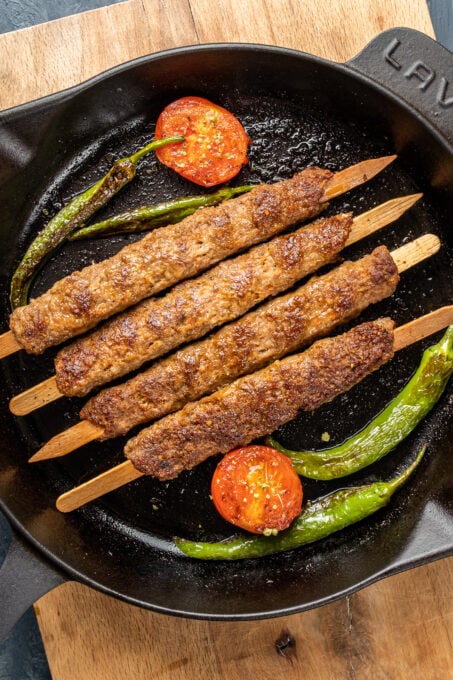 First, prepare your equipment. Soak your skewers in water for 30 minutes.
Second, make the lamb mixture. Combine the ground lamb meat, red pepper flakes, paprika, and salt. Mix the ingredients together with your hands until you have an evenly sticky mixture.
Third, skewer the meat. Divide your lamb mixture into 4-6 pieces. Roll each piece into a ball with wet hands. Mold the ball around the skewer to form a flattened kebab.
Fourth, cook the kebabs. Heat a cast-iron skillet or grill and brush it with some oil. Cook the kebabs for 8-10 minutes, turning them every 2 minutes. So not overload the skillet to ensure all the kebabs cook evenly.
Optionally, cook the accompaniments. While the kebabs are about to cook, roast the tomatoes and peppers in another cast iron skillet or in the same skillet if it is large enough. They shouldn't be fully cooked, only be charred. Serve Adana kebabs with the cooked tomatoes, peppers, and fresh parsley.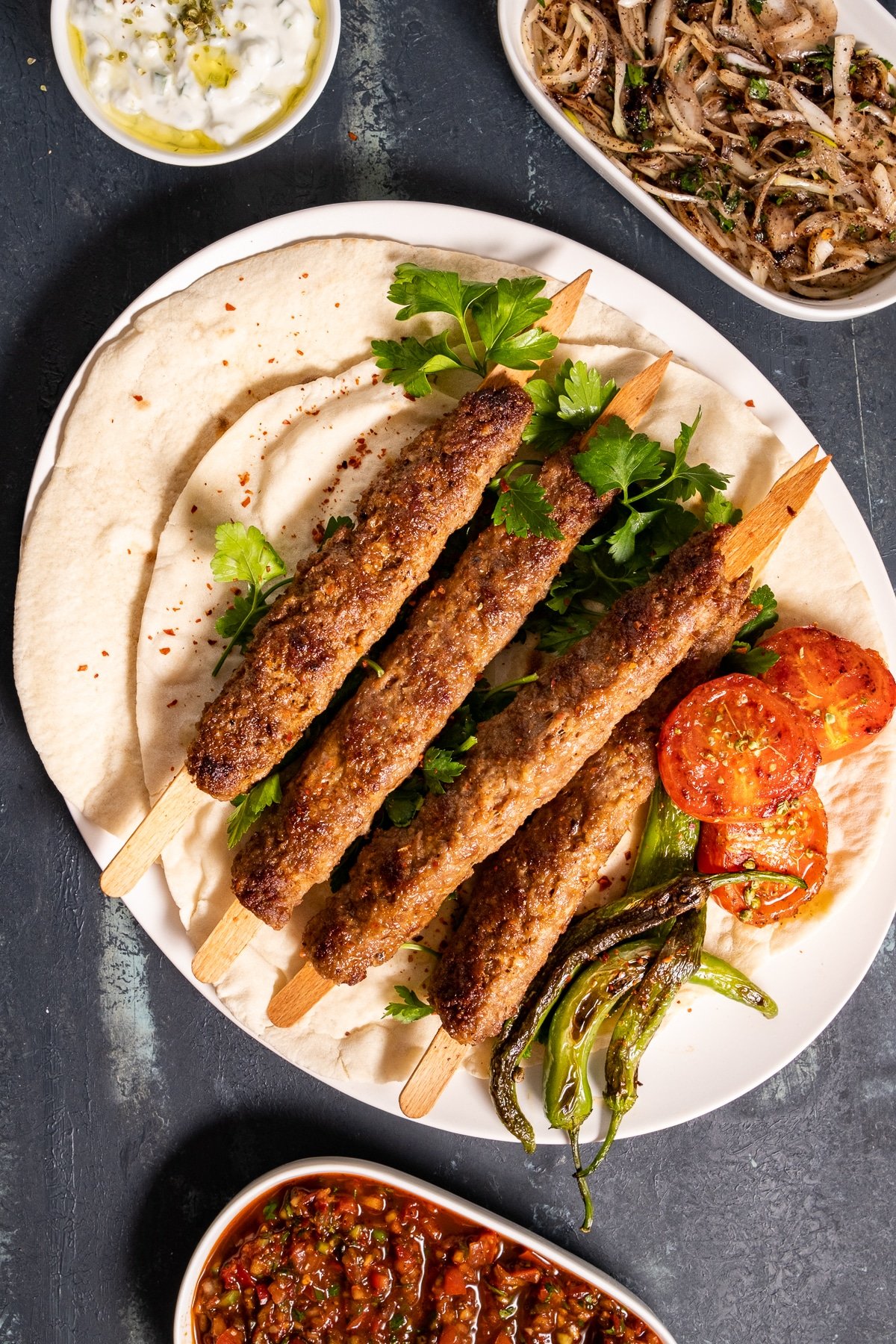 Can I Bake These In The Oven?
If you do not have a cast-iron skillet or griddle pan, you can bake your Adana meat kebabs.
Line a baking sheet with non-stick baking paper or a silicone sheet. Add a wire rack or cooling rack over the tray. This allows each Adana kebap to get the maximum amount of heat all around without laying in its own juices and falling apart.
Your oven should be preheated at 400°F (200°C). Lay the kebabs in a single layer on the wire rack and bake them for 20 minutes. Remove them from the oven and turn them around. Place the tomatoes and peppers on the rack as well and bake everything for another 20 minutes.
Remove them from the oven and serve warm. This method is a bit more time-consuming, but a lot less work.
Serving Adana Dürüm
Traditionally, we always serve Adana kofte on flatbreads like lavash, pide bread or pita bread. And we make Adana dürüm by placing the kebap on the bread, topping it with some salad and rolling it up.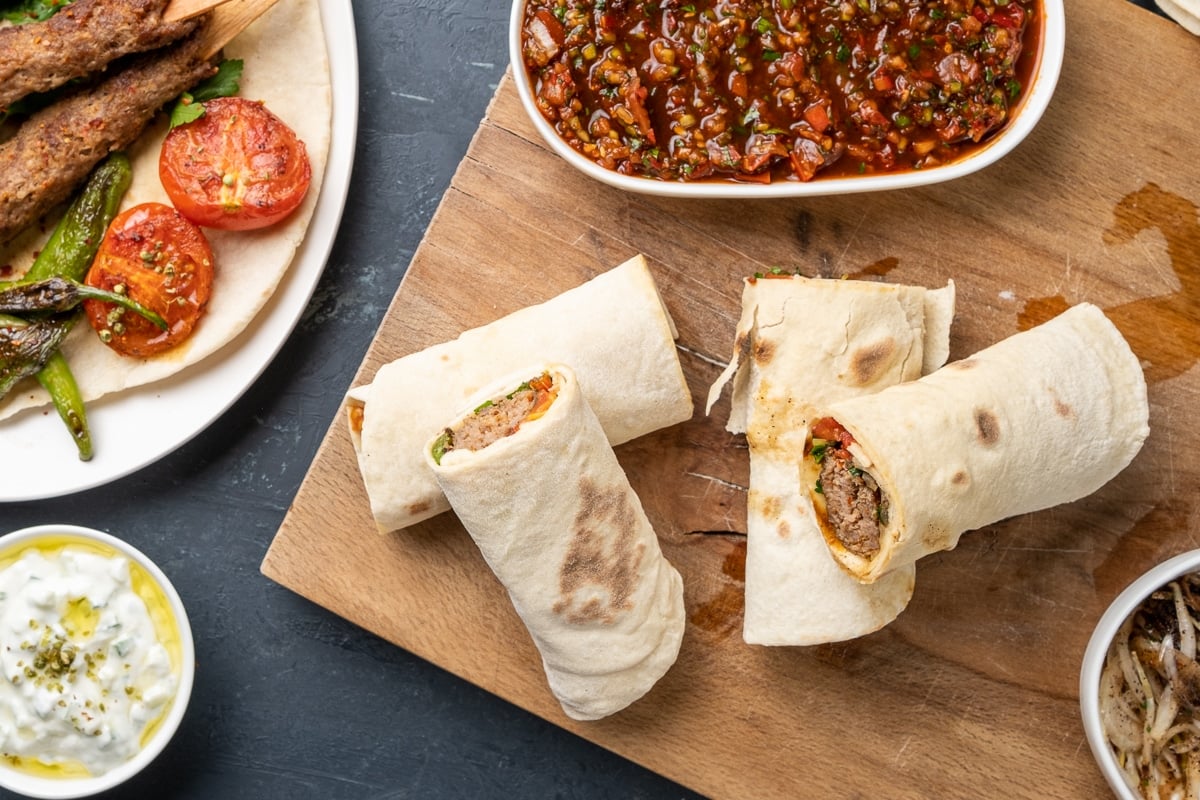 Also, just like we do when serving chicken doner kebab, it could be served with some rice or bulgur pilavı on a plate. And some other must-have side dishes to serve along with this ground lamb kebab are as follows:
FAQs
Can I use ground beef instead? You can definitely use ground beef instead of lamb, but keep in mind that the taste will be drastically different and it won't be traditional.
How do you keep kebabs from falling apart? When mincing the lamb meat, you shouldn't grind or mince it too fine. The texture in the meat helps bind it and keep it from falling apart. Also cooking them in the pan helps prevent this.
Can these kebabs be frozen? Another thing that makes these kebabs so amazing is that they can be frozen! The best way to do so is after they have been shaped (put on a skewer) but before they have been cooked. Place them in an airtight container, placing a sheet of nonstick baking paper between the layers. When you are ready to defrost them, simply remove them from the freezer and defrost them in a single layer in the refrigerator.
Can I use metal skewers? If you don't have any wooden skewers, or you prefer using metal ones, you can easily do so with this Adana kebab recipe. Instead of soaking the wooden skewers in water for 30 minutes, you can refrigerate the metal skewers instead. By following this method, it helps the meat stick to the skewer and ultimately prevents the ground lamb kebabs from falling apart.
Where can I eat the best Adana kebab? If you are planning to visit Turkey some day, keep in mind that the best kebab is in Adana. You can find these Adana kebabs everywhere in the city of Adana, but in our experience, the smaller local restaurants always serve much better kebabs than the more luxurious ones.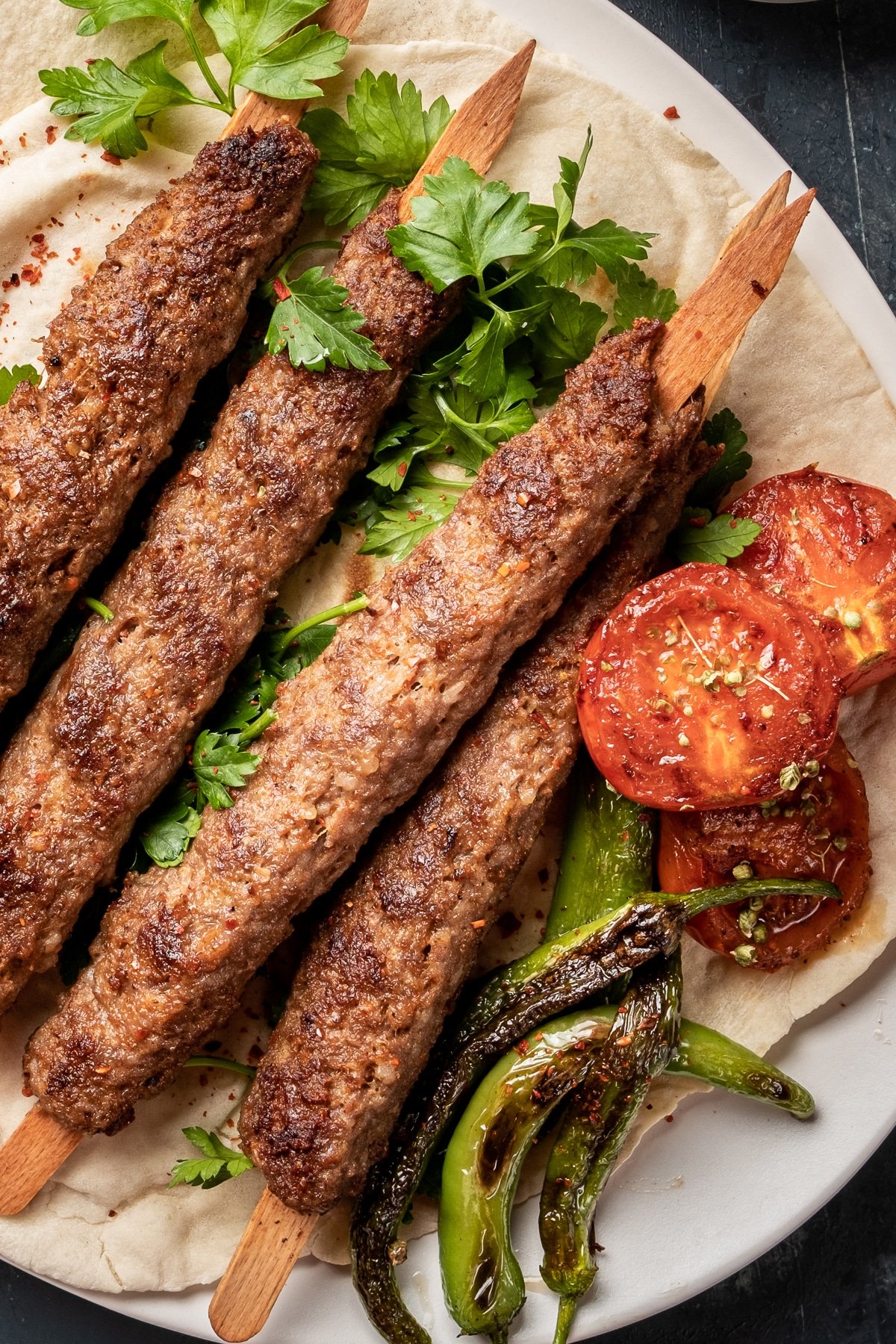 More Turkish Meat Recipes
As always: If you make this recipe, let us know what you think by rating it and leaving a comment below. And post a pic on Instagram too—tag @give_recipe so we can see!
Sign up for the FREE GiveRecipe Newsletter to get the new recipes into your inbox! And stay in touch with us on Facebook, Pinterest, YouTube and Instagram for all the latest updates.
Print
📖 Recipe
Adana Kebab Recipe (Adana Dürüm)
Adana Kebap is made from a simple spicy ground lamb mixture. It is shaped on skewers and cooked on the grill, cast iron pan or in the oven. You can serve it on a flatbread or make a wrap (Adana Dürüm).
Author: Zerrin & Yusuf
Prep Time:

20 minutes

Cook Time:

10 minutes

Total Time:

30 minutes

Yield:

4

1

x
Category:

Dinner

Method:

Cooking

Cuisine:

Turkish
Kebabs:
1

lb/500 gr ground lamb

1 tablespoon

hot red pepper flakes

1 teaspoon

paprika

1 teaspoon

salt 
For Serving:
2

-

3

tomatoes

Green peppers(chili or jalapeno)

Parsley

lavash bread (or any flatbread) to make dürüm (wrap)
Instructions
Kebabs:
Soak 4 wide wooden skewers in water. Let them sit for 30 minutes.

In a mixing bowl, combine ground lamb, red pepper flakes, paprika and salt together. Use your hand and mix until everything is well combined and you have a sticky mixture. 

Divide the meat into 4-6 pieces, depending on the size of the skewers you use.

Wet your hands and roll each piece into a ball and then mold each around a skewer forming a flattened kebab. 

Heat a cast iron skillet (or a grill). Brush it with a little oil or use cooking spray. Cook the kebabs, flipping them up every few minutes. They will be cooked within 8-10 minutes. Don't overload the skillet if it is not large enough. 
For Serving:
While you are cooking the kebabs, in another hot skillet, cook tomatoes and peppers halved or whole. Don't let them fully cook. Just getting some chars on them would be enough.

Serve the kebabs with cooked tomatoes, peppers and fresh parsley.

To make dürüm, serve these kebabs on a flatbread like lavash and roll it up.
Notes
If you don't have a grill or cast iron skillet, you can bake your adana kebabs in the oven. To do this, line a baking sheet with parchment paper. Place a roasting wire rack or a cooling rack on it. Place the kebabs on it and bake for 20 minutes in a preheated oven (200C/400F). Remove it after 20 minutes, flip them up and place tomatoes and peppers on the rack as well. Bake for another 20 minutes and serve.
Nutrition
Serving Size:
Calories:

326

Sugar:

0.2 g

Sodium:

649.2 mg

Fat:

26.9 g

Carbohydrates:

1.1 g

Protein:

19.1 g

Cholesterol:

82.9 mg
Keywords: adana kebab, adana kebab recipe