Let's learn what sunchokes are and how to cook a simple vegetarian side dish with them. This Easy Sunchoke Recipe (aka Jerusalem Artichoke Recipe) is packed with the combination of citrus and olive oil flavors.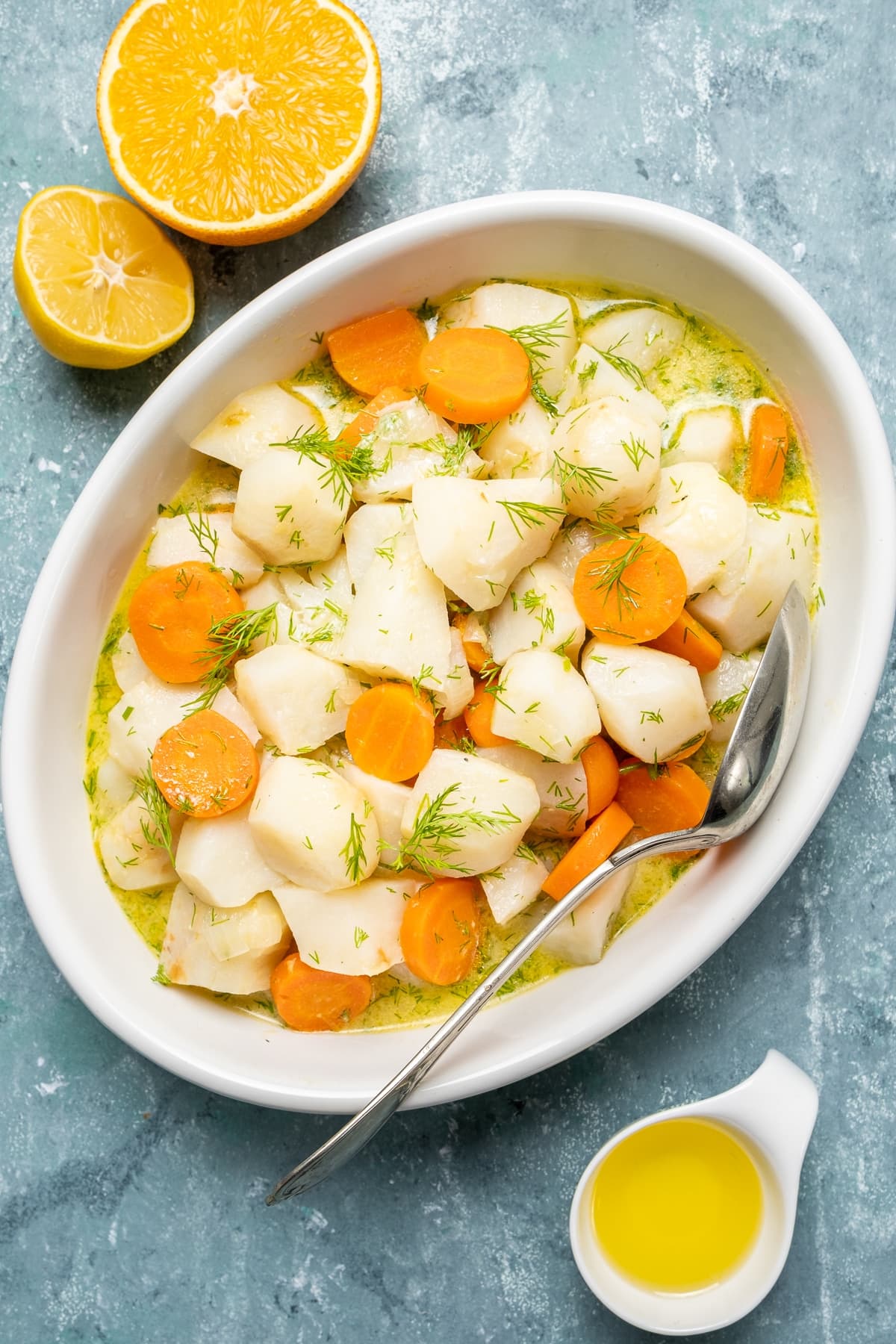 This recipe is a perfect combination with the earthy and nutty flavor of sunchokes. It is healthy and extremely easy to make. It can be served hot, cold, or at room temperature. You can have it as a side or a vegetarian lunch on its own.   
Sunchokes are a staple during fall and winter in our kitchen. We either eat them raw or make this easy recipe. It is one of our favorite vegetarian dishes. Interested in such healthy vegetarian meals? Try our celeriac recipe, braised green beans or fava beans with their pod.
Today, we will discuss this sunchoke vegetable aka Jerusalem artichoke in all of its glory! We will look at what it is, how to prepare and cook it for this mouth-watering recipe, as well as how it can be served and stored.
Jump to:
What Are Sunchokes (Jerusalem Artichokes)?
This artichoke goes by many other names including sunchoke, topinambur, Jerusalem artichoke and sunroot. In Turkey, it is referred to as "yerelması" which directly translates to "earth apple", which is another name for it.
Despite the name Jerusalem artichoke, there is no connection between the city and the vegetable.
It may have been because originally it was called "girasole artichoke" in Italian, which means "sunflower artichoke" because of some relation between the two. Throughout time it might have been changed to "Jerusalem artichoke".
Another thing about Jerusalem artichokes is that they have no relation to artichokes! This name is derived from the distant relationship between the two vegetables' daisies.
So, what exactly is a sunchoke vegetable then?!
Jerusalem artichoke is a type of tuberous root vegetable that is native to the North American region despite being an extremely popular ingredient in many other cuisines and cultures around the world.
A sunchoke's taste is very much like that of water chestnuts. Think of a combination of slightly sweet but nutty flavors. It definitely doesn't have an overpowering flavor and pairs beautifully with a ton of flavorings.
What Does It Look Like?
Sunchokes have a knobby appearance with a brownish color – it almost looks like fresh turmeric or ginger. Sometimes they can also be white, red, or even purple. They come in various shapes and sizes, but range between 3-4 inches long and 1-2 inches thick.
In its raw form, it has an extremely crisp and crunchy texture, but once cooked it becomes soft and succulent.
How to Prepare
Sunchokes have to be scrubbed clean before being prepared. Because they grow underground, a ton of dirt and pebbles get stuck between the ridges of this root vegetable.
We peel sunchokes to be sure that we get rid of all that dirt, but it isn't necessary. The skin is safe to eat. Just remember to wash it very well otherwise you might have to chew on some sand!
The way you cut them will depend on what you're making with them, but they are very versatile vegetables so can be cut in many different ways (thickness and shapes).
What To Cook
Cooking sunchokes is no different from cooking potatoes, sweet potatoes, turnips, and celery root.
There are a ton of Jerusalem artichoke recipes available on the internet, all with different cooking methods.
Some of the most popular ways to prepare Jerusalem artichokes are to roast them, deep-fry them for crispy fries, or steam them to retain their nutrients. And we will be sharing the recipe for a cream of sunchoke soup soon.
Today, we will share one of the easiest recipes made with sunchokes, carrots, citrus and herbs. Now that you have learnt what sunchokes are, you can buy it next time you go shopping and make this easy recipe.
About The Ingredients
Sunchokes: You can find them at big markets or at farmers markets. They could be labeled as Jerusalem artichoke, topinambur or earth apple. We peel them for this recipe but you can leave their skin. Just make sure you clean them well.
Carrots: We think the best vegetable to combine with sunchokes is carrots. They enrich the dish with their subtle sweetness and color.
Citrus flavors: We use a combination of orange and lemon. You can use one of them.
Herbs: Fresh dill is a great ingredient to combine with vegetable dishes like this. Additionally, we sometimes add parsley.
Olive oil: Use a good quality of olive oil. You can even use extra virgin olive oil to drizzle over the dish after it is cooled.
How to Make This Recipe
This sunchoke recipe is incredibly easy and even quick to make.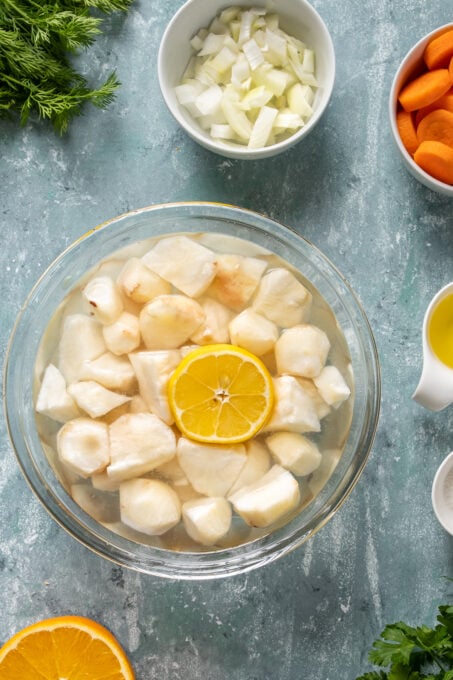 Prepare the sunchokes: Add water into a bowl with some lemon juice inside. Peel the sunchokes and chop them roughly. Place them in lemon water to prevent them from becoming brown or discolored in any way.
Cook the vegetables: In a large pan, heat the olive oil and sauté the onions and carrots. Add the sunchokes with their lemon water along with the orange juice and salt. Cook the mixture covered for about 20 minutes, or until the vegetables are tender and evenly cooked.
Garnish and serve: Once your vegetables have fully cooked, remove them from the heat, let it cook down a bit and add some freshly chopped dill or parsley. Transfer it to a serving bowl and serve according to your liking.
Remember to add extra olive oil and lemon juice before serving!
How To Serve
This is another one of those classic "olive oil dishes" in Turkish where the dish can either be served at room temperature or cooled in the fridge.
Almost always these vegetarian recipes are served with extra olive oil and freshly squeezed lemon juice.
Frequently Asked Questions
Do you need to peel Jerusalem artichokes?
No, it isn't necessary. The main reason for peeling is to remove any dirt or sand left on the surface, but as we've also mentioned, those can be removed by simply scrubbing the skin with a vegetable brush or sponge and some clean water.
When Are Sunchokes In Season?
Sunchokes are generally available from early fall right through to spring, but the optimum time to harvest or consume them is in the winter months.
How to Store Sunchokes
Sunchokes can be stored in the same way other root vegetables are; keep them in a cool, dark, and dry area that is well-ventilated.
You can store them in the refrigerator to extend their shelf life, but it isn't necessary. If you choose to keep them in the refrigerator, make sure to wrap them in paper towels or keep them sealed in a plastic bag – this will help them absorb the humidity and prevent them from drying out.
Can you eat raw Jerusalem artichokes?
Yes, you can eat them raw! And truthfully, they're actually quite delicious this way! They add a nutty flavor and crunchy texture to any salad or sandwich.
More Vegetarian Dishes
As always: If you make this recipe, let us know what you think by rating it and leaving a comment below. And post a pic on Instagram too—tag @give_recipe so we can see!
Sign up for the FREE GiveRecipe Newsletter to get the new recipes into your inbox! And stay in touch with us on Facebook, Pinterest, YouTube and Instagram for all the latest updates.
Print
📖 Recipe
What Are Sunchokes And How To Cook Them
Topinambur also known as sunchokes or Jerusalem artichoke cooked with carrots. An amazing meatless dish that can also be served cold with additional olive oil and lemon juice.
Author: Zerrin & Yusuf
Prep Time:

5 minutes

Cook Time:

35 minutes

Total Time:

40 minutes

Yield:

4

1

x
Category:

Side Dish

Method:

Cooking

Cuisine:

Turkish

Diet:

Vegetarian
4 cups

sunchokes, chopped

2 cups

water

Half lemon

1

small onion, diced

½ cup

carrots, chopped

½ tablespoon

orange juice, optional

½ teaspoon

salt

2 tablespoons

olive oil

Fresh dill, chopped
Instructions
Put water in a large bowl. Squeeze lemon in it and put it aside.

Peel the sunchokes and chop them roughly. Transfer them into the bowl with water. This is to prevent the chopped sunchokes from getting darker.

Heat olive oil in a pan. Saute diced onion and carrots until translucent.

Add in the chopped sunchokes with the water in the bowl. 

Pour orange juice over them. Add in salt. Cook covered until the carrots and sunchokes are tender, for about 20 minutes.

Remove from heat, add in chopped fresh dill, give it a stir and transfer into a serving bowl. Bring it to room temperature.

Optionally, you can drizzle extra olive oil and squeeze extra lemon on it right before serving.
Notes
After peeled, sunchokes lose their bright color fast. To avoid this, put them in a cold lemon water.
Don't overcook the sunchokes, they will get mushy otherwise.
Serving suggestion: Let the dish cool completely, keep it in the refrigerator for 30 minutes and then serve.
Nutrition
Serving Size:
Calories:

198

Sugar:

17.6 g

Sodium:

314.3 mg

Fat:

7.2 g

Carbohydrates:

33.9 g

Protein:

3.6 g

Cholesterol:

0 mg
Keywords: sunchokes, sunchoke recipe, topinambur, jerusalem artichoke, jerusalem artichoke recipe