Authentic Kofta Kebab has everything to bring the Middle Eastern cuisine into your kitchen. Combine ground lamb and beef with amazing spices and shape kebabs on wooden skewers. Roast them either in the oven or on the grill and enjoy with various mezes.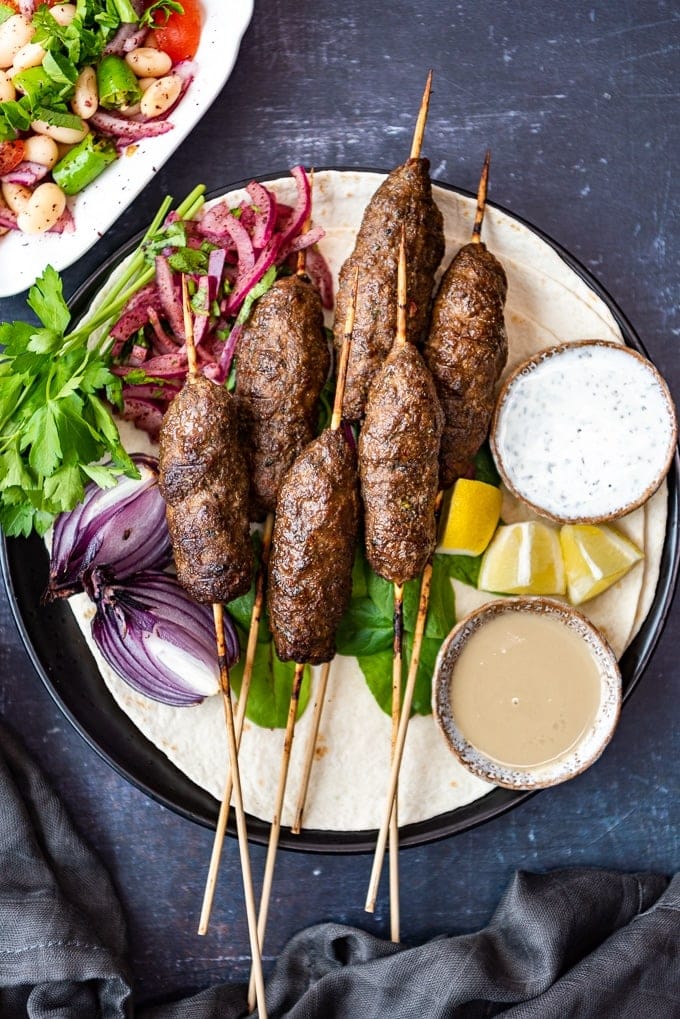 Just like chicken kebabs, ground lamb Adana kebabs and classic doner kebab, this delicious grilled kefta kebab or kefta kabob is yet another Middle East street food. It is mostly served on lavash with Turkish yogurt sauce, tahini, sumac onion salad and piyaz salad.
Kofta kebabs are quite a popular dish in the Middle East and can be found in many other countries, including Lebanon, Algeria, Tunisia, Turkey and more.
Today, we will be sharing a lamb kofta kebab recipe that has been in the family for years. We hope you enjoy it just as much as we do.
Jump to:
What Is Kofta Kebab?
Kofta kebab is a grilled kofta served on skewers. Any food that is cooked on skewers or shish and on the grill is called kebab in Turkey. And that's why these are called kofta kebabs. They are one of the tastiest Turkish dishes.
What is it made of? These kofta kebabs contain ground lamb or beef mixed with spices and onion. You can also find chicken kefta, mutton kofta kebab, lamb kofta kebab or beef kofta kebab in other Middle Eastern cusines. But in Turkey the combination of beef and lamb is the most popular one.
The skewers with a spicy ground lamb and beef mixture around them are roasted on the grill. Then they are served as a sandwich in breads like Turkish flatbread bazlama, as a wrap in lavash bread or on a plate accompanied by rice pilaf with orzo. And it is almost a must to order a large cup of fresh yogurt drink to pair with your kefta kabob.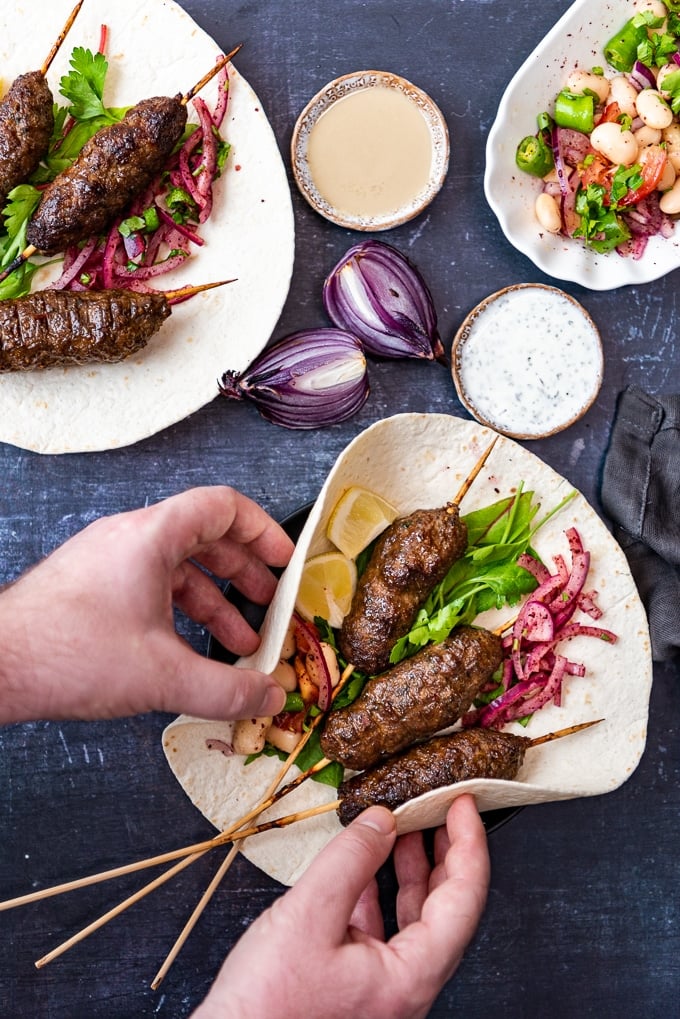 Kofta Kebab or Kofta?
Now that you know what kofta kebab is made of, let's tell you the difference between kofta and kofta kebab.
The main difference between two is about their shapes. Usually a kofta recipe will require the meatballs to be made into small balls by hand, whereas kefta kebabs are usually shaped larger and longer on skewers.
Also, you can use kofta or kofte in several other dishes like pasta, stews or even soups. Go check out our izmir kofte to see an example. However, kofta kebab is only served in the form of fast food accompanied by condiments.
If you are interested in cooking kofte, you might want to see our kadinbudu kofte recipe too!
Ingredients
For kofta kebabs to turn out well, it is essential that you start out with quality ingredients. Go the extra mile, search for the right quality beef and lamb that will do the recipe justice.
You will need both ground lamb and ground beef for making this Turkish kofta kebab recipe. Additionally, you would need 1 large onion and 3 cloves garlic. The garlic should be finely grated.
To achieve that Turkish Kofta Kebab flavour we all love and cherish so much, you would need several different kinds of spices and fresh herbs including parsley, fresh mint leaves, salt, ground black pepper, cumin and paprika.
How To Make
Start off by soaking your wooden skewers in the water for at least 30 minutes. If you don't have wooden skewers, don't worry. You can use stainless steel ones too. For those of you who don't have either, use your hands and go for a more burger or meatball shape for the kofte instead. On a side note, if you are unsure how to use wooden skewer inside an oven safely,

be sure to read up on how properly soaking your skewers can make the whole process super safe and easy.
Mix all the ingredients together using a food-processor. Make sure you properly mix everything so that the flavour of the spices is evenly spread out throughout the mixture. Take a large bowl and transfer your mixture into this bowl before moulding it on to your skewer.
Shape the kefta kabob. Be sure to take a handful of the portion of mixture when moulding it into kebab. To prevent the meat from sticking to your hands is to wet the palms of your hands lightly. This way the meat won't keep sticking to your palms.
Once you have all your skewers ready, roast them on your oven grill. Alternatively, you can line a baking sheet with foil, place an oven wire rack on it and put the kebabs on it. 20 minutes in the oven is fine. Once done, take the skewers out of the oven and serve the juicy kebabs alongside yogurt mint sauce or tahini sauce and onion salad or bean salad on the side.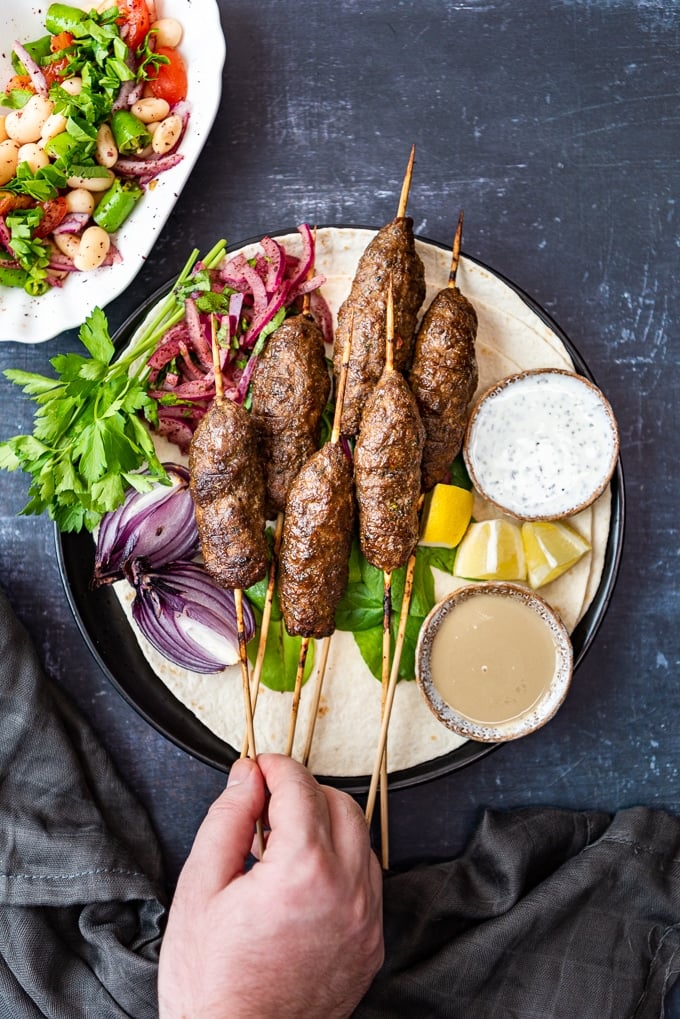 Tips
Here are some tips you should follow when making the kofta skewers recipe to make sure the kofta kebab stick on skewers:
Make sure the meat mixture is cold, as this way it won't be slippery while you skewer them.
Similarly, keep a bowl of cold water near you, and occasionally dip your hands in the cold water if your palms get sweaty or hot.
Before you start skewering the kefta kebab, make sure the mixture doesn't contain any air bubbles, by smashing the mixture with your hands to make sure.
Adding salt before you knead or mix the meat will make sure that your skewers will remain intact.
And lastly, make sure that you are sealing the opening and closing of the kofta kebabs properly so they don't slip.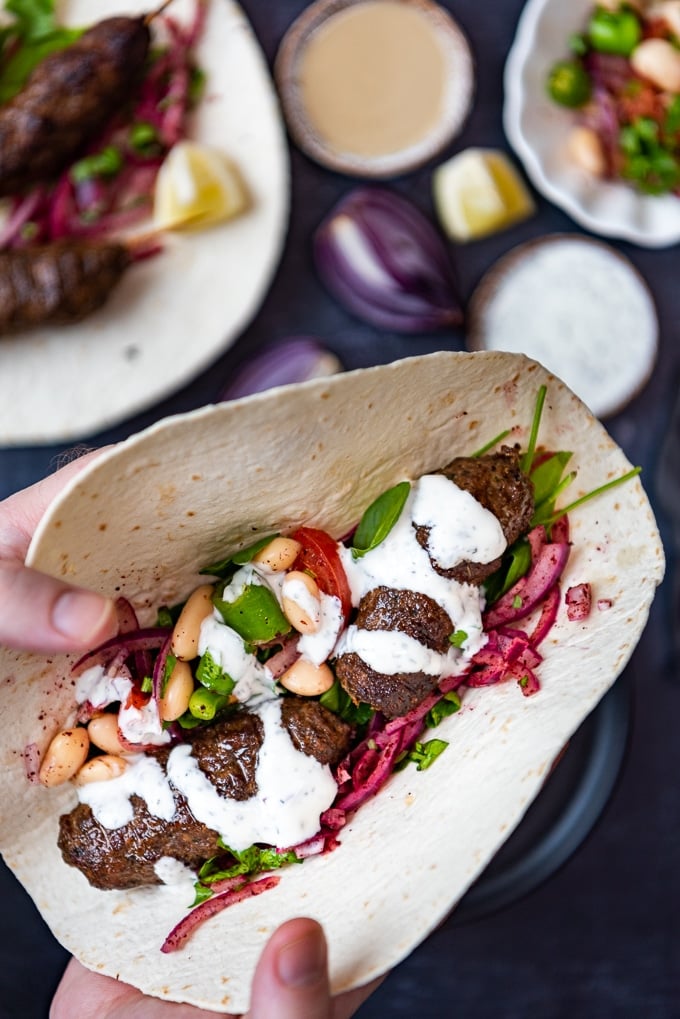 What To Eat With
They literally go with anything. You can serve them with grilled vegetables of your choice, or a fresh garden salad like Turkish shepherd salad or ezme. Similarly, you can add in a yogurt mint sauce or tahini, and serve pita bread or pide bread and or rice as a side dish.
It can become the perfect meal with any kebab side dish you want, including fries, tomatoes or more. Our favorite sides to pair with any kebab are eggplant salad, roasted onions and creamy cucumber salad.
Calories
Although the calories may vary from the amount of meat you use, kofta kebab is a low-calorie dish as it is usually grilled and requires very little oil. You can expect anywhere between 180-300 calories per serving.
More Turkish Recipes
More Kebab Recipes
As always: If you make this recipe, let us know what you think by rating it and leaving a comment below. And post a pic on Instagram too—tag @give_recipe so we can see!
Sign up for the FREE GiveRecipe Newsletter to get the new recipes into your inbox! And stay in touch with us on Facebook, Pinterest, YouTube and Instagram for all the latest updates.
Print
📖 Recipe
Kofta Kebab Recipe
Kofta kebab made with ground lamb and beef, onion, garlic and spices.
Author: Zerrin & Yusuf
Prep Time:

20 minutes

Cook Time:

20 minutes

Total Time:

40 minutes

Yield:

8

1

x
Category:

Dinner

Method:

Roasting

Cuisine:

Turkish
500g

ground lamb (lamb mince)

500g

ground beef (beef mince)

1

large onion

3

cloves garlic

1

bunch of parsley (about

1 cup

chopped)

½

bunch of fresh mint, leaves only (¼ cup)

1

and ½ teaspoon salt

½ teaspoon

ground black pepper

1 teaspoon

cumin

2 teaspoon

paprika
Instructions
Soak 14 wooden skewers in water for 30 minutes.

Preheat the oven at 200C.

Put all the ingredients in a food processor. Pulse it until everything is combined. 

Transfer the mixture in a large bowl. 

Take a handful portion of the meat mixture and mould it on a wooden skewer. Repeat until you finish the mixture. 

Roast them on the oven grill in two batches for 20 minutes.

Serve with yogurt mint sauce or tahini sauce and onion salad or bean salad on the side.
Nutrition
Serving Size:
Calories:

182

Sugar:

1.5 g

Sodium:

491.8 mg

Fat:

2.4 g

Carbohydrates:

23.5 g

Protein:

18.2 g

Cholesterol:

37.5 mg
Keywords: kofta kebab, kofta kebab recipe, kefta kebab