If you are looking for the ultimate chocolate Christmas cookies this holiday season, look no further! These Chocolate Brownie Cookies are deliciously soft, chewy and will make the perfect snack for any occasion.
Let's admit this. We all love cookies! Chocolate cookies with strawberries or spicy chocolate cookies make the best treat when paired with a cup of coffee. These chocolate brownie cookies are just the same!
But what makes these fudgy chocolate cookies so good? Well, first of all, this recipe uses only melted dark chocolate instead of cocoa powder. This adds moisture and elevates the texture to give a softer, richer mouthfeel.
Secondly, the recipe is the perfect balance between a cookie recipe and a chocolate brownie recipe, giving you brownie cookies. These are soft and chocolatey like brownies, but they're still able to hold their shape and be baked like cookies.
We love orange zest on our chocolate brownie cookies because the flavors of orange and chocolate make a perfect match. That's the reason why Chocolate Covered Orange Slices are always a hit in our house, which make another edible gift idea.
And if you are looking for ways to gift your homemade brownie cookies, check out the beautiful ideas on packing cookies for gifting.
So, let's get to it; how to make brownie cookies.
How To Make
First, melt the butter in a medium heavy bottom saucepan. Remove from heat and add in the chocolate. Let it melt while constantly stirring until the chocolate is completely smooth. Or use a double broiler for the best result. Read the note below.
Next, combine the eggs, sugar, vanilla extract, and salt in a large bowl. Whisk until the egg mixture becomes a pale yellow.
Slowly pour the melted chocolate and butter mixture into the egg mixture while continuously whisking. You should add the chocolate in a thin slow stream. Once all the chocolate has been incorporated, give the mixture another couple of whisks.
Next, add your flour and baking powder. Using a wooden spoon, incorporate the dry ingredients until you cannot see any flour. Be careful not to overmix as you will end up with stiff, dense brownie cookies. Chill the dough for 30 minutes. It is important in this recipe so don't skip it.
Meanwhile, preheat the oven to 375˚F. Line a couple of baking sheets with non-stick baking or parchment paper.
Once the cookie dough has chilled, scoop cookies on it using a large tablespoon or ice cream scoop. These will help you get evenly-sized cookies. Leave about 2 inches between each cookie.
Right before baking your cookies, add some orange zest over each cookie – we like to add a lot to get that extra zesty flavor. Bake the cookies for 8-10 minutes. The cookies will still be very soft when they're removed from the oven, but don't over bake them!
Immediately transfer the cookies to a wire rack to cool down. While the cookies are still hot, add a sprinkle of salt and some extra zest. And your perfect homemade brownie cookies are ready!
About The Baking Duration
After some years of cookie baking experience, I can say that the key to soft and chewy cookies is the baking duration. Don't bake these cookies more than 8-10 minutes. They will still look uncooked in the middle when you remove them from oven, but they will continue to cook when they are cooling on a wire rack. Don't leave them on the baking sheet! You need to transfer these onto a cooling wire rack right after you remove them from oven.
What's the Difference Between a Brownie and a Cookie?
Before you scroll down to this amazing brownie cookie recipe, let's have a look at the actual differences between a brownie and a cookie.
Brownies and cookies are actually very different. Sure, their base ingredients can be the same, however, the ratios are what makes most baked goods different.
Brownies have a much higher moisture and fat content that creates a batter, whereas cookies have a much higher flour content, creating a dough. The brownie batter will bake into any form that it is poured into whereas the cookie dough can be shaped and baked without support.
Because of the difference in ratios of ingredients, it also results in a difference between textures. Brownies are naturally softer (because of the higher moisture content) whereas cookies are usually much harder and crunchy.
Why This Recipe Works
Here's what makes this chocolate brownie cookie recipe great; it combines the best parts of both the brownie and the cookie! Think of it this way; you have a brownie batter that you add the perfect amount of flour to until it is pliable and can be shaped into cookies.
This means that you get very soft fudgy chocolate cookies that melt in your mouth. The addition of orange zest gives that holiday feel and zesty taste that goes so well with dark chocolate.
What I love about the this citrus chocolate cookies recipe is that you don't need to soften butter. It might not be a big deal to soften it for you, but whenever I decide to make a cookie recipe, I forget to remove the butter from the fridge beforehand and have to wait till it reaches room temperature. Also, it's great that you don't need to melt the chocolate over double boiler. Just melt butter and chocolate together in a pot, stirring until smooth.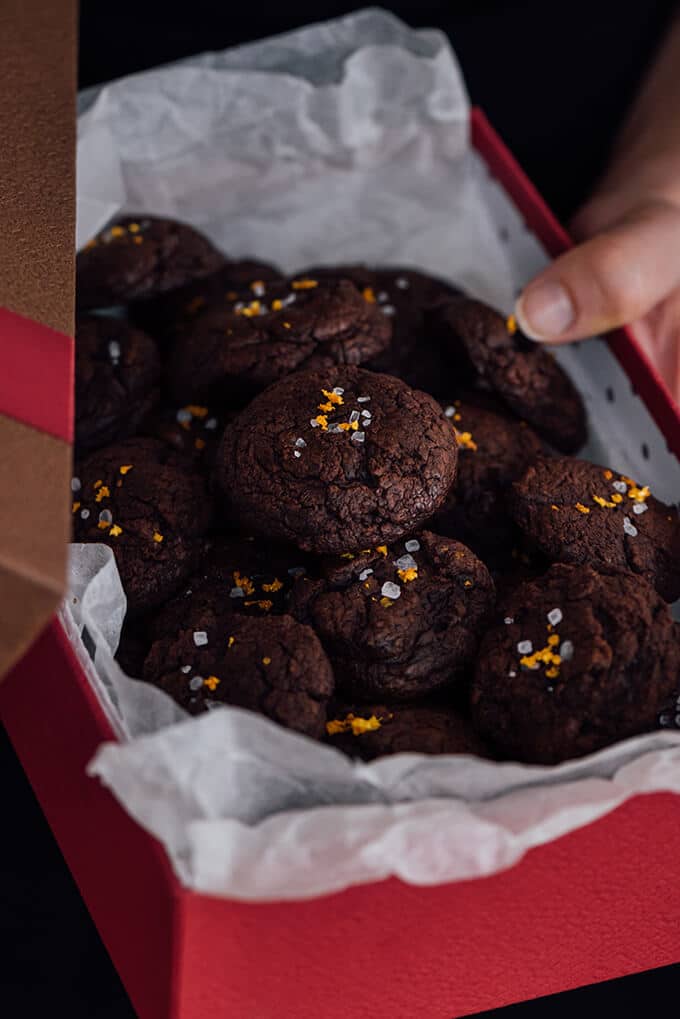 These chocolate citrus cookies are super easy to make and make perfect Christmas gifts. I guarantee even people with no baking experience will get the best result.
Why Did My Cookies Turn Out Hard?
There are a couple of reasons why your chocolate brownie cookies might have turned out hard. The most probable reason would be that they were baked too long.
These cookies will still be soft when they come out of the oven after 10 minutes, but that is how they are supposed to be. The most important thing when the cookies bake is for the eggs to be cooked - 10 minutes is sufficient. Anything more and you are simply drying out the moisture, which will result in hard cookies.
Other reasons might be that your oven was too hot or had hot spots. To learn more, you can check out the article on how to test for hot spots.
Is It Better To Chill Cookie Dough Before Baking?
Usually, the reason you chill cookie dough is because it helps the fat solidify. When the fat solidifies, it will take longer to melt in the oven. This means that the dough won't spread as much during baking versus un-chilled dough.
Chilling cookie dough won't affect any other part of the recipe, so if you want perfectly sized cookies, or just stay on the safer side of things, feel free to give it a try. It will definitely help you retain moisture during baking which will give you nice chewy chocolate fudge cookies.
Can You Melt Chocolate And Butter Over A Double Boiler?
Of course, you can! This is a great method that is often used to melt chocolate. The reason it works so well is because the chocolate doesn't get into direct contact with heat and is less likely to seize.
If you still want to go with a double broiler, go ahead. To melt chocolate and butter over a double boiler, fill a small saucepan halfway with water. Place the chocolate and butter in a medium bowl and place it over the simmering water. Make sure the bowl is not touching the simmering water. The steam is what heats the bowl and melts the chocolate and butter.
Other Chocolate Cookies
Other Cookie Recipes
As always: If you make this recipe, let us know what you think by rating it and leaving a comment below. And post a pic on Instagram too—tag @give_recipe so we can see!
Sign up for the FREE GiveRecipe Newsletter to get the new recipes into your inbox! And stay in touch with us on Facebook, Pinterest, YouTube and Instagram for all the latest updates.
Print
Molten Chocolate Citrus Cookies
Soft and chewy chocolate cookies flavored with mandarin orange zest.
Author: Zerrin & Yusuf
Prep Time:

40 minutes

Cook Time:

9 minutes

Total Time:

49 minutes

Yield:

3

dozens

1

x
Category:

Cookies

Method:

Baking

Cuisine:

American
1

and ¾ cup (

320g

) dark chocolate 

3 tablespoons

butter

2

eggs

½ cup

sugar

½ teaspoon

salt

1 teaspoon

vanilla extract

1 cup

all-purpose flour

½ teaspoon

baking powder

2 teaspoons

mandarin orange zest
Extra mandarin zest for topping
Sea salt for topping
Instructions
Melt butter in a saucepan, remove from heat and add in the chocolate. Mix well until the chocolate melts and the mixture gets smooth. Or use a double broiler to melt butter and chocolate.
In a large bowl, whisk together eggs, sugar, vanilla extract and salt until pale yellow.
Pour the chocolate mixture into egg mixture gradually and mix well.
Add in flour and baking powder. Stir until incorporated. Cover the dough and chill for 30 minutes.
Preheat oven to 375F.
Line two baking sheets with parchment paper. Scoop cookies on it, leaving 2 inches between each cookie. Grate some more mandarin zest over them. Bake for 8-10 minutes. Don't over bake!
Transfer the cookies on a cooling wire rack right after you remove them from oven. Sprinkle extra mandarin zest and sea salt over each cookie when they are still hot, gently pressing over them.
Nutrition
Serving Size:
Calories:

88

Sugar:

6.1 g

Sodium:

102.1 mg

Fat:

4.7 g

Carbohydrates:

10.2 g

Protein:

1.3 g

Cholesterol:

13.4 mg
Keywords: brownie cookies, chocolate brownie cookies