Vodka Orange Juice Cocktail, also known as Screwdriver Drink, is one of the best vodka based cocktails that you can easily make for any occasion. You only need vodka, freshly squeezed orange juice and maybe a splash of lime soda. Light, citrusy and wonderfully refreshing! A perfect brunch drink.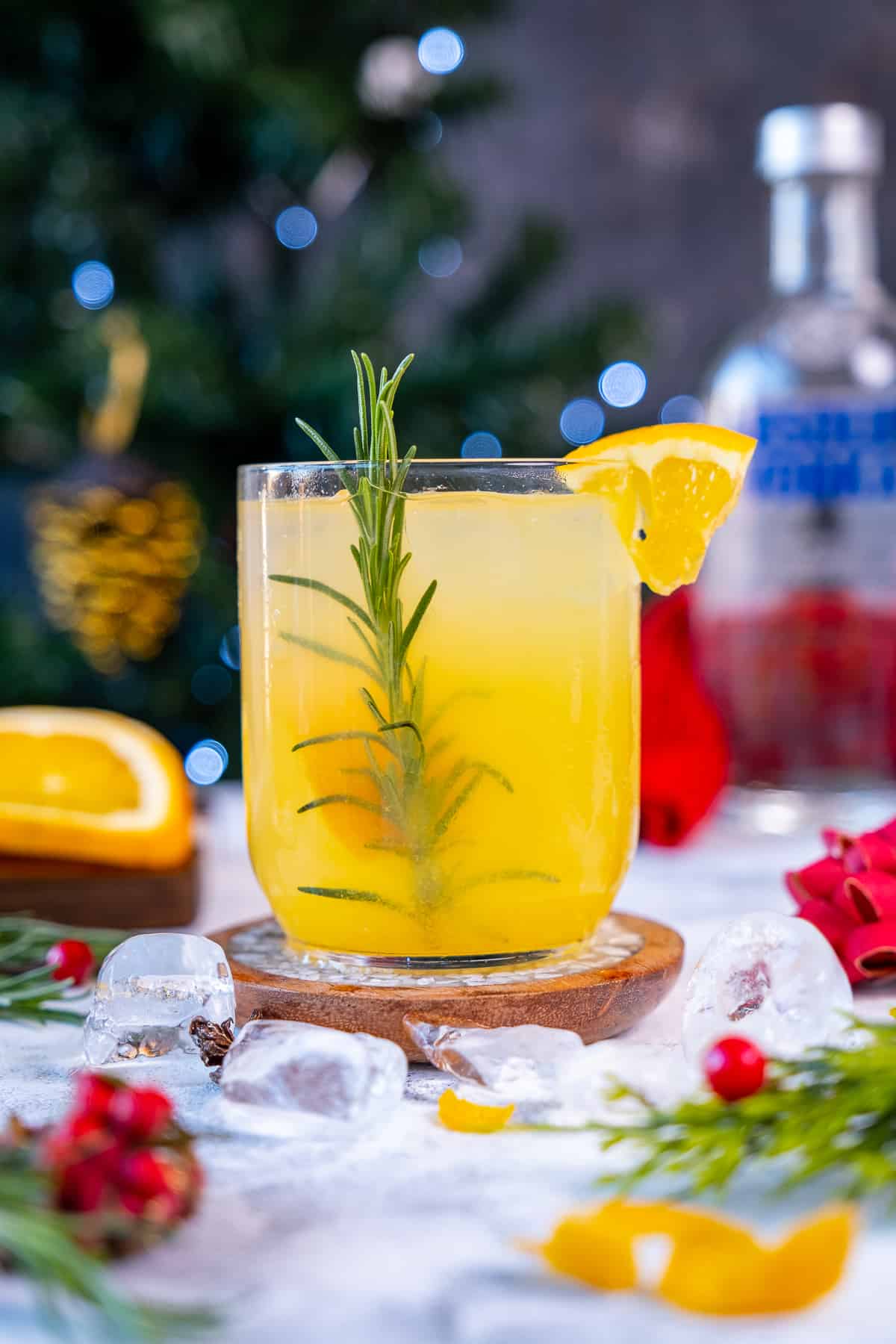 You can make amazing mixed drinks with orange juice and vodka. The refreshing citrus flavor of orange complements the bitterness of vodka really well. Today, we will share the very simple version of popular orange and vodka cocktail.
It is such an easy cocktail recipe that you can make at home. Just like our strawberry champagne, you can serve it for several occasions including brunch, Mother's Day, New Year, baby shower.
Jump to:
What Is Screwdriver Cocktail?
It is a simple cocktail that is originally made from vodka and orange juice. The history of the name "screwdriver" goes back to the middle of 20th century. There are two stories about how this vodka based drink was first made.
One of them claims that American oil workers in the Persian Gulf would secretly pour vodka in their orange juice and mix it with a screwdriver instead of a spoon as it was what they had on hand (source here).
The other story claims that the name screwdriver for the mixture of OJ (orange juice) and vodka first appeared in Ankara, Turkey. During World War II, Americans in Turkey mixed vodka with orange juice ( source here). But how it was named screwdriver is not clear in this story.
Although the simple version of this cocktail contains only orange juice and vodka, there are variations of it today. And you can always make your own creations.
Oj and Vodka Cocktail Ingredients
To make this refreshing vodka and orange juice cocktail, you need LOTS of ice. So make sure to prepare the ice first.
Vodka: You don't need the most expensive vodka brands to make this simple orange crush cocktail. But if you use the cheapest ones, the flavor won't be very appealing. So use a good quality vodka with a medium range price. Or just use your favorite brand. You can even prefer an orange-flavored vodka.
Orange juice: We definitely recommend fresh-squeezed orange juice. It is packed with vitamin C and tastes much better than the store bought versions. It is really easy to juice an orange in a minute This way, you end up with a healthier vodka orange juice cocktail.
Although you can prefer using store-bought OJ, know that you won't get the best result with it. But if you have to buy it from the store, look for 100% pure orange juice (no sugar added).
The variety of orange doesn't really matter. You can use whichever you find. Valencia oranges and Navel oranges are the most popular ones and they both have a sweet taste, which goes well with vodka. But you can make your cocktail with blood oranges too.
Soda: We use just a splash of lemon-lime soda for each glass to give the cocktail some fizz. You can use Sprite, club soda or soda water. This is completely optional. You can leave it out if you want.
How To Make
This is probably the easiest orange crush drink recipe ever! You don't need any special ingredients or tools like cocktail shaker to make it at home.
Put lots of ice in a glass. Pour vodka over it. We use 2 ounces (60ml) vodka per serving. But this is not a strict measurement. You can always adjust it to your taste.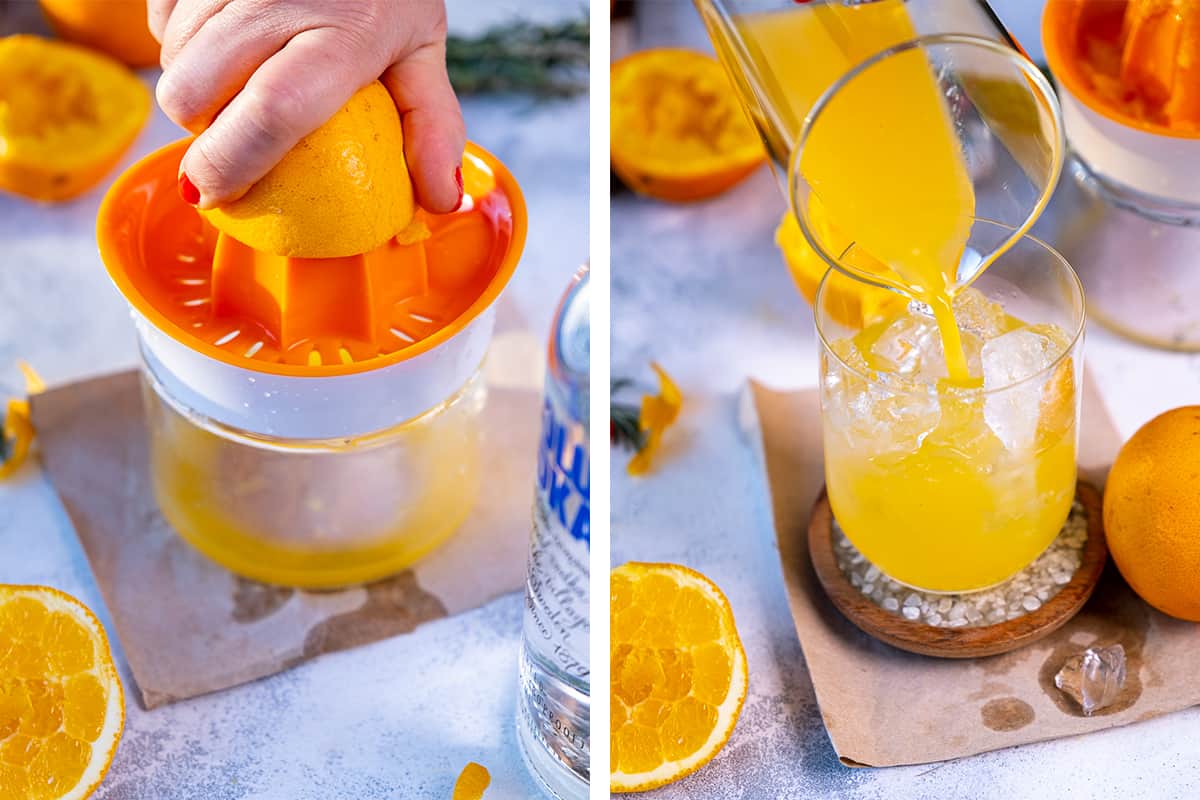 Squeeze fresh oranges with a juicer and pour it into the glass. We use 3 ounces (90ml) per glass. You might need to strain the orange juice before pouring it into the glass if you don't want any pulp. But we don't normally do it. If you don't have a juicer, just halve the oranges and squeeze it with your hand.
Add a splash of lemon-lime soda and give it a stir.
Alternatively, you can combine vodka, orange juice and soda in a pitcher and then pour it over the ice in glasses. Or put everything including ice in a cocktail shaker, shake for 10-20 seconds and then strain into glasses.
Finally, garnish your vodka orange cocktail with a small orange slice, lime wedges and/or herbs like rosemary.
Best Glass For Vodka Cocktail?
You can serve your cocktail in tumbler glasses or highball glasses. They come in a variety of sizes and shapes. You can choose whichever you like.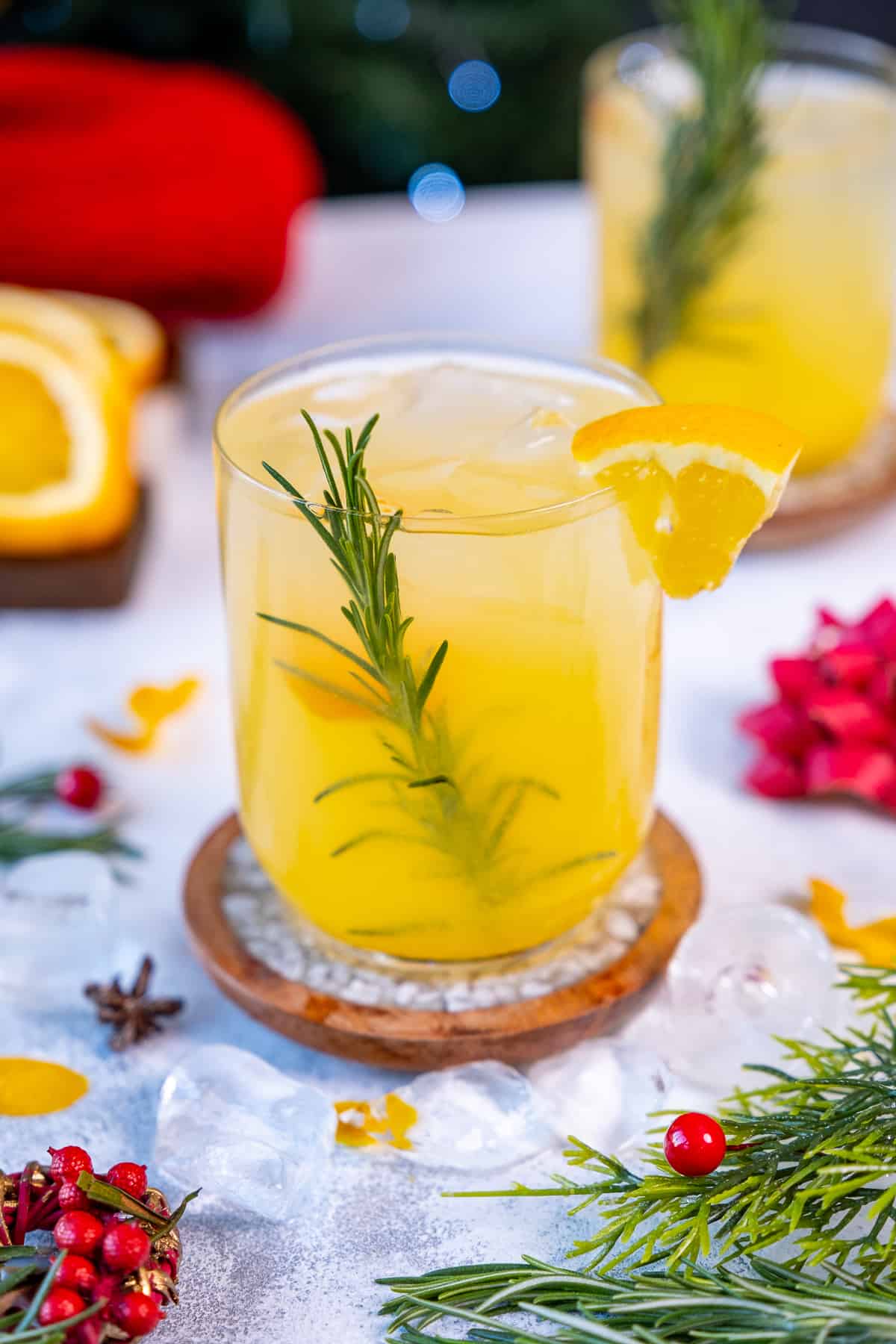 Variations
The ultimate vodka screwdriver contains only orange juice and vodka. That's it. But you can always get creative when preparing cocktails. So there are ways to enrich this orange vodka cocktail as well. Find some of them below.
Use flavored vodka. It might be orange flavored, but we recommend a different one as we already have the orange flavor from the juice itself. Berry vodka or vanilla vodka might be great additions.
Use triple sec. It is the most famous orange liqueur brand made from dried orange. You can use other brands like Grand Marnier or Cointreau too. It will add another layer of citrus flavor in your cocktail. You can add 1 ounce (28ml) per glass.
Add a little sweetness. Use a little simple syrup if you want or add some grenadine syrup for a sunrise effect (as in vodka sunrise). If your oranges are already on the sweet side, you wouldn't need this. But if they are sour, adding a sweetener would be a nice touch.
Add dry vermouth and give it an orange martini effect. ½ ounce (15ml) per glass would be enough.
Add some fresh fruit. You can muddle a few berries (strawberries or raspberries) and add it into this orange crush cocktail right before serving. This will create a nice contrast of flavors.
Although this supposed to be a vodka based cocktail, you can substitute tequila for vodka and turn it into a complete new cocktail called tequila sunrise.
FAQs
What alcohol goes good with orange juice?
Vodka, champagne, tequila all go great with orange juice.
When does vodka expire after opening? 
It has an indefinite shelf life if unopened but it should be consumed within a year after it is opened.
What does orange vodka mix with?
It is great with pineapple juice, cranberry juice or pomegranate juice. Pour both orange vodka and one of these fruit juices over lots of ice and serve.
As always: If you make this recipe, let us know what you think by rating it and leaving a comment below. And post a pic on Instagram too—tag @give_recipe so we can see!
Sign up for the FREE GiveRecipe Newsletter to get the new recipes into your inbox! And stay in touch with us on Facebook, Pinterest, YouTube and Instagram for all the latest updates.
Print
📖 Recipe
Vodka Orange Cocktail
A wonderful cocktail recipe with vodka and orange juice. So easy to make with 2-3 simple ingredients.
Author: Zerrin & Yusuf
Prep Time:

5 minutes

Total Time:

5 minutes

Yield:

1

1

x
Category:

Drinks

Method:

Mixing

Cuisine:

American
2 ounces

(60ml) vodka

3 ounces

(90ml) orange juice
A splash of lime soda, optional
orange slice for garnish
Lots of ice
Instructions
Put lots of ice in a glass. Pour vodka over it. 
Squeeze fresh oranges with a juicer and pour it into the glass. If you don't have a juicer, just halve the oranges and squeeze it with your hand.
Add a splash of lemon-lime soda and give it a stir. 
Garnish your cocktail with a small orange slice.
Notes
You can use pure orange juice(no sugar added) from the store if you are in a hurry. 
Substitute orange-flavored vodka for regular vodka if you want.
Nutrition
Serving Size:

1 glass

Calories:

183

Sugar:

11 g

Sodium:

4.6 mg

Fat:

0.2 g

Carbohydrates:

12.9 g

Protein:

0.7 g

Cholesterol:

0 mg
Keywords: vodka martini, orange martini, orange vodka martini, vodka martini recipe