Let's learn the best way to make pomegranate juice at home. It is more delicious and healthier than the ones at your grocery store. So make your own juice with this easy method and enjoy the perfect drink for your immune system!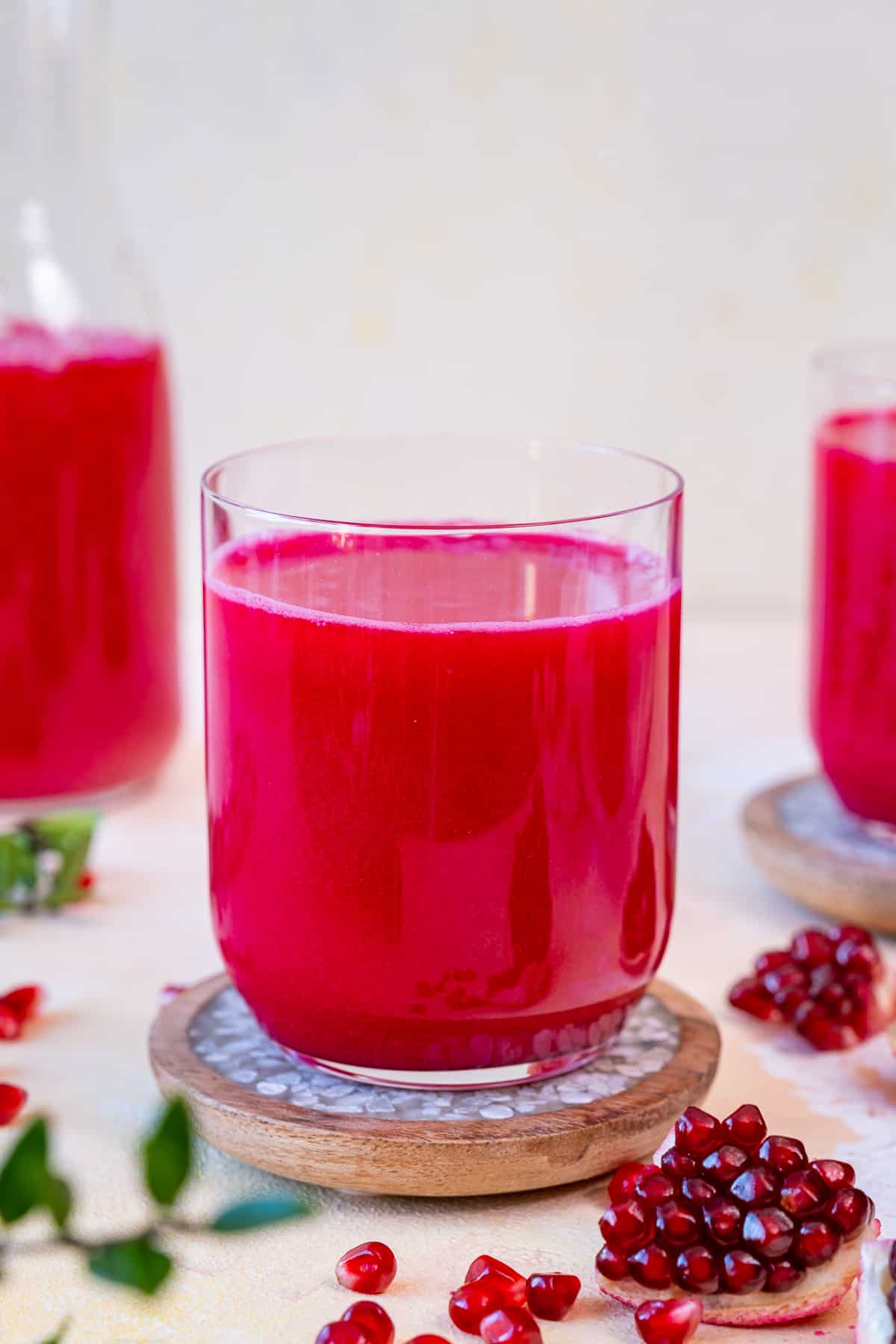 Homemade pomegranate juice tastes sweet and tangy. And it is wonderfully refreshing. You can drink it on its own any time of the day.
We often use it to make our own pomegranate molasses but it is not limited to it. You can use it to make your own grenadine. It is great in cocktails, smoothies, salad dressings or syrups too.
In this packed post, we will look at how to choose the freshest fruits, how to prepare them, and finally, the steps you need for juicing a pomegranate. We have included a guide for juicing them with a blender (which is the best technique to use), a juicer, and your hands.
So, if you are ready to make your own pomegranate juice at home, keep reading!
Jump to:
Picking Good Pomegranates For Juicing
Before we dive deep into the best way to juice a pomegranate, let's look at how to pick the best one when it is in season starting from October.
The first thing to look for is size. The rule of thumb is that larger fruits will contain more juice. The fruit itself should also feel heavy for its size. That's a good indication it is filled with anar juice (pomegranate juice).
Fresh fruits also don't have any rotting parts or soft areas. These fruits are firm and have hard skin.
The skin itself shouldn't have holes, cuts, or tears. That could indicate that insects and bacteria have entered the seeds, making the fruit unsafe to eat.
So, you feel confident that you've picked the best fruit? Then let's move on to how to juice a pomegranate.
How To Prepare Pomegranates
We need pomegranate arils to get fresh juice out of them. For making juice specifically, we use the "wooden spoon method", which is known as the easiest way of seeding pomegranates. If you want to know how to clean a pomegranate in 1 minute, this method is the closest you'll get.
Slice the pomegranate in half horizontally. Grip the half tightly with the cut side facing downwards. Smack the pomegranate half with a wooden spoon. That will release the seeds and "shoot" them into the bowl.
Make sure to pick out any white membrane pieces and discard them.
You are now ready to make fresh pom fruit juice from scratch. Let's first look at how to extract pomegranate juice using a blender.
How To Make Pomegranate Juice In Blender
Using a blender is the best alternative to juice a pomegranate without a juicer. A blender will still be able to separate the juice from the seeds effortlessly. The only thing it doesn't do is separate the pomegranate pulp.
But don't worry. We have an incredibly easy solution!
Blend the seeds: Place the seeds in a blender. Only pulse the seeds for 10-15 seconds. The arils should be crushed (which releases the juices), but the white seeds should be intact.
Some people think that those white seeds are healthy because they are rich in fiber. So they let them get crushed as well. We don't prefer it.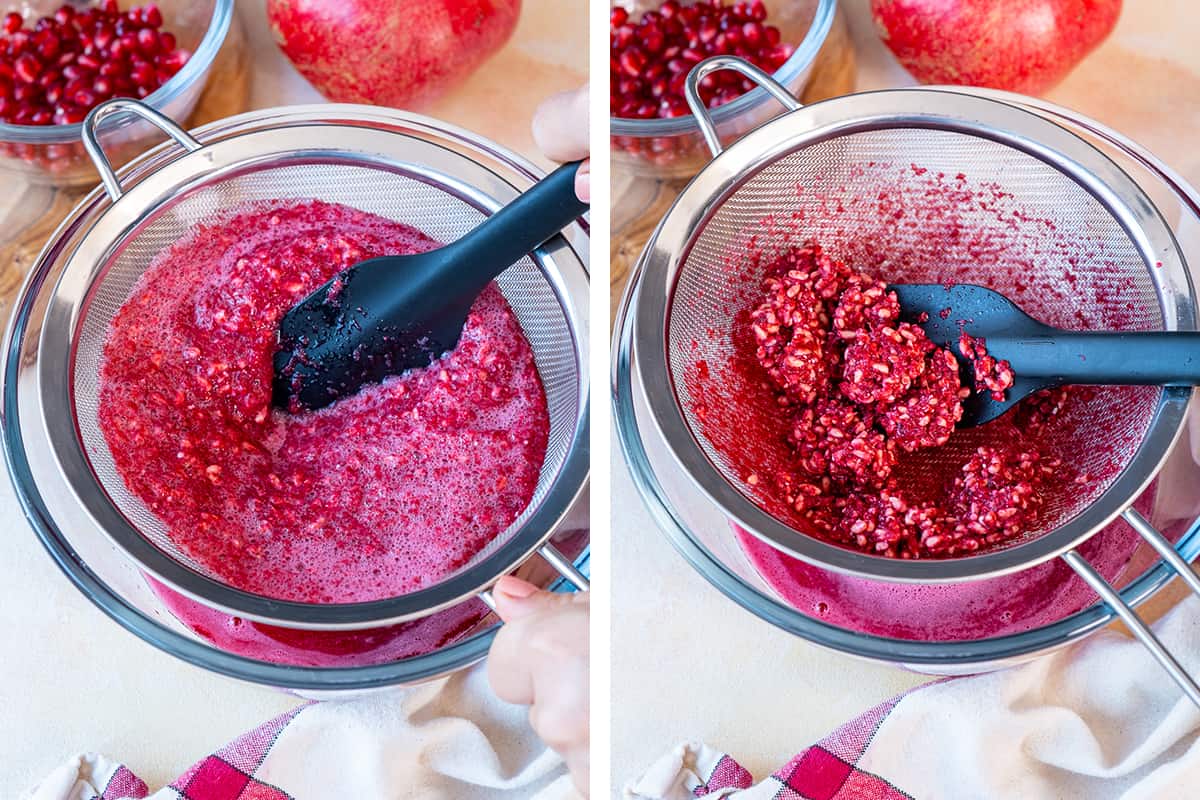 Strain the pomegranate juice: Place a fine-mesh sieve over a large mixing bowl. Pour the juice into the strainer. Allow the juice to drain from the pulpy mixture. Use a spatula or the back of a spoon to help "press" out the juice.
Serve or store your fresh pomegranate juice: Divide the juice between glasses and serve it immediately. 5 large pomegranates yield 3 cups of juice. You can refrigerate any leftover juice in a bottle or jar for up to 4 days. Or reduce it in a saucepan and turn it into pomegranate molasses.
Can I Use A Juicer?
Now, many people prefer using real juicers to make juice. The only problem we have with using this tool for pomegranate juice is that it makes the juice gritty.
When the seeds are overworked, they are blended extremely finely. This means that the strainers in the juicer won't be able to filter them out. So, you aren't left with a smooth, pulp, and grit-free juice.
So, can you put pomegranate seeds in a juicer? Yes, you can, but don't expect clean, texture-free juice.
How To Juice A Pomegranate By Hand
When looking at different ways how to get juice from a pomegranate, hand-juicing is not a method people often consider. But you don't need a blender or a juicer to enjoy the benefits of fresh pomegranate juice.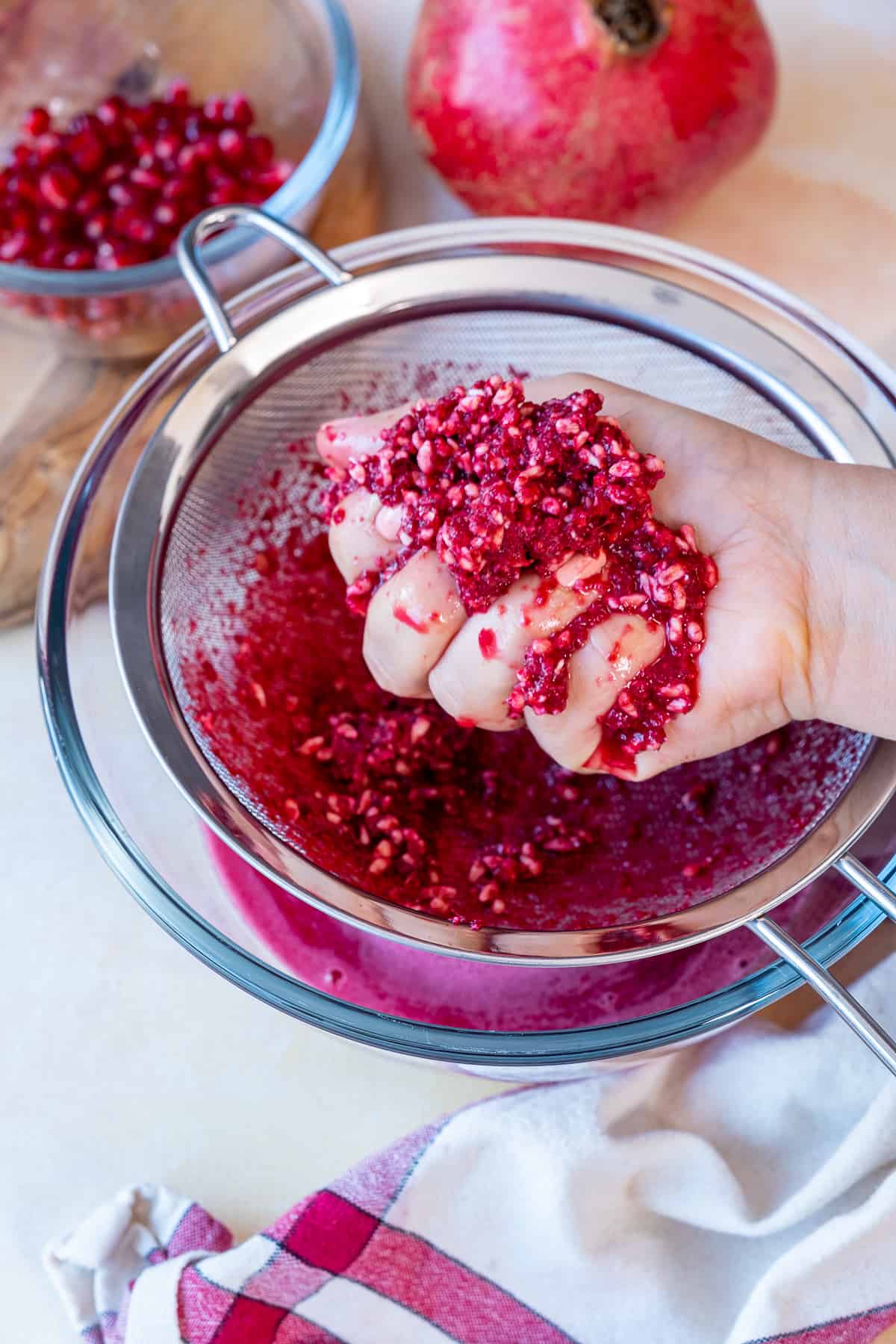 The first method is simply squeezing with your hand. Place the pomegranate arils into a fine mesh strainer over a mixing bowl. Use your hands (you might want to wear gloves) and squeeze the juice from the seeds. You can also press them with the back of a spoon. Personally, hand squeezing works best and is much quicker.
Squeeze the juice over the strainer and into the bowl. Repeat the process until you have enough juice for your needs.
Another way to juice pomegranate seeds by hand is with a plastic bag. Put the pomegranate arils in a plastic bag, release the air out of the bag and seal it. Mash the pomegranates using a rolling pin. Then strain the mashed seeds over a fine mash strainer.
Finally, you can make juice out of pomegranate seeds with a cheesecloth. Place the seeds on a cheesecloth. Make it a bundle and twist it to extract the juice into a bowl. Discard the pulp.
Can I Freeze Pomegranate Juice?
Yes, pomegranate juice can be frozen. Divide them into small containers. Wrap each in a layer of aluminum foil. The foil will help prevent freezer burn, which ultimately preserves the flavor of the juice.
Make sure to write the date on the container before placing it inside the freezer. Pomegranate juice will last up to 3-4 months.
Is It The Same As Pomegranate Molasses?
No. Pomegranate juice and pomegranate molasses are two different things. While pomegranate juice is a drink you can enjoy, the molasses is a sour condiment used in salads.
And before you ask, let us tell you that pomegranate juice won't be a good substitute for pomegranate molasses if you are making a salad dressing or a glaze. If you need ideas, check out our list of best alternatives to pomegranate molasses.
What To Mix With Pomegranate Juice
For today's recipe, the only pom juice ingredients you need are fresh pomegranates. However, that doesn't mean that there aren't some delicious add-ins you can try!
The most popular option is to make a mixed pomegranate apple juice. But you can always get creative when it comes to make juice mixes.
To create a tangier flavor, you can add lemon juice, lime juice, and even a touch of salt. If you love the citrus flavors but don't want the tang, use orange juice instead. Cranberry juice and grape juice are other sweet and fruity additions you can try. These all make pomegranate juice taste even better.
For a spiced, and refreshing undertone, add some minced ginger.
You can prepare amazing beverages or cocktails by combining pomegranate juice with club soda, vodka or gin. You can serve it with several ice cubes and fresh mint leaves.
Health Benefits
Let's discuss some of the many health benefits of pomegranate juice.
Drinking pomegranate juice will provide you high levels of antioxidants. These have some nifty functions like preventing cancer, improving your immune system, and helping with fertility.
Of course, keep in mind that antioxidants need vitamin C to be effectively absorbed by the body. Luckily, pomegranates are full of it!
It also has many other vitamins and minerals that can overall help reduce inflammation, offer some benefits to your cardiovascular system, and fight urinary tract infections.
Tips
Wear gloves and an apron when you are making this pomegranate juice recipe. The stains from this juice are extremely difficult to get out, if not downright impossible.
Don't overwork the pomegranate seeds when you initially blend them. If you do, the tiny seeds will also be crushed and make the juice gritty. Only blend it for 10 seconds, then determine if it needs a couple of extra seconds.
Unfortunately, juicing pomegranate whole isn't possible. The white membranes will get everywhere. And, if you add the blended skin, it will give off a bitter flavor.
FAQs
Can we mix pomegranate juice with milk?
Yes, you can prepare milkshake by combining 1 cup milk, ½ cup pomegranate juice and a sweetener like honey or maple syrup.
Can I make pomegranate juice for babies?
Babies can drink it after they are 6 months old. But in small amounts, especially if it is their first time. Make sure it is pure pomegranate juice without any additives. The best option is making your juice at home. 
Is drinking pomegranate juice good for weight loss? 
Yes, it might help weight loss as it is a low calorie drink. Instead of drinking sweetened beverages, you can prefer homemade pomegranate juice.
As always: If you make this recipe, let us know what you think by rating it and leaving a comment below. And post a pic on Instagram too—tag @give_recipe so we can see!
Sign up for the FREE GiveRecipe Newsletter to get the new recipes into your inbox! And stay in touch with us on Facebook, Pinterest, YouTube and Instagram for all the latest updates.
Print
📖 Recipe
Pomegranate Juice Recipe
It is easy to make pomegranate juice at home without a juicer. You can drink it immediately or use it to make mixed juices.
Author: Zerrin & Yusuf
Prep Time:

10 minutes

Cook Time:

0 minutes

Total Time:

10 minutes

Yield:

3 cups

1

x
Category:

Drink

Method:

Blending

Cuisine:

American
Instructions
Cut the pomegranates in half horizontally.

Put one half in your hand, cut side down. Place your hand over a large mixing bowl.

Using a wooden spoon, smack firmly on the top of the pomegranate repeatedly. Keep your fingers loose so that the pomegranate seeds can fall into the bowl.

Keep smacking until all the seeds are removed. 

Do the same for the other half.

Transfer the arils into a blender. Blend just until the arils are crushed but the seeds are mostly intact. 10-15 seconds.

Put a fine mesh strainer over a bowl and transfer the juice into the strainer. 

Drain the juice by pressing the pulp with a sturdy spatula or back of a spoon.

Share the juice into glasses and drink immediately.

 You can freeze the leftovers in small containers for several months. 
Notes
Wear gloves and an apron when making this recipe. Pomegranate stains are hard to remove.

When you pulse the blender longer than 15 seconds, the white seeds are crushed too and they make the juice gritty. So first blend it for 10 seconds and decide whether to continue or not.
Nutrition
Serving Size:
Calories:

390

Sugar:

64.2 g

Sodium:

14.1 mg

Fat:

5.5 g

Carbohydrates:

87.9 g

Fiber:

18.8 g

Protein:

7.8 g

Cholesterol:

0 mg
Keywords: how to make pomegranate juice