Do you know how to seed a pomegranate with no mess? We'll share a super easy method for this. You won't think twice any more when buying a whole pomegranate. You will de-seed the pomegranate easily and use it in recipes.
Whole pomegranates, also known as pom, may not be on your shopping list if you haven't experienced cutting them open or taking the seeds out yet.
Are you likely to buy ready-to-eat pomegranate arils in packs? Did you know that you can get a lot more pomegranate seeds (arils) when you clean a whole one yourself? And it will be much cheaper.
In this post, you will learn the easiest way to cut and seed a pomegranate. And it takes only 1 minute or even less.
Jump to:
How To Cut (Open) A Pomegranate Easily
So what is the best way to peel a pomegranate? It depends on how many you need. There are two methods we use often.
Cut It Vertically:
If we are only going to use one pomegranate (for snacking or garnish) and if we are not in a hurry, we slice it into segments. Cut off the crown and base of the fruit. Then, we make small incisions vertically on the outside of the pomegranate.
You should just cut through the thick skin using a sharp knife. Don't slice through the seeds. Make about 6 slices around the pomegranate. Then, tightly grip a section and tear it out. Once you have sections, you can start to seed and clean each one.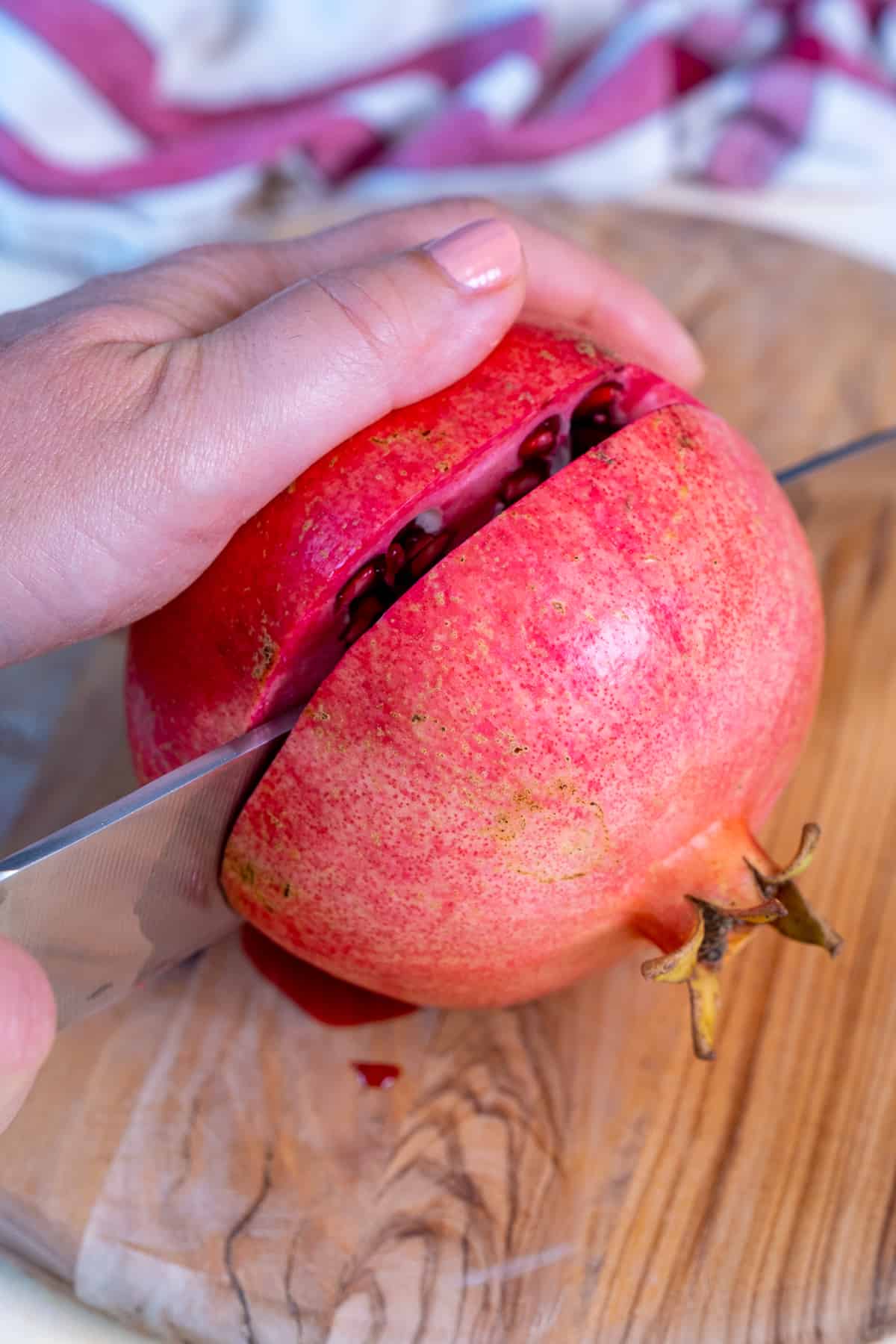 Cut It Horizontally:
However, if you need to extract the seeds from a bunch of fruits (to make pomegranate juice) you can use a quicker and easier method.
Simply cut open the pomegranate horizontally (from side to side, not from crown to bottom).
Once the pomegranate has been sliced open, you can start seeding a pomegranate using our "wooden spoon" method we have explained below. This is hands down the easiest way to cut a pomegranate.
How To Take Pomegranate Seeds Out Easily
Removing pomegranate seeds from these fruits can be quite challenging if you don't know where to start. Luckily, today we will show you the best method to seed a pomegranate.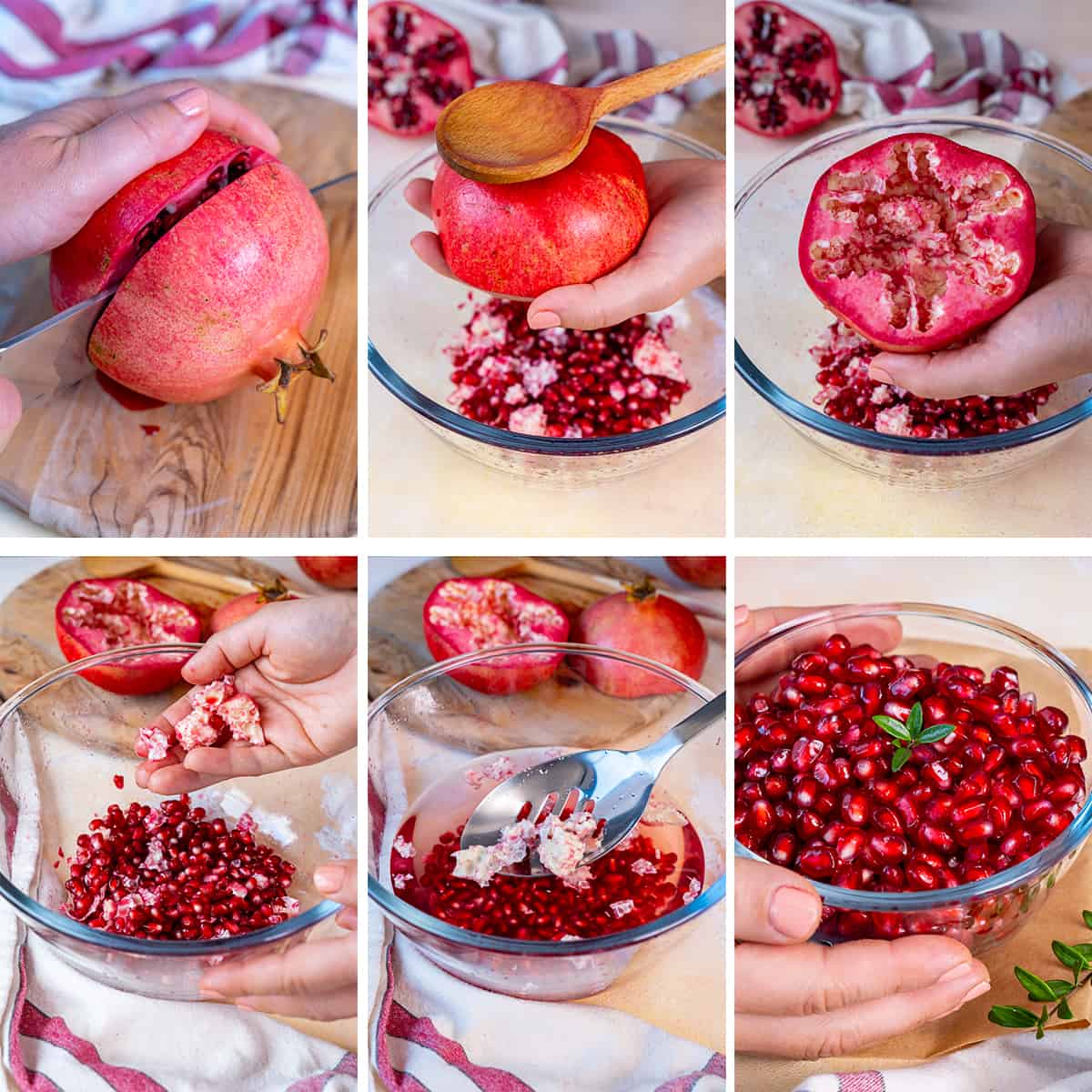 Smack With A Wooden Spoon (The Best Way)
This is the trick we learnt from our grandparents. People in Turkey have been using this method for ages, especially when making pomegranate molasses. In our opinion, this is the best way to de-seed a pomegranate.
Cut the pomegranate horizontally. Place one half in your hand with the cut side (open side) facing downwards. Place it directly over a big bowl.
Smack the pomegranate. Use a wooden spoon to firmly whack the back (top) of the pomegranate half. The seeds will fall through your fingers into the bowl.
Remove all the seeds. Many people ask us how to get all the seeds out of a pomegranate. The key is to just keep smacking the fruit. Once they are all out, repeat the same steps for the other half.
Remove the white membrane bits from the bowl. Just pick them with your hand and discard. Alternatively, you can pour water into the bowl and you will see those bits will float. Discard them with a slotted spoon.
Strain the seeds from the water. Dry with a paper towel and serve.
You can store the pomegranate arils in an airtight container in the refrigerator for up to a week. That's if you have any leftovers!
Pry Out With Your Fingers:
This is another technique many people like to use. It takes a lot longer in our experience. So it is not the best option especially if you are planning to peel more than one pomegranate fruit.
Cut open the pomegranate. Top and tail the fruit. Then, make vertical cuts through the outer thick skin of the fruit. Don't cut through the seeds. You only want to create a shallow slice so the pomegranate will break apart easily.
Tear open the fruit. Once you have made about 5 or 6 cuts around the fruit, you can gently tear out the sections.
Pry the seeds from the membranes. Work over the bowl while you gently, but intentionally, pull the seeds from the white membranes. Once you have a completely peeled pomegranate, repeat this step until all of the sections are cleaned.
What About Peeling Pomegranate In Water? Does It Really Work?
There is a final method, which we have seen on various websites including Kitchn. They suggest removing pomegranate seeds in a bowl of water. Work directly in or above the bowl, allowing the seeds to fall into the water.
It is claimed that the water will leave the arils to sink to the bottom of the bowl while the white membranes and the rind float on the top.
To be honest, we don't think this is the easiest way to clean a pomegranate. It is pretty much similar to the prying method that is explained above. The only difference is that you do this one in water. And it doesn't make much sense to us.
We tried tearing the pomegranate into segments and de-seeding each segment in the water. And it wasn't easy at all! We found it easier to do it above the water.
If you pry away the seeds with your fingers anyway, why would you do it in the water? You can remove the seeds into a bowl and then pour water over them if you want. The membrane bits float and then you can remove them with a slotted spoon.
Can You Freeze Pomegranate Seeds?
Now that you know how to take pomegranate seeds out, let's take a look at how you can freeze them.
First, line a baking sheet with parchment paper. Place the seeds in a single layer on the tray. Place them inside the freezer for at least 2 hours.
Once they are frozen, transfer them into a resealable freezer bag. Pomegranate seeds will keep well in the freezer for between 3-4 months.
How To Choose A Good Pomegranate
You should first know that fall and winter are pom time. The pomegranate season starts in October and November and continues through February.
The fruits should be hard and feel heavy for their actual size. This means that they are full of seeds and juices. If they are light, the juices have dried up or the seeds are very small.
Then, you should also check for cracks or cuts. These areas can introduce insects and bacteria that are harmful to ingest.
And finally, a good rule of thumb to follow is to buy the largest pomegranate you can find. They usually are the juiciest.
How To Eat Pomegranate Fruit
There is no wrong way when it comes to how to eat pomegranate fruit. They are packed with nutrients like fiber, vitamin C and B, potassium, and minerals. So include them in your diet as much as you can.
Our son loves eating the seeds directly from the sliced fruit. He learned it from his grandparents. Instead of using his hands to pry out the seeds, he uses his teeth so they go directly to his mouth! You can do the same.
If you are eating pomegranate for the first time, you might be asking "Do you spit the white seed out?" No. They are edible. You can either chew or swallow them.
Or use one of the methods explained above, put the seeds in a bowl and dive in with a spoon. It makes a great snack when watching a movie.
If you are not a fan of pomegranate, but still want to eat it for vitamins, use it in recipes.
Uses of Pomegranate Seeds
Now, if you are wondering what to do with pomegranate, there is no shortage of options!
Add these ruby red seeds in your salads like wheat salad or bulgur salad. They will definitely add more crunch and refreshment.
Make our homemade pomegranate molasses recipe or salad dressing if you want. They make a great substitute for pomegranate molasses as well.
And of course, you can use these seeds to make juices or delicious toppings for your cakes and desserts.
Use them as an inviting topping for your breakfast yogurt parfaits or pancakes! Even on your soups.
In short, you can brighten both savory and sweet dishes with pomegranates.
FAQs
Can you wash pomegranate seeds?
Yes, you can rinse the seeds gently in a fine mesh strainer. Let them sit in the strainer or on a thick paper towel to dry. 
How do you separate good and bad pomegranate seeds? 
The seeds should look bright and firm. If there are any soft, mushy and slippery seeds which lose their nice red color, just leave them in their place. Don't try to de-seed that segment. Throw that part with the rind away. And if the whole pomegranate doesn't look good inside when you cut it open, you need to throw all of it away.
Do bad pomegranate seeds float?
No, they don't. So check the seeds when you cut the pomegranate fruit in half. Then start de-seeding it. You can easily recognize if any part of the fruit is bad after you cut it.
More How To Cut Tutorials
As always: If you make this recipe, let us know what you think by rating it and leaving a comment below. And post a pic on Instagram too—tag @give_recipe so we can see!
Sign up for the FREE GiveRecipe Newsletter to get the new recipes into your inbox! And stay in touch with us on Facebook, Pinterest, YouTube and Instagram for all the latest updates.
Print
📖 Recipe
How To Cut And Seed A Pomegranate Easily
You will cut and seed a pomegranate really fast with this method. It will literally take 1 minute.
Author: Zerrin & Yusuf
Prep Time:

1 minute

Total Time:

1 minute

Yield:

4

Category:

Snack

Method:

Basics

Cuisine:

American
You will also need: 
A sharp knife

A wooden spoon

A bowl
Instructions
Cut the pomegranate in half horizontally.

Put one half in your hand, cut side down. Place your hand over a large mixing bowl.

Using a wooden spoon, smack firmly on the top of the pomegranate repeatedly. Keep your fingers loose so that the pomegranate seeds can fall into the bowl.

Keep smacking until all the seeds are removed. 

Do the same for the other half.

Remove the white membrane bits from the bowl. Just pick them with your hand and discard. Alternatively, you can pour water into the bowl and you will see those bits will float. Discard them with a slotted spoon.

Eat immediately or store it in the fridge in an airtight container for about a week. 

To freeze: Line a baking sheet or a large plate with parchment paper. Put the pomegranate seeds in a single layer. Keep them in the freezer for 2 hours. When they are frozen, transfer them into a resealable freezer bag. They keep well for 3-4 months.
Nutrition
Serving Size:
Calories:

59

Sugar:

9.6 g

Sodium:

2.1 mg

Fat:

0.8 g

Carbohydrates:

13.2 g

Fiber:

2.8 g

Protein:

1.2 g

Cholesterol:

0 mg
Keywords: how to seed a pomegranate
You might also like: