The holiday season is upon us and what better way to decorate the table than with this beautiful Greek Yogurt Chocolate Cake with an amazing ganache. This recipe has the fluffiest and creamiest texture that is only elevated by the use of real dark chocolate.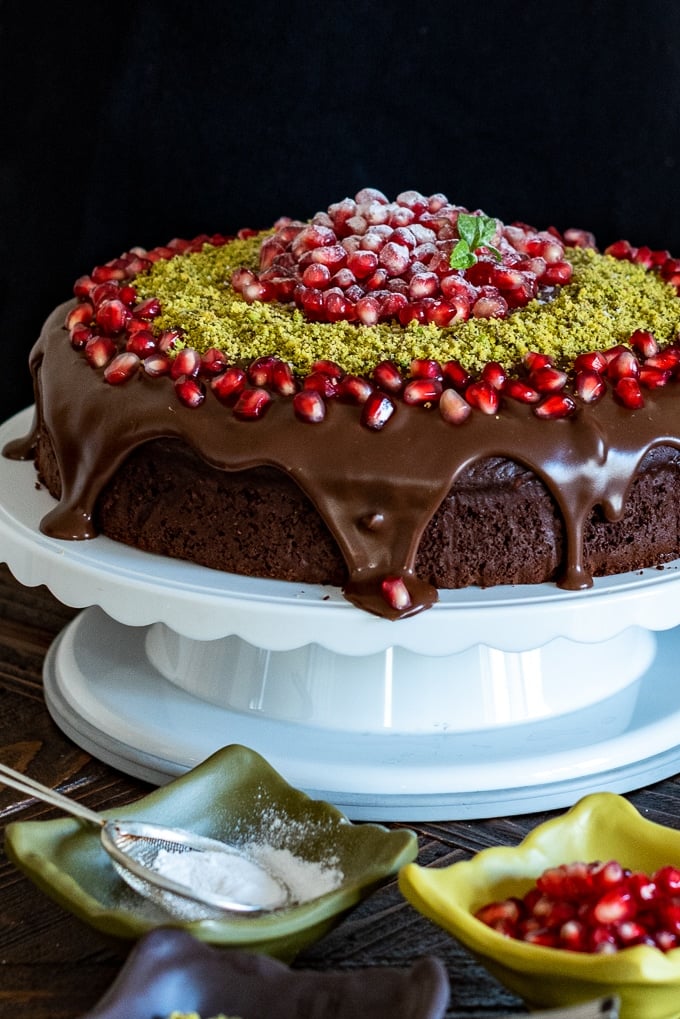 If you are interested in easy cake recipes like this, also check out our chocolate cake with strawberries too!
Jump to:
About The Ingredients
The recipe for this yogurt chocolate cake is both easy and relatively quick to make and won't cost you a tiny fortune. All of the ingredients we have chosen for this chocolate cake recipe with Greek yogurt blends together beautifully to make the EASIEST Christmas cake recipe.
Dark Chocolate: We have chosen to use real dark chocolate, rather than just cocoa powder. The dark chocolate adds richness to your cake and a chocolaty flavor that cocoa powder simply cannot match on its own. Of course, there is still cocoa powder present to add even more chocolate-flavor and help balance out the cake texture.
Unsalted Butter: We prefer using unsalted butter (not margarine) as it adds a creamy texture and great color to the overall cake. The reason for unsalted butter instead of salted is because the saltiness might overwhelm the flavor of the cake.
Granulated White Sugar: It is always a must-have in chocolate cakes, but as you can see, we didn't add too much as this chocolate yogurt cake should have deeper and richer flavors of dark chocolate and Greek yogurt.
Greek Yogurt: We cut down butter by more than 50% and added Greek yogurt aka strained yogurt instead.
Oil and Eggs: These are always must-have ingredients in a rich chocolate cake. The oil helps provide a loftier texture and will help the cake bake more evenly, whereas the eggs help bind the mixture and also provide a fluffier texture.
All Purpose Flour: We use plain flour for this recipe with the addition of baking powder to help give the cake some volume. You can also use cake flour or pastry flour. Do not use bread flour as it will result in a dense cake.
Why Do We Add Yogurt?
This is a moist chocolate cake with yogurt. There are many reasons why we use yogurt in the batter. It elevates a cake's texture and flavor. And we would highly recommend using only Greek yogurt because it is richer and creamier.
First and foremost, yogurt adds creaminess to the cake texture and helps the crumb retain more moisture – this is the main reason this cake is so moist.
Secondly, Greek yogurt has a very tangy flavor that, if paired with the correct ingredients and ratios, will impart that slight acidity that has been well balanced with sweetness.
Also, the acidity of the yogurt helps activate the baking powder which creates a superior fluff in the cake.
How To Make It
This is a very easy Greek yogurt chocolate cake to make and it will probably become a staple cake in your home as it has in ours.
First, make your preparations: Preheat the oven to 350˚F (180˚C). Line the bottom of a 9-10 inch (22-25 cm) cake pan with parchment or non-stick baking paper. Then spray the sides and paper with non-stick cooking spray or melted butter. A springform pan works the best.
Second, melt the chocolate: Put the dark chocolate and a stick of butter in a saucepan. Place over low to medium heat while stirring constantly until the chocolate has completely melted. The mixture should not simmer or boil! Remove from the heat and transfer the chocolate mixture to a large bowl. Let it cool a bit.
Now, prepare the wet ingredients: In the same bowl, add in the oil, sugar, and Greek yogurt and mix until they are fully incorporated. Add in the eggs, again, mixing well after every addition until they are fully incorporated. Set aside the mixture.
Next, prepare the dry ingredients: In a separate large bowl, sift together the cocoa powder, baking powder, and flour. Make sure all of the ingredients are evenly distributed. Then, add the flour mixture to the wet chocolate mixture. Carefully fold in the ingredients – do not overmix!
Now, pour the batter into the prepared cake pan and bake it for 50-55 minutes or until a cake testing needle or toothpick comes out clean. Some crumbs on it are okay. Do not overbake as the cake will become much drier. The surface of the cake might crack during baking, but don't worry as your ganache will cover it. Once you've removed your cake from the oven, remove it from the pan and allow it to cool completely on a cooling rack.
Making The Chocolate Ganache:
When your cake is baking, start preparing your ganache. Simply heat the heavy cream on medium-high heat and bring it to a simmer, not a boil.
Add the chocolate and allow it to melt a bit before whisking it. The ganache should be completely smooth with no chocolate pieces in it.
Allow it to cool completely before refrigerating it for 30 minutes.
Assembly:
Once all of your components are prepared and ready, you can start assembling your chocolate yogurt cake.
Once your cake has cooled and your shiny ganache has been refrigerated, pour the ganache over the cake. The best way to cover the cake is to place it on a wire rack over a drip tray and pour over the ganache. This way you get nice coverage, and you can save all the ganache that drips down.
Garnish:
Refrigerate the ganache-covered cake again for half an hour before adding your final garnishes.
We used pomegranate seeds and ground pistachios for that spectacular Christmas look and feel. Place a heap of pomegranate seeds in the middle, followed by pistachios surrounding it, and finally another circle of pomegranate seeds.
Dust the central heap of seeds with icing sugar before serving and garnish with a mint leaf or two.
And if you aren't a fan of pomegranates and pistachios for garnishes, get creative and make your own decoration!
FAQs
What is the difference between Greek yogurt and regular yogurt? When looking at the structural and production differences between regular and Greek (double cream) yogurt, they are as follows. Regular yogurt is made by heating milk, adding bacteria, and allowing the mixture to ferment. This gives you regular yogurt. To make Greek yogurt, this regular-yogurt-mixture is then further strained to produce a much thicker mixture.
Is there another name for Greek yogurt? Many brands have labeled their yogurt as "double-thick" or "Greek style" yogurt. These are exactly the same as "Greek yogurt", so you can also use them in the same way.
What can I use instead of yogurt in a cake? Sour cream is the best substitution for Greek yogurt in cakes. It has a very similar texture, consistency, and flavor profile. You can substitute these in equal amounts. This will still give you a moist chocolate yogurt cake recipe. Buttermilk is another acidic dairy-based liquid that will work as a substitution, however, the texture will vary slightly because buttermilk is much runnier than Greek yogurt. For this reason, you can add a tablespoon or two more flour to balance out the texture changes. Read more on the substitutions for Greek yogurt here.
What is a good non-dairy substitute for yogurt? Our top dairy-free substitutions for this moist chocolate cake recipe with yogurt would have to be a dairy-free Greek yogurt. These could be made from coconut, almond, cashew or peas. You will lose a tiny bit of acidity, but there should still be some. Either way, it is your best bet to still achieve that creaminess and moistness regular Greek yogurt provides. Here are two other options that more experimental among us can try: Avocado and mayonnaise. The consistency of these are similar to Greek yogurt and they also provide a creamy texture. Start by substituting them in equal quantities and make notes after each baked cake.
We hope you love this Greek Yogurt Chocolate Cake as much as we do and try it for Christmas or New Year celebrations.
More Christmas Treats
As always: If you make this recipe, let us know what you think by rating it and leaving a comment below. And post a pic on Instagram too—tag @give_recipe so we can see!
Sign up for the FREE GiveRecipe Newsletter to get the new recipes into your inbox! And stay in touch with us on Facebook, Pinterest, YouTube and Instagram for all the latest updates.
Print
📖 Recipe
Chocolate Yogurt Cake
Super easy and tasty chocolate cake with Greek yogurt. Coated with chocolate ganache and decorated with pomegranate seeds and pistachio.
Author: Zerrin & Yusuf
Prep Time:

10 minutes

Cook Time:

55 minutes

Total Time:

1 hour 5 minutes

Yield:

1

2

1

x
Category:

Dessert

Method:

Baking

Cuisine:

American
Cake:
4oz

/ 125g dark chocolate, broken into pieces

1

stick / 113g unsalted butter

1

and ¼ cup / 275g granulated sugar

¼ cup

oil

2

eggs

1 cup

Greek yogurt

¼ cup

/ 17g cocoa powder

1 tsp

baking powder

1 cup

/ 150g plain flour
Ganache:
2.8oz

/ 80g semi-sweet chocolate, broken into chips

80

ml heavy cream
Topping:
½ cup

pomegranate seeds

2 tablespoons

ground pistachio

1 teaspoon

powdered sugar
Instructions
Preheat oven to 350F/180C. Butter or spray a 22 - 25cm / 9 – 10 inches spring form cake pan with parchment paper.
Put butter and chocolate in a saucepan. Heat it over medium low heat stirring until smooth. Do not simmer or boil!
Transfer the chocolate mixture into a bowl. Whisk in oil, sugar and Greek yogurt until combined.
Add in eggs and mix well.
Sift cocoa powder, baking powder and flour into the bowl and whisk until smooth. Don't over-mix.
Pour it into the prepared cake pan and bake for 50-55 minutes or until a skewer inserted to the center comes out clean. The surface might crack, but don't worry as you will coat the cake with a perfect chocolate ganache.
Remove the cake from the pan and let it cool completely on a cooling rack.
Ganache:
Heat heavy cream in a saucepan over medium high heat. When it's about to simmer, remove it. Don't let it come to a boil.
Add in chocolate pieces, give it a stir and wait for a few minutes and then whisk until smooth.
Let it cool completely and refrigerate for half an hour. Pour it on top of your chocolate cake. Refrigerate for about half an hour and then decorate it with pomegranate seeds and ground pistachio as you see in the photos here.
Finally sift just a little powdered sugar on the very top of pomegranate seeds in the center.
Nutrition
Serving Size:
Calories:

375

Sugar:

30.4 g

Sodium:

24.9 mg

Fat:

21.5 g

Carbohydrates:

43.1 g

Fiber:

3 g

Protein:

6 g

Cholesterol:

58.7 mg
Keywords: chocolate yogurt cake, Greek yogurt chocolate cake, chocolate Christmas cake