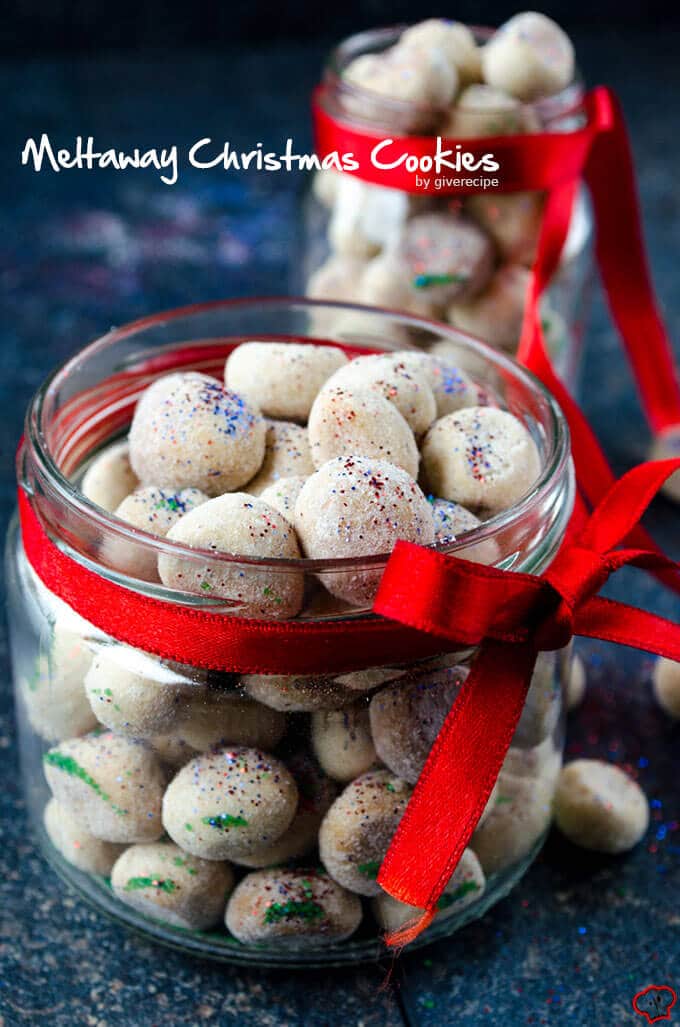 Meltaway Christmas Cookies make the best holiday gift ever. It s very easy to make these. Even easier than going to a shopping mall and looking for the perfect gift for your beloved ones. These are ready in less than 30 minutes. Pack them in jars or fancy looking mini boxes and give whoever you like. You don't need to worry about the Christmas gifts any longer, just make these fantastic edible gifts and make your friends and family smile.
The best thing about these Meltaway Christmas Cookies is that the ingredients make about 12 dozens. So you can give them to as many people as you like. These already look cute with their itsy bitsy size, but you can make them look even fancier with some colorful sprinkles. Normally I coat these cookies with powdered sugar, but I wanted to make something different for the coming holidays. Did I tell you before how much I love these lovely guys? They can easily put you in a party mood. Our Chocolate-dipped Marshmallows with Sprinkles are always a hit and they make great gifts too. You might want to check them out if you don't feel like baking something. They are much easier than these cookies. No baking and no cookie dough definitely shorten the time.
MY LATEST VIDEOS
Well, for me these Meltaway Christmas Cookies are worth the little time and very little effort since they are melting in your mouth. Besides, I'm sure you don't need to go shopping for the ingredients, I'm sure you already have them in your pantry. Butter, powderd sugar, all-purpose flour, cornstarch and salt are what you all need. Quite simple, isn't it? You can spice them with ginger, cinnamon or a little pumpkin spice if you have one of these too. Lemon or orange zest would give them a nice flavor too. These are adaptable for your taste as you see.
More christmas cookies I'd love to try:
Spritz Cookies on Chic and Sugar
Almond Chocolate Crinkle Cookies on Home Cooking Adventure
Double Chocolate Orange Cookies on Foodal
Gingersnaps on Pass the Cocoa
Browned Butter Shortbread Cookies on Daring Gourmet
See our other chocolate recipe videos here:

Print
Meltaway Christmas Cookies
Author:
Prep Time:

10 minutes

Cook Time:

10 minutes

Total Time:

20 minutes
Ingredients
1 and 1/2 cup all-purpose flour
3/4 cup cornstarch
1 cup unsalted butter, softened
3/4 cup powdered sugar
1/2 teaspoon salt
Colorful sprinkles for garnish
Instructions
Preheat oven to 350F (175C). Line two or three baking sheets with parchment.
Whisk flour and cornstarch in a bowl.
In a large bowl, mix butter and sugar until creamy. Add in salt.
Pour the dry mixture into the bowl gradually and mix with your hands.
Make tiny balls and place them on the baking sheets.
Bake 8-10 minutes.
Coat with sprinkles when they are still warm.
IF YOU LIKED THIS RECIPE, THEN YOU WILL LOVE THESE: