These Sesame Cookies are made with tahini and sesame seeds. It is basically a type of biscuit but with more interesting and complex flavors thanks to the molasses coating. They have a very nutty and sweet flavor. They are also very easy and quick to make with only a few simple steps.
When we created this recipe we were ecstatic, to say the least. It was a taste of home that we can now have every day. Also check out tahini chocolate chip cookies.
We LOVE the unique flavor of sesame seeds. Have you seen our sesame candy recipe? It is another great treat that keeps well for several weeks.
If you've ever had Turkish sesame cookies, you know that they are incredibly delicious, but incredibly hard to find. These Middle Eastern biscuits are mostly sold at some bakeries and markets, and only a handful at that. So we proudly wanted to share the recipe with you.
Jump to:
Ingredients
We need the following ingredients for this Turkish sesame cookies recipe:
Softened butter
Olive oil
Powdered sugar: You can use icing sugar too.
Milk
Tahini: Use the best quality tahini you can find.
Egg
Flour
Baking powder
When baking with tahini, you have two options to choose from; lighter or darker. For this sesame cookies recipe, you can use either. A lot of people prefer using the lighter version though so that the sesame cookies don't darken too much.
In addition to the ingredients for the cookie dough, we also need a mixture of molasses and water to dip the cut cookies in. We use grape molasses because it was what we mostly have in the kitchen, but you can use date molasses too.
And a bowl of toasted sesame seeds are the final touch on the cookies. If you can't find them roasted, you can roast them easily in a skillet over medium high heat. And if you love sesame seed flavor, go check out our simit recipe and tahini ice cream too!
Please note that it is very important that all of the ingredients must be at room temperature before mixing.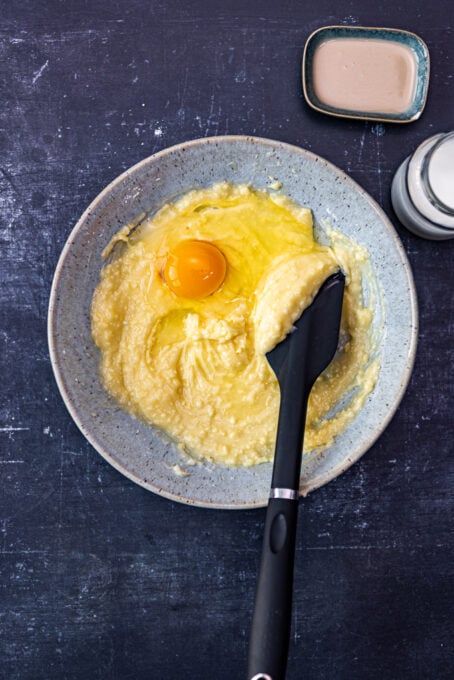 How To Make
First, in a large mixing bowl, combine the softened butter, olive oil, and powdered sugar. Mix well with a spatula until the mixture is smooth and all of the ingredients have been fully incorporated.
Next, add the milk, tahini, and one egg. Again, whisk well so the ingredients are well mixed. Set aside the mixture.
Then, in a separate large bowl, combine the flour and baking powder and add it to the tahini mixture. Mix well. You can either use your hands, a firm spatula, or a stand mixer with the paddle attachment. Mix until you have a soft dough that isn't sticky.
Next, roll out the dough on a floured surface using a rolling pin that won't stick. The dough should be about ¼ - ½ an inch thick. Using a round cooking cutter, cut out circles from the dough. We like to use a 3-inch cookie cutter, but you can choose any size you like. Set aside the cookies.
You can now make the coating by simply combining the molasses and water in a small bowl, and placing the toasted sesame seeds on a flat plate next to it.
Now, dip each round cookie into the molasses mixture and then into the toasted sesame seeds. Both sides should be fully and evenly coated.
Finally, place the coated cookies on a baking sheet and bake them until they are golden brown, about 15-20 minutes. Remove them from the oven and allow them to cool completely on the baking sheet.
Serve these delicious sesame tahini cookies with a glass of milk. And it would be even better to serve these cookies in a Turkish way. Learn how to brew Turkish tea in a teapot or how to make coffee in a Turkish coffee pot.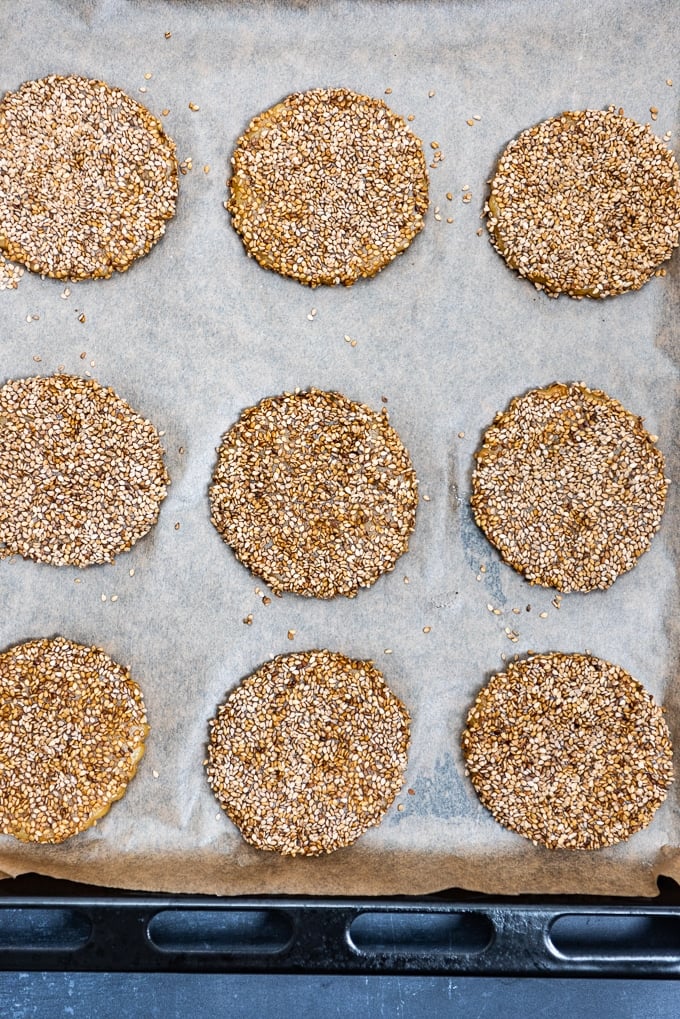 How To Store
These Turkish sesame cookies won't last long because once you've eaten one, you simply cannot stop. If you are lucky enough to have some left over, here is how you can store them.
First, allow the sesame seed cookies to cool off completely before touching them or moving them. Once completely cooled, place the cookies in an airtight container or re-sealable bag. Place the cookies in a cool and dark area for up to a month.
These sesame seed cookies can also be frozen for up to 3 months. Simply place them in a freezer-safe airtight container, adding a layer of non-stick paper between each layer of cookies. Place them in the freezer away from any odors.
Remember to label the container with the contents and use-by date so you don't forget about them.
Turkish Sesame Cookies vs Italian Sesame Cookies
The main difference between Turkish sesame cookies and Italian sesame cookies are the way they are garnished. Sure, there are many differences between the recipes, but there are also many different recipes for each.
The biggest difference between the ingredients used for each of these recipes is that Italian sesame cookies don't contain tahini. That is exactly what makes this Turkish sesame cookies recipe so amazing!
Turkish sesame tahini cookies are covered in a molasses syrup mixture before being dipped in roasted sesame seeds. This molasses mixture adds a deep, rich, and sweet flavor. The roasted sesame seeds also add more depth to these cookies and give an earthy, nutty note.
Italian sesame cookies do not get this molasses dip. Sometimes they are dipped in milk, but egg wash can also be used to stick on the sesame seeds. The sesame seeds are also rarely toasted giving a much paler cookie with less complex flavors.
FAQs
Which are better, raw or roasted sesame seeds? Personally, we believe that toasted sesame seeds are a must-have for Turkish sesame cookies. Furthermore, toasting any type of nut, seed and spice enhances its flavor and adds more complexity to a dish. We love toasting our sesame seeds for these Middle Eastern biscuits and wouldn't do it any other way. You can of course choose not to, but then the recipe leans towards Italian sesame cookies or some other kind.
Is it OK to eat sesame seeds every day? It is definitely safe to eat sesame seeds every day, just be mindful of the quantities. Sesame seeds are very nutritious considering their size. They are packed with fiber, plant proteins, antioxidants, and other vitamins and minerals. But as always, too much of something, no matter how healthy, can become bad and unhealthy. Although you would have to consume a significant amount of sesame seeds before that happens, you should still consume sesame seeds (and these cookies) in moderation. Read more>> The Health Benefits Of Sesame Seeds.
How can you tell if tahini has gone bad? The easiest way to determine whether or not your tahini has gone bad is by smelling it. If there are any strange odors that are rancid or sour, it is no longer safe to eat of use. Another sign of spoiled tahini is mold. Tahini has natural sugars present and a lot of moisture. This means that it has two of the most important needs for bacteria to grow. Make sure you check the expiration or use-by date before buying tahini and store it correctly.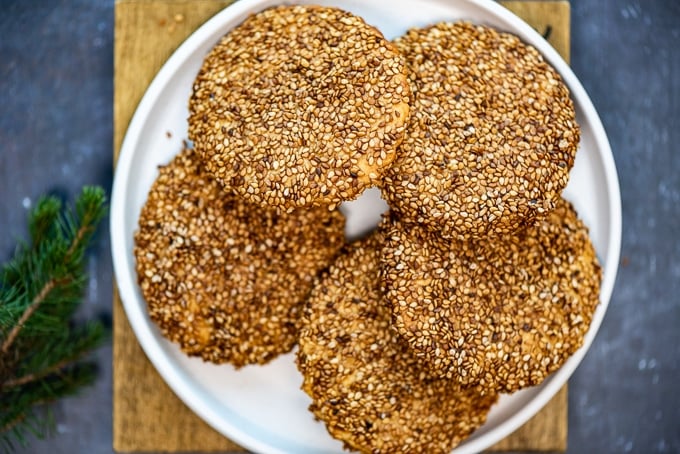 More Cookie Recipes
As always: If you make this recipe, let us know what you think by rating it and leaving a comment below. And post a pic on Instagram too—tag @give_recipe so we can see!
Sign up for the FREE GiveRecipe Newsletter to get the new recipes into your inbox! And stay in touch with us on Facebook, Pinterest, YouTube and Instagram for all the latest updates.
Print
📖 Recipe
Turkish Tahini Sesame Cookies
Crunchy, nutty and sweet tahini sesame cookies from Turkish cuisine.
Author: Zerrin & Yusuf
Prep Time:

20 minutes

Cook Time:

20 minutes

Total Time:

40 minutes

Yield:

1

6

1

x
Category:

Dessert

Method:

Baking

Cuisine:

Turkish
½ cup

(115g) butter, softened

¼ cup

olive oil

1 cup

powdered sugar

¼ cup

milk

¼ cup

tahini

1

egg

2

and ¾ cups flour 

½ teaspoon

baking powder

Coating:

¼ cup

molasses

¼ cup

water

¼ cup

toasted sesame seeds
Instructions
Preheat the oven to 175C/350F. Line a baking sheet with parchment paper. 

In a large mixing bowl, whisk together the softened butter, olive oil and powdered sugar. Add in milk, tahini and egg. Whisk well. Add in flour and baking powder and stir with a spatula or use your stand mixer or just use your hand. You should get a soft and non-sticky dough at the end.

For the coating; in a small bowl, mix together the molasses and water. Put sesame seeds on a plate. Set these aside.

Put the dough on a lightly floured counter and roll it out.Cut it into rounds using a round cookie cutter.

Dip the round cookies first into the molasses and water mixture and then into sesame seeds. Make sure both sides are coated well. Place them on the prepared baking sheet.

Bake until golden brown. 

Let them cool on the baking sheet.
Nutrition
Serving Size:
Calories:

245

Sugar:

11.5 g

Sodium:

11.3 mg

Fat:

12.9 g

Carbohydrates:

29.5 g

Protein:

3.9 g

Cholesterol:

27 mg
Keywords: sesame cookies, sesame tahini cookies, sesame seed cookies, Turkish sesame cookies