These buttery Melting Moments Cookies are easy-to-make, eggless sweet treats for the holiday season. They have a wonderfully soft and crumbly texture thanks to cornstarch that simultaneously melts in your mouth.
If you are not into making decorated cookies because they need effort and time, these simple cookies are right for you. They are perfect for cookie exchange parties. Give this recipe a try and make a big batch in advance. Trust us; they will disappear in seconds!
So what makes these cookies that scrumptious? How can they melt in your mouth wonderfully? Well, it's not only the butter. It helps a lot for sure, but another ingredient that makes the cookies so soft and crumbly is cornstarch. It has an incredible effect on these cookies!
These corn flour cookies show up at almost every special occasion we celebrate with our family and friends. This is a life-saver cookie recipe everyone should know. Why?
These are so easy to make that even the youngest ones can make them.
You don't need many ingredients to make these. You don't even need to go shopping as you probably have all the ingredients in your pantry.
They can be made ahead of time.
Jump to:
The Easiest Christmas Cookies (A Classic!)
These melting moments cookies are one of the classics that everybody knows and loves! They are extremely easy to make and virtually effort-free. You just combine everything to make a soft dough, chill it, shape into balls and bake.
There is no fancy decorating steps unlike most of the holiday cookies. These are really simple yet super satisfying.
The added powdered sugar on their tops makes them perfect winter cookies and gives them a wonderful Christmassy mood!
This is the best melting moments recipe that make beautiful edible gifts. You can make them in advance, and they will keep well for up to 2 weeks at room temperature!
Read on to learn how we make these cookies from scratch!
What Are Melting Moments?
Melting moments cookies are originally from New Zealand. Similar to shortbread cookies, they are basically made of butter, sugar, flour and cornstarch. They are also called cornstarch cookies or butter cookies.
The reason they are also called corn flour cookies is that the recipe contains some cornstarch, which is also known as cornflour.
Traditionally, they are cream-filled cookies that simply melt in your mouth. But today, you can find many versions across the globe.
Our melting cookies aren't made into sandwiches as we love them on their own. But it is very easy to make a batch of frosting and create a bite-sized cookie sandwich.
About The Ingredients
Butter: Use unsalted butter. And make sure it is softened at room temperature. So let the butter sit on the counter for a few hours before you start making the cookies.
Powdered sugar: Also known as icing sugar, this ingredient helps create a smoother, grit-free dough. Do not substitute it with granulated or caster sugar. It defeats its function!
Cornstarch: It is also known as corn flour. These two are the same thing. Cookies made with cornstarch will create such a luscious texture that it feels like it melts in your mouth.
All purpose flour: Make sure the flour is not self-rising (aka self-raising) flour as it contains baking powder. These cookies are unleavened, so you can only use plain flour.
Alternative Add-Ins:
You can flavor the cookies with any essence or extract. We use vanilla, but almond extract or lemon extract is also perfectly fine.
And it's an opportunity to experiment with other flavor combinations as well. Especially if you use a buttercream topping or make sandwiches.
What Does Cornstarch Do In Cookies?
Cornstarch doesn't change the flavor of the cookies because it doesn't have any taste at all. But it does help the cookies come out perfectly soft and crumbly. We use it in our meltaway lemon cookies too.
Can we use cornstarch instead of flour in cookies? The answer is simply no. They are two different ingredients. Cornflour gives you a soft result but you still need flour to make cookies. And we don't recommend substituting flour for cornstarch. You will get heavy and dense cookies if you leave it out.
We use 1 and ½ cup flour and ½ cup cornflour in this cookie recipe. And we are quite happy with the result.
How To Make
These cookies with corn flour have an amazing melt-in-your-mouth texture as the name suggests. They are super easy to make and stores well.
In a large mixing bowl, whisk together the butter, powdered sugar and vanilla extract with an electric mixer (or in a stand mixer with the paddle attachment) until it is smooth and creamy.
Add in cornstarch, flour and salt.
Cover it with plastic or saran wrap so it doesn't dry out. Place it in the fridge for 30 minutes to rest.
Roll the dough into mini balls. Place them on a baking sheet lined with parchment paper, leaving 1-inch between each. Gently press them down with a fork to give them a nice shape.
Allow the cookies to bake for 13 minutes or until their edges are slightly golden. Once they are done, remove them from the oven and leave them on the cookie sheet to cool for 5 minutes. Don't be tempted to touch the cookies at this step. They will be too soft.
Then, transfer them to a cooling rack and leave them to cool completely at room temperature. Sift them with powdered sugar.
Chill The Dough Before Shaping!
This recipe for melting moments includes chilling the dough.
If you skip this step, the dough will simply spread or flatten when baking and create wafers. It's the same technique you use when making any type of shortbread cookie. By chilling the dough, you are allowing the heat from the oven to set the outside before the butter in the cookies completely melts away.
Chilling the dough for half an hour or so and then roll it into balls. The dough is too soft before chilling and it will be hard to shape them.
Don't spend too much time on shaping. The cookie balls should still be cold and firm before they go into the oven. So shape them fast and immediately put them in the oven.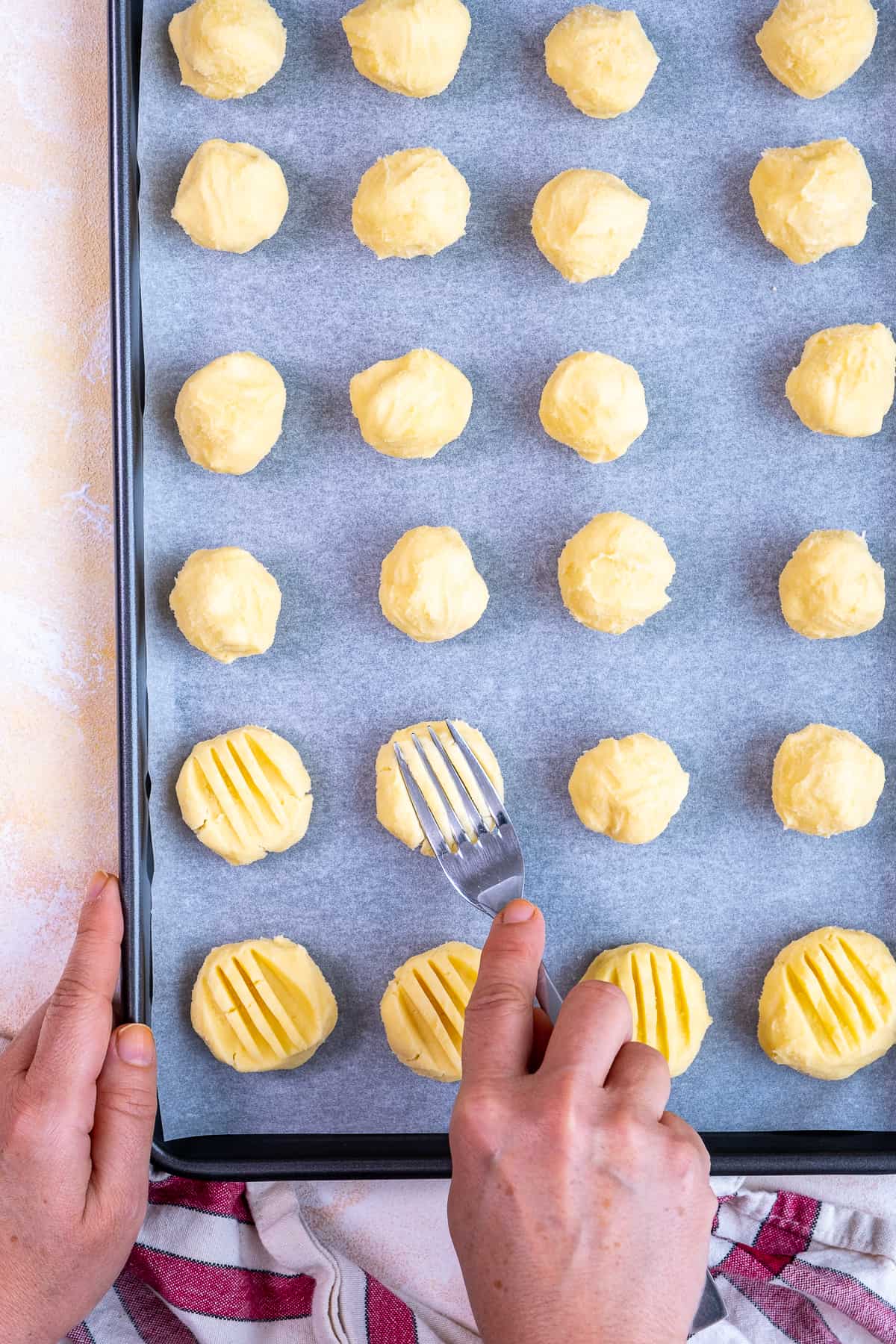 Shaping The Cookies
As we want to keep things simple, we just use the fork method. After rolling the dough into balls and placing them on the prepared baking sheet, we press on each with a fork to give them a nice pattern.
Instead of a fork, you can use the bottom of a glass and lightly flatten each cookie dough ball.
If you want, you can skip these shaping methods and leave the cookie balls as they are.
Making Cornstarch Cookies With Icing
Our melting moments cookies are topped with powdered sugar. However, if you want a more substantial topping, you can always add frosting.
You can use any recipe that you'd like. We usually just combine about ¼ cup of butter with 3 ½ to 4 cups of powdered sugar. We also add lemon zest and a little bit of lemon juice to help create a tangier, balanced flavor.
Simply beat together all of these ingredients until you have a fluffy, thick frosting. You can either top the cookies or sandwich them with this frosting.
Tips
Do not skip chilling the cookie dough before shaping. If you do, the cookies will spread too much in the oven.
When these cookies are completely baked, they will be soft and pale. Don't continue baking them to give them color. You'll just end up over-baking them and baking hard cookies.
Once the cornstarch cookies are baked and removed from the oven, you have to rest them on the cookie sheet for 5 minutes. This helps them set before you transfer them to the wire rack, which can disfigure them.
Storage
You can store the melted moments cookie dough and the baked cookies.
For the dough, simply wrap it in plastic or saran wrap. Keep it inside the fridge until you need it. Keep in mind, you may need to bring the dough to room temperature before being able to work with it and shape balls.
If you want to store the baked cookies, also place them in an airtight container. These cookies need to be kept at room temperature in a cool, dry place. They will last for up to 2 weeks.
Can I Freeze Them?
One thing we love most about these melting-moment cookies is how well they freeze. They are very stable and retain their wonderful texture, shape, and flavor.
To freeze them, place them inside an airtight container. Wrap it with a layer of foil and label the foil. Store the melting moment biscuits inside the freezer for up to 4 months. But they are really best when used within the first two.
More Cookie Recipes
As always: If you make this recipe, let us know what you think by rating it and leaving a comment below. And post a pic on Instagram too—tag @give_recipe so we can see!
Sign up for the FREE GiveRecipe Newsletter to get the new recipes into your inbox! And stay in touch with us on Facebook, Pinterest, YouTube and Instagram for all the latest updates.
Print
📖 Recipe
Melting Moments Cookies (Cornstarch Butter Cookies)
These cookies are literally melting in your mouth! Simple. Easy. Scrumptious! You probably already have all the ingredients in your pantry.
Author: Zerrin & Yusuf
Prep Time:

45 minutes

Cook Time:

13 minutes

Total Time:

58 minutes

Yield:

24

Category:

Cookies

Method:

Baking

Cuisine:

American
1 cup unsalted butter (250g), softened at room temperature

½ cup powdered sugar(75g)

1 teaspoon vanilla extract

½ cup cornstarch (65g)

1 and ½ cup all-purpose flour (200g)

¼ teaspoon salt
Topping:
Instructions
In a large mixing bowl, mix butter, powdered sugar and vanilla extract with an electric mixer or in a stand mixer with a paddle attachment until smooth.

Add in cornstarch, flour and salt.

You can do the same steps with your hands too. Just make sure you combine everything well.

Cover and chill the dough for half an hour.

Preheat the oven to 350F (175C).

Line a baking sheet with parchment paper.

Make mini balls from the dough and place on the baking sheet leaving about 1-inch space.

Gently press a fork on the cookies to give them a nice shape. (See how to make it in the video below)

Bake for 13 minutes or until the edges are very slightly golden.

Remove from the oven, let them sit on the baking sheet for 5 minutes. Then transfer onto a wire rack to cool them completely. 

Sift powdered sugar on them and serve.
Notes
Don't skip the chilling step. Otherwise, the cookies will flatten when baking.

These cookies do look pale when they are baked, so don't tend to over-bake them.

After removing the cookies from the oven, make sure they sit on the baking sheet for 5 minutes. Then transfer on a wire rack to let them cool completely.
Nutrition
Serving Size:

1

Calories:

122

Sugar:

3.7 g

Sodium:

25.8 mg

Fat:

7.7 g

Carbohydrates:

12.2 g

Protein:

0.9 g

Cholesterol:

20.3 mg
Keywords: melting moments cookies, melting moments recipe