This unique Chocolate Beet Cake is extremely moist, velvety and to put it mildly, mouth-watering. The best part; your guests won't even know you've used beets! The semi-sweet chocolate you use helps add richness and hide the pink-purple color and flavor of the beetroot.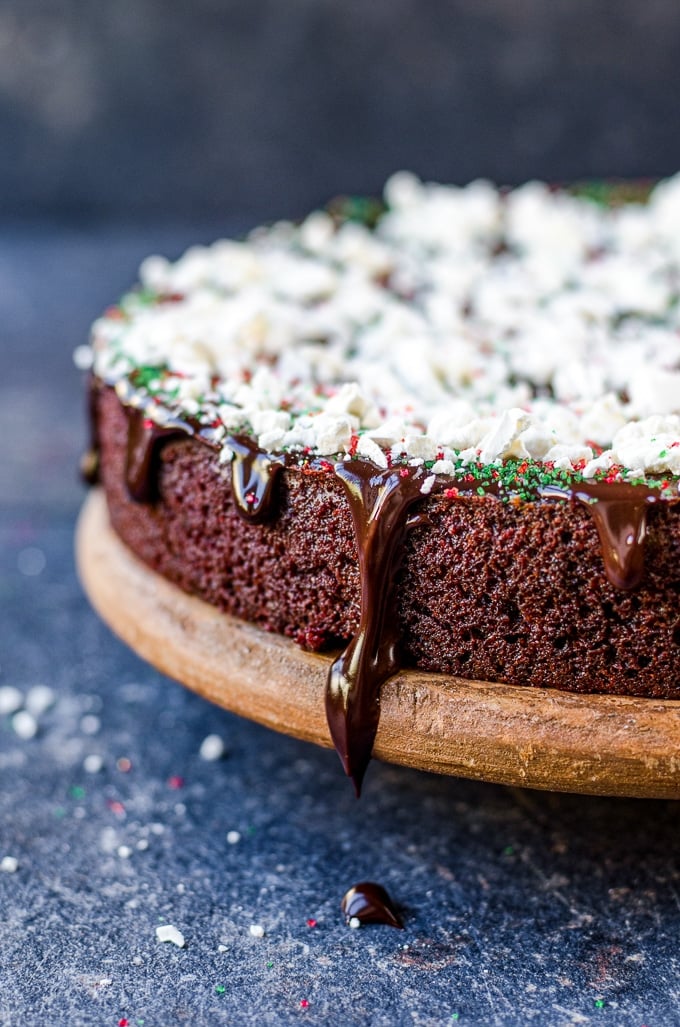 'Tis the season of impressing family and friends with spontaneous food, is it not? Give the traditional chocolate cake a skip this Christmas and try something new – chocolate cake made with beets.
If you still need another option, you might want to see our Greek yogurt chocolate cake too!
If you are a lover of beets, you know that there always seems to be a surplus of it no matter how much you use. You will probably love pickled beets, or beet sauce.
So why not use it in a cake this time? It adds a ton of moisture and gives your cake a velvety texture that many recipes often lack. This chocolate beet cake recipe is the perfect example of how veggies can be incorporated into desserts without compromising on flavor or texture.
We highly recommend baking this cake a day or two in advance before decorating. This allows the flavors to develop and when serving, will be richer than ever.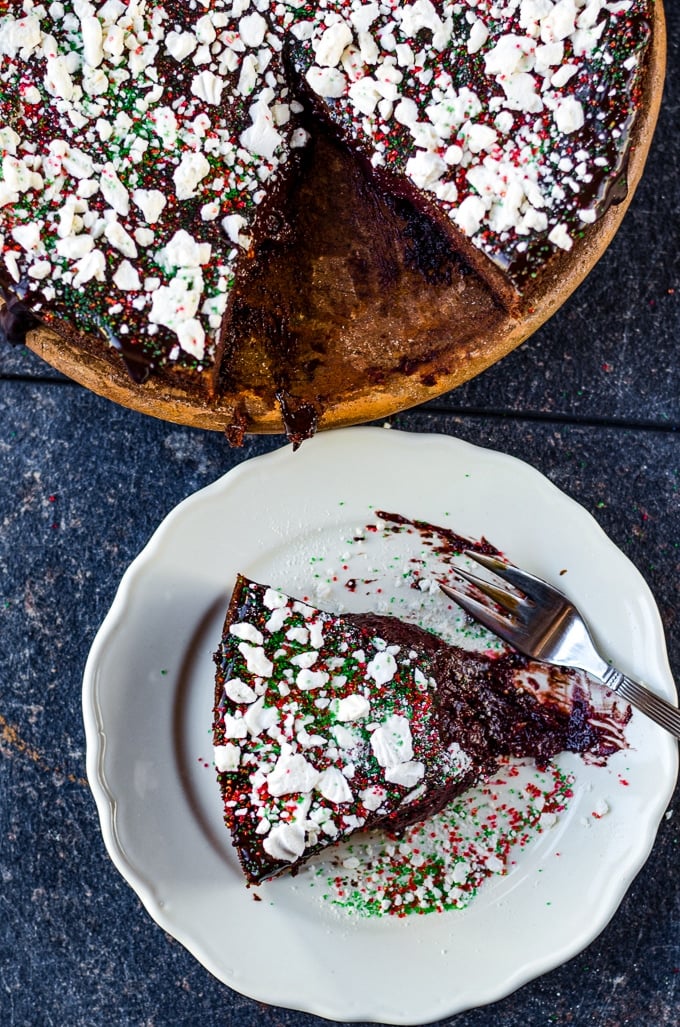 Do You Taste Beets In The Cake?
Surprisingly, you don't taste beet in this beet cake at all. This is because of the balance of ingredients.
The semi-sweet dark chocolate we use (usually between 35-60% depending on your personal preference), masks the taste of beetroot. The sweetness of the beets also casually blends with that of the chocolate, powdered sugar, and later the ganache.
We wouldn't recommend using white or milk chocolate in this recipe as these will not hide the beets' flavor or color as well as the darker chocolate does.
We're not kidding when we say that no one will know you used beetroot until you point it out. The beets add a velvety texture, deep and rich color, and additional sweet and earthy flavors.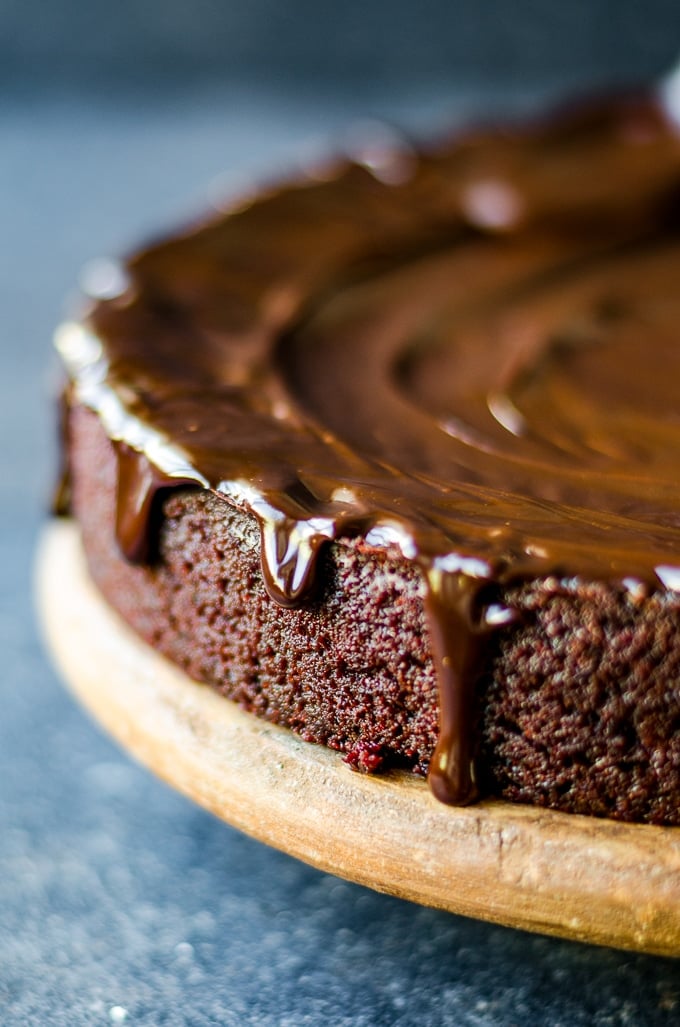 How To Prepare Beets
This is a chocolate beet cake recipe with fresh beets, however, there are also alternative forms of beets that can be used. Let's start with the fresh beets method:
To make this chocolate beetroot cake batter, start by preparing your beets. Boil the whole beets, skin-on, in water for about 45 minutes to 1 hour. This time will depend on the size of the beets. Once fully cooked (when a fork or skewer easily pierce through the entire beet), transfer them into a bowl with cold water.
Rub the skin of the beet until it slips off. Make sure the skin and stalk (head) is completely removed before continuing with the process.
Once the beets have been prepped, cut them into cubes and place in a food processor or blender. The food processor works the best as we want a puree-like consistency, not juice-like that a blender would give.
The puree consistency is essential as too much liquid (beet juice) will make the chocolate beet cake batter way too runny and the recipe won't work as well, if at all. The texture and thickness of the puree will add moisture, but still, help provide structure to the cake.
Allow the processor to run for a couple of seconds to get a beetroot puree, but do not over process. Allow the puree to cool completely before using it in the cake.
You can also make this beet cake with canned beets. Simply drain the beets from their liquid, chop, and place them in the food processor.
Note: Do not use pickled canned beets as these will be much too acidic and might even have a crunchy texture. Just use normal canned beets – these beets are preserved in beet juices, water and salt (like a brining liquid, but definitely stay away from vinegar.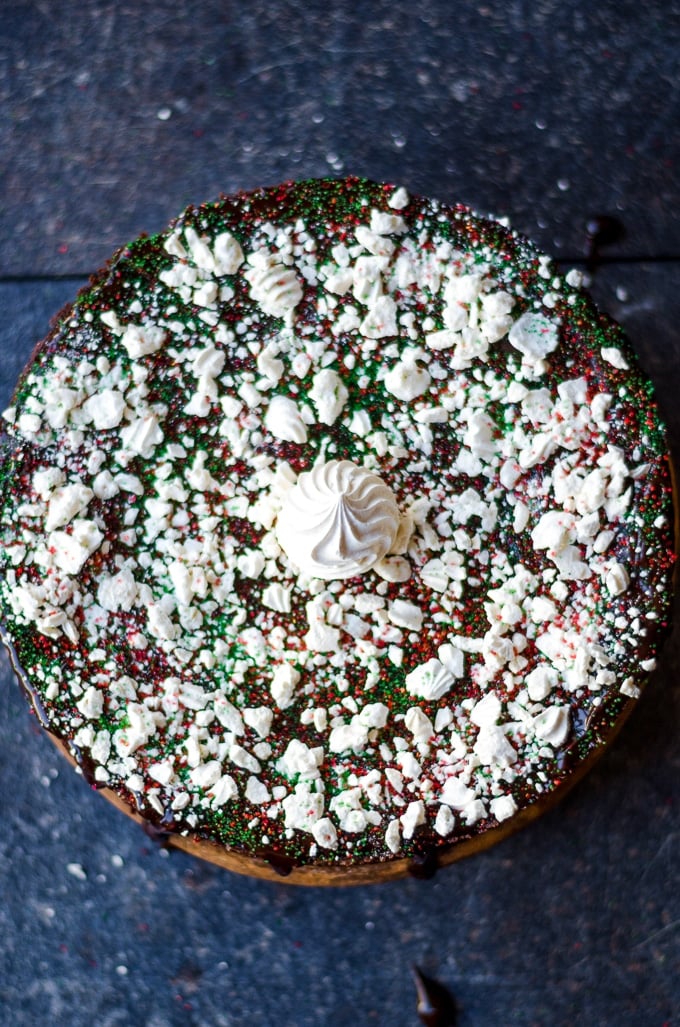 Tips When Working With Beets
Use gloves when peeling and working with the beets as they are a natural colorant and will stain your hands.
Be careful not to use beets on wooden marble surfaces. Both these materials will stain and you will never be able to get it out. Rather use a plastic chopping board that you don't mind staining or a ceramic plate.
Beets will stain your clothing, dish towels, and aprons so be careful not to get it onto these items.
How To Make
Before beginning with this chocolate beet cake recipe, preheat your oven to 350˚F (180˚C). Then, line an 8-inch (20cm) springform cake pan with non-stick baking paper or parchment paper on the bottom. Brush the sides with melted butter or cooking spray.
You should also prepare your beet puree before starting with the cake recipe. Please read how to puree beets above.
To start, melt the chocolate in a bowl over a pot of simmering water (a double boiler). Make sure the chocolate doesn't become too hot by removing it every 30 seconds or so and gently stirring it, otherwise your chocolate will seize and become unusable. Once the chocolate has fully melted and is silky smooth, add in the coffee and butter. Stir in these ingredients until you have a uniform mixture. Set aside the chocolate and allow it to cool for 5-10 minutes. Transfer the mixture to a larger bowl.
Next, beat the egg yolks in a small bowl before adding them into the melted chocolate. Then fold in the beetroot puree until you get a nice gooey consistency. Set aside.
Then, beat the egg whites with an electric mixer until they reach stiff peaks. And gently fold the sugar into the egg whites, making sure not to lose too much volume.
Now you can fold in the stiff egg whites into the chocolate mixture. Here it is very important to not overmix as the egg whites will fall flat and your cake will lose height and volume. Set aside.
Now prepare the dry ingredients. Sift together flour, cocoa powder, baking powder, and salt in a medium bowl. Gently fold the dried ingredients into the wet mixture.
Pour the batter into the lined cake pan and reduce the heat of the oven to 325˚F (160˚C). Bake for 50 minutes or until a toothpick or cake testing needle comes out clean. This cake will be moist, so there might be crumbs coming out – as long as it isn't raw batter. Once the cake is done baking, remove it from the pan and allow it to cool completely on a wire rack.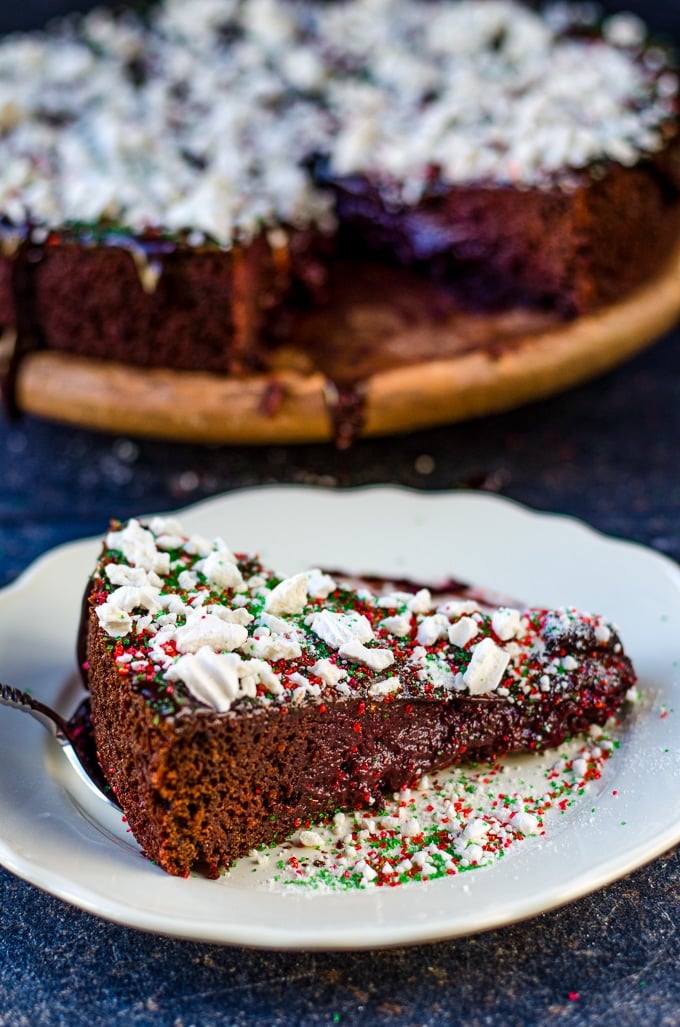 Make The Chocolate Ganache
Place the chocolate chips in a medium bowl and set it aside. Heat the cream in a saucepan and once it starts simmering, pour it over the chocolate chips. Slowly mix until you have a smooth mixture. Allow it to cool for about 10 minutes.
Once the cake is cooled completely, and the ganache has rested, pour the ganache over the chocolate cake. Wait about 5 minutes for it to settle into place before adding your final garnishes.
We love to use crumbled meringue and some sprinkles to match the festive feel. You can choose the color of the sprinkles according to the occasion – themed parties, Halloween, or like ours, Christmas.
Can I make it in cupcake form?
You can easily make this beet cake in the form of cupcakes. Cupcakes are a great idea for individual portions and easy transportation. All you have to change is the time you bake them. Cupcakes can take anywhere from 12-20 minutes depending on their size. We would recommend baking these beetroot cupcakes for 15 minutes before testing if they are finished. You can still use the ganache and garnishes as decoration, or incorporate the ganache into a frosting.
As always: If you make this recipe, let us know what you think by rating it and leaving a comment below. And post a pic on Instagram too—tag @give_recipe so we can see!
Sign up for the FREE GiveRecipe Newsletter to get the new recipes into your inbox! And stay in touch with us on Facebook, Pinterest, YouTube and Instagram for all the latest updates.
Print
📖 Recipe
Chocolate Beet Cake
Rich and moist chocolate cake with a special ingredient; beetroot. Will make you feel in heaven!
Author: Zerrin & Yusuf
Prep Time:

45 minutes

Cook Time:

50 minutes

Total Time:

1 hour 35 minutes

Yield:

8

1

x
Category:

Dessert

Method:

Baking

Cuisine:

American
1 cup

beet puree, explained in the instructions

7 ounces

semisweet chocolate

¼ cup

hot coffee

7 ounces

butter, at room temperature

1 cup

flour

3 tablespoons

unsweetened cocoa powder

1

and ¼ teaspoon baking powder

5

large eggs, separated, at room temperature
Pinch of salt

1 cup

powdered sugar
for chocolate ganache:
80g

dark chocolate chips

80

ml heavy cream
for topping:
½ cup

crumbled meringues
Sprinkles
Instructions
Line the bottom of a 8 inch springform pan with parchment paper and butter the edges.
Boil the beets in water with their skin on until they are very tender, about 45 min to 1 hour. Transfer them into cold water. Remove the skin just by rubbing, chop and puree in a food processor. Put it aside.
Preheat the oven to 350F (180C).
Melt the chocolate in a bowl over simmering water. When it is melted, add in hot coffee and butter. Stir with a spoon until it is smooth and put it aside. Let it cool for some minutes. Transfer into a large bowl.
Beat the egg yolks well in a small bowl and briskly stir them into the melted chocolate. Fold in the beets.
Whip the egg whites with an electric mixer until stiff. Gradually fold in the sugar with a spatula, then fold them into the melted chocolate mixture. Don't over mix.
Sift together the flour cocoa powder, baking powder and salt in a separate bowl. Fold in this mixture into the wet mixture.
Pour the batter into the cake pan. Reduce the heat to 325F (160C) and bake the cake for 50 min.
When the cake is cooling, prepare the ganache. You can see the chocolate ganache video above to see the steps.
Heat heavy cream in a small sauce pan until it boils. Take it from the heat and pour over the chocolate chips. Mix well until they melt and it gets smooth. Let it cool for some minutes.
Pour it over the completely cooled cake. Wait for a few minutes and top with crumbled meringues and sprinkles.
Nutrition
Serving Size:
Calories:

552

Sugar:

34.6 g

Sodium:

87.8 mg

Fat:

36.3 g

Carbohydrates:

52.5 g

Protein:

9 g

Cholesterol:

175.9 mg
Keywords: beet cake, chocolate beet cake, chocolate beetroot cake