Turkish simit is the best breakfast in this world when accompanied by cheese, tomatoes, cucumber and a cup of tea. Although it's one of the best street foods in the country, it's possible to make it at home too.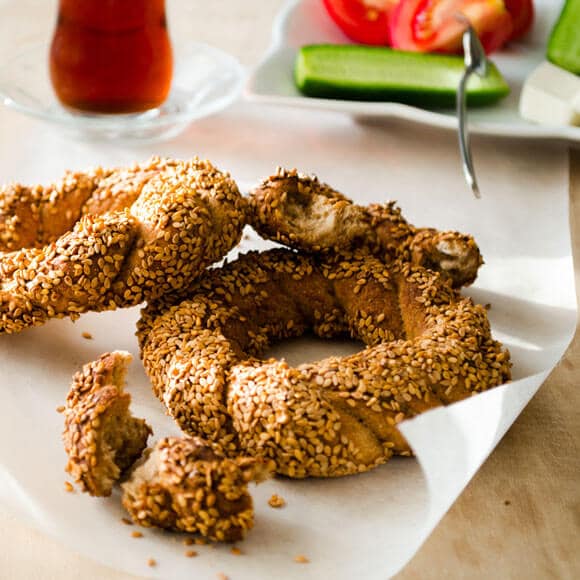 Simit for breakfast
This is the best breakfast for many working people and students in Turkey. They mostly buy simit and cheese together either on the way to work/school or at their workplace/school. I'm a breakfast person (you know it already!), so I never leave home without having breakfast. However, I can't take my eyes from the counter of the school canteen. We sometimes go to school with my officemate and he buys his breakfast from the canteen everyday saying "1 simit and 1 cheese please!" They are selling small packages of cream cheese and it's one of the best companions of simit.
He's not the only one asking for these two, it's always very crowded in front of the counter of the canteen. The third companion of these two is a cup of Turkish tea, and he always makes it in the office with our little kettle. Fortunately he offers me some and I can hardly refuse this small breakfast. Although I have a great breakfast at home, I break off a small piece of his simit (Oh my! How crunchy and fresh it is!) and spread a little cheese on it. Mouthwatering, isn't it?
Simit is not only a quick breakfast for us in Turkey, we also have it for a big breakfast when we have enough time. We combine it with various cheeses, sliced tomato and cucumbers this time, and of course have these with black tea.
How to make homemade simit
It is sold everywhere here, people don't prefer making it at home, it's always easier to buy it prepared. We do love difficult things though! It was Yusuf's idea to make it at home, and we tried the recipe we learnt from our local bakery today! Simit at bakeries is made with white flour, but we used whole wheat flour, so ours are darker in color than the ones sold outside.
The amount of protein in flour is very important to have the right flavor in simit, it must be 13 or more. We searched for the right flour at the market, but it wasn't very easy, so we had to visit a few markets and finally found one with 14. Check out its label before buying!
You don't need many ingredients for a tasty simit! Some molasses will give its color and sesame seeds will enhance its flavor!
Start with preparing dough. The mixture of flour, water and yeast will never go wrong!
Love kneading! I always make with hands!
Time to sleep for 20 minutes!
After 20-minute sleeping, it becomes bigger and softer.
Make a log from your dough and cut it into 14 pieces to make 7 simits.
Did you use to play with dough as a kid? It's fun, isn't it? You can involve your kids in this step.
Make them in equal length.
Hello little caterpillar! Twist them around each other firmly.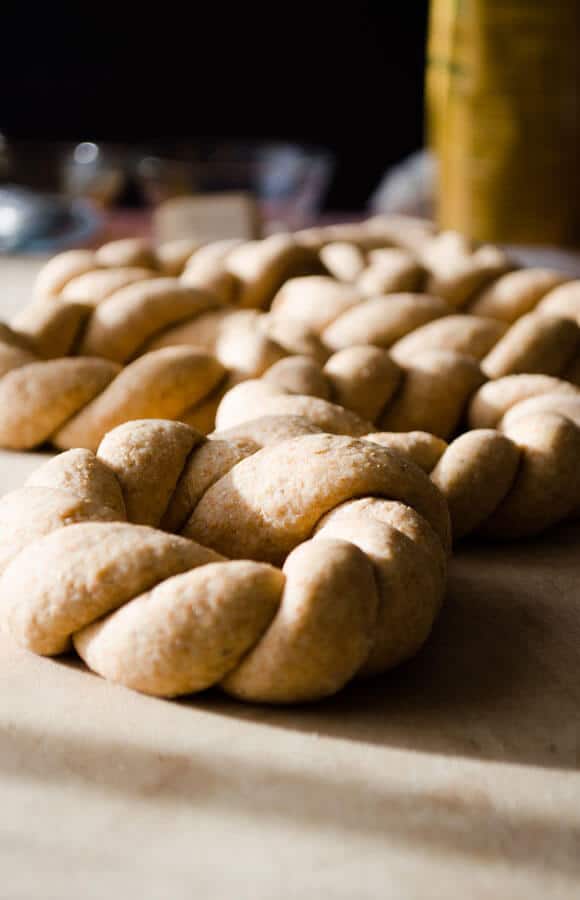 Seal their edges very well with your fingers so that it doesn't lose its circular shape.
Shower time now! Dip each into molasses mixture very well so that it is completely coated.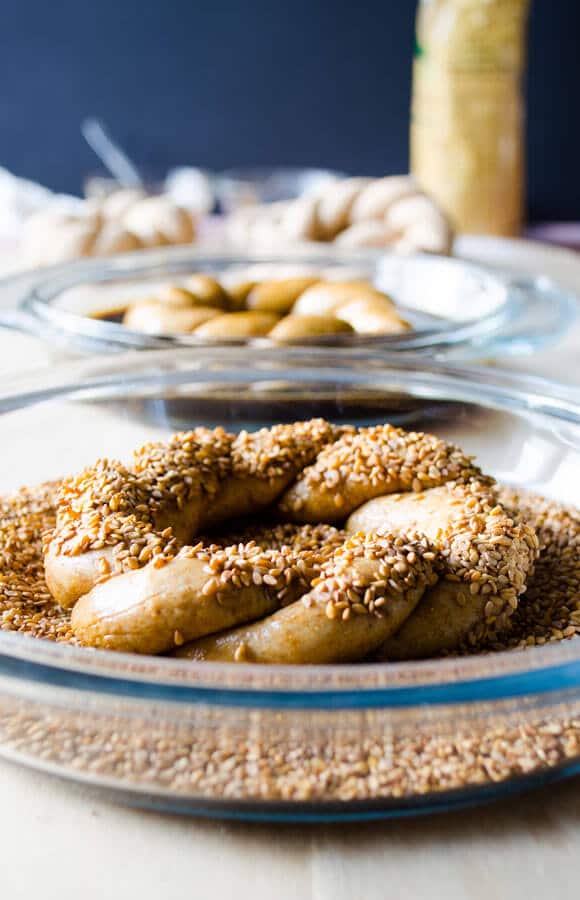 A little make up after shower! Coat them very well with sesame seeds. If sesame seeds are half roasted, it's better.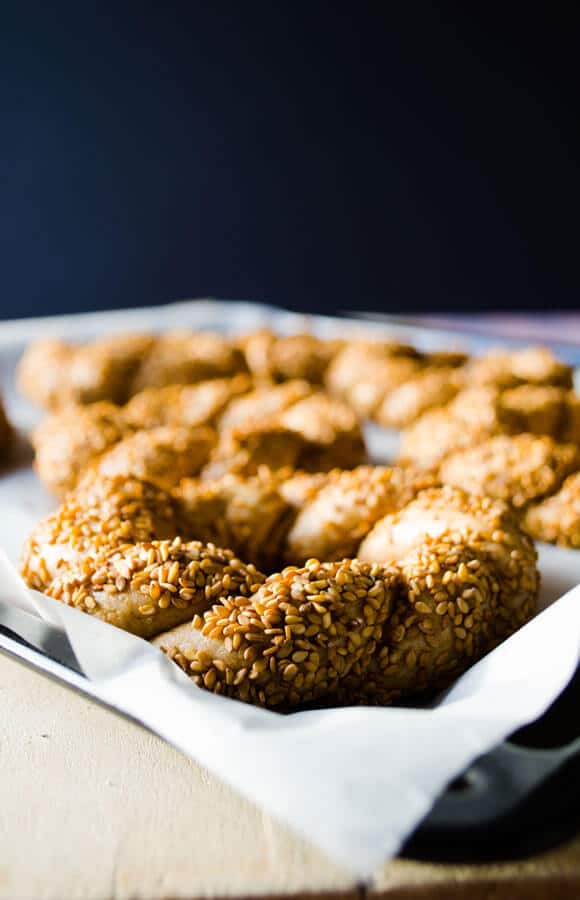 Place them in a baking tray. They are tempting even unbaked, aren't they?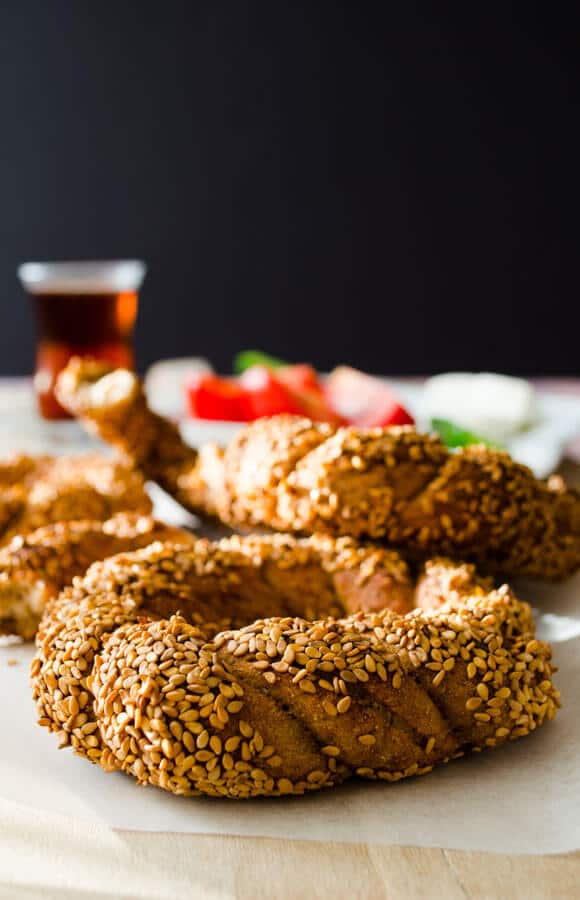 Enjoy it at breakfast with typical Turkish breakfast foods and tea.
Other Bread Recipes You Might Like
Other Savory Turkish Pastries You Might Like
Print
Homemade Turkish Simit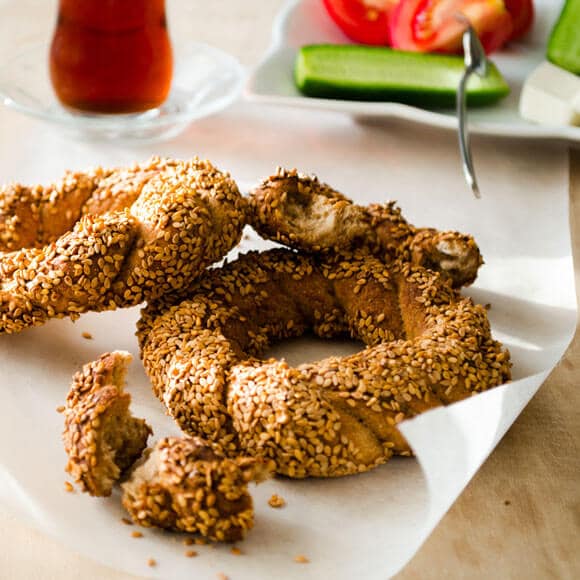 Crunchy street bread with an amazing flavor of roasted sesame seeds.
Author:
Prep Time:

45 minutes

Cook Time:

20 minutes

Total Time:

1 hour 5 minutes

Yield:

7

1

x
Category:

Bread

Method:

Baking

Cuisine:

Turkish
Scale
Ingredients
Dough:

2 cup

s whole wheat flour

1 tbsp

dry instant yeast

1 ¼ cup

warm water
Coating:

1 cup

grape molasses

½ cup

water

1 tbsp

flour

2 cup

s sesame seeds
Instructions
Mix dry yeast with warm water and pour it on flour.
Add salt and knead it until smooth and non-sticky.
If it's too tough, we your hands and keep kneading.
Cover it with a piece of wet cloth and wait about 20 minutes.
Roll it and make a log from it.
Cut it into 14 pieces to make 7 simits.
Roll two balls one by one and give them a thin and long sausage shape.
Twist them around each other and seal their edges to make a circle.
Repeat it for all dough balls.
Mix water, grape molasses and flour.
Heat oven at 230C.
Dip each simit dough first into molasses mixture and then sesame seeds.
Place a baking paper on a tray.
Put simit doughs on it and bake them about 20 minutes.
Serve them with cheese, sliced tomato and cucumber.
Notes
Note: These ingredients make 7 simits.
Keywords: simit, bread, Turkish food, street food, simit recipe, turkish simit
IF YOU LIKED THIS RECIPE, THEN YOU WILL LOVE THESE: