Who doesn't love a good quiche? But who has the time for all those steps? That is why this vegetarian leek quiche recipe is perfect! It doesn't have to be pre-baked, contains a few simple ingredients, and is lower in calories compared to other traditional quiches.
Are you a leek fan like us? You have to try baked leek frittata and leek fritters too! Also, we love to flavor dishes with leeks and use them in our favorite borek filling and cream of vegetable soup.
Today we will be looking at this amazing vegetarian quiche with salty feta cheese filling. We will show you exactly how to skip the blind-baking part and save a lot of time. We will also give you a ton of tips and tricks, as well as answer some frequently asked questions about quiches.
It also doesn't have to be blind-baked like most other quiches which will save you a lot of time!
Jump to:
What is Quiche?
A quiche by definition is a baked tart with a savory filling that is thickened with eggs. Quiches are almost always served cold or cooled, not piping hot.
The crust is also a savory crust meaning it doesn't contain any sweeteners and cannot be used for sweet dishes. This savory crust helps enhance the flavors of the savory filling.
Quiches also almost always include cheese in the filling. Although as new flavor combinations arise, it became less popular.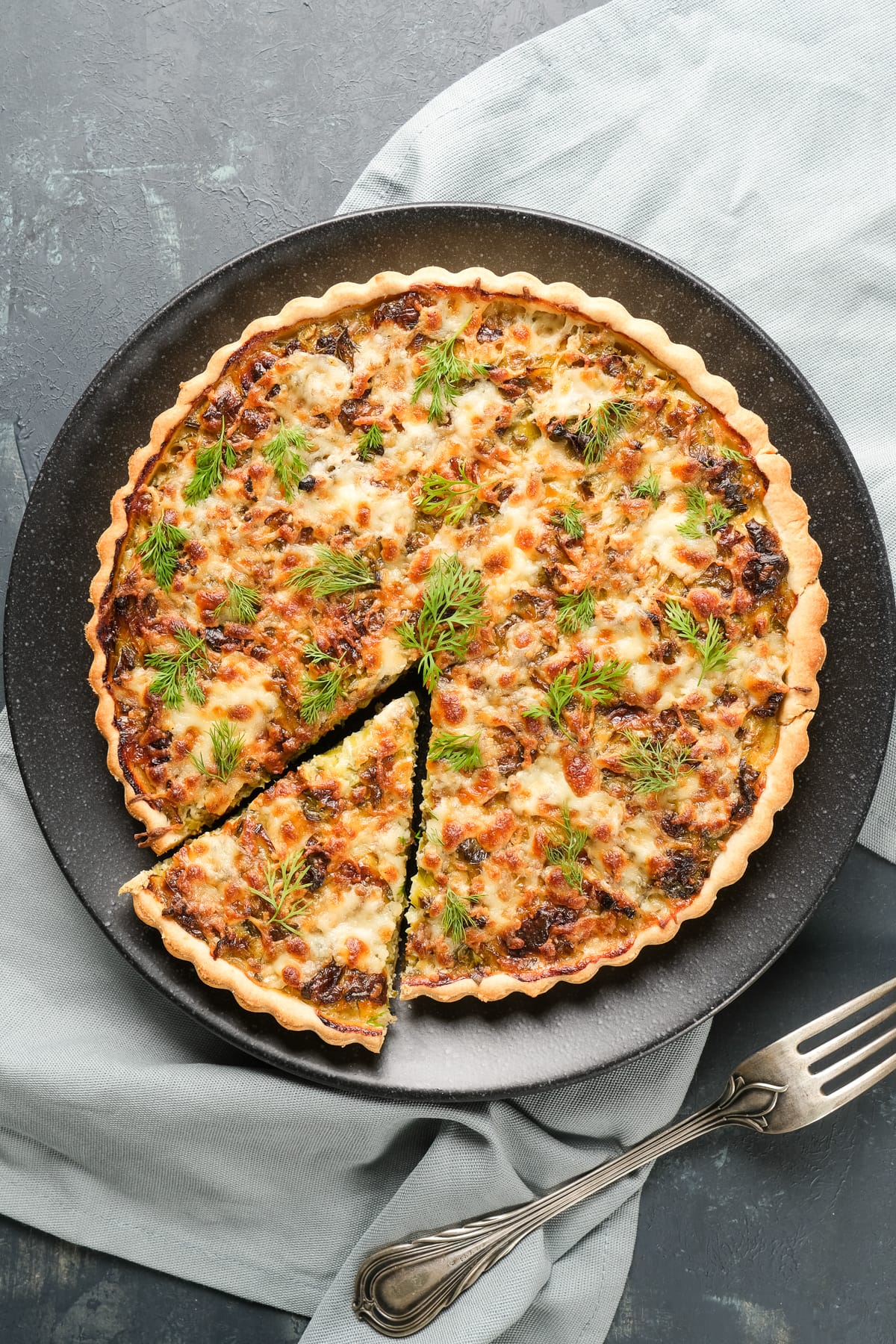 Ingredients
This cheese and leek quiche crust is very simple to make and takes less than 5 minutes. And, you probably already have all of the ingredients at home!
So we need the following ingredients for the crust: Flour, salt, butter, cold water. And for the crust we make a vegetarian filling with olive oil, leeks, green onions, salt, crumbled feta cheese, fresh dill, parsley, an egg, heavy cream, grated mozzarella.
The filling is always the part that makes or breaks a quiche. This mouth-watering leek quiche only uses basic ingredients and spices that all complement each other well. Make sure you use only fresh leeks for the best flavor.
The addition of feta cheese and mozzarella gives it a perfect cheesy finish that all quiches should have! You can use low-fat or vegan versions of these cheeses.
Leeks are also surprisingly nutritious. They are packed with nutrients like vitamin A, K1, AND b6. It also contains fantastic amounts of manganese and copper, iron, and folate. Despite being this nutrient-dense, they are very low in calories.
Our vegetarian quiche recipe isn't loaded with eggs and cream, making it much lower in calories compared to other traditional custard quiches.
Instructions
This is an extremely easy leek quiche recipe. It takes less than an hour to make because it doesn't have to be pre-baked! It only has a few simple ingredients to create a symphony of fresh and delicious flavors.
First, start by making the crust. Place the flour, salt, and butter into a food processor and pulse. While the machine is running, add the cold water until a soft dough forms. Cover the dough in plastic wrap and refrigerate for at least 1 hour.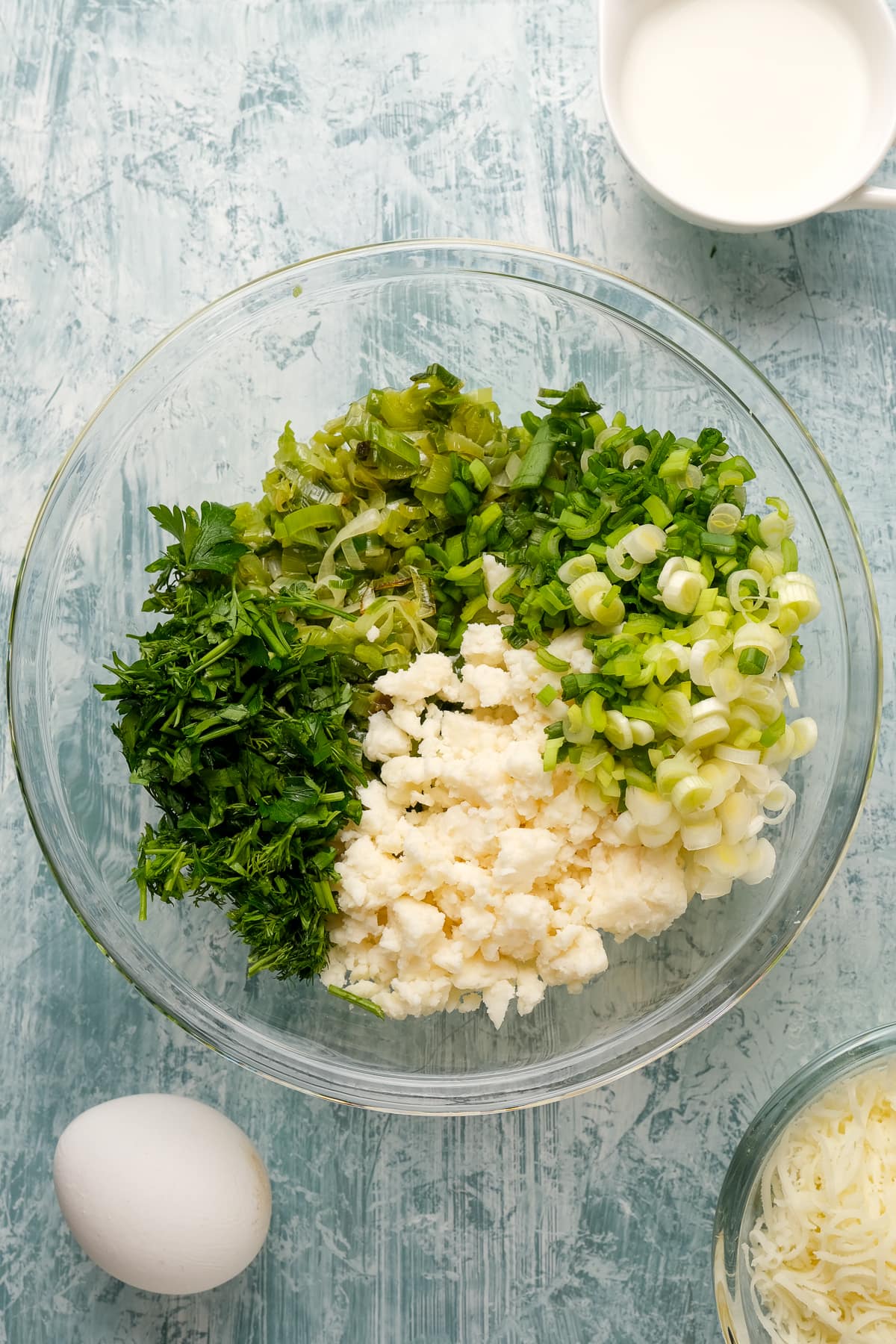 Second, prepare the filling. Heat the oil and sauté the leeks and green onions until they become tender. Transfer them into a separate plate to cool completely before adding the crumbled feta and herbs.
In a separate bowl, whisk together the egg and cream. Add the egg mixture to the leek filling and stir well.
Third, assemble the quiche and bake. Before assembling, preheat the oven to 350°F (180°C). Roll the dough on a non-stick surface and place it into the 9-inch tart pan. Make sure there are no air bubbles and remember to flute the edges. Add the filling and bake the quiche for 30 minutes.
Remove it from the oven, add the mozzarella and bake for another 5 minutes. Remove the quiche from the oven, allow it to cool for 10-15 minutes before slicing and serving.
Tips & Tricks
This cheese and leek quiche recipe doesn't require blind baking which results in a softer crust compared to pre-baked quiches.
If you want a crispier crust, simply blind bake the crust before adding the filling. Once the dough has been placed into the tart pan, add a large piece of baking paper that covers it completely. Add dry beans, rice, or baking marbles inside to weigh down the paper and crust.
Bake the crust for about 15 minutes or until the edges become light brown. Remove the paper and beans, prick (or dock) the base with a fork. Continue baking the crust for 10 minutes.
Once blind baked, add the filling and bake for about 30 minutes or until it sets.
If your crust is dark, but your quiche hasn't finished baking, place a piece of foil over the crust edges and continue baking until the egg mixture has set.
Your butter has to be cold when making the crust. This helps the flour and butter form the correct consistency when they're being processed. If your butter is too hot or soft, it will completely change the consistency of the crust before and after it has been baked.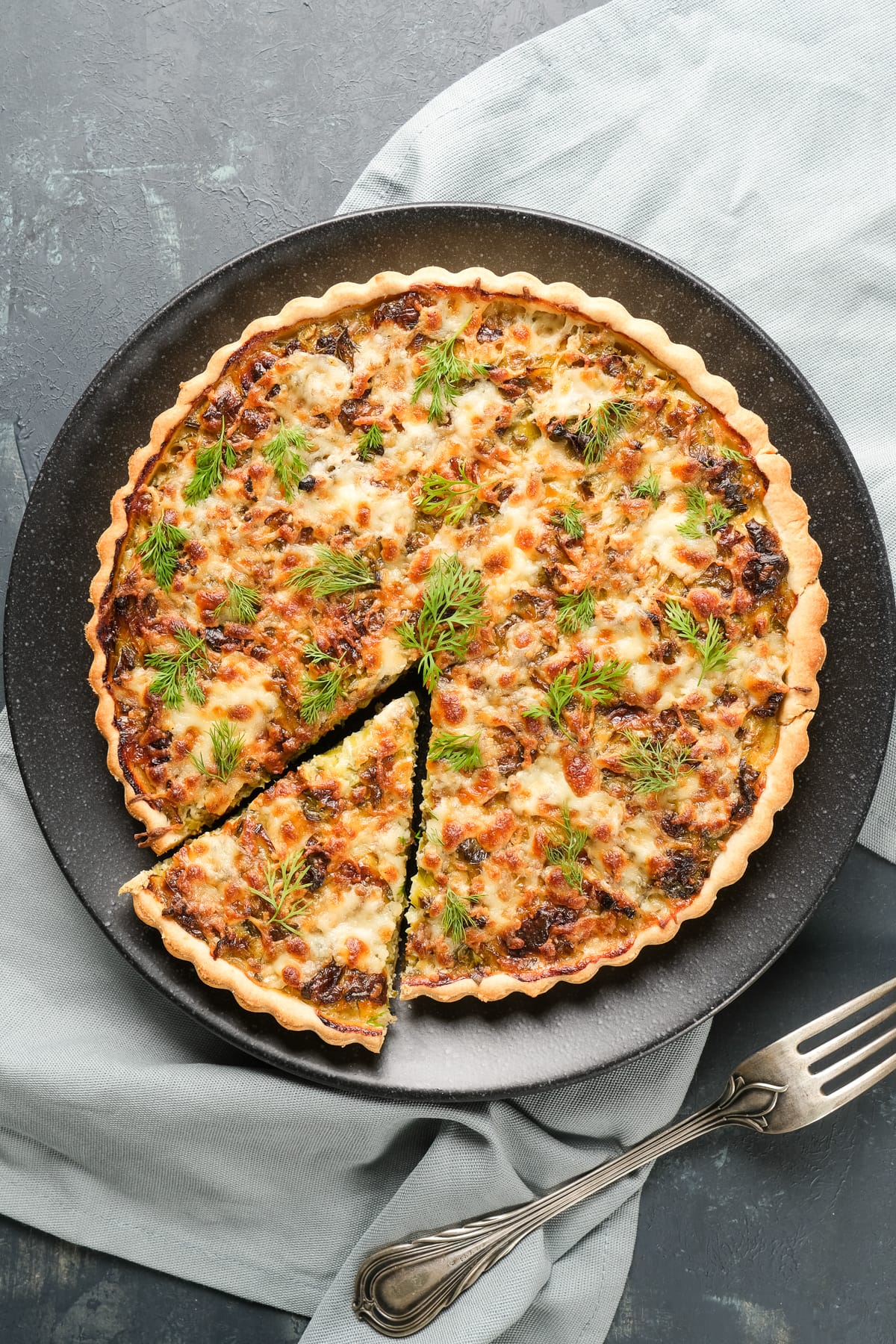 FAQs
How do you cut leeks for quiche?
Before cutting your leeks, make sure to wash them properly to remove all the dirt. Remove any blemished or bruised leaves. If your leeks still have roots, cut away that area.
 
Thinly slice the leeks at about a 45-degree angle. The larger your pieces, the chunkier the filling will be and the longer it will take to soften. We prefer ⅛ – ¼ inch thick slices.

How Long Should You Bake the Quiche?
The amount of time a quiche takes to bake depends on the size of the quiche. We mostly use 9-inch tart pans. The egg-mixture (or quiche custard) takes about 30 minutes to bake. The quiche is finished once it stops wobbling and the crust has become golden brown.

How do you reheat this quiche?
Reheating a quiche in an oven is the best method even if it takes a bit longer. Preheat the oven to 350°F (180°C). Place the quiche on a baking tray lined with non-stick paper and cover the crust with foil. Bake the quiche for 15-20 minutes or until it has completely heated through.

Can you freeze this quiche?
You can easily freeze any quiche at various points during the process. You can either freeze the pastry, freeze the blind-baked crust shell, or freeze the entire quiche!
 
We would recommend freezing a blind-baked pastry crust to prevent the filling from losing its flavor and softening the crust.

More Vegetarian Pastries
As always: If you make this recipe, let us know what you think by rating it and leaving a comment below. And post a pic on Instagram too—tag @give_recipe so we can see!
Sign up for the FREE GiveRecipe Newsletter to get the new recipes into your inbox! And stay in touch with us on Facebook, Pinterest, YouTube and Instagram for all the latest updates.
Print
📖 Recipe
Vegetarian Cheese and Leek Quiche (No Blind Baking)
Easy vegetarian quiche with leeks, green onions and cheese makes a perfect tea time snack!
Author: Zerrin & Yusuf
Prep Time:

1 hour 15 minutes

Cook Time:

35 minutes

Total Time:

1 hour 50 minutes

Yield:

6

-8

1

x
Category:

Side Dish

Method:

Baking

Cuisine:

American

Diet:

Vegetarian
Dough:
2 cups

flour

6 tablespoon

cold water

90g

(3.2 ounces) butter, cold and cut into cubes

½ teaspoon

salt

Filling: 
2 tablespoon

olive oil

3

stalks leek, chopped thinly

3

stalks green onions, chopped

½ teaspoon

salt

½ cup

feta, crumbled

¼ cup

fresh dill, chopped

¼ cup

parsley, chopped

1

egg

4 tablespoon

heavy cream

¼ cup

mozzarella, grated (for topping)
Instructions
Make the crust:
Put flour, salt and butter cubes in a food processor and pulse.

Pour in cold water and pulse until a soft dough forms.

Transfer the dough into a bowl, cover it with plastic wrap and chill in the refrigerator for 1 hour.
Make The Filling:
Heat olive oil in a skillet. Cook the chopped leeks in it until tender. Transfer this on a large plate to let it cool.

When it cools down, add in crumbled feta and herbs.

In a small bowl, whisk together the heavy cream and the egg. Pour this into the filling mixture and stir well.

Preheat the oven to 350F/180C. 

Remove the dough from the refrigerator. Roll it out and place it in a tart pan (9 inch). Flute the edges.

Spread the filling on the top and bake for 30-35 minutes.

Remove from the oven and sprinkle grated mozzarella on the top. Bake for another 5 minutes.

Remove from the oven and let it set and cool for 10-15 minutes before slicing.
Notes
This recipe is not loaded with eggs and cream, so it is with fewer calories when compared to traditional custard like quiche fillings.

There is no need for blind baking in this quiche crust recipe. The result is rather soft, but not soggy. 

If you want a crispy quiche crust, prebake the crust which is called blind baking. To do this, line the crust dough in the pan with parchment paper. Fill it with dry beans to weigh it down. Bake for about 15 minutes until the edges are lightly brown. Remove the beans and parchment paper. Prick the crust with a fork and bake for 10 minutes. Then put the filling on it and bake until set, for about 30 minutes.
Nutrition
Serving Size:

6-8

Calories:

397

Sugar:

2.9g

Sodium:

564.4mg

Fat:

22.5g

Carbohydrates:

39.5g

Protein:

9.7g

Cholesterol:

80.9mg
Keywords: leek quiche, vegetarian quiche, no blind bake quiche