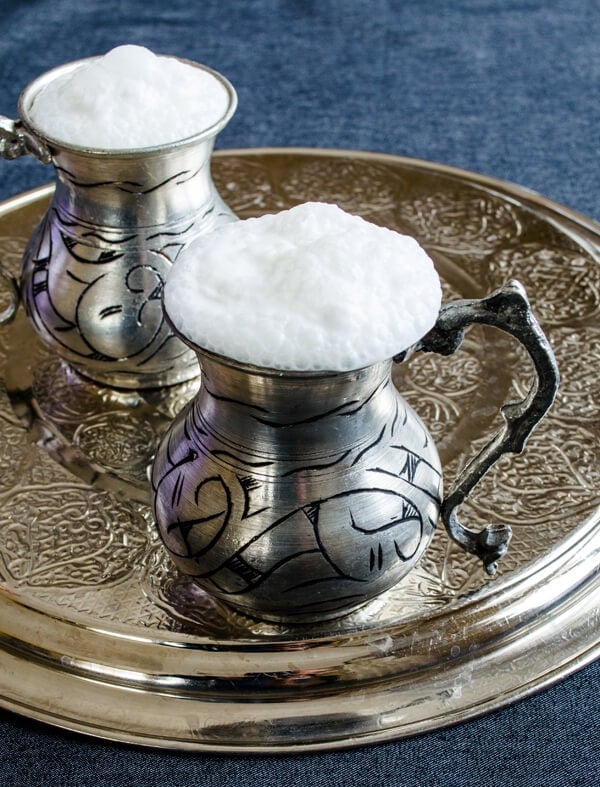 Ayran is the name of a super refreshing Turkish yogurt drink. It is served cold and there is no restaurant here where you can't find ayran. It used to be the most loved drink to go with any food before coke came into our country. No need to mention how harmful coke is to our body, but people LOVE it and can't stop drinking it as it's addictive! International fast food restaurants know how to adapt to the culture of the country where they are serving, so the ones in Turkey have ayran in their drinks menu besides coke and other fizzy drinks. It's always my first and only choice when ordering kebab, Turkish pide, lahmacun or gozleme. They go very well with this cold and and healthy drink!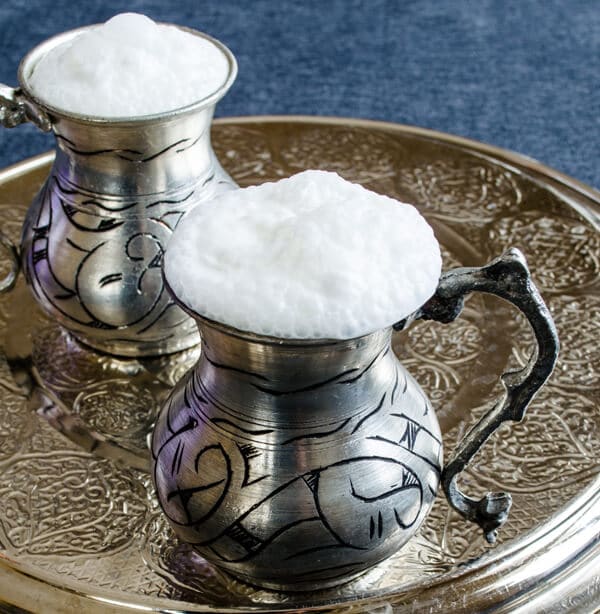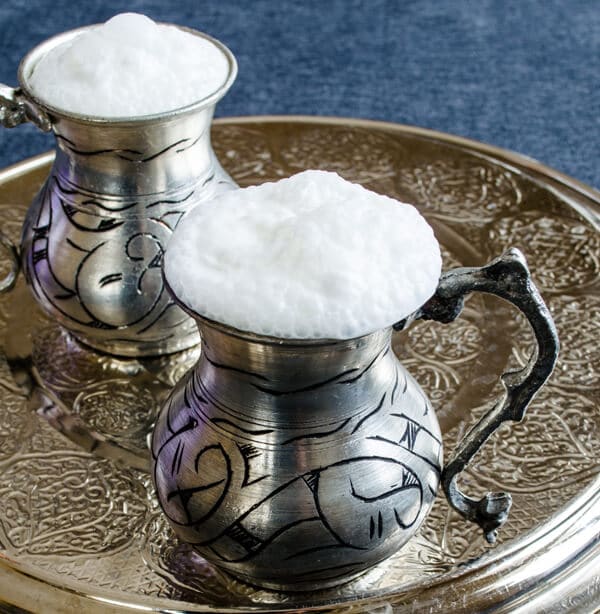 Ayran is mainly the mixture of yogurt, cold water and salt, but there are some variations. The most popular one is produced in Susurluk, a small town in the West of Turkey. What makes its ayran special is that it's so frothy. You can imagine how it's fun to drink it! The first part you have is its froth on the top and then you reach ayran. You don't have to be eating something to drink this super drink, you can have it when you feel it's boiling in Summer. And in some cities where summer is intolerably hot, you can see vendors selling ayran on the street.
In some places, a few sprigs of fresh mint is added to give it more freshness and it becomes like a different drink with this combination! I prefer my ayran plain if I'm having it with some food, but I love to add fresh mint into it if I'm drinking it just for pleasure.
Another variation I love is ayran with natural mineral water. We are lucky here in Turkey as mineral water comes from underground and completely natural. When you add a little of it into your ayran, you have an amazing taste! It's like fizzy drinks, but the healthy version and your ayran produces extra froth when mineral water added! Ayran relaxes your stomach this way!
You can also find ayran in bottles at markets in the same section with milk and yogurt. I find them more salty than necessary, so I prefer making it at home. Also, I already make my own yogurt at home, so I don't buy it from markets.
Tourists visiting Turkey might have interesting reactions when they first drink ayran. Although they know the taste of yogurt, some might have difficulty to get used to it. And when they start loving it, they always order it in restaurants. You can read a funny story of my friend's Julia's dad when he first bought ayran in her post: Ayran-Yogurt Not Milk. Julia and Barry are a very nice couple living in Fethiye and they share their experiences here related to Turkish culture, food and destinations on their lovely blog, Turkey's for Life. Go check it out!
We couldn't wait any longer and drank the froth on their top! YUM!
How to Make Ayran
A super refreshing healthy yogurt drink!
Prep Time:

5 minutes

Total Time:

5 minutes

Yield:

2
Ingredients
2 cups yogurt
½ cup cold water
Salt to taste
A handful of ice cubes
Instructions
Put all ingredients in blender and mix until smooth.
Serve cold with ice cubes.
IF YOU LIKED THIS RECIPE, THEN YOU WILL LOVE THESE: