No time for yeasting dough? Don't worry! These Quick Dinner Rolls have no yeast. They have 3 secret ingredients that make them cotton soft. Ready in 30 minutes! Watch the tutorial below and learn how to make No Yeast Bread Rolls easily!
What Are No Yeast Bread Rolls
They are soft rolls that don't call for yeast, so easier and quicker to make. This recipe is one of the easiest homemade bread recipes on our blog and I think that's why it has become one of the most tried recipes as well. Easy, simple, quick and quite satisfying, these quick dinner rolls are worth trying. My favorite rolls recipe until this one was Fluffy Pogaca Recipe, which has yeast and mineral water inside. I still love that but this one is way quicker.
We all love short cuts, right? This recipe is a great example for doing things in a shorter way because it doesn't call for waiting until it rises thanks to baking powder, yogurt and olive oil. This will become the ultimate bread roll recipe in your home.
If you love bread recipes with yeast, go check out our Turkish Flat Bread too!
Who can resist newly baked soft and fluffy dinner rolls? I'm sure spreading a little butter on one of them when it is still hot can easily take you to heaven. There is no yeast in the dough, so you don't need to wait it to rise. This really reduces the time and you end up with super quick rolls that are soft enough. They are ready in about 30 minutes, so you can make these simple no yeast dinner rolls right before the dinner and make the whole family feel in heaven.
How To Make Yeast Free Bread Rolls
I got the recipe from a colleague at a potluck party and adapted it to my taste. She stuffed the rolls with cheese, which is something traditional in Turkey and they were amazing! I felt like I was eating the best rolls in my life just at first bite. I had had no idea on how to make bread without yeast before.
When I asked the recipe with a big curiosity, my friend said that it is really easy. She said that the recipe even has a special name. It is called 3-2-1 rolls because the ingredients include 3 packages baking powder, 2 cups yogurt and 1 cup olive oil. She didn't give the amount of flour, she said I just need to add it gradually until I have a non-sticky dough. Don't worry, I measured all the ingredients for you.
How To Make Dough Without Yeast
One of the secrets of these quick dinner rolls is that there is no water in the dough. Yogurt and olive oil are the only wet ingredients in the dough and they make the rolls super soft.
The other thing that makes these rolls super magical is baking powder as the substitute for yeast. Use 5 teaspoons baking powder in the dough. I hadn't used that much baking powder in a dough before, but believe me it's not too much for these rolls.
I sometimes use a combination of all purpose flour and whole wheat flour in the dough to have a nice color and to make the rolls more filling. However, it's optional; just skip it if you like white looking breads. They are even softer when you make them using only regular all purpose flour. The ones you see in the first picture on the top are made with all purpose flour.
Meals To Eat With These No Yeast Dinner Rolls
I'll be baking these quick dinner rolls quite often. They are to die for especially right after they are removed from oven. These are perfect with the following dishes:
About This Quick and Easy Dinner Rolls Recipe:
I used only white flour when updating the recipe with a video and they turned out even softer than the one with a combination of white flour and whole wheat flour.
Try not to use much flour. Although the no yeast rolls turn out fine with the measurements in the recipe, add the flour gradually until everything holds together. Even the brand of flour you use might cause different results, so you might need to experiment to find the right amount. It's okay if the dough is a bit sticky. Use a little oil (olive oil in my recipe but you can use whatever oil you like) to wet your hands and make small balls from the dough.
I use olive oil in this recipe because I like it, but you can use whatever oil you like if you don't like olive oil. You can even use melted butter.
As some readers suggest in the comments below, it might be a good idea to add herbs and garlic in the dough.
These homemade rolls without yeast are great on the day they are baked. I love them cold too on the next days but if you are after soft rolls, I suggest you to reheat them in the oven or microwave so that they get as soft as they are on the first day.
Watch How To Make Dinner Rolls Without Yeast
More dinner rolls I'd love to try:
Sweet Potato Dinner Rolls on The Piquey Eater
Sweet Potato Rolls on Olivia's Cuisine
Knotted Dinner Rolls on Blissfully Delicious
Gluten Free Hawaiian Bread Rolls on Recreating Happiness
Print
No Yeast Quick Dinner Rolls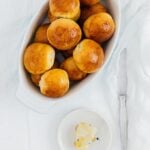 Soft and fluffy quick dinner rolls without yeast. Secret ingredients are yogurt, olive oil and baking powder.
Author:
Prep Time:

10 minutes

Cook Time:

20 minutes

Total Time:

30 minutes

Yield:

30

-

40

rolls

1

x
Category:

Bread

Method:

Baking

Cuisine:

American
Scale
Ingredients
5 teaspoon

s baking powder

2 teaspoon

s salt

2 cup

s plain yogurt

1 cup

olive oil or another oil

2 teaspoon

s sugar, optional

5 cup

s all purpose flour

1/2

to

1

cup whole wheat flour

1

egg yolk
Instructions
Preheat oven to 370F (190C). Line a baking sheet with parchment paper and put aside.
Mix baking powder, yogurt, olive oil, salt and sugar in a large bowl well.
Whisk all purpose flour and whole wheat flour and gradually add the flour into the wet mixture and mix with your hand or with a stand mixer until you have a non-sticky dough.
Shape the dough into balls and place them on the parchment paper.
Beat the yolk well and coat the top of dough balls with it using a brush.
Bake for about 20 minutes or until golden.
This post was originally published in 2014 and has been updated with a video, a new photo and some additional information.
IF YOU LIKED THIS RECIPE, THEN YOU WILL LOVE THESE: