A fantastic tomato sauce has to be packed with flavor, have multiple uses, and should be easy to adapt and incorporate into other dishes. This sun-dried tomato sauce recipe is just that and so much more! It is extremely quick to make and goes well with a wide variety of foods.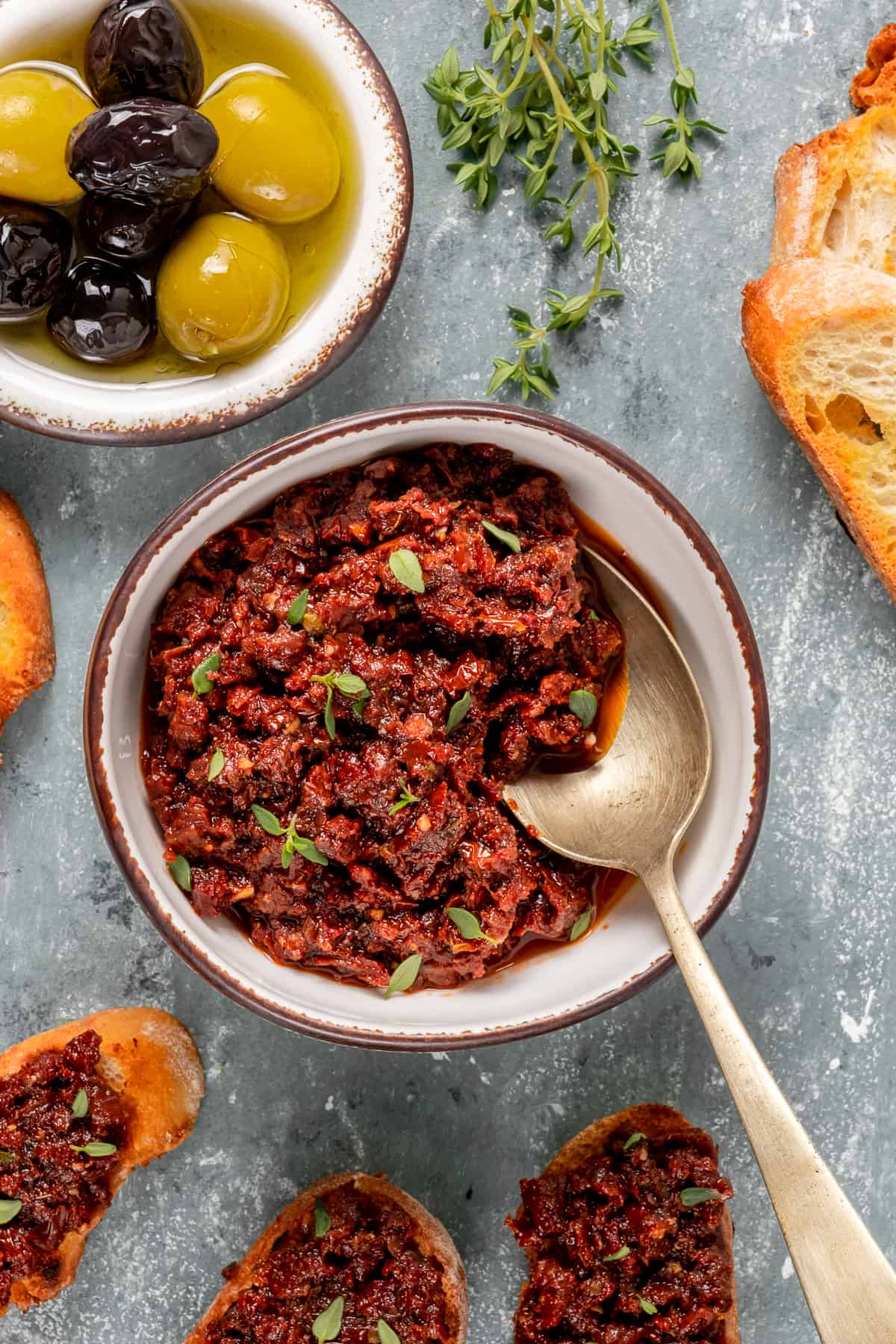 Most Turkish dishes are packed with the irresistible flavor of tomatoes. We often use sun-dried tomato paste to get that flavor. You can find lots of recipes with it here. Likewise, we love to use sun-dried tomatoes in our cooking whenever we can. Check out our feta grilled cheese and sun dried tomato sauce pasta if you haven't seen them yet!
In today's article, we will look at exactly how to make this delicious sauce. We will discuss the different types of sun dried tomatoes you can use and the different ways you can prepare them. Then, we will look at how to make sun dried tomato sauce, give you different tips and tricks, and finally answer some frequently asked questions.
Jump to:
What Are Sun Dried Tomatoes?
Sun dried tomatoes are very ripe and juicy tomatoes that have been dried directly in the sun. This reduces their moisture content, and naturally their size, and drastically alters their flavor, texture, and how they are used.
Drying tomatoes in this way helps concentrate their delicious flavors, creating an intensely sweet and tart flavor punch. Compared to the flavor of their fresh counterpart, it's much more potent and even aromatic.
The texture of these sun dried tomatoes also changes and becomes chewier, so take this into consideration when you want to use them in recipes.
Most of the sun dried products you will find have added sulfur dioxide that helps them retain their color better when they dry out, but it doesn't affect the flavor or texture. That is why we love making our very own, so we know there are no additives.
There are two types of sun dried tomatoes available; oil-packed and regular. The only difference is that oil-packed tomatoes are soaked in oil to help preserve them and add flavor, while regular sun dried tomatoes aren't altered in any way; they are simply dried and packaged.
Ingredients
For this flavor-packed sun dried tomato sauce, we are using a few basic ingredients that are very well balanced considering you don't have to cook any part.
Our most important ingredient is of course the sun dried tomatoes. For this recipe, it is better to choose unflavoured sun dried tomatoes to achieve the best rich and deep sauce flavors.
The addition of tomato paste adds an even deeper flavor and creamy texture.
To add the acidic element that traditional homemade tomato sauces have, we prefer vinegar and some pomegranate molasses. The vinegar obviously adds the tang, while the pomegranate molasses balances it out.
And finally, no tomato sauce is complete without some thyme or oregano and paprika for color.
How to Make
This is one of the quickest sun dried tomato recipes you will come across. It is extremely easy to adapt and also very versatile! Make sure to have a jar or two ready in your fridge for your next dinner party!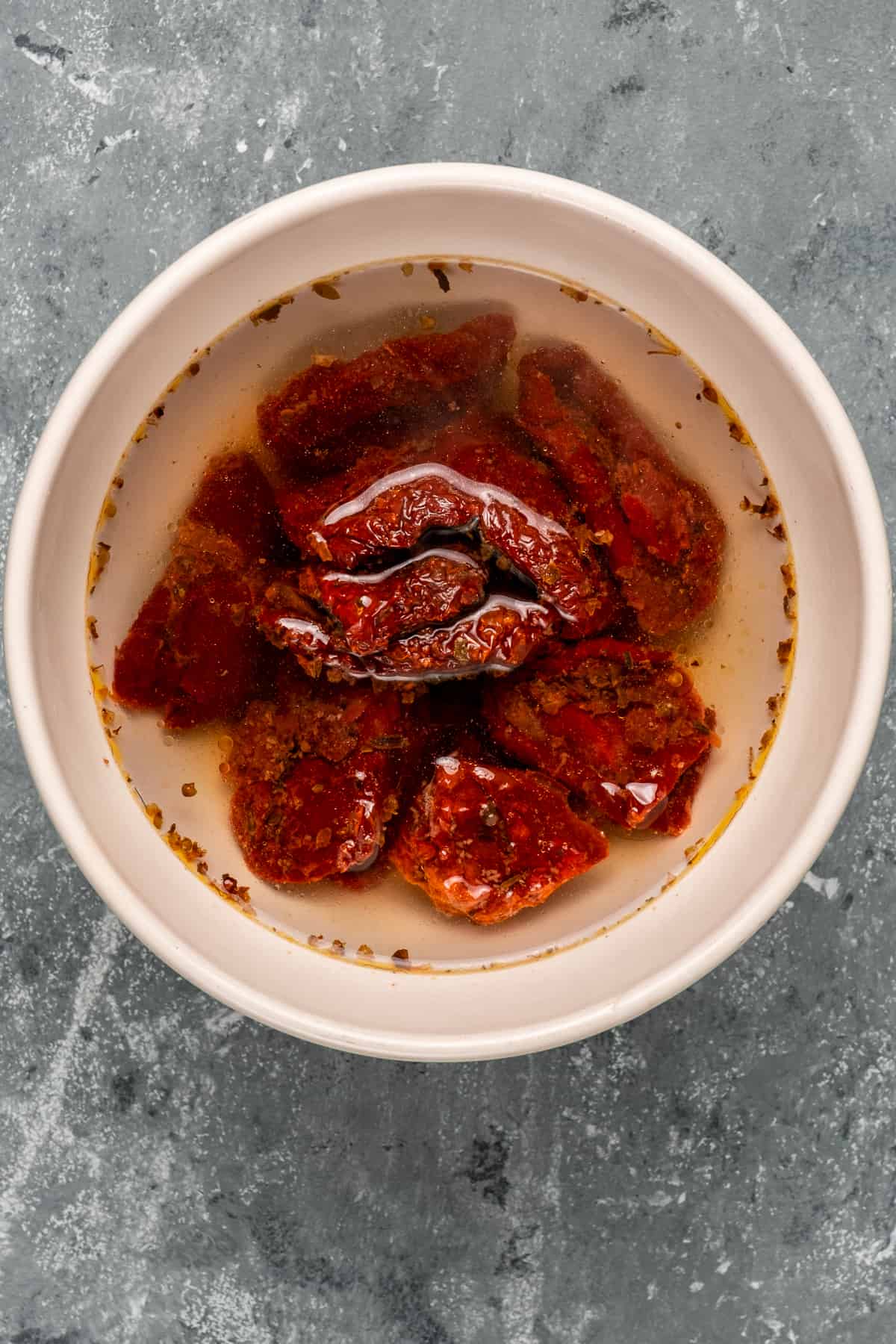 First, soak the dried tomatoes. Add the dried tomatoes to a bowl with hot water and soak them for 10-15 minutes. This will help add some moisture back into them, making them much softer to work with and easier to cut.

Second, combine the ingredients. Chop the soaked tomatoes into a fine almost paste-like consistency and add them into a large mixing bowl.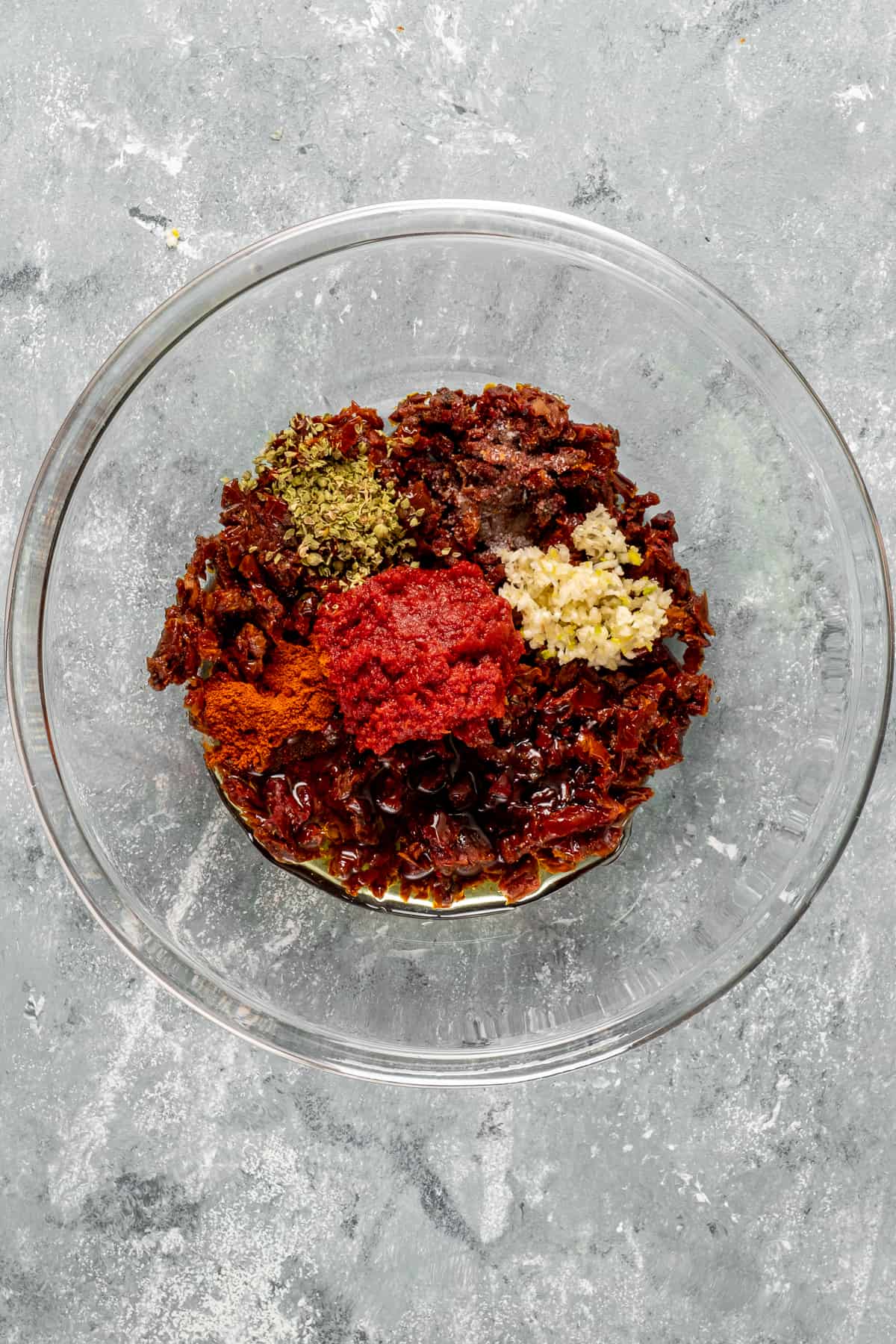 Mash or grate the garlic and add it to the tomatoes along with the remaining ingredients. Mix these ingredients well and serve immediately or store them inside a jar in the fridge for up to 2 weeks.
Tips
You can use either regular dried tomatoes or oil-packed tomatoes. The dry tomatoes, as with this recipe, need to be soaked to give them a better, saucier texture, however, the oil-packed tomatoes are already softened.
You can also choose flavored sun dried tomatoes to add other interesting profiles to your tomato dipping sauce. There are tons of different ones available so you have a ton of options to experiment with.
Other flavorful ingredients you may want to add include cream cheese or Greek-style yogurt. This type of ingredients creates a milder taste and more creamy and rich texture. Keep in mind that it will shorten your storage time to about 1 week.
If you want to create your own unique flavor profile, try experimenting with different spices and spice mixes.
What to Make With This Sauce
This is an extremely versatile sauce that can be used in hundreds of ways! We highly recommend serving this with some crackers or freshly baked slices of bread to make a delicious sun dried tomato appetizer.
Besides spreading this sauce on bread, you have some more options to use it. You can use it as a spread on pizza dough or use it in pasta recipes. We love pasta with sun-dried tomatoes and combine this sauce with cooked pasta when we have it on hand.
Alternatively, you can also use it to make delicious casseroles, stews or soups!
FAQs
Can you eat sun dried tomatoes straight from the jar?
If you want to use sun dried tomatoes for cooking, you have to make sure to rehydrate them. So oil-packed dried tomatoes can be used directly, however regular dried ones have to be soaked first.
When it comes to eating them as is, both are edible, it is simply a matter of preference. Dried tomatoes can be very chewy and many people prefer their oil counterparts.
Should you cook sun dried tomatoes?
You do not have to cook sun dried tomatoes. This recipe is the perfect example of how they can be used raw to create a delicious uncooked sauce.
How do you store sundried tomatoes long-term?
Sun dried tomatoes do freeze well and will keep for several months. Simply freeze them inside their original vacuum-packed bag, or place them inside a freezer zip lock bag. Make sure all of the air has been squeezed out. Then you can place them in the freezer until you're ready to use them again.
How are sun dried tomatoes made?
Making them is extremely easy, but it does take some time. We prefer cutting out cherry or baby tomatoes into halves or quarters. Then you can choose to salt them or leave them as is. Place the tomatoes in a single layer on a tray and place them in direct sunlight.
All you have to do now is wait for a couple of days until they are fully dried.
Alternatively, you can dry these in an oven on low heat, however then you wouldn't really call it "sun dried" tomatoes. 
How do you soften sun-dried tomatoes?
You can soak your regular dried tomatoes in any type of liquid. We used hot water to prevent any flavor changes, however, for different recipes you can use different liquids. Wine, stock, and juice are great and flavorful options.
Warm liquids will make the process much quicker, but if you have time you can leave it in the refrigerator overnight. 
More Tomato Based Recipes
As always: If you make this recipe, let us know what you think by rating it and leaving a comment below. And post a pic on Instagram too—tag @give_recipe so we can see!
Sign up for the FREE GiveRecipe Newsletter to get the new recipes into your inbox! And stay in touch with us on Facebook, Pinterest, YouTube and Instagram for all the latest updates.
Print
📖 Recipe
Sun-Dried Tomato Sauce
An amazing sauce made with sun-dried tomatoes, garlic and spices. Use it in sandwiches, salads or in pasta recipes.
Author: Zerrin & Yusuf
Prep Time:

15 minutes

Total Time:

15 minutes

Yield:

4

Category:

Side Dish

Method:

Mixing

Cuisine:

Turkish

Diet:

Vegetarian
10 sun dried tomatoes (100g)

2 cloves garlic

1 tablespoon vinegar

1 teaspoon pomegranate molasses

3 tablespoon olive oil

1 tablespoon tomato paste

A pinch of salt

1 teaspoon paprika

1 teaspoon thyme or oregano
Instructions
Soak dried tomatoes in hot water for 10-15 minutes. This will help soften the dried tomatoes.

Chop the tomatoes well and transfer into a mixing bowl.

Mash the garlic and add that in the bowl.

Add in all the remaining ingredients and mix well. 

Either serve it as an appetizer or keep it in an airtight container or a jar in the refrigerator for up to 2 weeks.
Notes
You don't need to soak the dried tomatoes if you are using sun dried tomatoes in oil in jars. They are already soft.

You can add cream cheese or Greek style yogurt in the mixture if you like. But then the storage time is shorter.

You can play with the spices in it to your liking.
Nutrition
Serving Size:
Calories:

218

Sugar:

4.1 g

Sodium:

84.6 mg

Fat:

21.5 g

Carbohydrates:

7.7 g

Protein:

2 g

Cholesterol:

0 mg
Keywords: sun dried tomato sauce, sun dried tomato pasta sauce