This mouth-watering Sun Dried Tomato Pasta is filled with the amazing flavor of tangy and sweet sun-dried tomatoes. It is extremely easy to make and ready in under 30 minutes.
If you love the flavor of sun-dried tomatoes, you might want to see our sun dried tomato sauce appetizer. And we often use our homemade tomato paste in recipes like this to have even a richer flavor.
Today we will look at this delicious vegan sun-dried tomato pasta recipe. We will discuss the different ingredients that can be used, the different add-ins or substitutions you can make, and then how to make this delicious dish. Then, we will also dive deep into some helpful tips and finally answer some regularly asked questions.
Jump to:
Ingredients
You can use any type of pasta such as fusilli or penne pasta. The reason these two types of kinds of pasta work best is because of their unique shape, both being tubular.
Penne is straight whereas fusilli has a corkscrew shape to it. The tube-like shape allows more sauce to be held with every bite. These two kinds of pasta work amazing with recipes that have thick and juicy sauces, like ours! Alternatively, you can make your own pasta without a machine and use it for this recipe.
Next, we of course have our delicious and mouth-watering sun dried tomato pasta sauce. This sauce gets most of its flavor from the intense tomato paste, and of course, the sun dried tomatoes.
There are a few different types of sun dried tomatoes you can use, but we would recommend using an unflavoured one to start with. Have a look at our tips section to see how the different types should be used and incorporated.
We also included a bunch of flavorful spices and aromatics like fresh garlic, cumin, oregano, paprika, and a dash of red pepper flakes. These ingredients blend together beautifully to create an extremely flavorful and well-balanced tomato sauce.
How to Make It
This pasta with sun dried tomatoes is extremely quick and easy to make and can be served either hot or cold! All of its ingredients are perfectly balanced to create an extremely flavor-packed pasta dish that the whole family will love!
First, cook the pasta. Cook the pasta of your choice according to the package instructions. When finished, drain the water from the cooked pasta and reserve about 1 cup of pasta water.
Second, make the sun dried tomato sauce. Heat the olive oil over medium heat, add the tomato paste, minced garlic, and all of the spices.
Stir for about 1 minute so the flavor intensifies.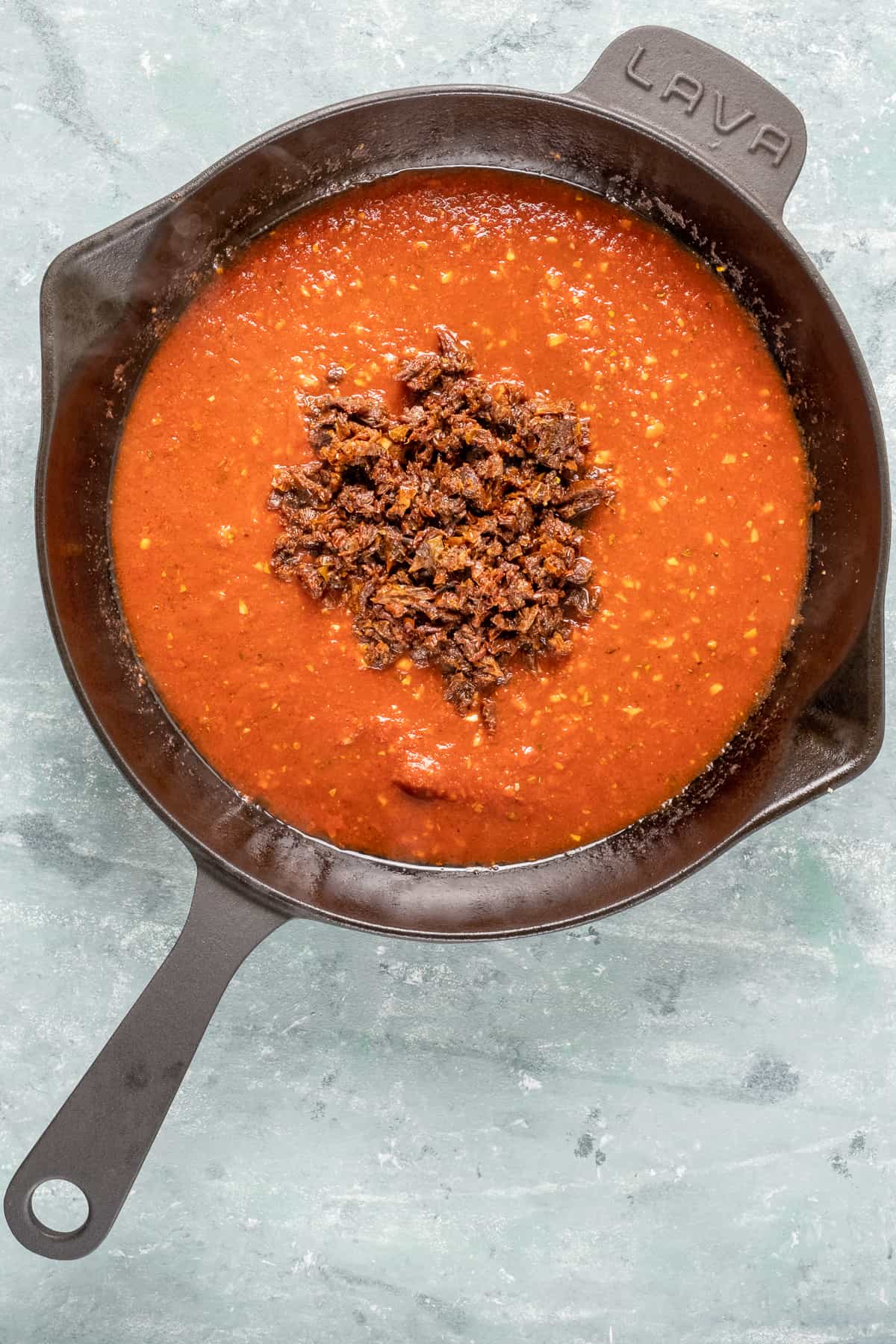 Then, add half the pasta water and bring it to a boil. Add the chopped sun dried tomatoes and cook for about 5 minutes.
Stir in the pasta and cook it for roughly 2-3 minutes, then add the remaining pasta water to adjust the consistency if needed.
Third, garnish and serve. Remove the finished sun dried tomato pasta from the heat and stir in the freshly chopped mint and basil. Serve it immediately with a dollop of yogurt for added texture and flavor.
Variations
Even though our dried tomato pasta is vegan and delicious on its own, there is always room for some add-ins.
You can easily add some heavy cream to create a more creamy texture and add richness to your sauce. If you want to keep it vegan, you can use coconut cream. Use regular one if you are not following a vegan diet. Alternatively, you can simply top it with yogurt of your choice when serving.
Then, of course, as a classic accompaniment to many tomato-based dishes and pasta, you can add some fresh spinach. We sometimes prefer using baby spinach as it requires a lot less work and is easy to eat, but you can use regular spinach leaves with their veins removed.
Lastly, you can turn this pasta into a meaty version with some added chicken. To do this is simple; pan-fry some chicken fillets or chicken pieces and stir them into your finished pasta.
Tips
There are a few different types of sun dried tomatoes you can use. The two main types you can get are dry and oil-packed. Then, you also get various flavors that can add even more flavor to your pasta if used correctly.
Dry tomatoes (the ones that aren't in the oil) have to be hydrated and softened to more easily be incorporated into the pasta. You can soak these tomatoes in warm water for about 10 minutes before chopping them and adding them to your sauce.
If you are using oil-packed olive oil, you can use the oil from the packet instead of the olive oil. This oil already has a ton of tomato flavors that will enrich your pasta even further.
Be careful when salting your pasta as sun dried tomatoes are already pretty salty. You can adjust it of course, but rather taste the dish first before adding more.
We love fresh mint in fresh pasta sauces like this one, however, it is optional. If you prefer only using the fresh basil, you can definitely do so!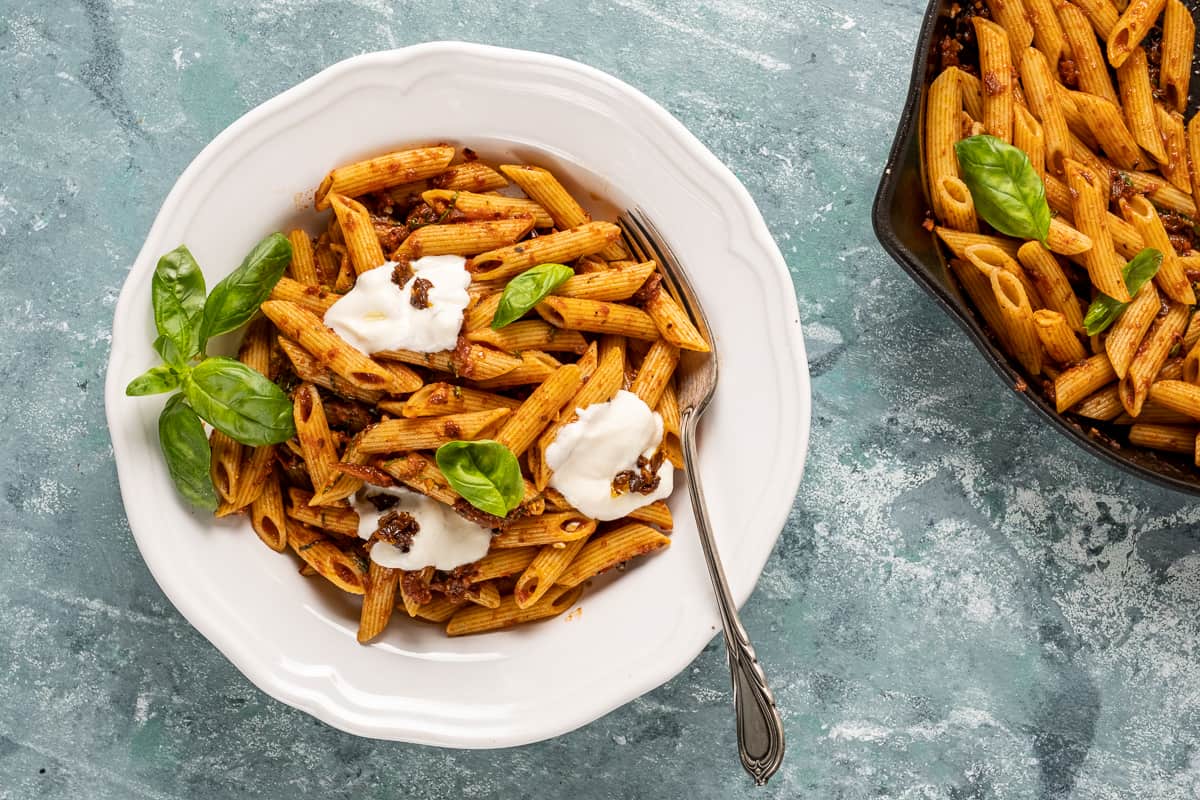 FAQs
Is this a vegan sun dried tomato pasta recipe?
This sun dried tomato recipe is completely vegan! It only uses various forms of tomatoes, some spices, herbs, and pasta.
What are the substitutes for sun dried tomatoes in this recipe?
If you don't like sun dried tomatoes, or you don't have any on hand, you can substitute it with some extra tomato paste or some olives. Both these ingredients have intense flavors very similar to that of sun dried tomatoes.

Use about 1 tablespoon added tomato paste, and about ¼-⅓ cup chopped olives.
Can I make the sauce ahead of time?
This sauce is extremely easy to make ahead of time. Simply make the sauce, allow it to cool completely at room temperature, and place it in an airtight container inside the refrigerator. There it will keep for roughly 5-7 days, even if you have already mixed it with pasta.

Alternatively, you can freeze the sauce by itself for several months. Don't freeze the pasta as it tends to disintegrate and change the consistency of the dish and sauce itself.

Can I use pesto instead of fresh basil?
You can use a basil pesto instead of fresh leaves, however only use a bit. Pesto has a very intense flavor that might overwhelm that of the tomato sauce.
More Pasta Recipes
As always: If you make this recipe, let us know what you think by rating it and leaving a comment below. And post a pic on Instagram too—tag @give_recipe so we can see!
Sign up for the FREE GiveRecipe Newsletter to get the new recipes into your inbox! And stay in touch with us on Facebook, Pinterest, YouTube and Instagram for all the latest updates.
Print
📖 Recipe
Sun Dried Tomato Pasta
Pasta with sun-dried tomatoe sauce.
Author: Zerrin & Yusuf
Prep Time:

10 minutes

Cook Time:

12 minutes

Total Time:

22 minutes

Yield:

4

1

x
Category:

Lunch

Method:

Cooking

Cuisine:

American

Diet:

Vegetarian
Pasta:
250g

(9 ounces) pasta (such as penne or fusilli)

½ teaspoon

salt
Sauce:
2 tablespoon

olive oil

2 tablespoon

tomato paste 

4

cloves garlic(small), mashed

¼ teaspoon

black pepper

A pinch of cumin

A pinch of oregano

½ teaspoon

paprika

¼ teaspoon

red pepper flakes

1 cup

chopped sun-dried tomatoes 

1 tablespoon

fresh mint, chopped (optional)

¼ cup

fresh basil, chopped

Yogurt for serving



Instructions
Cook pasta according to package instructions. 

Save 1 cup of the boiling pasta water and drain the rest of it.

Heat olive oil in a pan. Add in tomato paste, mashed garlic and spices. Cook these for a minute.

Pour half of the pasta water in it and bring it to a boil. 

Add in chopped sun-dried tomatoes and cook for about 5 minutes. 

Add in the cooked pasta, toss to coat and cook for 2-3 minutes. Add the remaining pasta water if needed. 

Remove from the heat. Add in chopped fresh mint and basil and give it  a good stir.

Serve it with yogurt. You can even top it with sun-dried tomato sauce spread if you have some on hand.
Notes
If the sun-dried tomatoes are stored in oil, you can substitute that oil for olive oil in the recipe.

If the sun-dried tomatoes you are using are not in olive oil and if they are not soft enough, soak them in warm water for about 10 minutes and then chop them.

Sun-dried tomatoes are mostly salty, so no need to add extra salt in this sauce. However, you can add a little salt if you think the sauce needs it. So just taste and adjust it.

Fresh mint is optional in this recipe. We love its flavor in sauces like this, but if you want the flavor of basil only, leave fresh mint out.

You can make additions to this sauce. Heavy cream, coconut cream, spinach, chicken are some examples.
Nutrition
Serving Size:
Calories:

343

Sugar:

7.8 g

Sodium:

315.5 mg

Fat:

8.6 g

Carbohydrates:

57.5 g

Protein:

10.8 g

Cholesterol:

0 mg
Keywords: sun dried tomato pasta, sun dried tomato pasta sauce