Red Velvet Crinkle Cookies are still another red treat that shows my love of red these days. We're welcoming the month of red and pink right? So I'm not sure if this will be the last one. You will probably see some more red recipes here. Red Velvet treats are so pupular around Valentine's Day, so you might want to see our Classic Red Velvet Cake and Red Velvet Chocolate Chip Cookies before you plan your special day.
The idea of making these red velvet crinkle cookies came out when I was making the red velvet chocolate chip cookies. While I was making the cookie balls, I thought it would be a nice addition to add some chocolate inside the cookie dough, so I replaced milk with melted chocolate. I guess the same amount of nutella would work fine too. Wow! The result is amazing! I will use more chocolate next time to see if I can make these even more chocolaty. The more, the better. These are really chewy outside and moist inside. Just get a bite and have a look at the remaining piece, you will fall in love with it.
I combined all-purose flour and cocoa powder in the recipe, so my cookies don't look too red, that's how I like them. You can arrange the tone of the color red yourself. You can add more food coloring after you combine everything if you like it redder. You might need to a little more flour then. Or you can just reduce the amount of cocoa powder and add more flour instead to have a redder look.
I used a combination of brown sugar and powdered for these cookies as brown sugar helps the cookies get chewy. You might use just powdered sugar, but your cookies might not be as chewy. Make sure you chill the dough longer if you leave brown sugar out since chilling helps the chewiness too.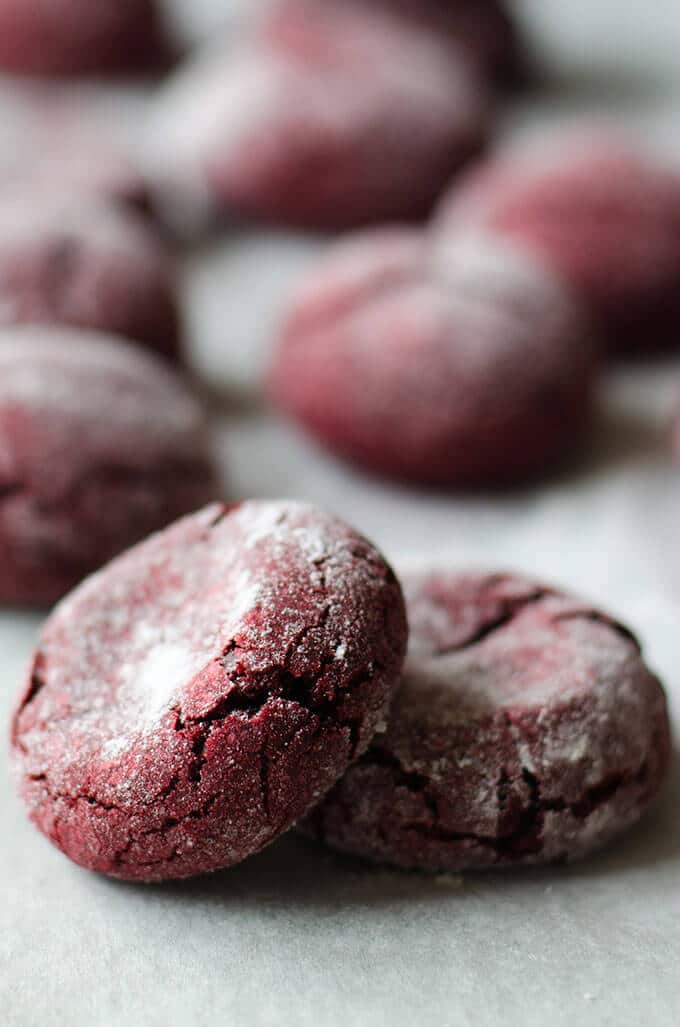 I would say these red velvet crinkle cookies make perfect gifts but I'm not sure if you would want to share them with others. They are that addictive! You will agree with me when you make these. So you might even want to double the recipe.
zerrin
Yields 3
Red Velvet Crinkle Cookies
These cookies are chewy outside and moist inside. Melted chocolate is added in these and you will love it.
1 hr, 15 Prep Time
12 minCook Time
1 hr, 27 Total Time
Ingredients
1 tablespoon semi sweet chocolate or nutella
1/2 cup (110g) butter, softened
1/2 cup brown sugar
1/2 cup powdered sugar
1 egg, at room temperature
1 teaspoon vanilla
1 and 3/4 cups all purpose flour
1/4 cup cocoa powder
1/4 teaspoon salt
1 teaspoon baking soda
2 and 1/2 tablespoons red food coloring (I used liquid)
1 cup powdered sugar for coating
Instructions
Melt semi sweet chocolate chips in a double broiler or in a heatproof pan over simmering water. Put aside until it reaches room temperature.
Mix butter and sugars with an electric mixer or with a spatula until creamy.
Beat egg in another bowl and add it into the mixture.
Add in melted chocolate, vanilla and red food coloring. Mix well.
Combine flour, cocoa powder, salt, baking soda in a separate bowl and gradually add in the butter mixture.
Chill the dough at least for 1 hour.
Preheat oven to 350F (180C). Line two baking sheets with parchment paper and set aside.
Scoop out 1 tablespoon of dough and make it a ball. Put 1 cup powdered sugar in a bowl and roll the cookie ball into the powdered sugar. Coat it well with powdered sugar. Place on the parchment paper. Bake each for 11 minutes.
Remove from oven and wait on the baking sheets for 5 minutes. Then let them cool completely on a wire rack.
Notes
1. I gently pressed on some of them with my two fingers to give them a flat look. You can do the same or just leave them as they are.

2. The powdered sugar I used to coat the cookies almost melted, so I sifted some more after they partly cooled.
7.5
135
https://www.giverecipe.com/red-velvet-crinkle-cookies/
IF YOU LIKED THIS RECIPE, THEN YOU WILL LOVE THESE: