Ever wondered how to cut okra? It can be tricky, but no worries! In this post, we'll guide you step by step through the process. From slicing to storing, we've got you covered.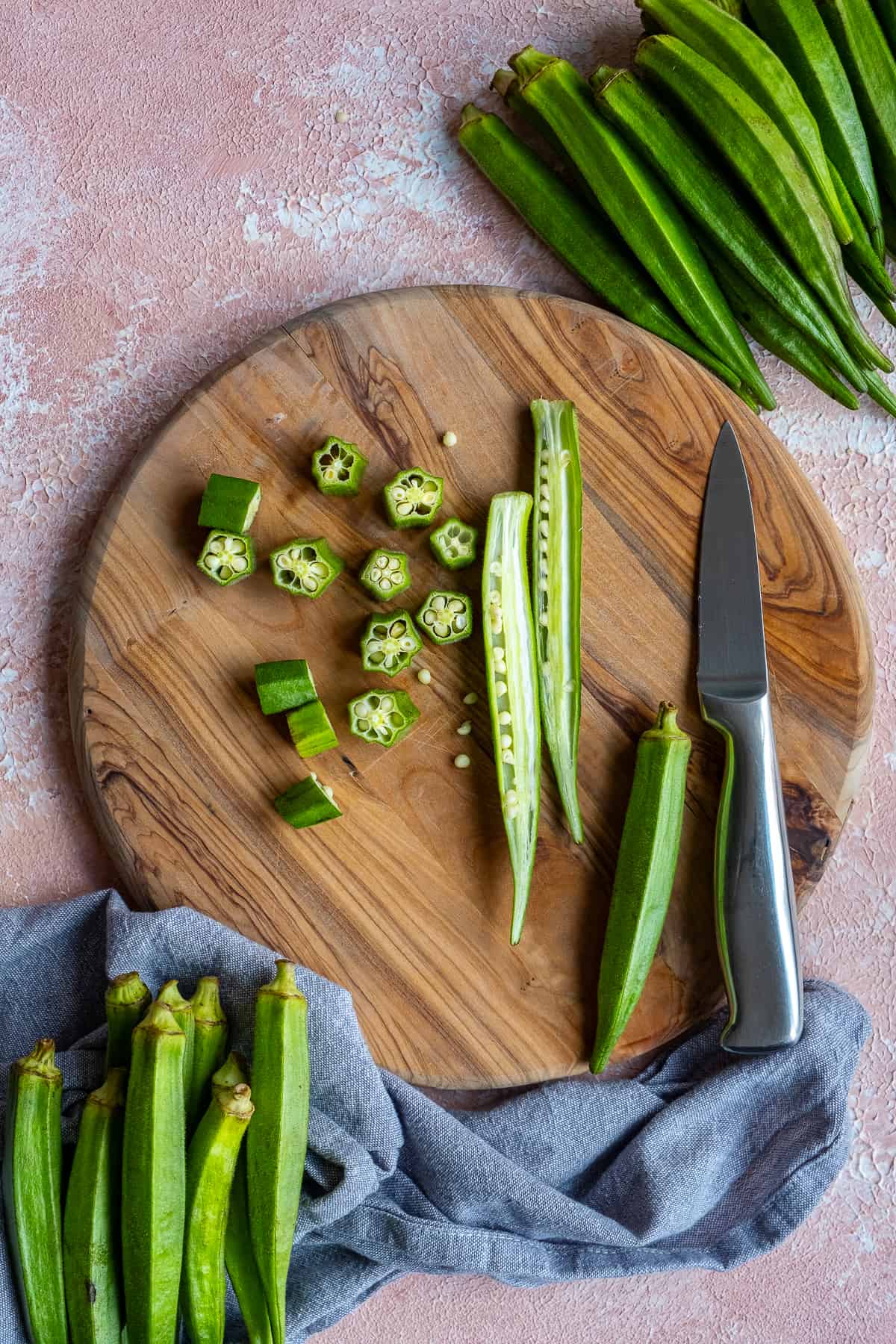 We absolutely adore okra here! It's a versatile vegetable that we enjoy in various forms, such as a savory Middle Eastern okra stew known as bamya, delicately okra chips, and air-fried okra for a healthier twist.
Each dish has its own unique appeal, and interestingly, each requires a different style of cutting the okra. And we will share these cutting methods with you in this post.
Are you familiar with okra or lady's fingers? It's a green, finger-shaped vegetable that's a favorite in many cuisines around the world.
If you're wondering what it is exactly, okra is a flowering plant known for its edible green pods. It's packed with nutrients and can be cooked in a myriad of ways.
Curious to learn more? We have a comprehensive guide titled "What is Okra?" that covers all the juicy details about this wonderful vegetable.
Jump to:
Buying Okra
Ready to get your hands on some fresh okra? Here are our tips to guide you while buying okra:
Check the Color: The brighter, the better! Look for okra with a vibrant green color.
Feel the Texture: The pods should be firm to the touch. Softness can indicate over-ripeness.
Spot the Blemishes: Clear, smooth skin is what you're after. Avoid okra with cuts, bruises or blemishes.
Size Does Matter: Smaller okra, about 2-4 inches long, are usually the best picks. Larger ones can sometimes be tough and fibrous.
How to Properly Wash and Dry Okra
Getting your okra ready for cooking is as easy as washing and drying it. There are two ways to wash your okra. Here's how: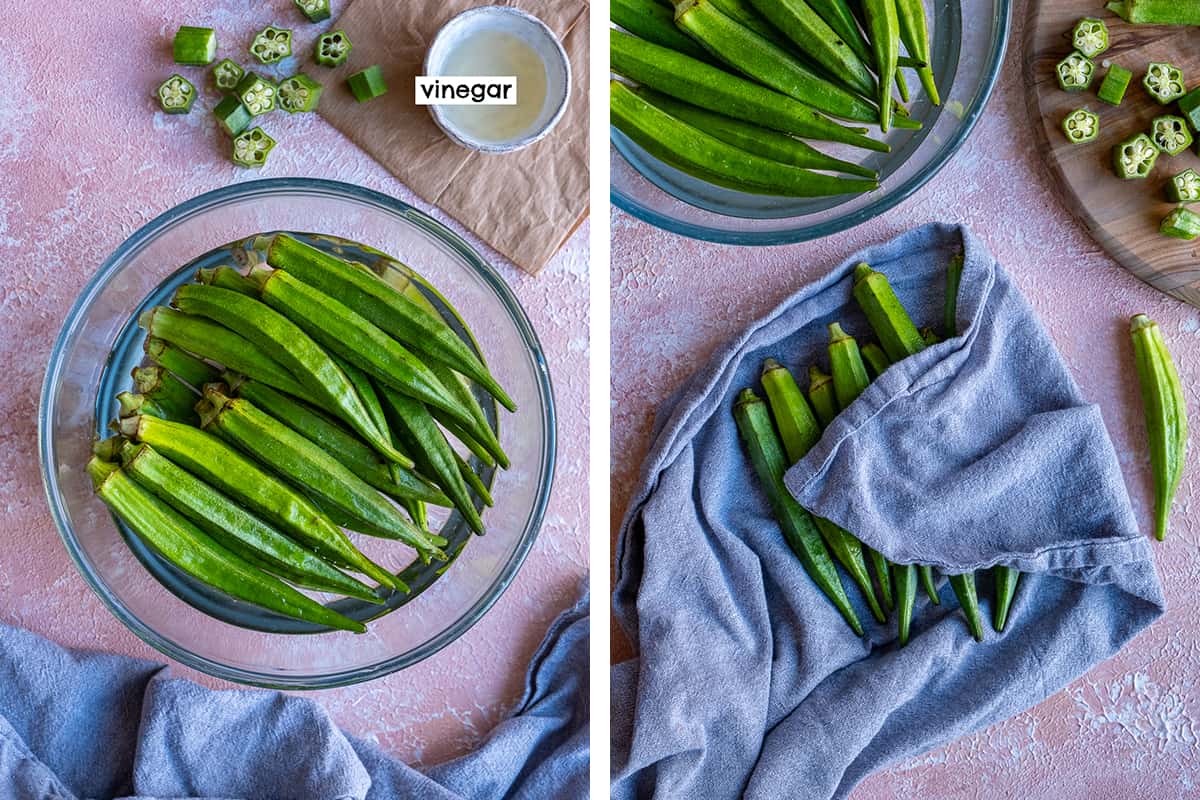 Rinse the Okra Under Cold Water: Place your okra in a colander or sieve. Run it under cold water while gently rubbing each pod with your fingers to remove any dirt or debris.
Soak Okra in a Vinegar-Water Solution: If you want to be extra thorough or reduce some of the okra's natural sliminess, you can soak the okra in a mixture of vinegar and water. Just combine one part vinegar with two parts water in a large bowl, add your okra, and let it soak for about 5 to 10 minutes. This not only helps clean the okra further but also aids in reducing its sliminess. After soaking, give the okra another quick rinse under cold water.
Once your okra is cleaned, it's time to dry it.
Pat Dry the Okra: Using a clean kitchen towel or paper towel, gently pat each okra pod dry. It's really important to ensure your okra is completely dry before cooking, as this can help further reduce sliminess. With your okra washed and dried, you're ready to start slicing!
Washing Before or After Cutting
We recommend washing okra before cutting for two key reasons:
Removal of surface dirt and debris: Washing okra before cutting allows you to effectively remove any surface dirt, debris, or residues that may be present. By washing the whole okra pods before slicing them, you ensure that you start with clean and hygienic okra for your recipes.
Minimization of slime release: When okra is cut and exposed to water, it can release more slime, leading to a potentially slimier result. By washing okra before cutting, you can minimize the release of slime, making it easier to handle and reducing the overall slime factor in your dish.
Step-by-step Guide on How to Cut Okra
Learning how to cut okra properly can make a big difference in your cooking. Here's a detailed guide on how to do it: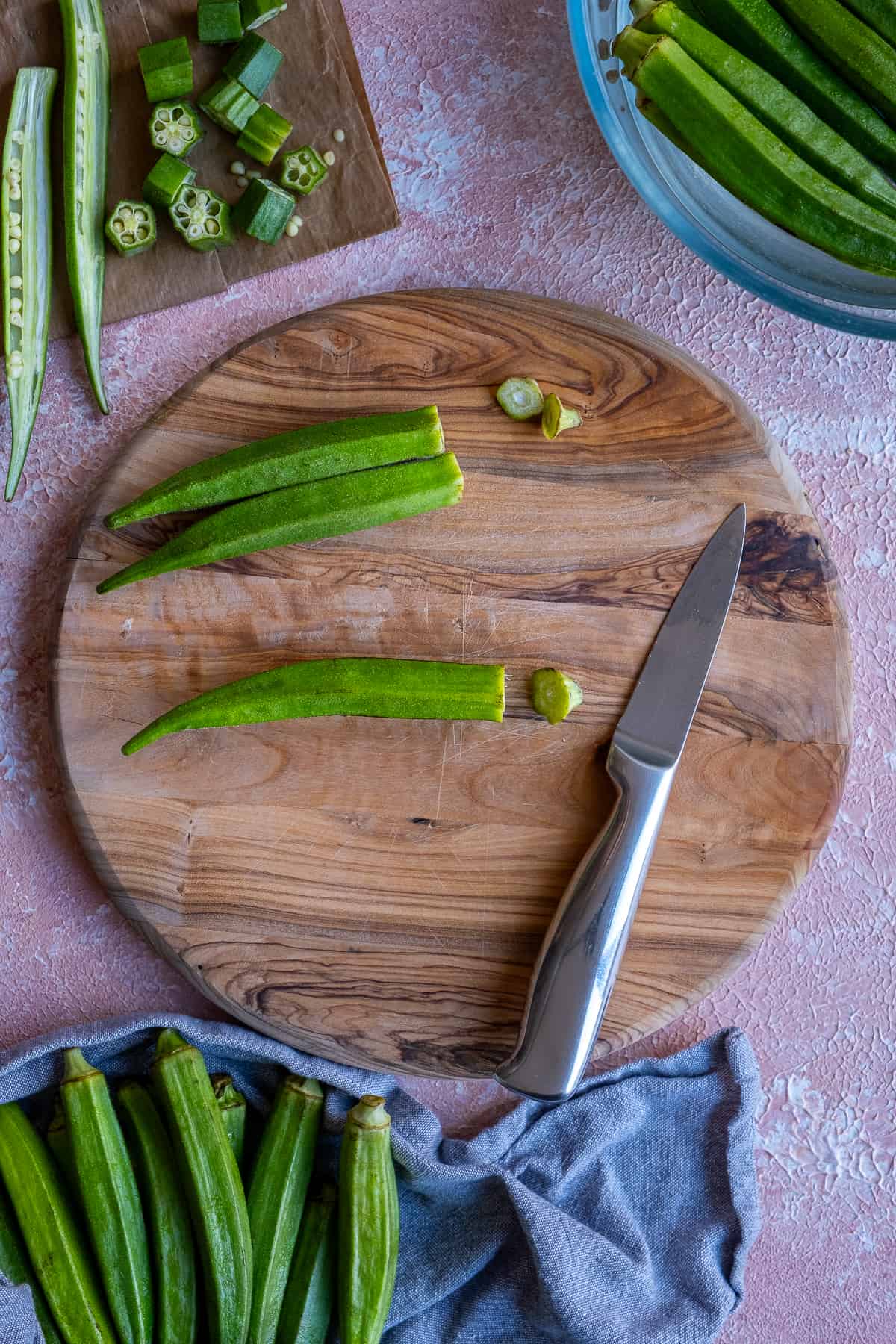 Trim the Ends
Start by placing an okra pod on a clean, stable cutting board. Take a sharp kitchen knife and carefully slice off the very end of the stem side. This is the narrower end where the okra was once attached to the plant.
By cutting off the stem end, you remove any tough or woody portion, ensuring a clean and even surface. However, it is important to note that the majority of the okra pod is typically left intact. This helps preserve the structural integrity of the okra while cooking and prevents excessive sliminess.
You can also trim a small portion from the base or tail end of the okra if desired.
Remember to make small cuts - the idea is just to remove the ends, not a significant portion of the pod.
Slice the Okra
Now it's time to choose how you want to slice your okra. This depends on your personal preference or the requirements of the recipe you're following.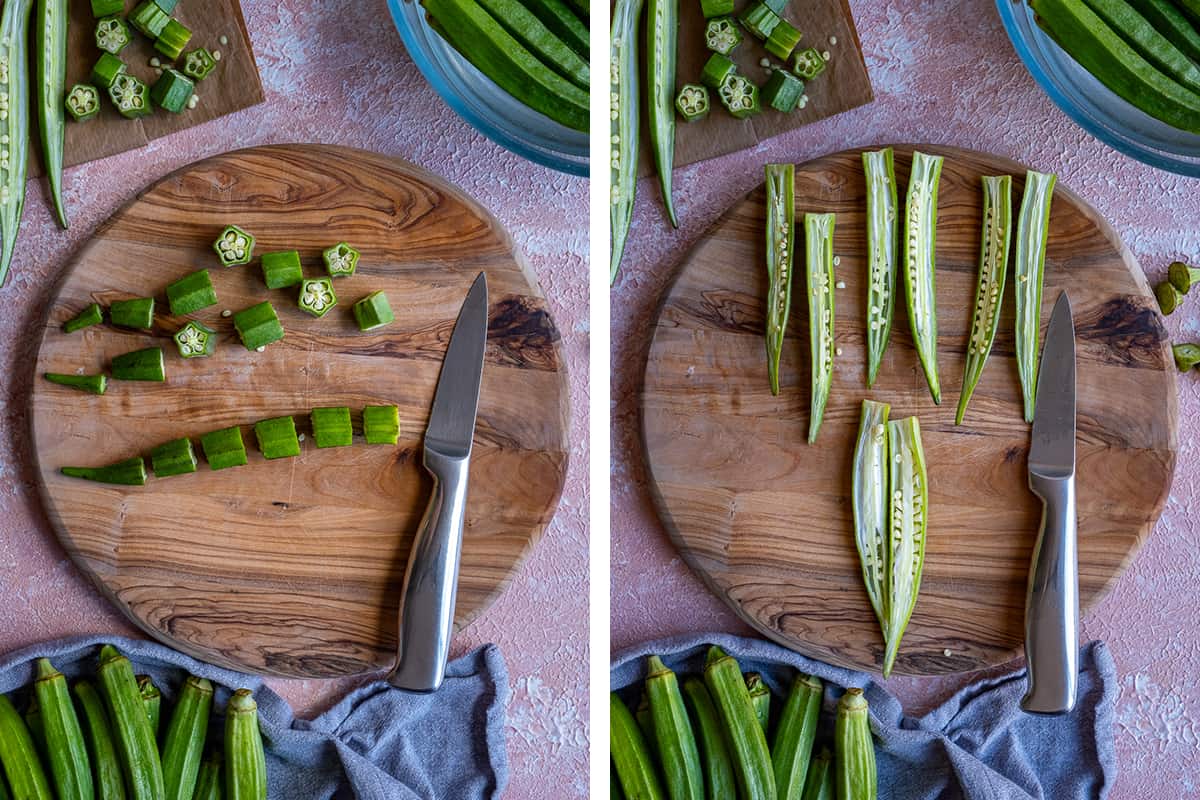 Cutting into Rounds: Hold the trimmed okra at one end and slice it crosswise into even pieces, approximately ½ inch thick. These round pieces are excellent for dishes like gumbo, stews, soups or fried breaded okra, where the okra is thoroughly cooked and integrated into the dish.
Slicing Lengthwise: If you want to roast, grill or air fry your okra, or if you're using it in a stir-fry, you might want to cut it lengthwise. To do this, place the okra flat on your cutting board and slice it in half from top to bottom, creating two long pieces.
Reduce the Sliminess
Okra is known for its sliminess, which is more noticeable when it's cut open. To minimize this:
Keep everything dry: Make sure your knife and cutting board are completely dry before you start cutting. Wetness can exacerbate the release of the slimy substance inside the okra.
Don't wash after cutting: Washing okra after it's been cut can increase the sliminess, so it's best to avoid it.
More Tips to Reduce the Slime
While the sliminess of okra is natural and even valued as a thickening agent in some dishes like gumbo, we understand that not everyone (including us) enjoys its texture.
That's why we're here to share some helpful tips to reduce the slime factor when cooking with okra.
Soak okra in water and vinegar (or lemon juice): Soaking okra in a water and vinegar (or lemon juice) solution for about 5 minutes before cutting can help reduce slime. The acid in the mixture neutralizes the sliminess, making it easier to handle. Rinse the okra thoroughly with water before using it in your recipes.
Don't cut okra very thinly: When cutting okra, avoid slicing it too thinly. The more you chop or slice the okra, the more slime it tends to release. Keeping the okra pieces slightly thicker helps reduce the overall slime factor.
Add acidic ingredients: Adding acidic ingredients when cooking like lemon juice, vinegar, or tomatoes can help neutralize the sliminess of okra. The acidity helps to balance and reduce the slimy texture.
Don't stir it too much when cooking: Excessive stirring of okra during cooking can contribute to increased slime. To minimize slime, avoid stirring the okra too frequently. Allow it to cook undisturbed for a bit to help maintain a firmer texture.
Cook with high heat: Cooking okra over high heat can minimize the release of slime. High heat allows for quick cooking, resulting in a crispier texture and less sliminess.
Consider cooking whole okra pods: If possible, cook whole okra pods. This helps to reduce the exposure of the okra's interior, minimizing slime release.
Can I Cook Okra Whole?
Depending on the type of okra you have and the dish you're planning to make, leaving your okra whole might be the best way to go. For instance, smaller, tender pods are often perfect for keeping whole.
Dishes like stuffed okra, bamya, or grilled okra often call for the whole pod, as it helps retain the shape and control the release of the internal mucilage, thus reducing the sliminess.
Always ensure that you just slightly trim off the stem end, avoiding cutting into the body of the pod. So don't hesitate to let your whole pods stand whole in your cooking!
Pro Tip: When cooking whole okra, avoid cutting the top too deeply. Trim just the woody part of the stem end without exposing the inner part where the seeds are. You shouldn't be seeing those seeds. This is the best way of cooking okra without slime.
How To Store Cut Okra
We think it's best to use cut okra right away for the freshest flavor.
However, if you have leftovers, we recommend storing it in the freezer. If you don't know how to freeze okra, here is a short explanation of it:
First, blanch your cut okra by quickly boiling it and then cooling it down in icy water. This process helps to lock the firm texture and the wonderful nutrients of the okra.
Let them freeze on a baking sheet in a single layer. Then, place the frozen okra in a freezer bag or container.
With this method of blanching and freezing, you can store okra fresh for up to a year, ready for you to enjoy in your favorite way of cooking frozen okra when you please.
Pro Tip: If you plan on using your okra within a day or two, we advise against cutting it ahead of time. Instead, we recommend storing whole okra in a paper bag in the refrigerator. This simple method helps to keep the okra fresh and ready for when you're set to cook!
Okra Recipes To Try
Here are a few mouthwatering dishes that feature cut okra as a star ingredient:
Middle Eastern Okra Stew (Bamya): This hearty and flavorful stew brings together tender okra and tomato sauce. It could be either vegetarian or with beef, lamb or chicken. It's a comforting dish that pairs perfectly with rice or warm bread.
Roasted Okra Chips: Okra pods tossed with olive oil and seasonings, then roasted in the oven until they turn crispy and slightly caramelized. 
Okra Fries: Crispy, seasoned, and oh-so-addictive, okra fries are a fantastic alternative to traditional potato fries.
Frozen Okra in Air Fryer: If you have frozen okra on hand, you can still achieve a crispy and delicious result using your air fryer. The result will be crispy and golden-brown okra that makes a great appetizer or side dish.
Air Fried Breaded Okra: Cut okra coated in a seasoned breading, then air fried to crispy perfection. This method offers a healthier alternative to traditional fried okra. 
Sauteed Okra: Okra slices quickly cooked in a skillet with a little oil and seasonings until they become tender and slightly caramelized.
Pickled Okra: Pickle whole okra pods in a mixture of vinegar, water, and spices. You will get tangy and crunchy pickles. They can be enjoyed as a snack, added to sandwiches, or used as a condiment.
Okra Curry: A flavorful dish where okra is simmered in a rich and aromatic curry sauce, typically prepared with spices, tomatoes, onions, and sometimes coconut milk. It pairs well with rice or bread.
Gumbo: A classic Louisiana dish featuring a thick and flavorful soup or stew made with a variety of ingredients, including okra, chicken, sausage, and a blend of vegetables or herbs and spices. It's often served with rice.
Okra and Tomato Stew: A comforting stew famous in American Southern cooking. It is made with okra and ripe tomatoes, simmered together with onions, herbs, and sometimes additional vegetables or protein.

FAQs
Do you cut the ends off okra before cooking?
Yes, it is generally recommended to trim the ends of okra before cooking. The ends referred to are the stem ends of the okra pods.
Does lemon remove slime of okra?
Yes, lemon can help reduce the slime of okra. The acidity in lemon juice can neutralize the sliminess and make the texture of okra less sticky. Adding lemon juice to okra dishes or soaking cut okra in a mixture of water and lemon juice can help minimize the slime factor. 
How long will okra keep after picking?
After picking, okra can be stored for a limited time before it starts to deteriorate in quality. On average, fresh okra can be kept in the refrigerator for up to 3 to 4 days. However, it is best to consume it as soon as possible to enjoy its optimal flavor and texture.
How do you cut okra from the plant?
To cut okra from the plant, use pruners or a sharp knife to make a clean cut above the base of the pod. Harvest young and tender pods, about 3 to 4 inches (7.5 to 10 cm) in length, for the best flavor and texture.
How do you keep okra from getting too tall?
To prevent okra plants from growing too tall, ensure proper spacing during planting, prune as needed, provide support with stakes, harvest regularly, and consider compact varieties. 
How big is too big for okra?
When it comes to okra, the ideal size for harvesting and consuming the pods is around 3 to 4 inches (7.5 to 10 cm) in length. Okra pods become tougher and less tender as they grow larger. If the okra pods are left on the plant for too long, they can become woody and fibrous, making them less enjoyable to eat. It's best to harvest okra when the pods are still young, tender, and vibrant in color.  
More How To Tutorials
Recommended
As always: If you make this recipe, let us know what you think by rating it and leaving a comment below. And post a pic on Instagram too—tag @give_recipe so we can see!
Sign up for the FREE GiveRecipe Newsletter to get the new recipes into your inbox! And stay in touch with us on Facebook, Pinterest, YouTube and Instagram for all the latest updates.
Print
📖 Recipe
How To Cut Okra
Here is our step-by-step tutorial on how to cut okra. Learn the techniques to trim the ends, slice it perfectly, and reduce the sliminess. Find tips for choosing the right okra and storing it properly. 
Author: Zerrin & Yusuf
Prep Time:

5 minutes

Cook Time:

0 minutes

Total Time:

5 minutes

Yield:

4

1

x
Category:

Side Dish

Method:

Cutting

Cuisine:

American
1

pound / 450 grams fresh okra
Instructions
Rinse the okra pods under cold water to remove any dirt or debris. Pat them dry with a clean towel.
Take an okra pod and place it horizontally on a cutting board. Hold the top end with one hand and the bottom end with the other hand to keep it steady.
Using a sharp knife, gently trim off the stem end of the okra. Make a clean cut, removing just the tough part without exposing the inner seeds. Be careful not to cut too deeply into the pod.
Repeat the process for the remaining okra pods, trimming off the stem ends one by one.
Once the stem ends are trimmed, decide on the desired shape for your recipe. Okra can be sliced into rounds or cut lengthwise.
For rounds: Hold a trimmed okra pod horizontally on the cutting board. Slice it into even rounds, about ¼ to ½ inch thick.
For lengthwise: Hold a trimmed okra pod vertically on the cutting board. Cut it lengthwise into halves or quarters, depending on the desired size.
Notes
Reducing slime: To minimize slime when cutting okra, keep these in mind:
 

If you want to be extra thorough or reduce some of the okra's natural sliminess, you can soak the okra in a mixture of vinegar and water. Just combine one part vinegar with two parts water in a large bowl, add your okra, and let it soak for about 5 to 10 minutes. After soaking, give the okra another quick rinse under cold water.
Ensure the okra is dry before cutting. Pat it dry with a clean towel to remove any moisture on the surface.
Avoid washing the okra after it has been cut, as water can increase slime production.
Avoid cutting okra too thinly, as thinner slices tend to release more slime during cooking.
When cooking, stir the okra gently and avoid excessive stirring, as vigorous stirring can contribute to more slime release.
Timing of cutting okra: It's best to cut okra just before you plan to cook with it. Okra tends to release more slime as it sits after being cut. So, aim to cut the okra shortly before incorporating it into your recipe for the freshest results.
Storage after cutting: If you're not planning to use the cut okra immediately, it's recommended to store it in the freezer for longer-term storage. After cutting, blanch the okra, then transfer it to an ice bath to cool. Pat dry the blanched okra and store it in the freezer. Properly frozen okra can last for several months.
Storing whole okra: If you have whole okra and don't want to cut it ahead of time, store the uncut pods in a paper bag in the refrigerator's vegetable crisper. This helps maintain their freshness for a day or two until you're ready to use them.
Nutrition
Serving Size:
Calories:

37

Sugar:

1.7 g

Sodium:

7.9 mg

Fat:

0.2 g

Carbohydrates:

8.4 g

Fiber:

3.6 g

Protein:

2.2 g

Cholesterol:

0 mg
Keywords: how to cut okra, how to prepare okra