Got a bunch of fresh okra and no idea what to do with it? How about transforming those green pods into some super crispy, mouthwatering okra chips? Yup, you heard it right. No dehydrator needed, no fancy equipment - just your trusty oven, some everyday pantry spices, and a little patience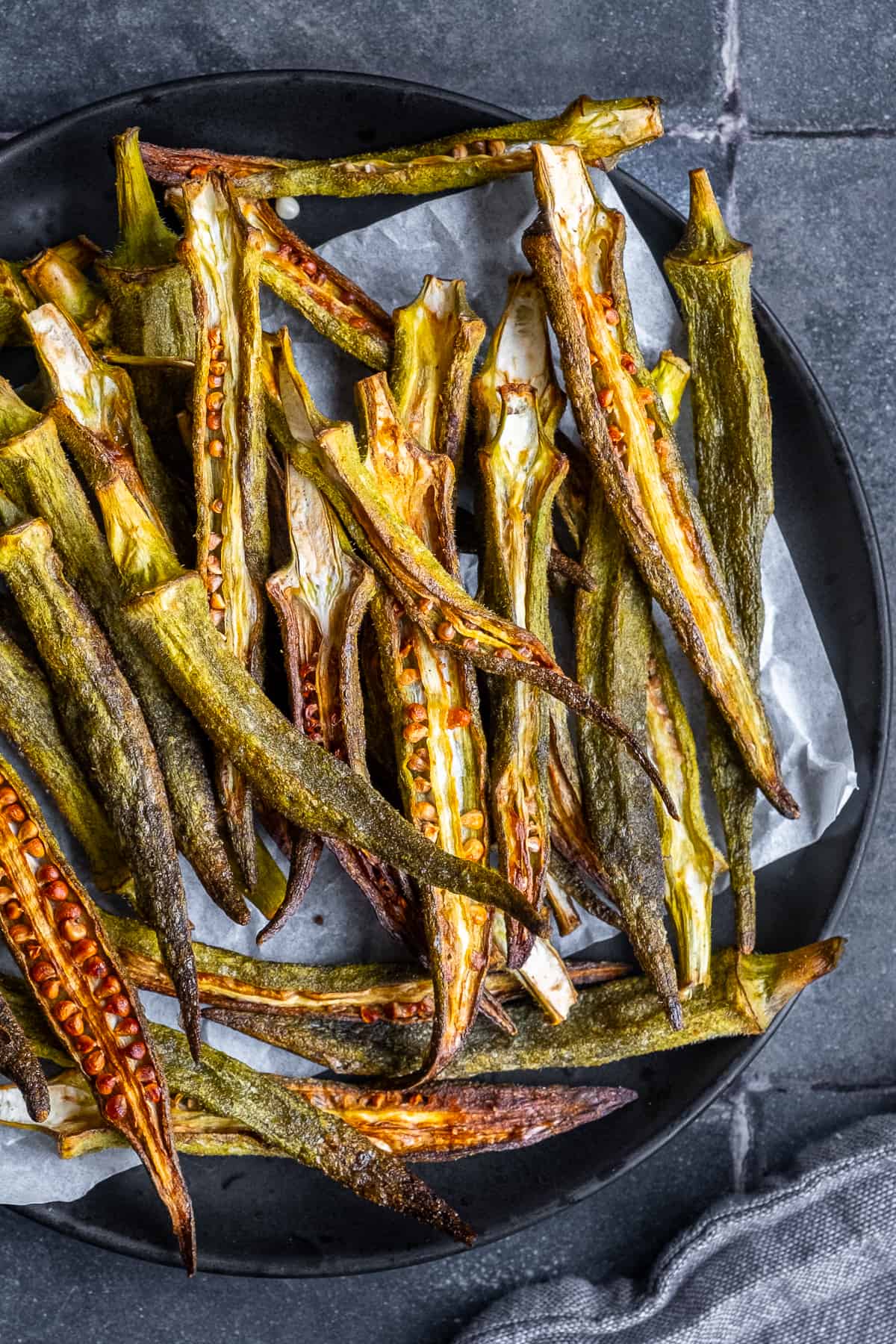 We're going to roast okra slices first for flavor, and then slow-bake to get that perfect, crunchy chip texture. So, let's get those oven mitts ready and whip up a healthy snack that's so good, you'll be surprised it's homemade!
These crispy okra chips are an excellent way to enjoy the many benefits of okra, especially for those who might find the texture of the vegetable in its raw or cooked form less than desirable.
Fresh okra is known for its somewhat slimy texture when cooked, which can be a deterrent for some people despite its incredible nutritional value. This sliminess, while ideal for thickening dishes like gumbo and stews like bamya, is not everyone's cup of tea.
However, when you bake okra into chips, this slimy texture completely disappears, leaving you with a delightful crunch and mild flavor that's easy to love. You will enjoy okra in a whole new way!
Making these okra snacks is a game-changer for those who want the health benefits of okra without slime.
If you like okra snacks, you might also want to see our breaded okra recipe in air fryer.
Jump to:
Why You Will Love This Recipe
You're going to absolutely adore these baked okra chips, and here's why:
No Slime: When baked into chips, all the slime disappears. It's the best way to enjoy okra without the characteristic slime, making it a fantastic option for those who want the benefits of okra in a more palatable form.
No Dehydrator Needed: Despite yielding the perfect crispy crunch, this recipe doesn't require any specialized equipment like a dehydrator. Just your standard oven will do the job perfectly!
Healthiness: This is a snack you can feel good about munching on. Okra is packed with fiber, vitamin C, and folate. Baking the okra, rather than frying, keeps this snack low in fat and calories.
Versatility: These chips can be a unique addition to your snack repertoire, perfect for a movie night, a healthy side dish, or even as a garnish to a main meal. They can also be seasoned with a variety of spices to suit your taste.
Simple Ingredients: This recipe calls for everyday pantry items, nothing fancy. Just okra, olive oil, salt, and garlic powder.
About The Ingredients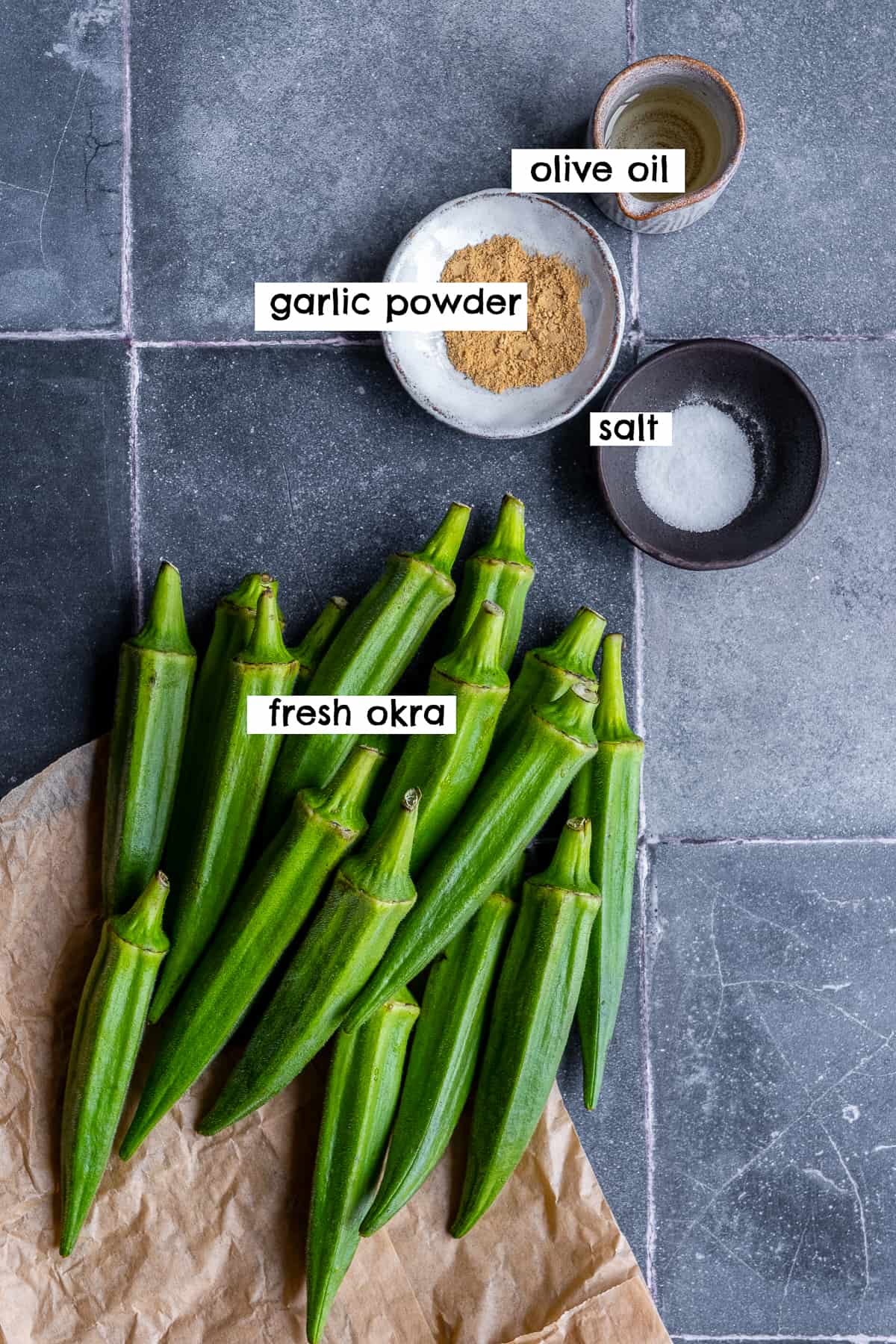 Okra: It's essential to use fresh okra for this recipe because it crisps up beautifully in the oven. Frozen okra holds excess water and won't yield the same crispy texture, so it's not recommended here.
Olive Oil: Olive oil is used in this recipe to help the okra crisp up and to evenly distribute the spices. It's chosen for its health benefits and its pleasant, light flavor that doesn't overpower the okra. If you prefer, a good alternative to olive oil is cooking spray. It will give you a similar result with possibly fewer calories.
Garlic Powder and Kosher Salt: These are simple, classic seasonings that add a lovely depth of flavor to the okra chips. They enhance the natural taste of the okra without overwhelming it. Feel free to adjust the quantities to suit your palate.
Vinegar: Vinegar serves two important functions in this recipe: it helps to clean the okra pods and also prevents them from becoming slimy, a common characteristic of okra. In case you don't have vinegar on hand, lemon juice makes a good alternative as it performs the same functions due to its acidity.
Have frozen okra? Check out our Frozen Okra Recipe in Air Fryer!
Alternative Spices
While the classic combination of garlic powder and salt wonderfully complements the flavor of okra, don't feel limited to these seasonings. There's a world of spices out there to experiment with, and okra makes a fantastic canvas for a range of flavors. Here are some alternative spices and combinations you could try:
Chili Powder, Cayenne Pepper or Black Pepper: If you like a kick to your snacks, adding chili powder or cayenne pepper can spice things up. Start with a small amount and adjust according to your heat preference.
Smoked Paprika: This spice will give your okra chips a smokey, barbecue-like flavor. It's a great way to make them taste like a classic savory snack.
Cumin and Coriander: A combination of these two spices will lend an earthy, slightly citrusy flavor to your okra chips, giving them a unique, Middle Eastern-inspired taste.
Parmesan Cheese and Italian Seasoning: For a cheesy, Italian-style twist, sprinkle some dried Italian seasoning and Parmesan cheese over the okra before baking.
Nutritional Yeast: This is a fantastic option if you want a cheesy flavor but prefer to keep the snack vegan. Nutritional yeast has a natural cheesy flavor and is packed with vitamins and minerals.
How To Make It
Be sure to see the recipe card below for the full ingredients list & instructions!
Baking okra into crispy chips is a fairly simple process, but it does require a bit of time. Here's how to make okra chips in the oven: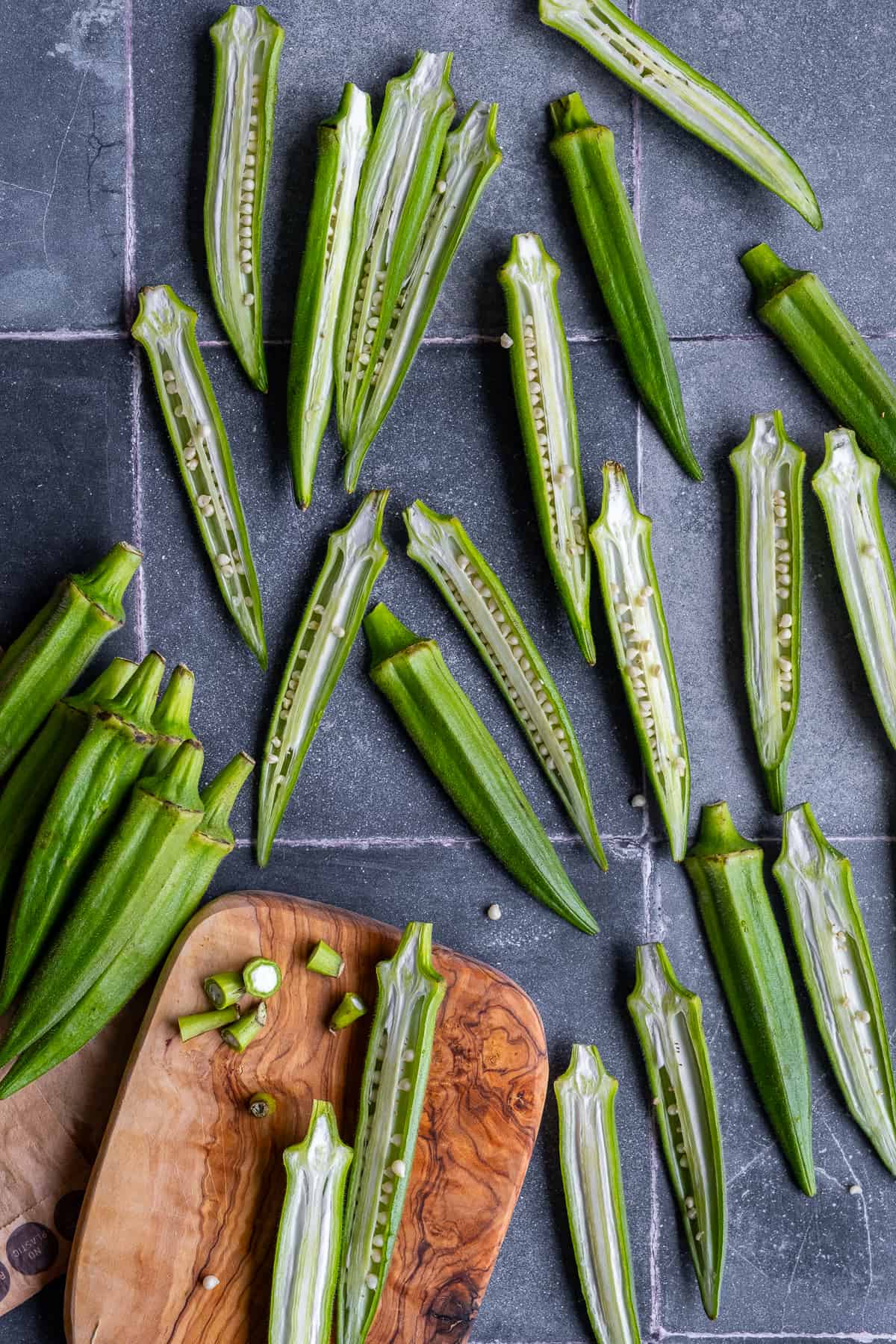 Preparation
Preheat your oven to 400°F (200°C).
Soak your fresh okra pods in a mixture of water and vinegar. This helps to eliminate any sliminess or mucilage and cleans the pods.
Rinse the okra under cold water and then pat them dry thoroughly.
Cut the okra pods in half lengthwise. No need to cut the stem off. See our tips for cutting okra here.
Can I cut okra in rounds to make this recipe? Yes, you can, but they might cook faster and shrink to very small pieces. For best results, we recommend slicing the okra lengthwise when making okra chips.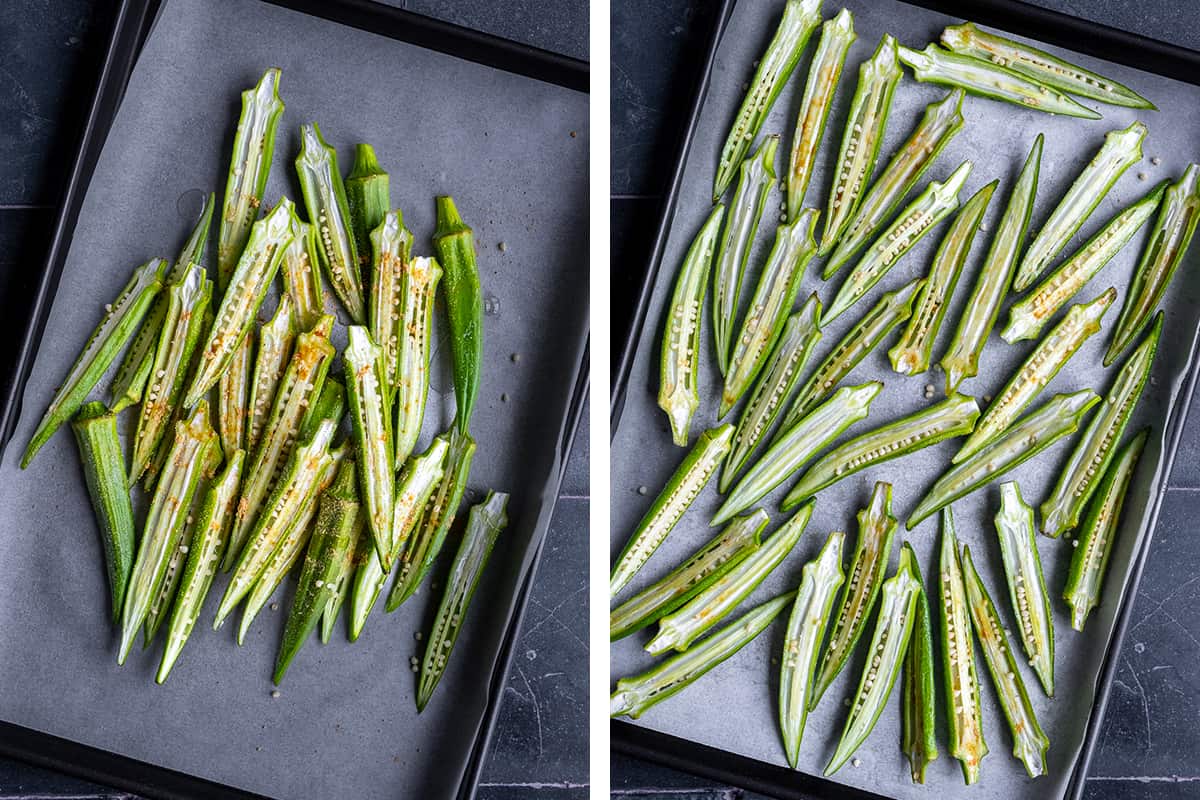 Seasoning and First Baking
Arrange the okra halves on a baking sheet lined with parchment paper.
Toss the okra halves in olive oil or a light coating of cooking spray, ensuring they're all well-coated.
Sprinkle garlic powder and salt evenly over the okra. You can adjust the amount of seasoning based on your preference.
Place the baking sheet in the preheated oven and bake for about 15-20 minutes, turning them halfway through to ensure even roasting.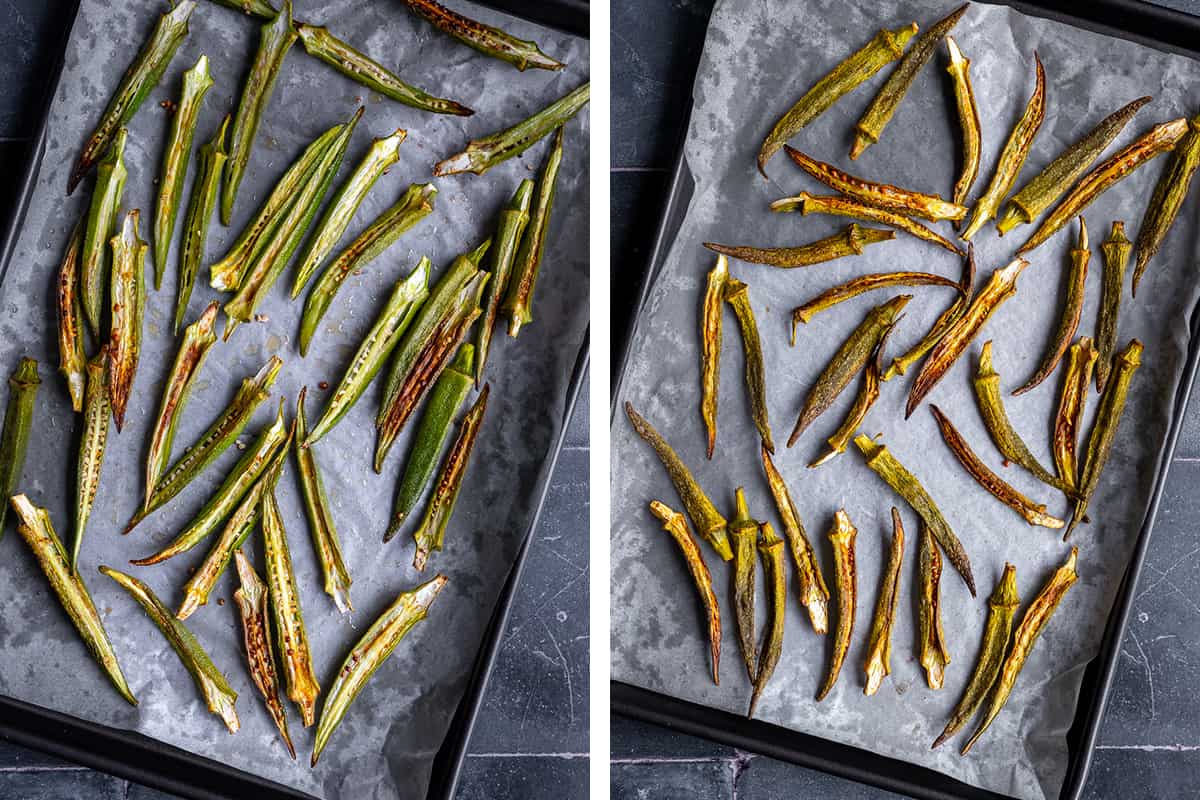 Second Baking for Crispiness
After the initial baking, remove the baking sheet from the oven and reduce the oven temperature to 170°F (77°C).
Allow the oven to cool down for about 10 minutes.
Return the okra to the oven, leaving the oven door slightly ajar to let out excess moisture.
Continue baking for another 2 hours or until the okra chips are crisp.
Pro Tip: Whole okra might not crisp up as well due to less surface exposure to heat in the oven. So we don't recommend it. Cutting the okra in half lengthwise allows it to bake evenly and become crisp, which is essential for achieving the chip-like texture.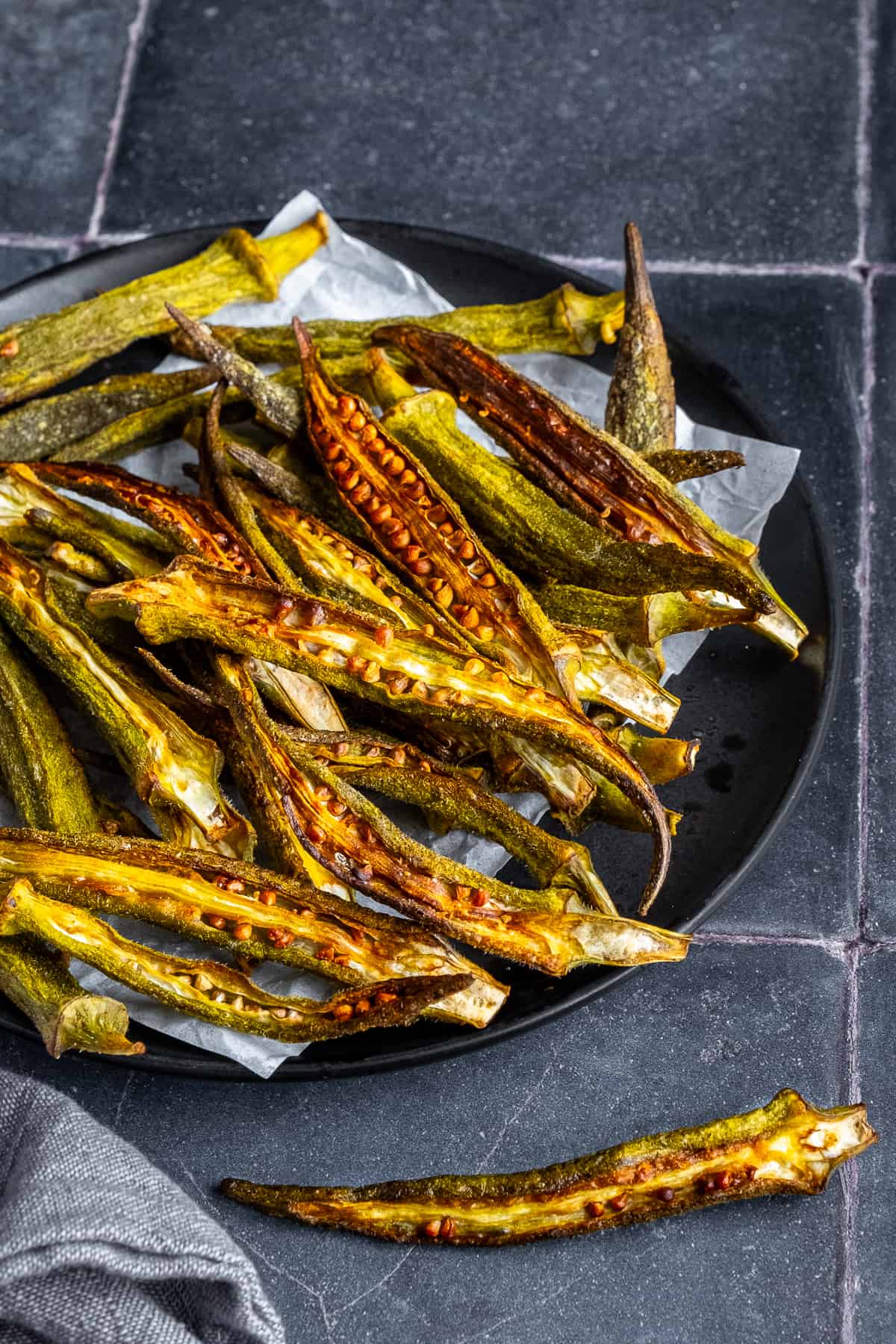 Other Cooking Methods
While our recipe primarily focuses on baking okra chips in the oven, there are indeed other ways to create this delightful snack. Here are a couple of alternatives:
Air Fryer Method: Air fryers are known for their ability to mimic the texture of fried food without using large amounts of oil. To use this method, follow the preparation and seasoning steps of the original recipe. Instead of baking, however, place the okra pods in a single layer in your air fryer basket. Air fry at 400°F (200°C) until crispy. Check out our Air Fryer Okra Recipe for the details.
Dehydrator Method: If you have a food dehydrator, it can also be used to make okra chips. Prepare and season the okra as in the original recipe, then spread the okra out on the dehydrator trays. Set your dehydrator to 135°F (58°C) and dehydrate for 5-6 hours or until crispy. Remember, dehydrating times can vary based on the humidity level in your environment.
Storing
Proper storage is crucial to maintaining the crunch and freshness of your homemade okra chips. Here's how you can store them:
Cooling: Before storing, ensure that your okra chips are cooled completely. Storing them while still warm may result in condensation, which could make them lose their crunch.
Airtight Container: Store the okra chips in an airtight container or zip-top bag. This helps to protect them from moisture and keep them crisp.
Room Temperature: Keep the container or bag at room temperature. There's no need to refrigerate your okra chips; in fact, the humidity in the refrigerator might make them go soft.
Keep Dry: If you're in a particularly humid environment, consider adding a packet of food-safe desiccant (like those found in store-bought snacks) in the container to absorb excess moisture.
With proper storage, your okra chips should stay crisp and fresh for up to a week, but they're so delicious, they might not last that long!
Remember, if the chips lose their crunch over time, you can re-crisp them in the oven at 170°F (77°C) for about 5-10 minutes.
Serving Suggestions
Okra chips can be enjoyed on their own as a healthy snack alternative to traditional potato chips, but there are also other creative ways to serve them. Here are a few ideas:
Dipping Delights: Pair your okra chips with a flavorful dip. They pair excellently with hummus, Greek yogurt, or even artichoke sauce, beetroot dip and green olive dip. The mild flavor of these chips complements a wide range of dips, so don't hesitate to try different combinations.
Salad Toppers: For a fun and healthy crunch, try using the okra chips as a topping for salads. They add a unique texture and a burst of flavor that can elevate a simple salad like wheat berry salad or no mayo tuna salad.
Soup Sides: Just like croutons, okra chips can be served on the side with a bowl of your favorite soup. They would match wonderfully with roasted tomato soup.
Our Tips
Making okra chips is quite straightforward, but there are a few key tips to keep in mind to ensure your chips come out crispy and delicious every time:
Choose Fresh Okra: Fresh okra is crucial for achieving a crispy texture. Frozen okra tends to hold too much water, which prevents the chips from crisping up properly.
Thoroughly Dry Okra: After soaking the okra in vinegar and water, make sure to pat it dry thoroughly. Extra moisture can lead to sogginess, preventing your chips from becoming crispy.
Slice Thinly and Evenly: When cutting the okra, try to make the slices as even as possible. This helps the chips to cook uniformly. Thin slices will crisp up better than thick ones.
Single Layer on Baking Sheet: Overcrowding can cause the okra to steam instead of roast, leading to softer chips. Make sure each piece of okra is lying flat on the baking sheet and that they're not piled on top of each other.
Turn Chips Halfway Through: Turning the okra halfway through the initial higher-temperature baking helps them to roast evenly on all sides.
Cool Before Storing: Let your chips cool completely before storing. Warm chips can create condensation inside the storage container, which could make your chips lose their crispness.
Patience is Key: While it may be tempting to increase the oven temperature to speed up the process, a low and slow approach is best for achieving the perfect crunch. Rushing can result in burnt or unevenly cooked chips.
Are Okra Chips Healthy?
Yes, okra chips are indeed a healthy snack option. They inherit many of the health benefits of fresh okra, which is a rich source of vitamins, minerals, fiber, and antioxidants. Here's why okra chips can be a great addition to a balanced diet:
Low in Calories: Okra chips are low in calories, making them a great snack for those who are watching their calorie intake or trying to lose weight.
High in Fiber: Okra is known for its high fiber content. Dietary fiber can help promote feelings of fullness, aid in digestion, and support heart health.
Rich in Vitamins and Minerals: Okra contains a range of nutrients including vitamin A, vitamin C, vitamin K, magnesium, and folate.
Antioxidant-Rich: Okra has a high antioxidant content, which can help protect your body against damage from harmful free radicals.
Lower in Fat: Baking the okra chips, especially when using a minimal amount of oil or a cooking spray, results in a snack that is lower in fat compared to traditional fried chips.
Gluten-Free: For those with gluten sensitivities or celiac disease, okra chips can be a great gluten-free snack option.
Vegan and Vegetarian-Friendly: Okra chips are naturally vegan and vegetarian, making them a great snack option for those following these dietary lifestyles.
However, while okra chips are a healthier choice compared to many store-bought snacks, they should still be enjoyed in moderation as part of a balanced diet.
The amount of salt and oil used can also affect the overall healthiness of the chips, so keep an eye on your intake if you're watching your sodium or fat consumption. But overall, okra chips can definitely be part of a healthy eating plan!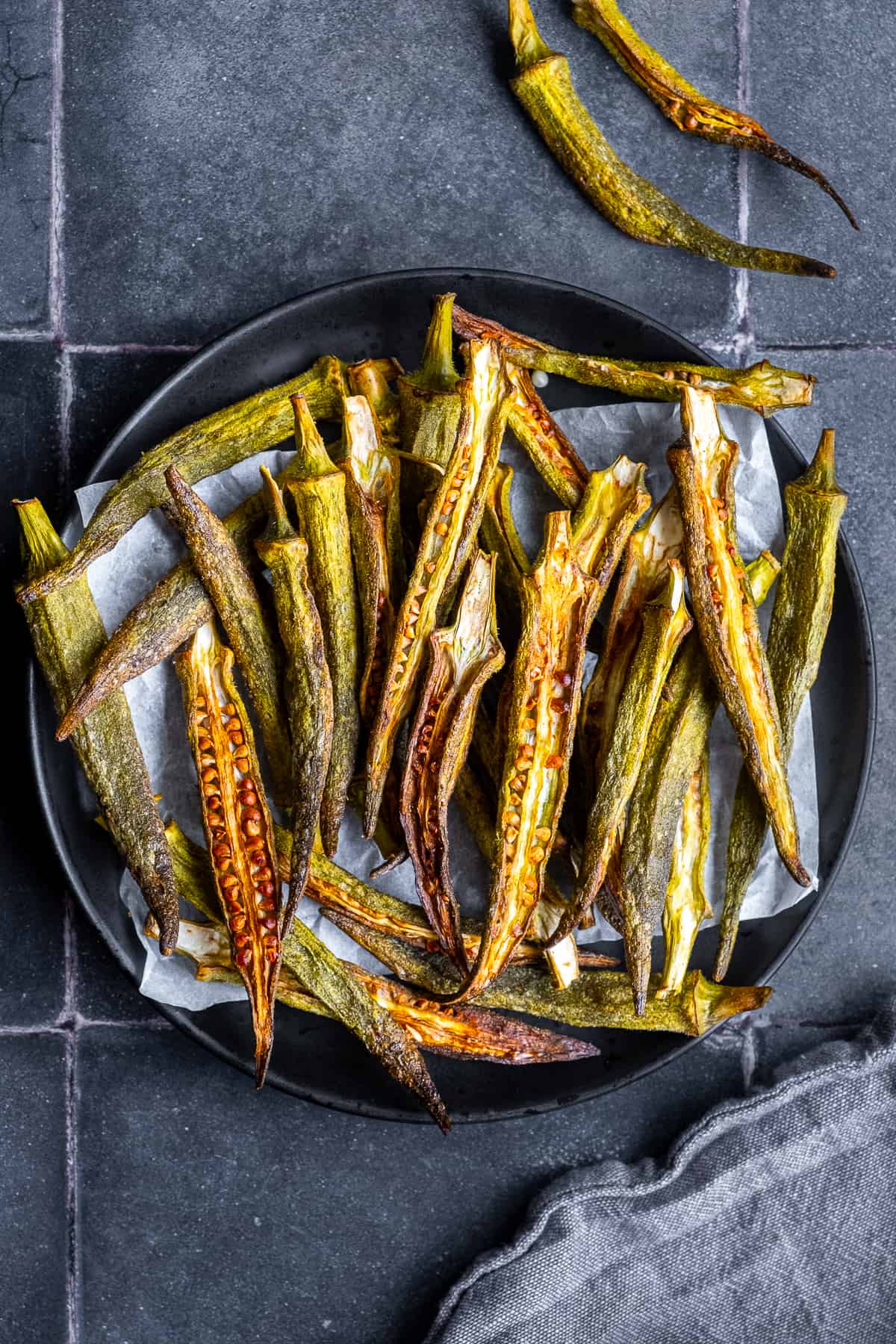 FAQs
Can I use frozen okra to make okra chips?
While you technically can use frozen okra, it's not recommended. Frozen okra tends to hold more water content, which can prevent the chips from getting as crispy as they would with fresh okra.
My okra chips didn't come out crispy. What did I do wrong?
There could be a few reasons why your chips didn't come out crispy. The okra may not have been dried thoroughly after soaking, the oven temperature may not have been low enough during the second bake, or the chips may have been cut too thick. Remember, for the crispiest chips, dry the okra well, bake at a low temperature during the second bake, and cut the okra into thin, even slices.
What do okra chips taste like?
They have a mild, slightly sweet flavor with a hint of a vegetal taste. They carry the flavors of the seasonings used very well. When baked to crispiness, they have a pleasing crunch that is comparable to potato chips.
Are dried okra chips good for you? 
Yes, dried okra chips are good for you. They are low in calories and high in fiber, antioxidants, and essential vitamins and minerals like vitamin C, vitamin K, and folate. They can be a healthy addition to a balanced diet when consumed in moderation. However, just like with any food, the nutritional value can vary based on the preparation method and any added ingredients.
More Okra Recipes
As always: If you make this recipe, let us know what you think by rating it and leaving a comment below. And post a pic on Instagram too—tag @give_recipe so we can see!
Sign up for the FREE GiveRecipe Newsletter to get the new recipes into your inbox! And stay in touch with us on Facebook, Pinterest, YouTube and Instagram for all the latest updates.
Print
📖 Recipe
Okra Chips Recipe
Homemade Baked Okra Chips – a healthier alternative to conventional chips that's easy to make and irresistibly delicious. This recipe is the perfect way to enjoy okra without any slime, and can be easily customized with your favorite seasonings. A fantastic snack to satisfy your crunchy cravings while adding some nutritious greens to your day!
Author: Zerrin & Yusuf
Prep Time:

10 minutes

Cook Time:

2 hours 20 minutes

Total Time:

35 minutes

Yield:

2

1

x
Category:

Snack

Method:

Baking

Cuisine:

American

Diet:

Vegan
12 ounces

/ 340 grams fresh okra

¼ teaspoon

garlic powder

¼ teaspoon

salt

1 tablespoon

oil
To clean okra, you will need:
1 tablespoon

white vinegar (or apple cider vinegar)
a bowl of water
Instructions
Preparation of Okra and Preheating Oven
Start by preheating your oven to 400°F (200°C).
Take your fresh okra pods and soak them in a mixture of water and vinegar for 5 minutes.
After soaking, rinse the okra under cold water and then pat them dry.
Cutting and Seasoning
Cut the okra pods in half lengthwise.
Arrange the okra halves on a baking sheet lined with parchment paper.
Toss the okra with olive oil until all pieces are coated evenly.
Sprinkle the okra with garlic powder and salt, and toss again to spread the seasoning evenly.
First Baking
Place the baking sheet in the preheated oven and bake the okra for about 15-20 minutes. Make sure to turn the okra halfway through for even roasting.
Second Baking Phase for Crispiness
After the initial baking, take the baking sheet out of the oven and reduce the oven temperature to 170°F (77°C).
Allow the oven to cool down for about 10 minutes.
Return the okra to the oven, leaving the oven door slightly open.
Continue baking for another 2 hours or until the okra chips reach your desired level of crispiness.
Notes
Dry Okra Well:

 After soaking and rinsing your okra, be sure to pat them dry thoroughly. Extra moisture can prevent the okra from crisping up properly.

Don't Overcrowd the Pan:

 Leave enough space between the okra pieces on your baking sheet. Overcrowding can lead to steaming instead of roasting, which could leave you with less crispy chips. 

Monitor the Oven:

 Keep a close eye on the okra during the final stages of baking to avoid burning. Each oven can vary slightly, so check the chips occasionally to ensure they're crisping up without getting too dark.

Allow to Cool:

 Once the chips are out of the oven, let them cool on the baking sheet. They will continue to crisp up as they cool down.

To store okra chips:

 Let them cool completely first to avoid condensation. Once cool, transfer them to an airtight container and store at room temperature. Properly stored, they should stay fresh and crispy for up to a week. Avoid storing them in the refrigerator as the humidity can make them lose their crispness.
Nutrition
Serving Size:
Calories:

324

Sugar:

5.7 g

Sodium:

1521.2 mg

Fat:

21.9 g

Carbohydrates:

32.2 g

Protein:

8.2 g

Cholesterol:

0 mg