Spicy Roasted Chickpeas are perfect snacks for game days or movie nights. Flavored with paprika and cumin, these are so addictive! Much healthier than store bought snacks! What's more, these stay crunchy for a long time!
Not only can you use these as delicious movie night or game day snacks, but you can also incorporate them into other recipes. For example, use them as topping on soups or salads.
If you love vegan appetizers, you should see our amazing oyster mushroom fried chicken recipe too!
This roasted chickpeas recipe makes use of simple flavoring ingredients like salt, paprika, and cumin. However, what makes it so great is that you can change up the spices any way you'd like! You can make them spicy with chili, you can make them garlicky, or use a honey cinnamon flavor – the possibilities are endless!
Today, we will look at all things crispy chickpeas! We will discuss how to roast them, how to store them, how to make them crunchy, and loads more! Even better, we will answer a ton of questions we get asked very frequently. Ready for this jam-packed article?
Jump to:
Which Chickpeas?
When it comes to cooking chickpeas, especially when making baked chickpeas, there are a couple of options to choose from.
Your first and easiest option, and the one we would recommend most, is to use canned chickpeas (in brine).
These chickpeas are preserved in a brining liquid (which is basically saltwater) to extend their shelf life. This preserving liquid also softens the chickpeas, essentially acting as the "soaking" part.
Once removed from the can, they are already semi-soft.
The second form you can find chickpeas in is dried. This form requires more work before they are ready to be used.
Can You Roast Raw Chickpeas?
To make these spicy roasted chickpeas, we use canned chickpeas which are basically chickpeas that have already been soaked and boiled. They are very soft and ready to use in other recipes.
If you are using dried chickpeas (making cooked chickpeas from scratch), we highly recommend that you soak them before roasting.
Should You Wash Canned Chickpeas?
You should always wash canned chickpeas! Washing them removes any excess sodium and any foreign particles in the brining liquid and from the can.
The sodium (salt) content is almost halved once rinsed, providing a much healthier snack, especially considering you are adding more salt later.
How to Make
These are incredibly easy chickpea snacks to make and don't require a ton of work. They are incredibly delicious with the perfect balance of spice and salt.
First, heat the oven. Before starting with any other prep, preheat your oven to 400°F (200°C).
Second, dry the chickpeas. Using a kitchen towel or paper towel, pat the chickpeas to remove the excess moisture. They should be completely dry, but be careful not to squash them
Third, transfer them on a baking sheet. Using parchment paper is optional. After making these like hundreds of times, we can say there is no difference.
Fourth, roast the chickpeas. You should allow them to roast for about 15 minutes before removing them.
Fifth, drizzle the chickpeas with olive oil. Remove the chickpeas from the oven and drizzle them with olive oil. Mix them around so all the chickpeas are evenly covered.
Sixth, season the chickpeas. Once they are coated with olive oil, sprinkle them with salt, paprika, and cumin. Again, mix them thoroughly to ensure they are well and evenly coated.
Seventh, continue roasting. Place the chickpeas back into the oven and allow them to roast for another 15-20 minutes. You can serve them warm or cold.
How To Store Them
A lot of people have a misconception about how to store spicy roasted chickpeas. You should NOT place the chickpeas in an airtight container or bag. Cooked chickpeas, like all types of cooked legumes, should be allowed to breathe when stored.
When covering the oven-roasted chickpeas, it also causes them to sweat and lose all of their crispiness.
The best way to keep your chickpeas crispy during storage time is to simply place them in a container at room temperature without a lid. You can cover them with a sheet of paper towel or kitchen towel if you like. This allows them to breathe without losing their crispness.
When storing the chickpeas this way, it is highly recommended to consume them within 24 hours, but to be honest, these delicious crunchy chickpeas won't even last that long!
Another method you can try is to store them in a plastic container or glass jar, and again covering them with a sheet of paper towel, only this time you store them in the refrigerator.
When following this method, the chickpeas will last much longer, about 3-4 days, but will lose their crispness the longer they are stored.
How To Reheat Them
There are a couple of ways you can reheat these easy baked chickpea snacks.
The easiest and quickest way is to heat them in a microwave. Make sure you use a microwave-safe bowl or plate, and reheat them for roughly 1-2 minutes. They will start to sizzle and pop once they're extremely hot.
The second very easy method is to reheat them on the stovetop. Place the chickpeas in a non-stick frying pan, add a bit of olive oil and allow them to reheat over medium-high heat. Make sure to stir them to prevent them from sticking or burning on one side. Reheating them by pan will take about 5-6 minutes.
The last reheating method will take much longer and make use of the oven. Heat the oven to 350°F (180°C), place the chickpeas into a lined baking tray, and bake them for roughly 10 minutes or until fully heated through.
Why Are My Chickpeas Not Crunchy?
A crucial mistake people make when roasting chickpeas is not roasting them long enough.
The longer you roast them (obviously not to the burning point), the longer they will retain their crispness, even after being stored a day or two.
Different types and brands of chickpeas will have slightly different roasting times, so make sure to take notes and don't be worried if you have to bake them longer.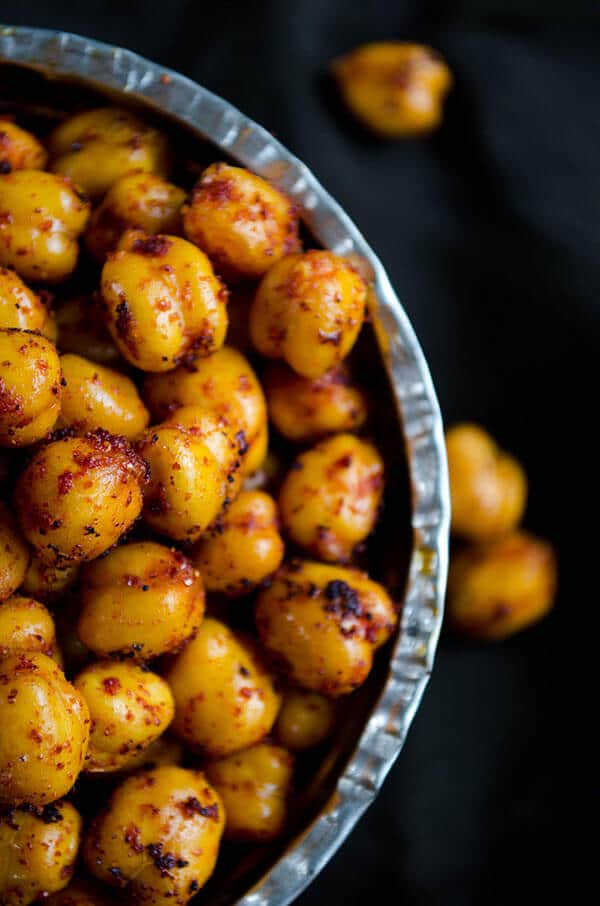 As always: If you make this recipe, let us know what you think by rating it and leaving a comment below. And post a pic on Instagram too—tag @give_recipe so we can see!
Sign up for the FREE GiveRecipe Newsletter to get the new recipes into your inbox! And stay in touch with us on Facebook, Pinterest, YouTube and Instagram for all the latest updates.
Print
📖 Recipe
Spicy Roasted Chickpeas
These oven-roasted chickpeas are so crispy and tasty with paprika and cumin.
Author: Zerrin & Yusuf
Prep Time:

10 minutes

Cook Time:

30 minutes

Total Time:

40 minutes

Yield:

8

1

x
Category:

Snack

Method:

Baking

Cuisine:

American

Diet:

Vegan
2 cups

boiled chickpeas

½ tablespoon

olive oil

1

and ½ teaspoon paprika

1 teaspoon

salt

½ teaspoon

cumin
Instructions
Preheat oven at 200C.
Using a kitchen towel or paper towel, pat dry the chickpeas until they are as dry as possible.
Transfer the chickpeas on a bakig sheet.
Roast them in oven for 15 minutes.
Take them from the oven. Drizzle olive oil on the chickpeas and mix them around with your hands so that they are all evenly coated.
Sprinkle salt, paprika and cumin and repeat the same step. Make sure they are all evenly coated with these spices.
Place back in the oven and roast for another 15 minutes.
Check them after 15 min. and if they are not crispy enouh, bake for another 5 minutes.
Notes
The duration of the second roasting might change depending on the size or type of chickpeas and your oven. So check and roast longer if the chickpeas are not crunchy as desired. 
Never store crispy chickpeas in airtight containers. Keep them in a bowl or in jars without a lid. Otherwise, they lose their crispness.
Nutrition
Serving Size:
Calories:

70

Sugar:

0 g

Sodium:

458 mg

Fat:

3 g

Carbohydrates:

8.4 g

Protein:

3 g

Cholesterol:

0 mg
Keywords: roasted chickpeas, baked chickpeas, crunchy chickpeas
You might also like: