Are you looking for a guilt-free or gluten-free crunchy snack? You should try these oven roasted kernel corn recipe! Super easy to make! Corn kernels are seasoned with salt and paprika and then roasted until crunchy. A delicious snack or side dish that can be enjoyed by people of all ages!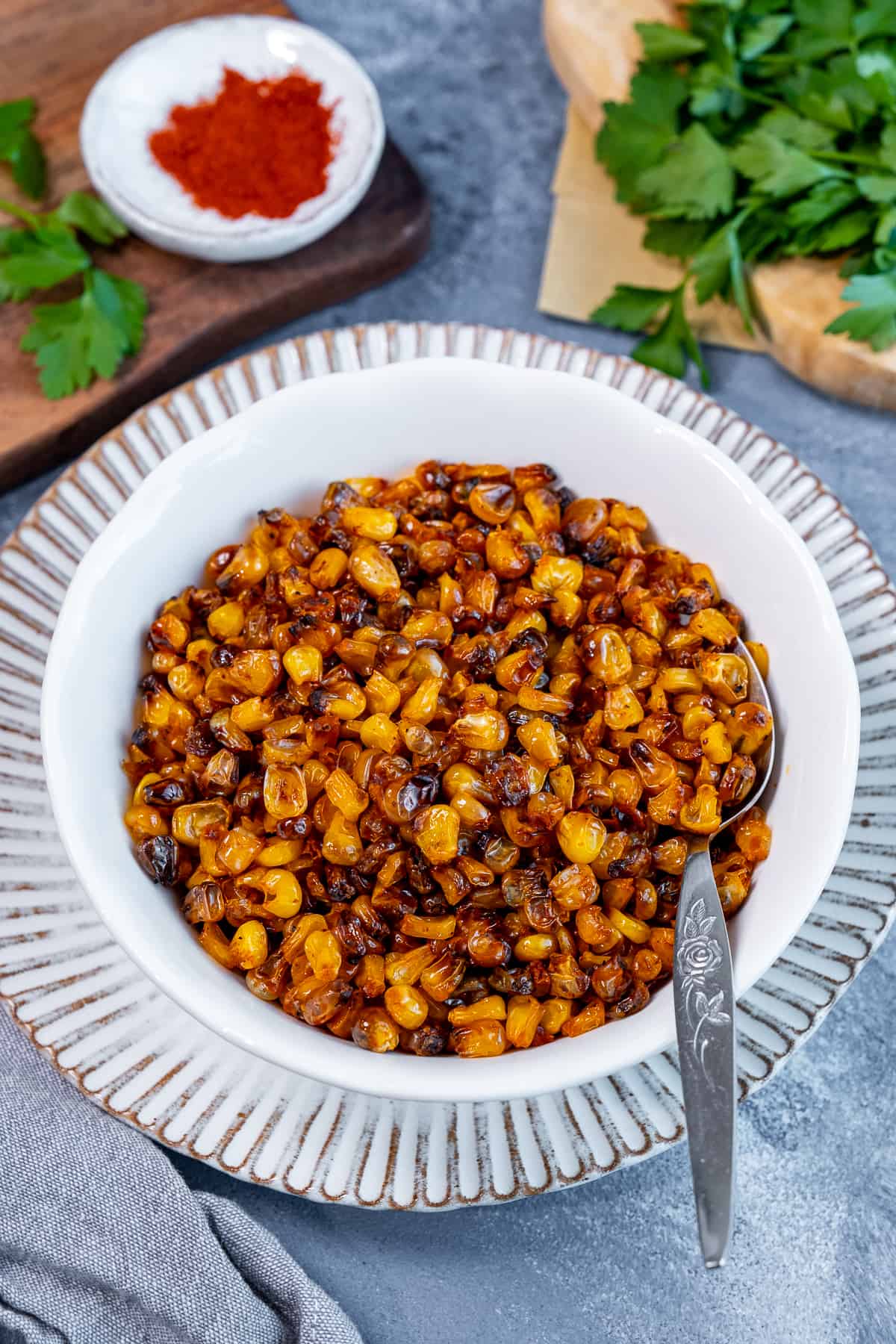 These roasted corn kernels are low-calorie and can be seasoned however you'd like. And we'll show you how to make fresh, canned, and frozen corn in the oven as well as on the stove top!
Jump to:
Why You Will Like This Recipe
It makes a tasty snack or side dish that is so easy to make.
It can be made with fresh, canned or frozen corn.
It is easy to customize with your favorite spices or seasonings.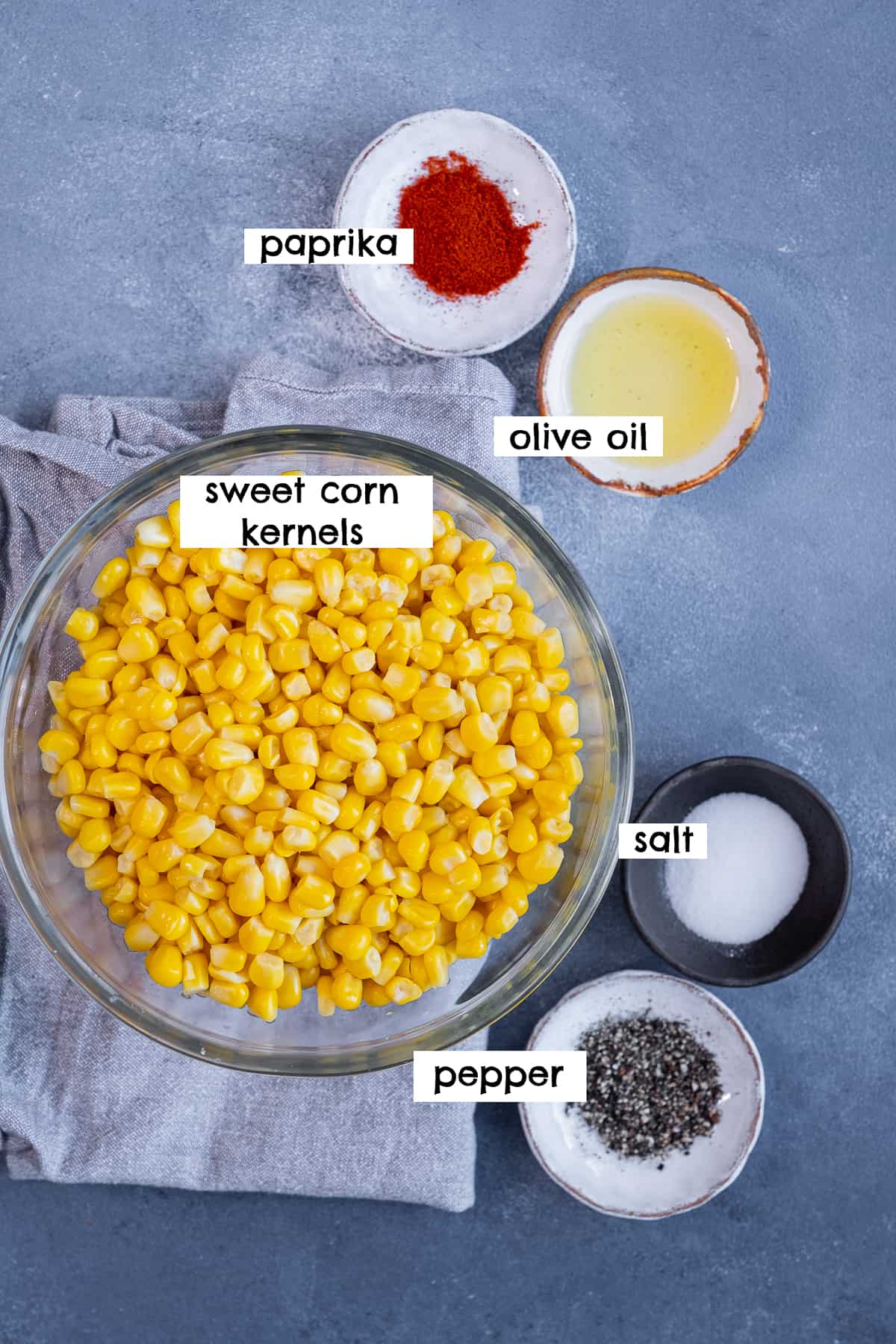 About The Ingredients
Sweet corn kernels: We use canned sweet corn in this recipe, but you can use frozen corn or fresh corn too.
Oil: We use olive oil, but you can use vegetable oil, canola oil or melted butter.
Spices: We use salt, pepper and paprika.
How To Prepare Fresh, Canned, Or Frozen Corn To Roast
Today's in-depth look at how to cook corn kernels will cover using fresh, canned, and frozen corn. This will allow you to use whatever you can find your hands on or whatever works best for your needs.
To Make Roasted Fresh Corn:
They require the most work. To make oven roasted fresh corn, you first need to prepare the kernels.
Remove the husk and silk from the cob. Then, place small bowl upside down in a larger bowl. Put the cob on top of the smaller bowl and cut off the kernels using a sharp knife. The kernels will fall directly into the large bowl, making your work area a lot less messy.
To Make Roasted Canned Corn:
If you are using canned corn, make sure to drain them well. This removes the excess sodium and will also help get the kernels crispy. It is even better if you rinse them under running water and pat them dry with a paper towel.
To Make Roasted Frozen Corn:
Roasting frozen corn kernels in oven is no different from roasting fresh or canned sweet corn. It might be even the easiest method. All you do is to combine the frozen corn kernels with olive oil and whatever spices you like then roast them on a baking sheet.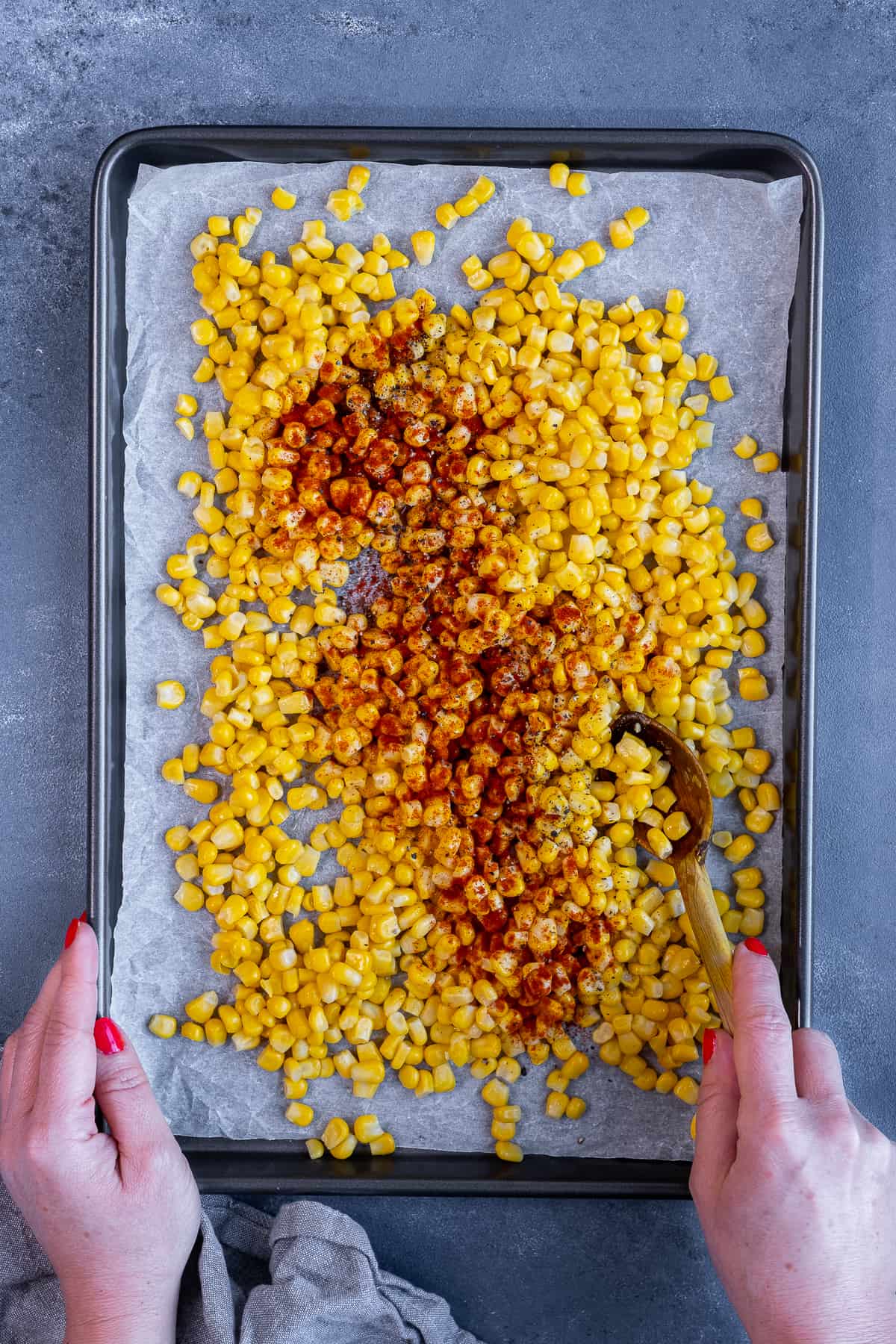 Seasoning
For today's roasted corn off the cob recipe, we only use salt, pepper and paprika for the seasoning. You can substitute chili powder or cayenne pepper for paprika if you want to add some heat or leave the paprika out if you'd like.
If you want more flavors, you can sprinkle some onion powder, garlic powder and coriander on the corn kernels before baking them.
There are many other ways you can season your roasted corn kernels. You can use Chipotle seasoning, Cajun spice mix, taco seasoning or chicken seasoning. A chili-lime seasoning mix also works well and balances the sweetness of the corn beautifully!
And, if none of those sounds good to you, you can use any spice blend that you have or love.
To give a refreshing flavor to your roasted kernel corn, you can squeeze lime or lemon over them after removing them from the oven.
Instructions
These roasted corn kernels are incredibly easy to make and very versatile in how you can season and serve them. And we'll even show you how to make them in a pan!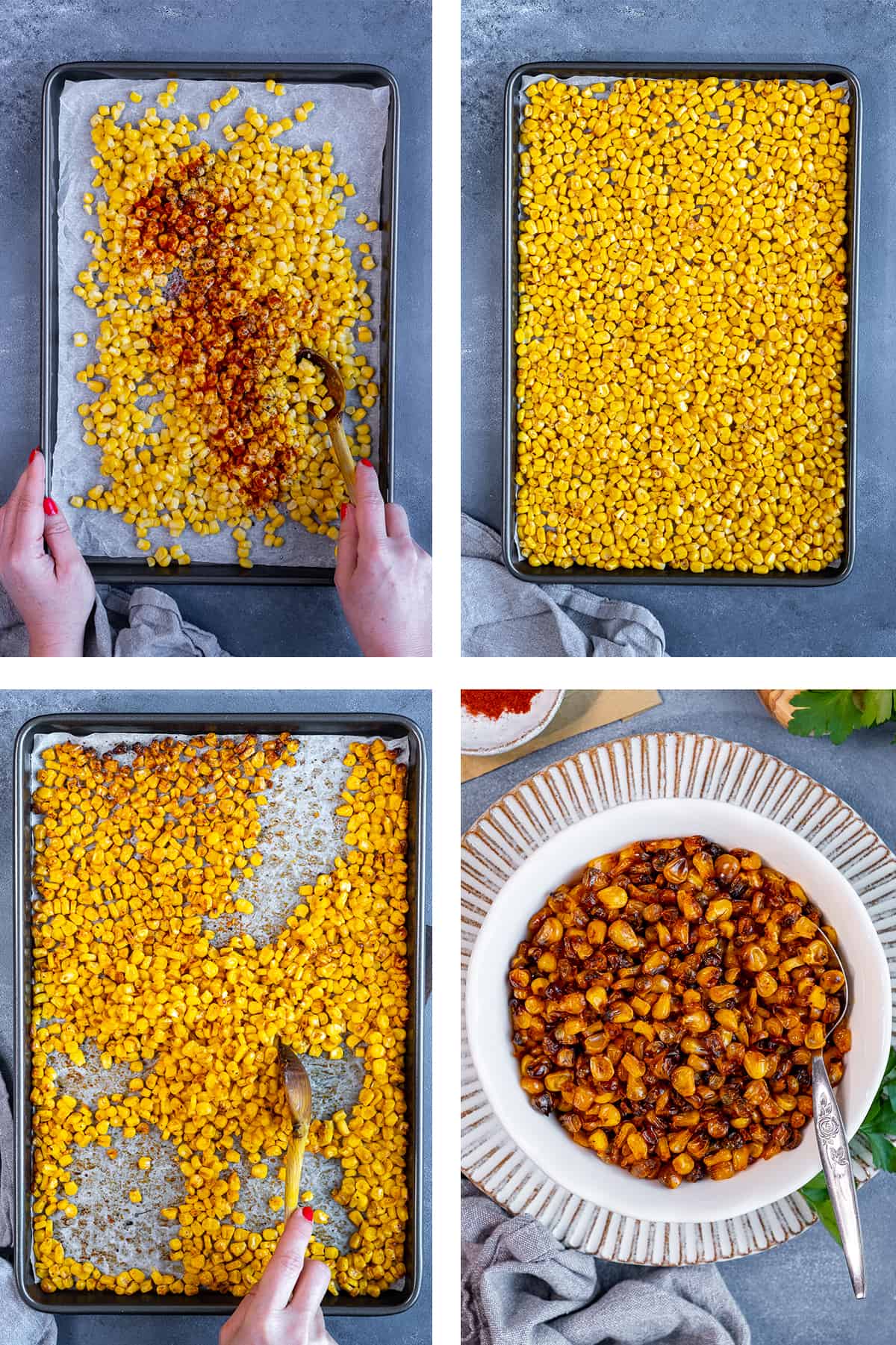 Prepare the corn kernels: Cut them off the cob if you are using fresh corn, drain well if you are using canned sweet corn and just use them as they are if you are using frozen sweet corn.
Prepare the equipment: Preheat your oven to 400ºF (200ºC). Then, line a baking sheet with parchment paper.
Season the corn kernels: Whichever type of corn you use for this roasted corn kernels recipe, pour them on the lined baking sheet. Then, season them with salt, black pepper and paprika. Make sure you spread them evenly.
Roast the corn: Place the kernels into the oven and leave them to roast for 15 minutes. Then, remove the half baked sweet corn from the oven, give them a good stir, and place them back in the oven. Leave them to roast for another 10 minutes or until they become golden and super crunchy.
Check the corn kernels: After 20 minutes of baking, watch them carefully. They cook really fast and might easily burn. If you think they are about to burn, turn the oven off and let the corn kernels sit in the oven (the door half-closed) for 10-15 minutes or until crunchy.
Serve: Remove from the oven and serve when they are still warm or at room temperature.
Tips
The key to making the best roasted corn kernels in the oven is to cook them in a single layer. This allows them to roast evenly and get crispy on all sides.
If you double or triple the recipe, you need to roast them in batches or use two separate pans.
Check how crispy the roasted sweet corn kernels are when about 20 minutes have elapsed. They may be ready by then. If not, simply leave them to continue roasting for another 5 minutes or so.
These roasted corn kernels taste best on the day you made them. You can make them ahead of time, but you will need to reheat them. To do this, simply place them in the oven for 5 minutes or reheat them in a skillet on the stove.
To make frozen roasted corn, you don't need any additional steps. Just use the frozen corn kernels from the bag.
No Oven? Roast Them On The Stove!
Believe it or not, you can turn this recipe to pan roasted canned corn kernels. The result won't be exactly the same but they taste great too.
Here's how to roast corn kernels in a skillet:
Heat some oil in a large skillet over medium heat. Place the prepared corn kernels inside the skillet. Leave them to cook for roughly 8-10 minutes while stirring often.
At this point, you can add your seasoning ingredients. Stir them well so all the flavors blend together. Then, allow them to continue crisping up for another 5-7 minutes or until they are golden brown.
Once you are happy with their texture and color, remove them from the heat and leave them to cool slightly.
The biggest mistake people make when making pan-fried corn is that they overload the pan. This prevents the kernels from crisping up and cooking evenly. So either use two pans or cook the kernel corn in batches.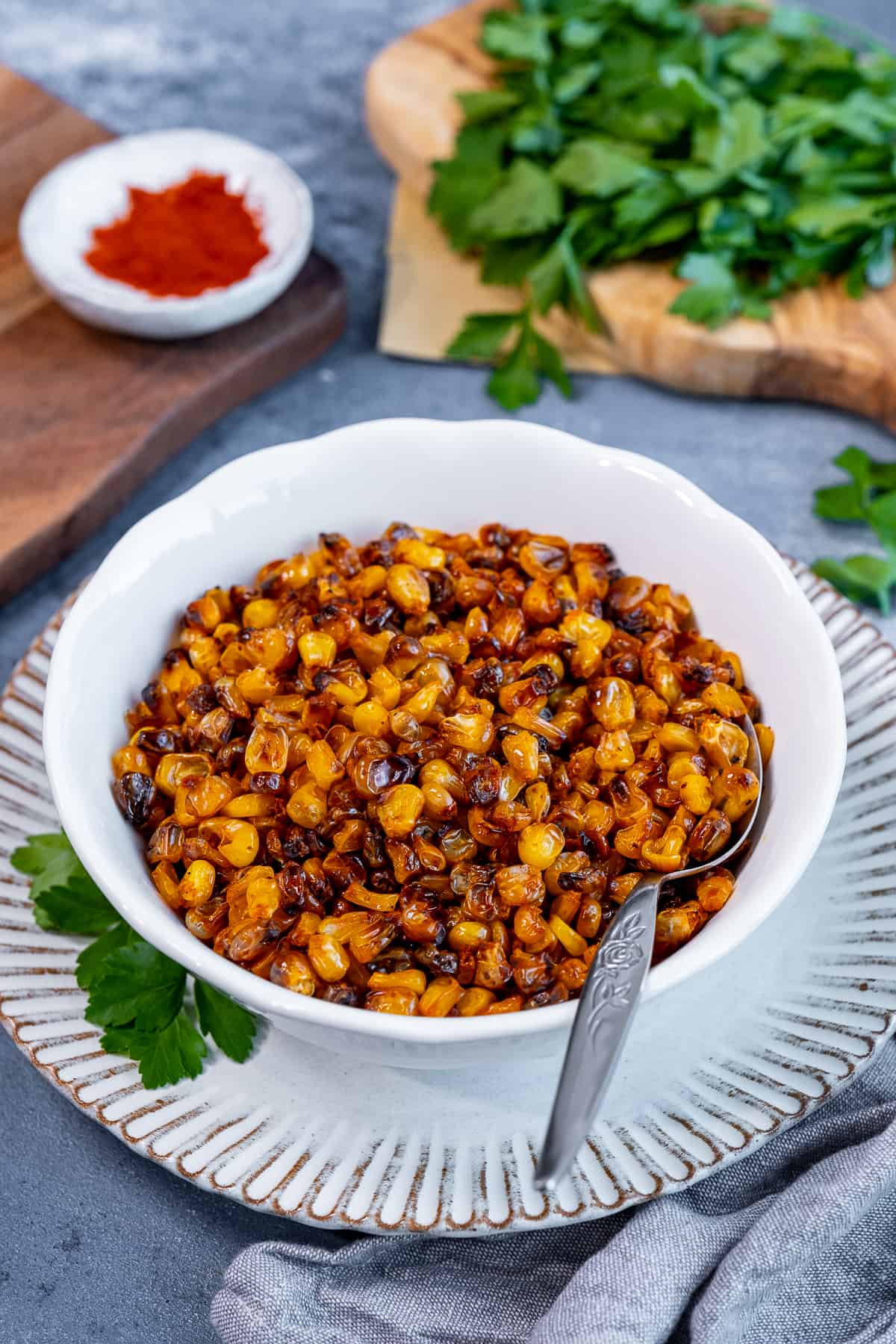 Serving Suggestions
These baked corn kernels make a delicious side dish on their own. They can also be incorporated in several dishes like salsa, pasta, salads, soups, as a topping for tacos or nachos.
They are great when paired with grilled meat, salmon or chicken dishes like dry rub chicken wings, air fryer wings or cast iron chicken breast.
Are These The Same As Corn Nuts?
There seems to be a lot of confusion when people talk about "roasted corn kernels" and "corn nuts." But these are technically not the same thing.
When you look at a guide on how to roast corn kernels, you will see that they use actual corn (regardless of whether you are making fresh, canned, or baked frozen corn.
Corn nuts are usually made with dried hominy, which needs soaking overnight. They are similar to corn kernels from the cob but differ in how they are processed. You can read more about it here.
FAQs
Are roasted corn seeds good for health? 
Yes, they are. There is no frying in this recipe, so it is low in calories. 
Can I make this recipe in advance?
If you are after crispness, we don't recommend it. They get tender as they sit. 
More Snack Recipes
More Roasted Vegetables
As always: If you make this recipe, let us know what you think by rating it and leaving a comment below. And post a pic on Instagram too—tag @give_recipe so we can see!
Sign up for the FREE GiveRecipe Newsletter to get the new recipes into your inbox! And stay in touch with us on Facebook, Pinterest, YouTube and Instagram for all the latest updates.
Print
📖 Recipe
Roasted Corn Kernels Snack
A healthy, gluten-free, spicy, crunchy and addictive snack made with sweet corn. Super easy to make and so delicious! 
Author: Zerrin & Yusuf
Prep Time:

5 minutes

Cook Time:

20 minutes

Total Time:

25 minutes

Yield:

4

1

x
Category:

Snack

Method:

Cooking

Cuisine:

American
1

can (15.25 oz / 450 g) sweet corn kernels (or 2 and

½ cups

fresh or frozen)

1 tablespoon

olive oil
A pinch of salt

¼ teaspoon

pepper

½ teaspoon

paprika
Instructions
Preheat the oven to 400 degrees.
Line a baking sheet with parchment paper.
Pour corn kernels onto the baking sheet. Season with salt and paprika. Spread evenly to a single layer.
Roast for 15 minutes, remove from the oven, stir and bake for another 10-15 minutes or until golden and crunchy.
Turn the heat off and let the roasted corn sit in the oven, leaving the oven door half open.
Notes
Make sure the corn kernels are in a single layer on the baking sheet.
After 20 minutes of roasting, check if they are crunchy enough. Continue baking if they are not.
It tastes the best on the same day. And if you make it ahead of time, reheat in the oven for 5 minutes or in a skillet on the stove.
Nutrition
Serving Size:
Calories:

62

Sugar:

2.3 g

Sodium:

587 mg

Fat:

4 g

Carbohydrates:

7 g

Protein:

1.2 g

Cholesterol:

0 mg
Keywords: roasted corn kernels