I'm here again with another wonderful guest post by one of my favorite food bloggers. I've known Nancy of Spicie Foodie since I started blogging and have been following her blog since then. Anyone interested in food will be hooked by her blog, which is full of extremely impressive pictures! Nancy even has a book about successful food photography named Yummy Pics. You have to go check her blog if you haven't already!
Hi everyone, my name is Nancy and I am the person behind Spicie Foodie. It's a pleasure to guestpost for Zerrin today and meet the Give Recipe readers. Today I want to share with you one of my most favorite snacks, that also happens to be perfect for the summer heat. This simple snack of cucumbers sprinkled with chile powder, salt and a splash of lime juice is among the most popular in my home country of Mexico. There the summers are hot and the sun is bright, so staying hydrated is very important and juicy cucumbers will help your body stay so.

This treat is a favorite of mine because it brings back memories of hot summer days spent playing with my siblings. Our childhood summer's were spent running around with our friends in the neighborhood, cooling off at the pool, going for ice cream, family picnics, and of course eating our favorite summer foods. We loved to eat cucumbers drizzled with fresh lime juice, sprinkled with loads of chile powder and a pinch or two of salt. After all the cucumbers were gone then we'd lift up the bowl to our mouths and drink the remaining juices. The lime and cucumber juices helped keep up hydrated and very satisfied. But best of all we loved this snack because it was one we didn't need mom's help putting together, we could prepare it all by ourselves.
There really isn't much of a recipe because ingredient amounts are a matter of personal preference. But below is what you'll need. Feel free to add as much of the ingredients until you find the perfect combination for your taste buds.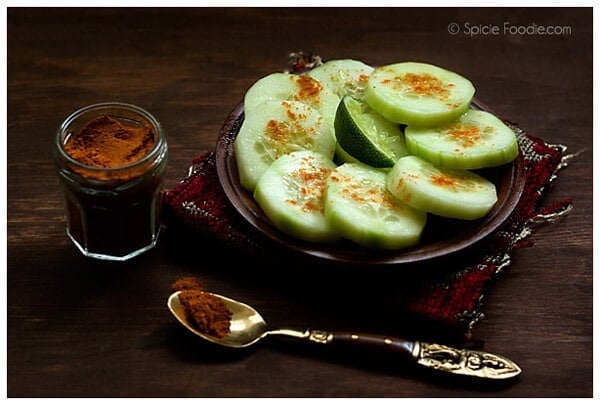 As we say in Mexico, buen provecho!, which means bon appetit. Enjoy your refreshing summer snack!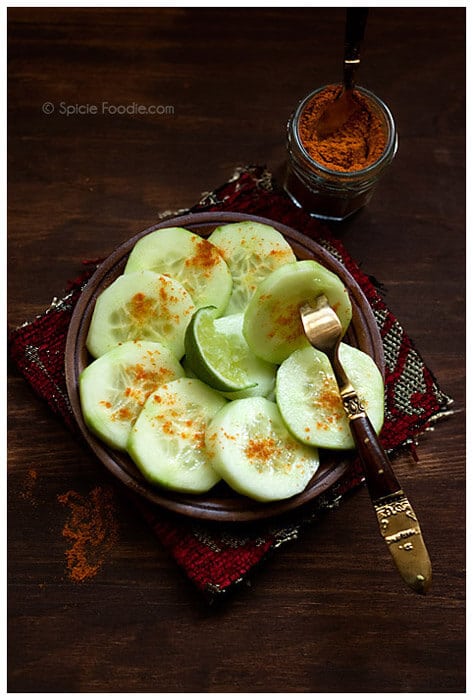 How about you, what is your favorite summertime snack?
Mexican Cucumbers with Chile and Lime- Guest Post
An easy and refreshing summer treat with cucumber.
Prep Time:

5 minutes

Total Time:

5 minutes
Ingredients
peeled cucumber, sliced or cut into spears or chunks
freshly squeezed lime juice*
chile powder or Tajin or any Mexican fruit seasoning powder
salt
Instructions
Combine all ingredients in a bowl and enjoy as a snack.
Notes
Note:
I like to add chile powder as I eat. Some bites have more and other's less chile, it's up to you. Don't forget to drink the juice left at the bottom, it's the best part!
If limes are not available substitute with lemons.
IF YOU LIKED THIS RECIPE, THEN YOU WILL LOVE THESE: