Fresh Cherry Crisp is the shortcut version of cherry pie. Very easy to make! Fresh cherries are used in this recipe but you can use frozen cherries too if you don't have fresh in your area.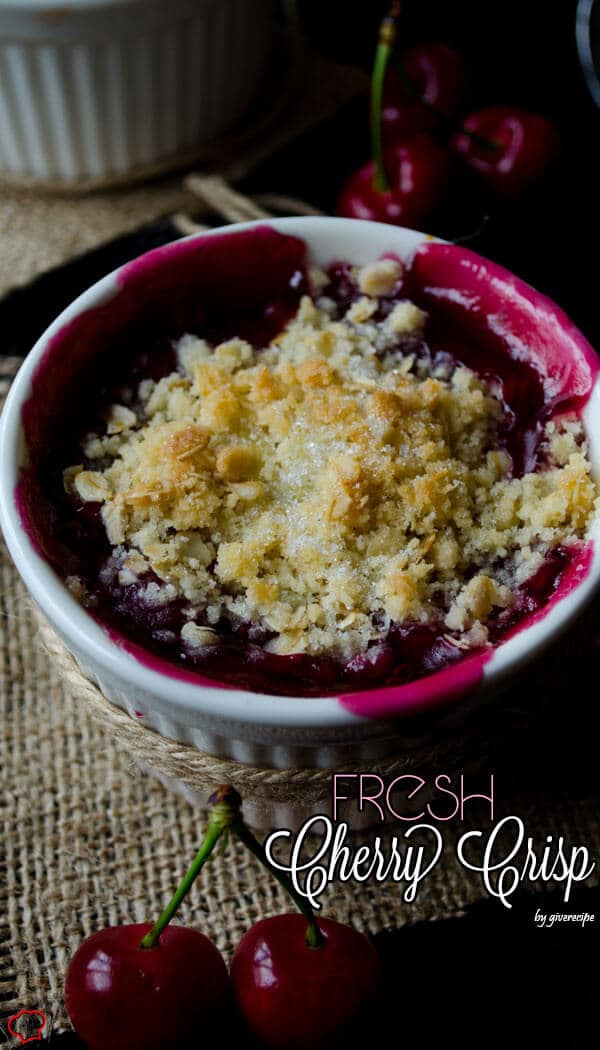 We've started to see great cherries at the markets, so it's time to make some wonderful desserts with this lovely colored fruit. Sour Cherry Pie is already our favorite, but this time I wanted to make an easier dessert, which is equally tasty. So I made this Fresh Cherry Crisp and it turned out amazing!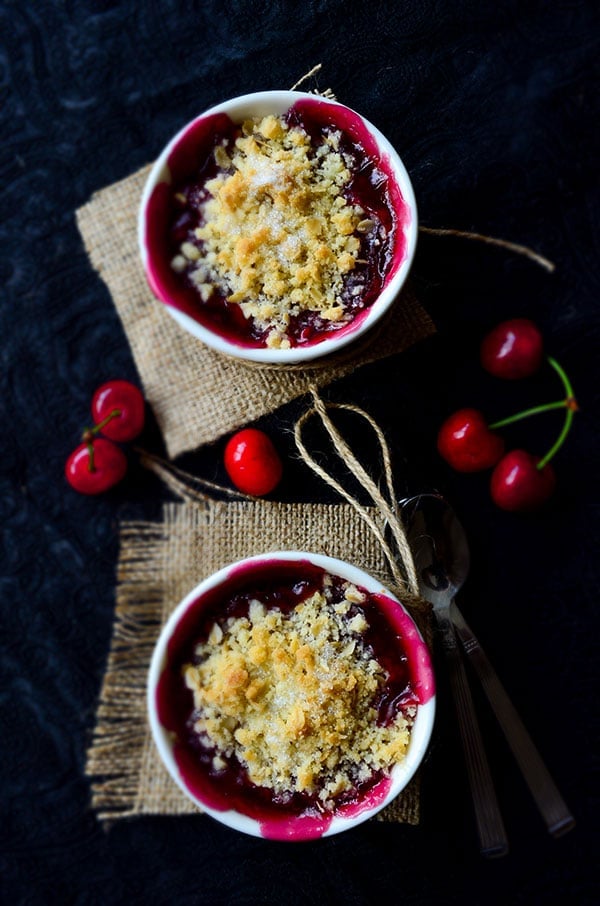 It is the first time I've made a crisp and we loved the idea! It's like the shorcut version of a fruit pie. I love fruit desserts because they are comforting and they make the dessert moist. What's more, you can substitute the fruit with whatever fruit you have in your kitchen. Make this Cherry Crisp when you can find cherry, and then change it with other fruit like apples, blueberries or peaches when cherry is no longer in season.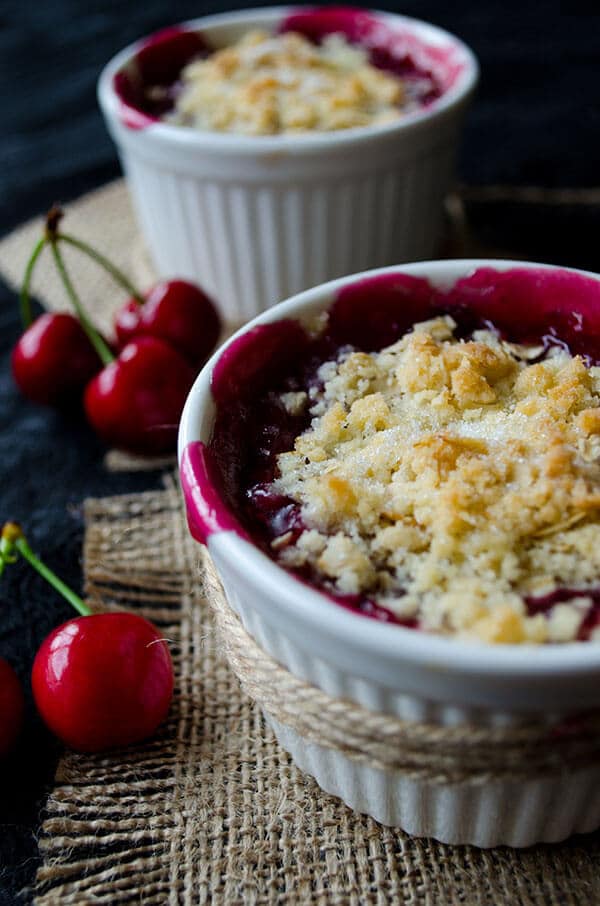 I made this cherry crisp in ramekins because I love that they can be served individually and they make you feel special when you are served. If you don't have ramekins, a cake pan works fine as well.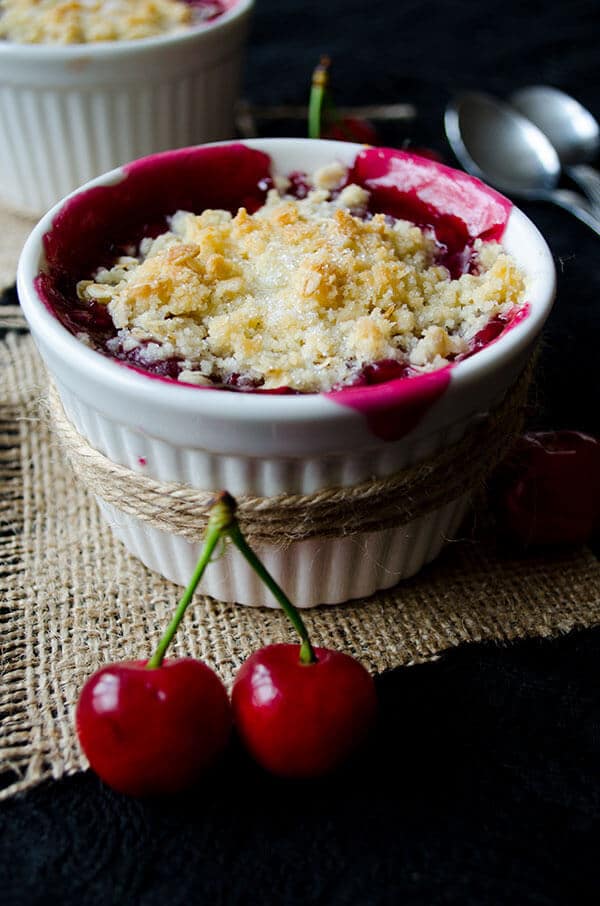 You will be mesmerized when you feel that tempting smell coming from the oven when your cherry crisp is in oven. You will love the bubbling cherry layer right under the crumble topping and don't worry if it runs over. It looks even more tempting if that happens.
You can have this cherry crisp as breaskfast too, I think it makes a wonderful start to a new day!
You can serve it with a dollop of ice cream to double the joy of coming summer.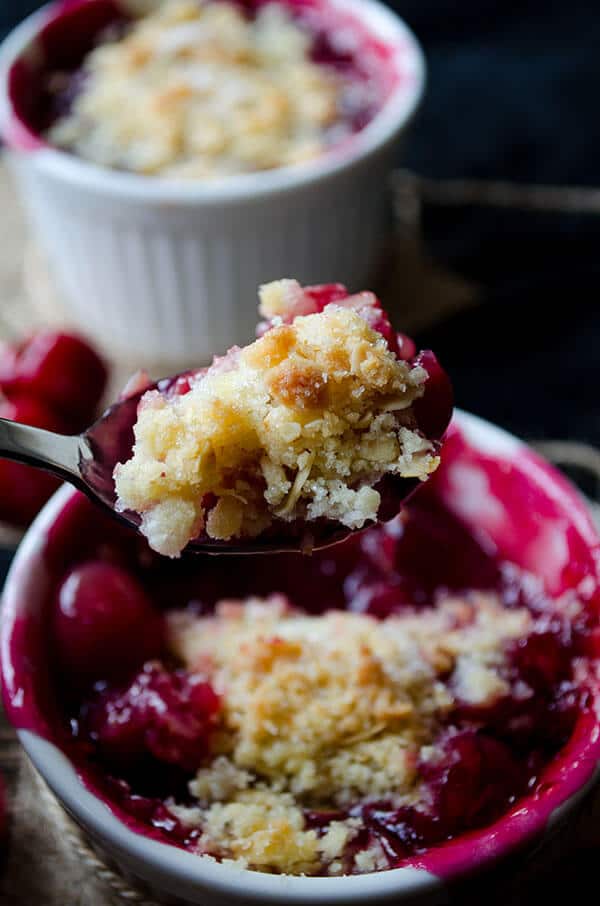 Fresh Cherry Crisp
A very easy dessert with fresh cherries. Crispy topping and moist center.
30 minPrep Time
30 minCook Time
Ingredients
Cherry mixture:

1 and ½ cups cherries, pitted
¼ cup sugar
1 teaspoon cornstarch

Crisp topping:

¼ cup all purpose flour
¼ cup sugar
A pinch of salt
¼ cup oats
A pinch of cinnamon
3 tablespoons butter, cold and cubed
A pinch of sugar, for the topping of each
Instructions
Preheat oven to 190C.
For the topping, mix flour, sugar, cinnamon and
Mix cherries, sugar and cornstarch in a bowl until combined well and set aside.
For the crumbly topping, mix everything except butter.
Add in the butter pieces and pinch them together with the oats mixture until it gets crumbly. Chill it for 15 minutes.
Put a little crumble mixture in ramekins to make a bottom layer for your crisp.
Share the cherry mixture into ramekins and sprinkle the topping mixture evenly on cherries.
Sprinkle a pinch of extra sugar on each.
Bake for 30 minutes or until the topping is slighly golden and the cherry layer is bubbling.
Serve warm or at room temperature.
7.6.2
576
https://www.giverecipe.com/fresh-cherry-crisp/
IF YOU LIKED THIS RECIPE, THEN YOU WILL LOVE THESE: