Ever wondered how to cook fava beans? In this post, we'll make it simple for you. We will guide you through the whole preparation of fava beans including the process of removing them from their pods, blanching, and shelling the inner beans.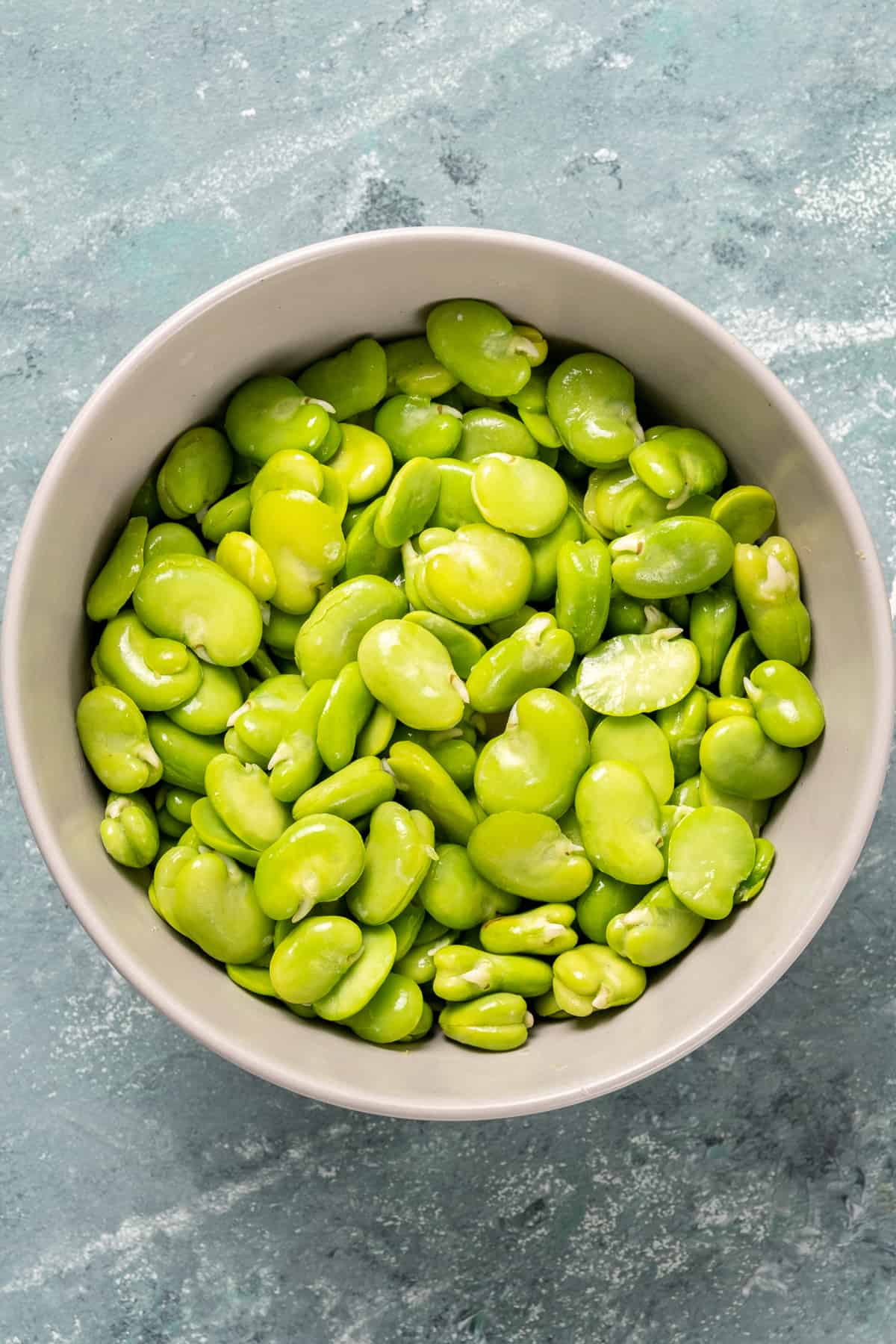 Fava beans are also known as broad beans, horse beans, or field beans. They're originally from the Middle Eastern, Mediterranean and North Africa, but these days, you can find them in cuisines.
So, what do they look like? Well, fava beans are bright green and have a shape like a big, plump pea. They're tucked inside long, thick pods, similar to peas or edamame. When you open up the pod, you'll see each bean is wrapped in a little skin that we usually remove before eating.
As for the taste, fava beans have a unique, slightly sweet and nutty flavor, with a buttery texture that's just delightful. They add a fresh taste to a variety of dishes, which is probably why they're so loved around the world!
To learn more about them, read our post, What are Broad Beans?
Jump to:
Selecting Fava Beans
If you're going for fresh fava beans, here are a few things to keep in mind while you're at the store or market: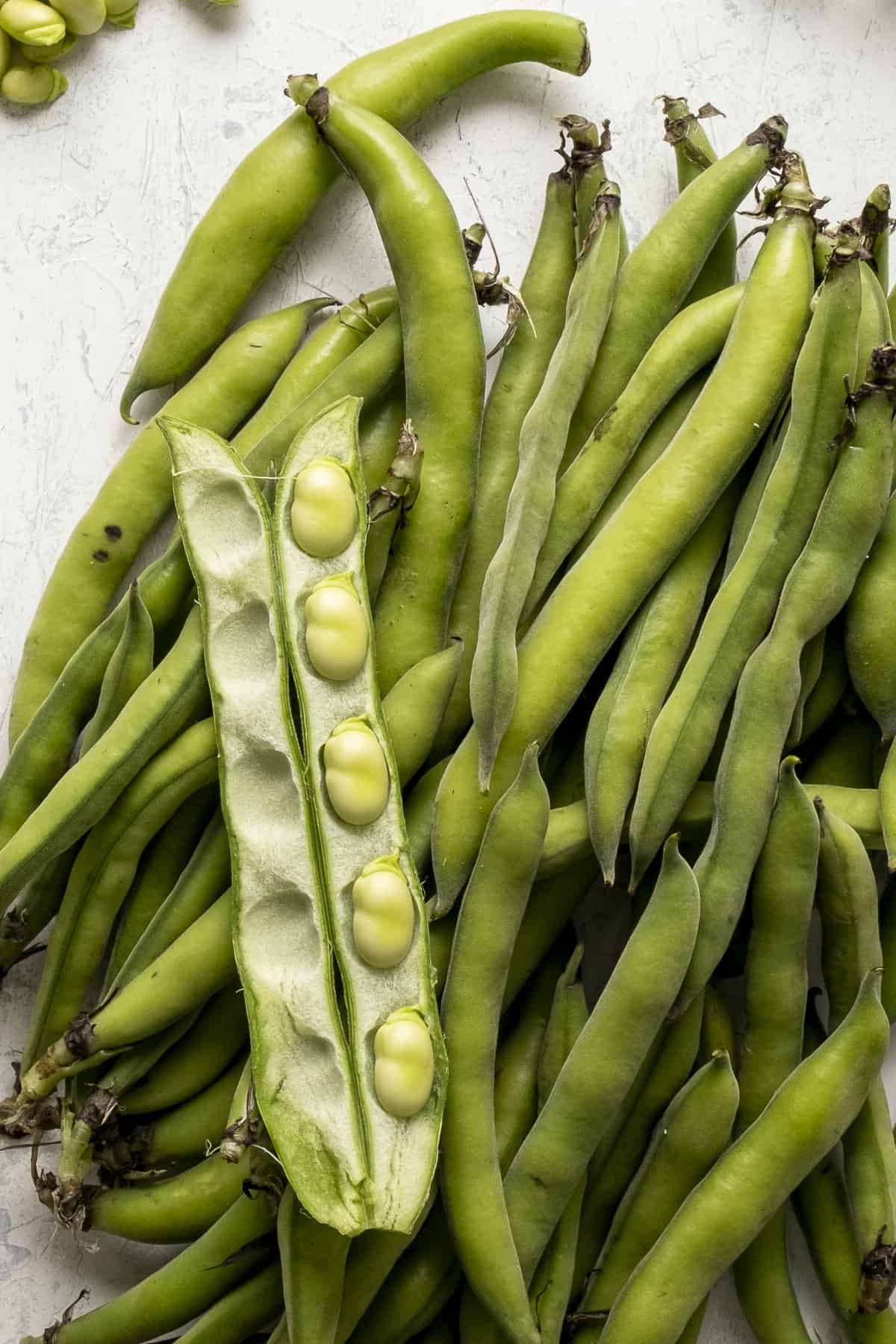 Look for bright color: The pods should be vibrant green. If they're yellow or brown, they're probably past their prime.
Feel the pod: The pods should feel firm and filled out. This means the beans inside are plump and ready to be cooked. Avoid any pods that are slimy, squishy, or have dark spots.
Size matters: Typically, larger pods will have bigger beans, but remember that very large beans might be tougher and not as sweet.
Now, green fava beans are excellent, but they do require a bit of work to prepare. If you want to save some time, or if it's off-season, you can still enjoy fava beans by buying them in the following other forms:
Dried fava beans: These are a great pantry staple and can be used in many dishes. Just remember that they need to be soaked before cooking.
Canned fava beans: These make cooking with fava beans super easy since they're already cooked. They're perfect for quick meals but make sure to rinse them thoroughly before using to remove any excess salt or preservatives.
Frozen fava beans: Often these come already shelled, saving you some work. They can go straight from the freezer into your cooking, making them a convenient option.
Remove Fava Beans from Their Pods
Fava beans are housed in thick, protective pods that aren't typically eaten due to their tough and fibrous texture.
So, before cooking fava beans, you'll need to remove them from their pods. Here's how you do it: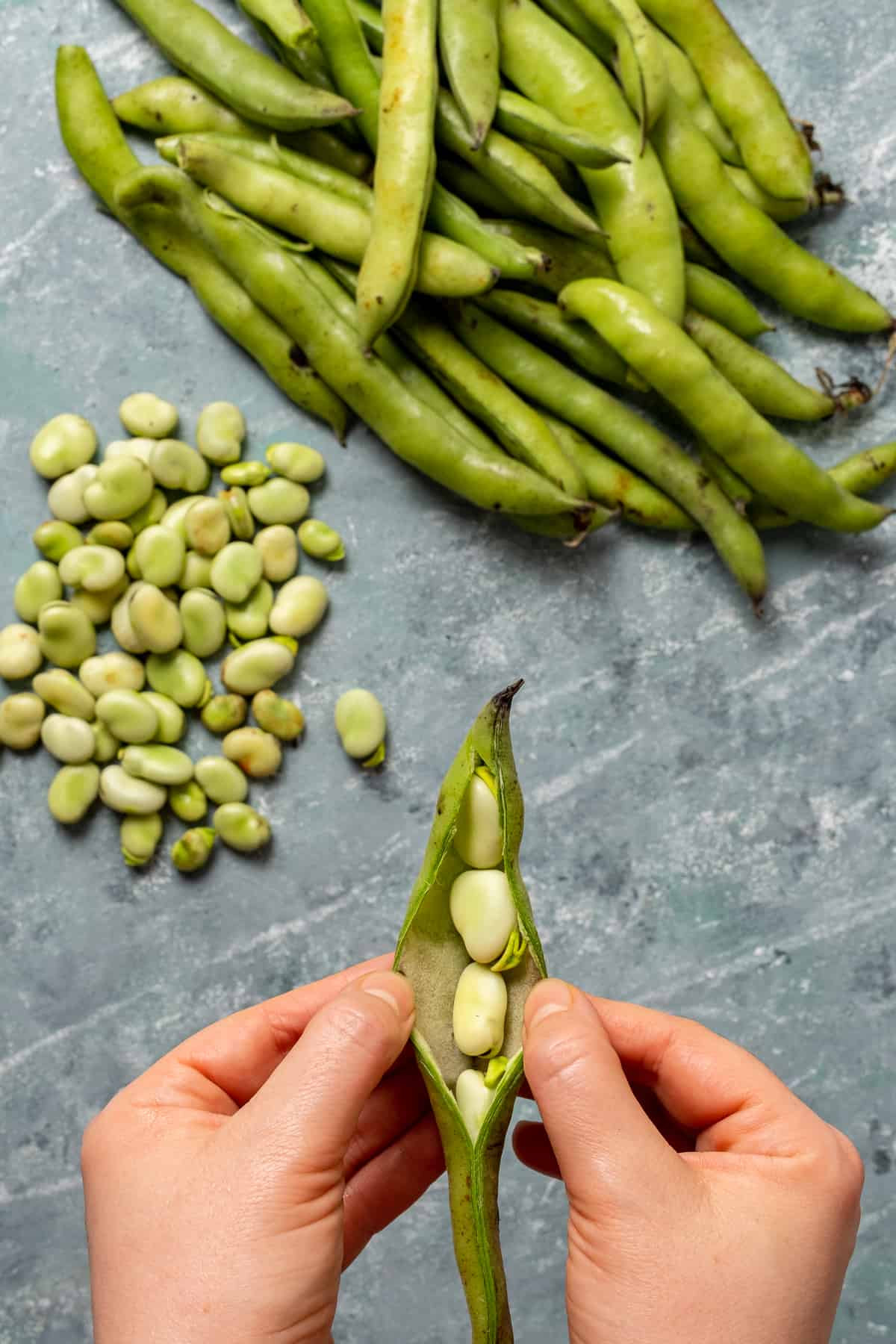 Start at the top: Each pod has a stem at the top that connects it to the plant. Begin by snapping off this stem end.
Open the pod: The place where the stem was attached also has a string that runs the length of the pod, much like on a snap pea. Once the stem is removed, pull down on the string to unzip the pod.
Remove the beans: Inside the pod, you'll find the fava beans. They're nestled into a soft, spongy lining inside the pod and can be easily popped out with your fingers. Simply run your thumb along the inside of the pod, pushing the beans out as you go.
Discard the pods: Once you've removed all the beans, the empty pods can be discarded.
Are the fava bean pods inedible?
No, they are not necessarily inedible, but their edibility depends on how young they are. If the fava beans in pods are very young and tender, they can be eaten whole. The beans inside the pod of these young ones are too tiny.
However, as they mature, the pods become quite tough and fibrous, making them less pleasant to eat. For this reason, it's usually recommended to remove the beans from the pods.
Blanch Them
This process softens the beans and makes them easier to shell. Here's a step-by-step guide on how to prepare and blanch fava beans:
Preparation for Blanching: Take each bean and using a small knife, make a small slit or nick on one end. This will make the next step, shelling the beans, easier after blanching.
Blanching Process: To blanch the fava beans, follow these steps:

Bring a pot of water to a boil. Add in salt.
Once the water is boiling, remove from the heat and carefully add the beans.
Let the beans soak in the boiling water for about 10 minutes. This process will loosen the skin around each bean, making them easier to shell.
After the beans have blanched, drain the hot water and immediately rinse them in a sieve under cold water.

Cooling Down: After you've drained the beans, give them a few minutes to cool down. This will make them easier to handle in the next stage, which is shelling.
Ice Bath Trick
After blanching fava beans, a helpful trick is to give them an ice bath. This process, also known as "shocking," involves immediately plunging the hot beans into a bowl of ice water. The quick change in temperature stops the beans from cooking further, preserving their bright green color and firm texture. Here's how to do it:
Prepare the Ice Bath: While your beans are blanching, fill a large bowl with ice and cold water.
Transfer the Beans: As soon as you've drained the beans, immediately transfer them into the ice bath.
Cool Down: Let the beans sit in the ice bath for a few minutes until they are completely cooled.
However, if you don't have ice on hand or prefer a simpler method, you can achieve a similar effect by immediately rinsing the beans under cold running water.
Shell The Beans
After blanching and cooling your fava beans, they're ready to be shelled. This is a simple task.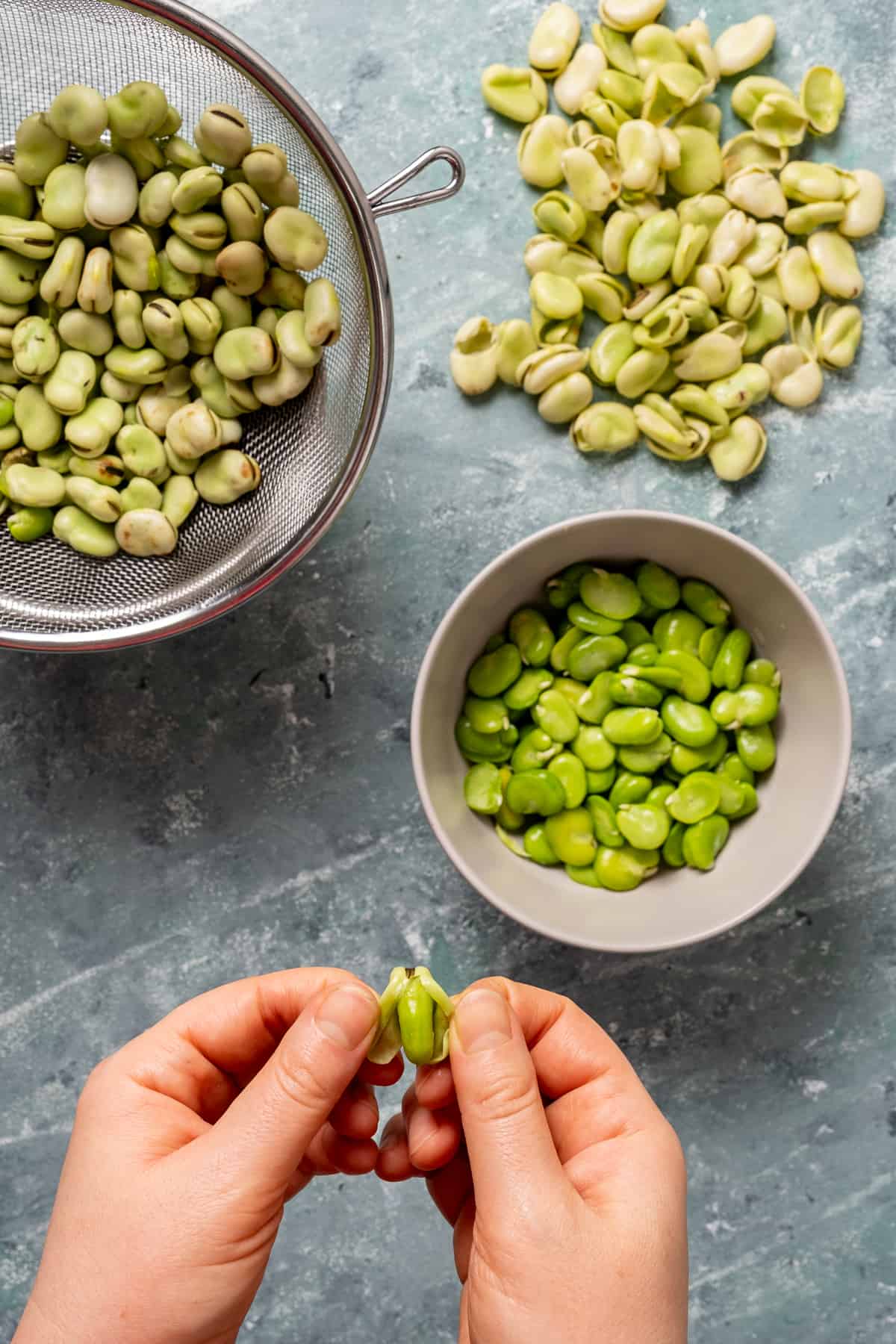 Just gently squeeze each bean at the end where you made the small nick before blanching. Then pull the skin from both sides. This will cause the bright green inner bean to slip out of its skin.
Peel all the beans in the same way and you'll have a bowl of tender, ready-to-use fava beans. Discard the skins. It's as simple as that! Now, your fava beans are ready to star in your next meal.
Do I have to shell the blanched fava beans?
Yes, it's generally recommended to shell blanched fava beans before cooking or eating them. While the outer skin of the fava bean is technically edible, it's often tough and can have a bitter flavor, which is why most recipes suggest removing it.
Shelling the beans leaves you with just the tender, sweet inner bean, which is much more enjoyable to eat.
However, keep in mind that this is a matter of personal preference, and some people do choose to eat the beans unshelled.
Storage
After blanching, you may not always use all the fava beans immediately. Here's how you can store them properly: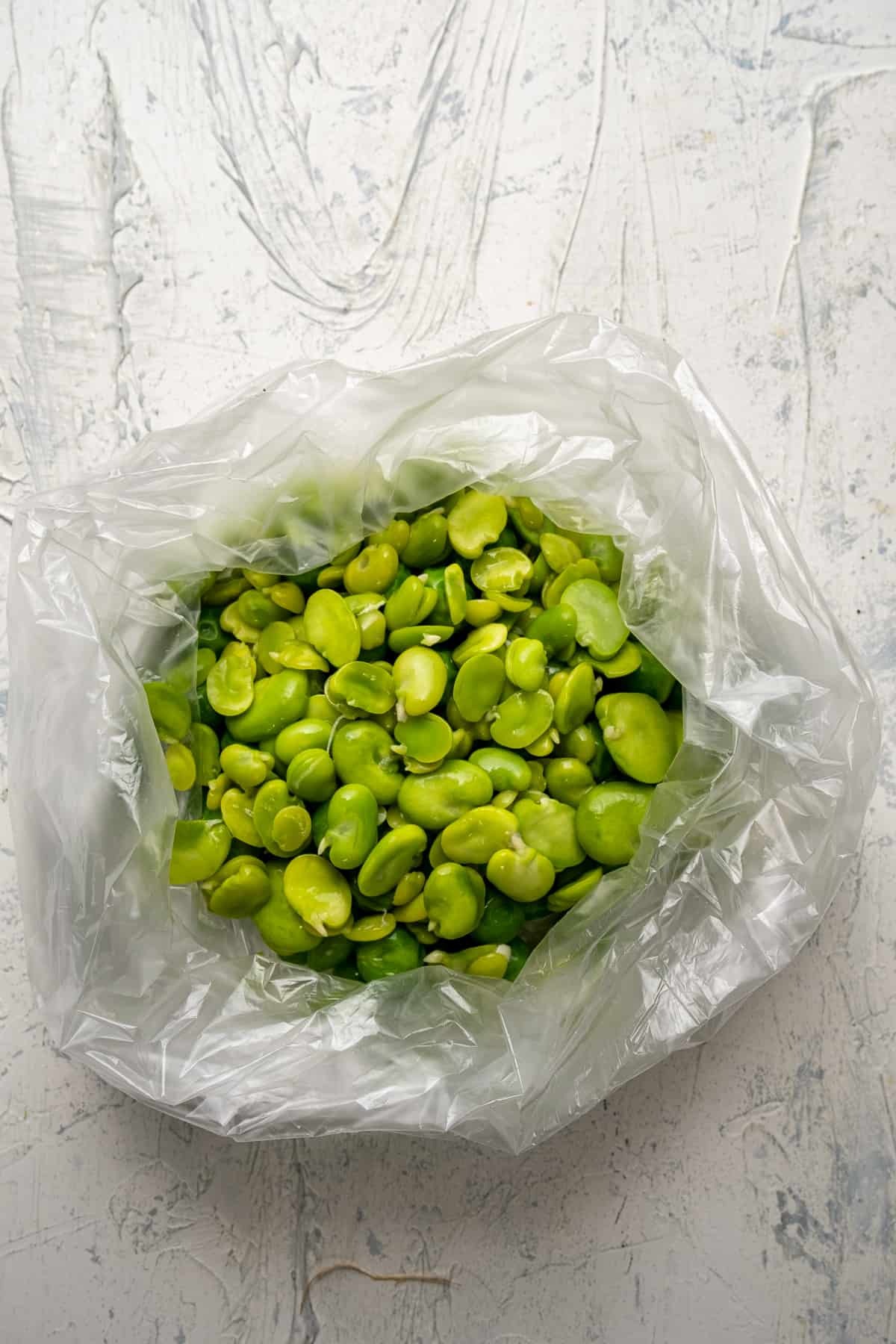 Cool Completely: Once blanched, ensure the fava beans have cooled completely before attempting to store them.
Refrigeration: If you plan to use the beans within a few days, simply place them in an airtight container and store in the refrigerator. They should remain fresh for up to 3-5 days.
Freezing: If you wish to store the beans for a longer period, you can freeze them. Spread the beans out in a single layer on a baking sheet and place them in the freezer. Once frozen, transfer them to a freezer-safe bag or container. This method prevents the beans from freezing together in a clump. They can last for up to 6 months.
Using Stored Beans: When you're ready to cook broad beans that are refrigerated, you can add them directly to your dishes. If they are frozen, it's best to thaw them in the refrigerator before using them in cold dishes like salads. You don't need to thaw them if you are planning to add them in dishes like hot soups. Just let them simmer in the dish for a few minutes.
Usage
Fava beans, with their sweet, earthy flavor and creamy texture, make a delightful addition to a wide variety of dishes. Here are a few ideas for you to create your own fava bean recipes.
How Long To Cook Fava Beans
Once you've shelled and blanched your fava beans, they're already cooked and ready to be used in your recipes. Blanched fava beans are perfectly edible and tasty as they are. They can be tossed into salads, stirred into pasta, mashed into dips, or just snacked on as is.
However, depending on the specific recipe or personal preference, you may want to cook them further to change their texture or enhance their flavor. Here's a general guideline:
In Dishes: If you're adding the beans to a dish that will be cooked, such as a soup, stew, or stir-fry, simply add them in the last few minutes of cooking. This will warm them through and help them absorb the flavors of the dish without overcooking them.
Sautéing: If you wish to sauté fava beans, they typically need around 3-5 minutes in a pan with a bit of olive oil over medium heat. They should be stirred frequently to prevent sticking and ensure even cooking.
Remember, these additional cooking times are just suggestions. Always adjust to your taste and the specific requirements of your recipe.
Are They Healthy?
Yes, fava beans are indeed healthy! They are packed with essential nutrients such as fiber and protein, making them a great addition to any diet.
They contain heart-friendly nutrients like potassium and B vitamins, and they also provide manganese, copper and magnesium, which are important for bone health.
However, as with all foods, they should be eaten as part of a balanced diet. Always consult with a healthcare professional for personalized dietary advice.
FAQs
Can you eat fava beans raw? 
While it's possible, it's not generally recommended due to their tough texture and the presence of lectins, which can be hard to digest. They're much more enjoyable and easier to digest when cooked. 
Do you need to soak fava beans before cooking? 
No, you don't need to soak fava beans before cooking. They just need to be removed from their pods and blanched in boiling water before you shell them. Soaking is not a necessary step for fresh fava beans. However, if you're using dried fava beans, soaking may be required to soften them before cooking. Always refer to the instructions on the package if you're using dried beans. 
How do you know when fava beans are ready? 
Fava beans are ready when they're bright green and tender. After blanching and shelling, you can taste a bean. If it's soft and creamy, it's ready to eat. If it's still a bit firm or chalky, you may want to cook it a bit longer in your recipe. 
What happens if you overcook beans?
If you overcook beans, they can become mushy and lose their shape, and their color may become less vibrant. However, if you plan to use the beans in a dish where a soft texture is desirable, like a dip or a mash, overcooking isn't a problem and can actually be beneficial. 
How many beans do fava pods yield? 
On average, a single fava bean pod yields about 3 to 8 beans. The exact number depends on the size of the pod and the maturity of the beans. Therefore, when cooking with fava beans, consider that you'll get fewer beans than the number of pods you have. 
As always: If you make this recipe, let us know what you think by rating it and leaving a comment below. And post a pic on Instagram too—tag @give_recipe so we can see!
Sign up for the FREE GiveRecipe Newsletter to get the new recipes into your inbox! And stay in touch with us on Facebook, Pinterest, YouTube and Instagram for all the latest updates.
Print
📖 Recipe
How To Cook Fava Beans
This simple guide walks you through how to prepare and cook fresh fava beans. From choosing the perfect pods, to blanching and shelling the beans, this recipe will leave you with tender, sweet fava beans ready to be used in your favorite dishes. Enjoy their unique, buttery flavor in salads, pasta, risottos, or even as a delicious dip. Store leftovers in the fridge or freezer for a quick, healthy addition to future meals.
Author: Zerrin & Yusuf
Prep Time:

15 minutes

Cook Time:

10 minutes

Total Time:

25 minutes

Yield:

4

1

x
Category:

Side Dish

Method:

Blanching

Cuisine:

Middle Eastern
2

pounds / 900 grams fresh fava beans (broad beans)

1 teaspoon

salt
Instructions
Removing the Beans from their Pods

: To remove the beans from their pods, simply split open the pod and push out the beans. The pods can be composted or discarded.

Preparing for Blanching

: Before blanching, make a small slit on each bean. This will make it easier to remove the outer skin later.

Blanching the Beans

: Bring a pot of water to a boil and add some salt. Once the water is boiling, remove it from the heat and carefully add the beans. Let the beans soak in the hot water for about 10 minutes. This will loosen their outer skins and make them easier to shell.

Cooling Down

: After the beans have been blanched, drain the hot water and immediately rinse the beans in a sieve under cold running water. Give them a few minutes to cool down before the shelling process.

Shelling the Beans

: Once the beans have cooled, shell them by gently squeezing on one end. Then pull the skin from both sides. The inner bean should slip out easily. Discard the outer skins.

Using the Beans

: Your fava beans are now ready to be used in your favorite dishes! They can be added to salads, mashed into dips, combined with pasta, or sautéed with garlic and olive oil for a simple and delicious side dish.

Storing the Beans

: If you have leftover beans, cool them completely, then store them in an airtight container in the refrigerator for up to 5 days. For longer storage, they can be frozen for up to 6 months.
Notes
Selection

: Choose firm, bright green pods without blemishes. Larger pods have more mature (and potentially bitter) beans.

Quantity

: A pound of pods yields about a cup of shelled beans.

Blanch and Shell

: This crucial step removes the tough skin, revealing a tender, sweet bean.

Cooking Time

: Avoid overcooking unless making a dip or puree where soft texture is desirable.

Versatility

: Fava beans can enhance salads, pastas, risottos, soups and dips.
Nutrition
Serving Size:
Calories:

773

Sugar:

12.9 g

Sodium:

610.9 mg

Fat:

3.5 g

Carbohydrates:

132.2 g

Fiber:

56.7 g

Protein:

59.2 g

Cholesterol:

0 mg
Keywords: how to cook fava beans