If you need substitutes for pomegranate molasses, you are at the right place. We have prepared a list of the best alternatives to this Middle Eastern condiment. You will even find a very simple balsamic vinegar recipe you can make at home to use as a sub for pomegranate molasses.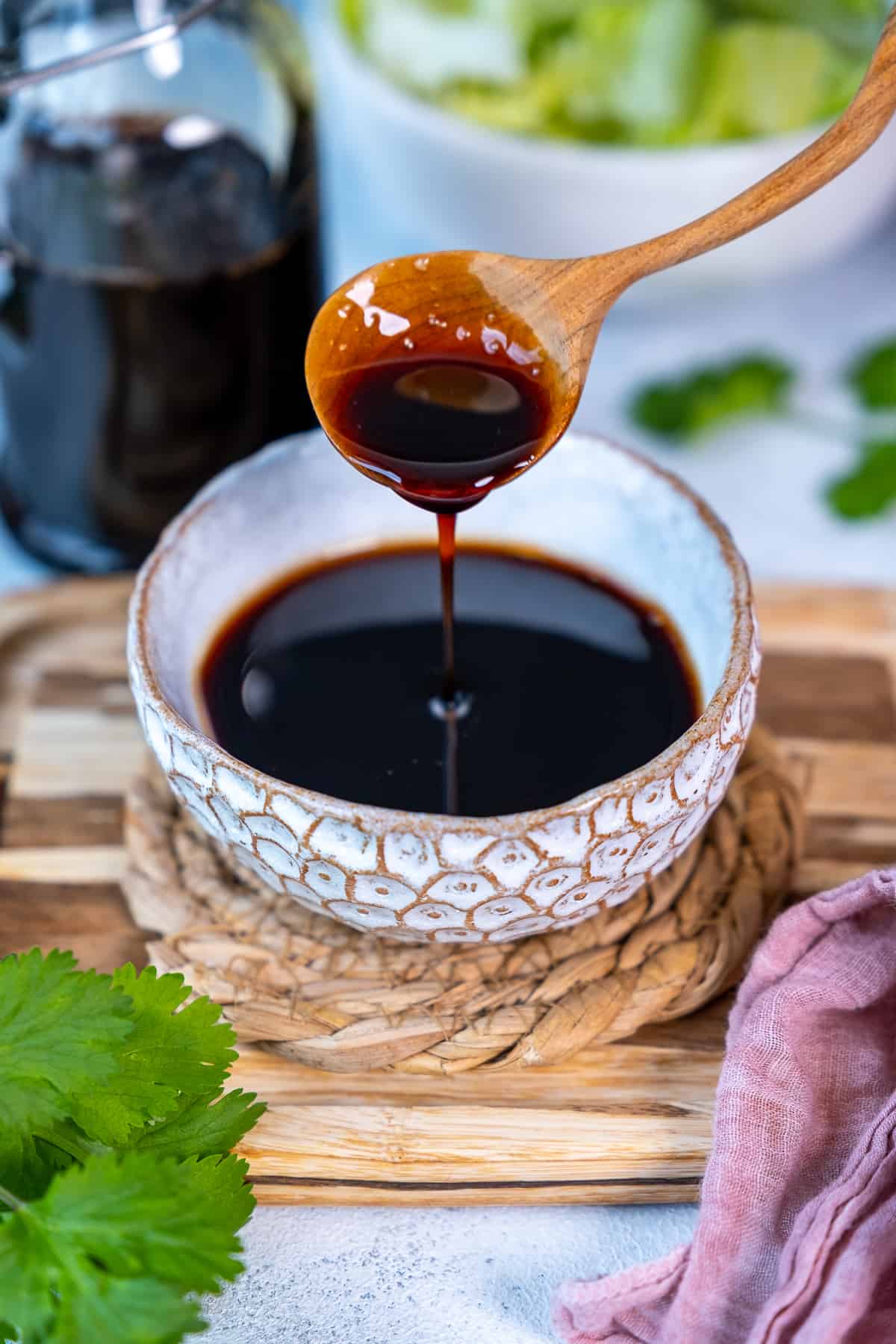 Pomegranate molasses is a staple ingredient in Middle Eastern cuisine. It's a thick syrup made from reduced pomegranate juice and used mostly in salad dressings. It is healthy and famous for the antioxidants it has. If you are new to it, go check out our post, What Is Pomegranate Molasses.
Unfortunately, pomegranate molasses is not a regular ingredient you can easily find at your local store. So it might be really annoying when a recipe calls for it and you don't have it on hand.
You can absolutely try making your own homemade pomegranate molasses when you can't find it. And it would be the best option with the most authentic flavor and texture.
Jump to:
If you need a quicker solution though, read on to learn the ways to substitute this sour pomegranate syrup.
Today, we will show you the ultimate pomegranate molasses substitute you can easily make at home: Reduced balsamic vinegar. It only uses two ingredients and is easily adjustable. This alternative works well in any savory dish or salad dressing.
How To Make Pomegranate Molasses Sub From Balsamic Vinegar
Hands down, the best homemade substitute for pomegranate molasses is balsamic vinegar sauce sweetened with sugar.
Balsamic vinegar is made from unfermented grape juice. It has a similar fruity, tart flavor as pomegranates. And, of course, it is naturally acidic.
Now, the addition of sugar helps give it the sweetness and syrupy consistency that pomegranate molasses has. On its own, it's mainly bitter, tart, and sour. But when you add sugar, it mimics pomegranate molasses almost exactly!
You only need 2 ingredients to make this easy substitution: Balsamic vinegar and sugar.
This recipe makes roughly ¼ cup of reduced pomegranate molasses replacement. If you need more, then double or triple the recipe. Just don't add too much sugar. Pomegranate molasses isn't a sugar syrup.
Boil the ingredients: Combine the balsamic vinegar and sugar in a small saucepan. Cook until sugar dissolves. Bring it to a boil over medium-high heat.
Reduce the mixture by simmering: Once it starts to boil, lower the heat to medium low and leave it to simmer for 15-20 minutes. The liquid will thicken and get a syrupy consistency that is similar to pomegranate syrup. Remember to stir it occasionally so it doesn't caramelize.
Cool and store: Once you are happy with the consistency, remove the pomegranate molasses from the heat and allow it to cool completely. Keep in mind that it will get thicker as it cools.
Once it's cooled can you store it in a clean bottle or jar. Keep it at room temperature for a week, or store it in the fridge for much longer. It can even last up to 6 months if stored properly.
Uses
The reduced balsamic vinegar syrup works as the best alternative you can make at home. You can use it for virtually any dish that calls for pomegranate molasses. It has a dark brown (almost black) color, so make sure that the color of the dish isn't affected much. It works best in salad dressings, sauces or savory meals.
Try it with our famous roasted onions or Turkish coban salad.
Other fantastic dishes that pair well with this alternative include this Pomegranate Molasses Chicken, Pomegranate Molasses Lamb, and this incredibly hearty Persian Fesenjoon Stew.
We don't recommend using it for desserts or beverages.
Other Substitutes For Pomegranate Molasses
Tamarind Paste (Concentrate)
We have to admit that tamarind paste is the best pomegranate molasses substitute you can buy. It has the same consistency and almost the same flavor as pomegranate molasses. So if it is easy to find tamarind concentrate in your area, go buy it and use it in the same way you use pomegranate molasses. 
You can even use this substitute in authentic Middle Eastern recipes like cigkofte, sumac onions and acili ezme.
The taste of tamarind concentrate is a bit tangier than pomegranate molasses. We are completely happy with this but if you find it too sharp, you can combine it with a little honey or maple syrup. You might need to heat it a bit so that it is easier to mix in honey.
Fresh Pomegranate Seeds
Pomegranate seeds make the simplest substitute for pomegranate molasses in salads. Especially if they are sour, they will give you a similar refreshing feeling when you use them in salads like bulgur salad.
They are great on green salads like arugula fig salad as well.
So if there is pomegranate molasses in a salad dressing, you can make the dressing without it and add pomegranate arils in the salad instead. If the seeds are not sour enough, it might be a good idea to add extra lime juice or lemon juice in the dressing.
The taste won't be exactly the same for sure but you will still be pleased with the fresh fruity result.
Fresh Raspberries
Raspberries have a similar sour taste to pomegranates. So you can use them in salads like our favorite green olive salad in the same way.
If you need a pom syrup replacement for a marinade or sauce, you can use raspberry jam as well. Obviously, the consistency is different. But you can easily water it down and make it less chunky. Also, you can mix it with a tablespoon of lemon juice to give it a tangy flavor.
Fresh Pomegranate Juice
You might be thinking of using pomegranate juice as a replacement for pomegranate molasses. We have to say it is not a good idea. The juice doesn't have the same consistency, so it won't be the same as the molasses.
We recommend turning pomegranate juice into molasses by simmering it in in a saucepan for a few hours. Make sure it is pure, natural pomegranate juice and doesn't have any additives.
If you don't have time to do this, consider other alternatives we share in this post.
Cranberry Juice Concentrate
Cranberry juice concentrate has a very similar tart and sweet flavor. You can use it in sauces or in glazes on meat, chicken or vegetables when roasting.
Just know that cranberry juice concentrate and cranberry juice are two different things. You can't use cranberry juice drink in place of pomegranate molasses.
Cranberry concentrate is what you get after the water in cranberry juice evaporated. So it has a consistency similar to molasses and can be used as a substitute.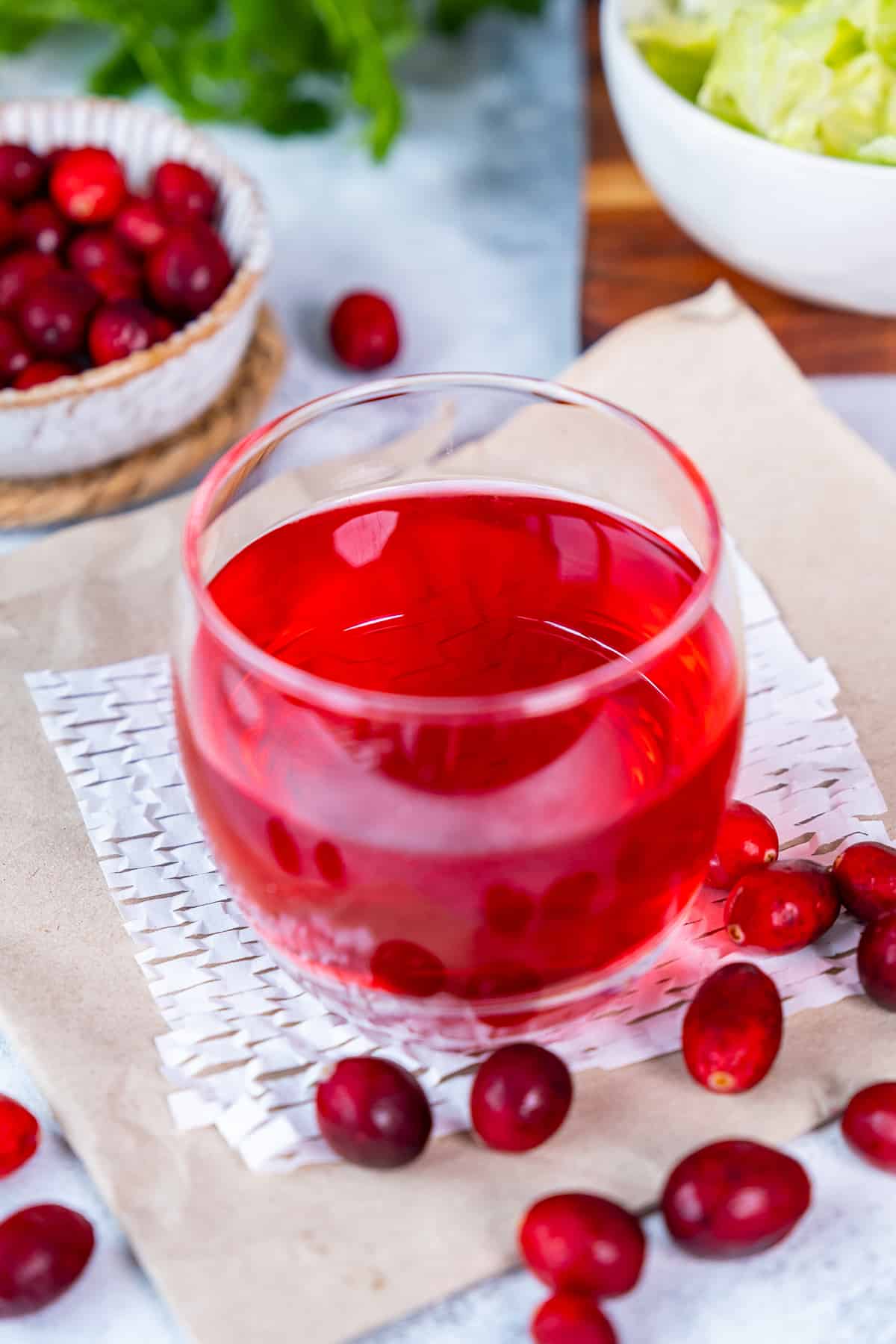 If you still want to use cranberry juice, you need to cook and reduce it until it has a syrupy consistency. We think sugar and lemon juice (1 tablespoon each) should be added to get that consistency. Then let it simmer over medium low heat until it thickens.
We haven't tried this one yet, but it might be a solution if cranberry juice is our only option.
Grenadine
Grenadine is a pomegranate product, but it's not the same as pomegranate molasses. This ingredient is made from a combination of pomegranate juice, sugar, lemon juice and red food coloring. It is much sweeter and mostly used in cocktails.
If there is a cocktail recipe calling for pomegranate molasses, you can use grenadine syrup instead. If there is a sweetener in the recipe, you can leave it out as grenadine is already sweet.
Other than cocktails (or mocktails), it won't be very bad to use grenadine in soups or stews in place of pomegranate molasses but use it in little amounts. And know that it will add some sweetness.
Cassis Syrup
Cassis syrup or créme de cassis is a liqueur that is made from blackcurrants. It has an intense flavor with a dark red color. Just like grenadine, you can substitute it for pomegranate molasses only in cocktail recipes.
Plum Sauce
Plum sauce is a sweet and sour condiment that is a staple in Asian cuisine. You can use it to replace pomegranate molasses in glazes or in Asian chicken recipes.
Lemon and Honey
This is an easy, quick alternative, despite not being exactly the same. You can experiment with the ratios of sweet and tangy to recreate a similar flavor profile to that of pomegranate molasses.
And the honey adds a similar thick consistency that the molasses has too.
Conclusion
We've provided you with a very broad list of pomegranate molasses substitutes. But as always, choosing one that works best for you will come down to a bit of experimentation.
Our most favorites in this list are tamarind paste concentrate and balsamic vinegar sauce (recipe below). Tamarind would be the best option to buy but just like pomegranate molasses, it is not sold everywhere. 
On the other hand, balsamic vinegar is sold at any market. So when you can't find pomegranate molasses and tamarind concentrate, make this easy sauce with balsamic vinegar.
And as we've said before, it is better to make your own pomegranate molasses than trying to endlessly wander the isles at the grocery store. And if you love middle Eastern cooking, you won't regret investing the time in making it from scratch!
As always: If you make this recipe, let us know what you think by rating it and leaving a comment below. And post a pic on Instagram too—tag @give_recipe so we can see!
Sign up for the FREE GiveRecipe Newsletter to get the new recipes into your inbox! And stay in touch with us on Facebook, Pinterest, YouTube and Instagram for all the latest updates.
Print
📖 Recipe
Best Substitutes For Pomegranate Molasses (Balsamic Vinegar Recipe)
Balsamic vinegar and sugar are combined, then simmered in a sauce pan until thickens. This is an easy-to-make substitute for pomegranate molasses!
Author: Zerrin & Yusuf
Prep Time:

1 minute

Cook Time:

20 minutes

Total Time:

21 minutes

Yield:

4

Category:

Condiment

Method:

Cooking

Cuisine:

American
1 cup balsamic vinegar

1 and ½ tablespoons sugar
Instructions
Combine balsamic vinegar and sugar in a small saucepan. Bring it to a boil over medium high heat.

Once it boils, reduce the heat to medium low and let it simmer until it reduces and gets a bit thicker. Stir occasionally. It might take 15-20 minutes. Don't stay too close to the saucepan as the steam coming from it smells too sharp. It might be really disturbing for your eyes and nose.

Remove from the heat, let it cool completely and use immediately or store in a small jar.
Notes
Make sure to stir it occasionally. Otherwise, it might get caramelized.

These measurements make about ¼ cup of reduced balsamic (substitute for pomegranate molasses). If you need more than this, increase the amount accordingly. But increase the amount of sugar gradually. It is not supposed to be too sweet.

To Store: Put it in a small container like a clean jar or bowl and keep it at room temperature for up to a week or longer in the refrigerator. 
Nutrition
Serving Size:
Calories:

74

Sugar:

14.2 g

Sodium:

14.7 mg

Fat:

0 g

Carbohydrates:

15.6 g

Fiber:

0 g

Protein:

0.3 g

Cholesterol:

0 mg
Keywords: pomegranate molasses substitutes