Meatballs and eggplants enriched by garlic and spices come together for a delicious dinner. What's a better meal? Make this tasty, healthy and filling patlican kebab (Eggplant Kebab) for your next dinner. It'll be a big hit for everyone!
We are huge fans of eggplants and enjoy it in as many ways as we can during summer. Another favorite eggplant dinner recipe of our family is karnıyarık Turkish stuffed eggplants. We also love roasted eggplant salad or baked imam bayildi as a lunch or side. And baba ganoush without tahini is a perfect smoky dip.
We have this easy eggplant kebab quite often because it is simple to make. Plus, it is soooo delicious when eggplant comes together with meatballs, tomatoes and garlic.
This patlican kebab recipe is a little bit different from other baked eggplant dishes which are mostly made with a type of cheese like mozzarella or parmesan. Unlike those cheesy recipes, in Turkey, we make it with meatballs and call it eggplant kebab, patlican kebabı.
Jump to:
What Is Patlican Kebap?
There are so many types of kebabs in Turkish cuisine. And we have shared several of them here. Doner kebab, Adana kebab, kofta kebab, chicken doner kebab are just to name some.
Eggplant kebab aka patlican kebap is yet another type of Turkish kebab. It has two versions: 1)On skewers. In an authentic kebab restaurant, eggplants and diced lamb are cooked together on skewers over wooden fire. 2)In a baking pan. Eggplant slices and meatballs are baked together in a pan with a tomato sauce. It is very much like Turkish Izmir kofte, which is made with potatoes and meatballs. We will share this second version with you today.
If you love the combination of meatballs with vegetables, you might want to see our meatball stew with potatoes and carrots too.
Why We Love This Recipe
The flavors are amazing together. If you have never tried the combination of eggplants, meat, tomatoes, garlic and green peppers, you have to try it asap!
It can be made ahead. This is really helpful when you have guests. Just reheat it in the oven.
It is freezer friendly. You can freeze patlican kebab either cooked or raw. If you want to freeze it raw, prepare meatballs and eggplants, place them in a baking pan and freeze. Thaw before baking when you are ready to make the recipe. And prepare the rest of the ingredients when it is in the oven.
About The Ingredients
Meatballs. We use 80% lean ground beef to make the meatballs in this patlican kebabı recipe. You can use ground lamb if you like or a combination of both. We make a simple meatball mixture by combining ground beef, very finely chopped onion, garlic and spices. This is our quicker way of making our ultimate homemade meatballs. 
Eggplants. When buying eggplants, we choose the ones you see in the pictures here. Their seeds are tiny and they match perfectly with the size of meatballs.
Tomato puree. We puree tomatoes in a food processor, but you can use store-bought tomato puree if you want.
The Mediterranean combination of eggplants, meatballs, garlic, tomatoes and olive oil is a great success. They simply make the tastiest eggplant recipe when they meet together.
Alternative Add-Ins:
You can definitely add zucchini for more fiber. Potatoes would also be a delicious add-in in this dish.
How To Make The Recipe
It is very easy to make this Turkish eggplant kebab. It is actually 10-minute work if you have meatballs in the freezer.
If you do not have frozen meatballs, you will need to make fresh ones but do not worry. It is quite simple.
First, make the meatballs. Combine ground beef, onion, garlic, cumin, black pepper, chili powder, salt and olive oil in a large bowl. Next, cover and let it sit in the refrigerator for 30 minutes. Then shape the meatballs and put them aside. You can wet your fingers when shaping meatballs.
Second, prepare the eggplants. Slice the eggplants and soak them in water. Make sure you sprinkle 1 teaspoon salt over them and wait for about 15 minutes.
Drain and dry them using a paper towel. Now, preheat the oven to 400F (200C).
Third, place meatballs and eggplant slices in turns in a baking pan. After that, drizzle olive oil over them and bake for 30 minutes or until the eggplants are tender. You can check it by piercing them with a fork or knife.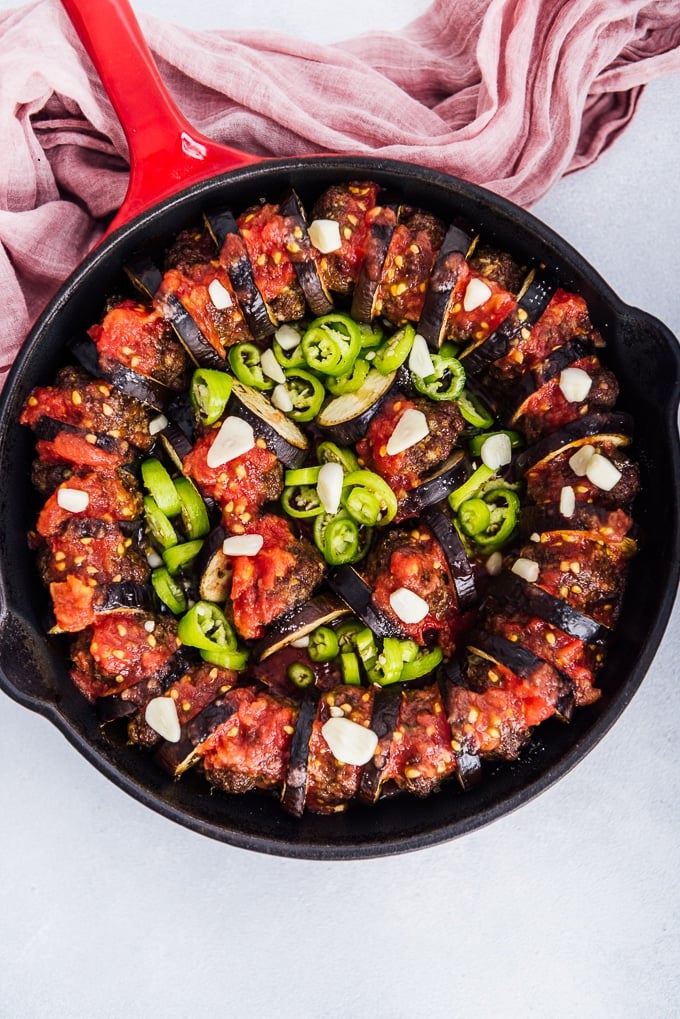 Finally, remove from the oven. Place garlic slices and green peppers randomly in the pan and pour tomato puree over them. Now sprinkle salt and black pepper. Bake for another 15 minutes.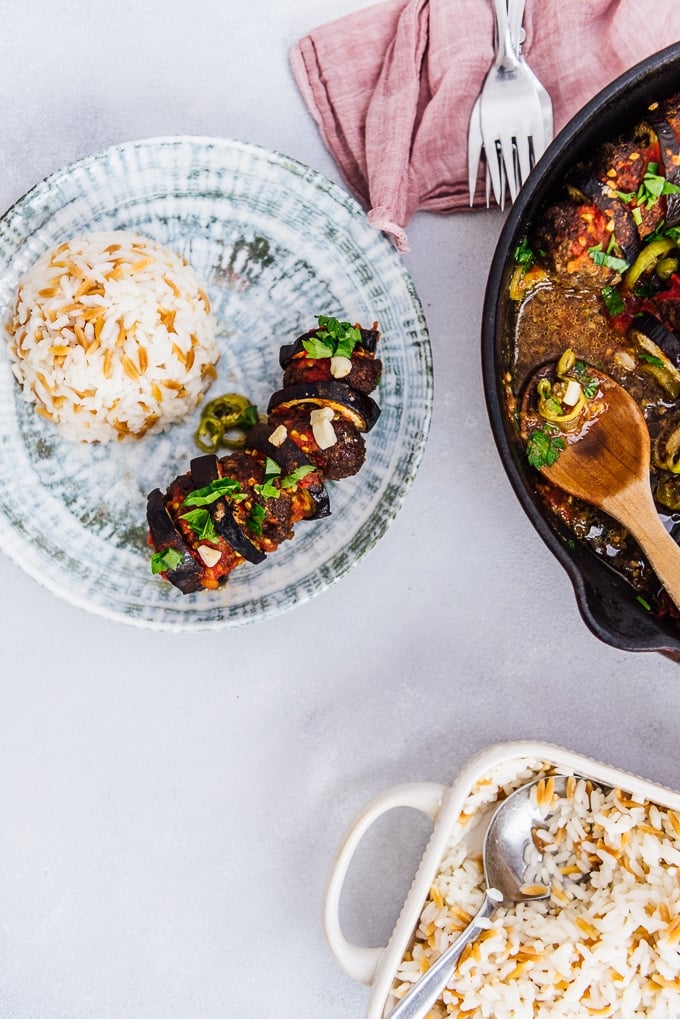 What To Serve On The Side
In Turkish cuisine, you traditionally eat eggplant kebab with Turkish pilaf with rice and orzo or tomato bulgur pilaf and Turkish cucumber dip with yogurt called cacik. This is a very classic dinner or lunch menu.
FAQs
Can I freeze this eggplant kebab?
Yes, it is a freezer friendly meal. You can freeze it both raw or cooked. If you are planning to freeze it raw, keep everything raw except eggplants.
Bake the sliced and dried eggplants in the oven for about 15 minutes at 400F. Cool and then place them in the pan with meatballs and freeze.
Make sure you thaw them overnight before baking.
Can I make patlican kebab with chopped beef or lamb instead of meatballs?
Yes. If you don't feel like preparing meatballs, make your casserole with meat. One difference though: Unlike the meatball version, you should cook the meat and eggplant slices slightly before combining them together. To do this, heat a cast iron skillet and cook eggplant slices in little olive oil, turning them over so that both sides get slightly tender. Transfer them on a plate.

In the same skillet, sauté about ½ cup diced onion with olive oil in a cast iron skillet. Add in chopped meat, add in a little water (about ¼ cup). Let it release its juice and then absorb it back. You can season it with any spices you like. We love cumin, chili powder and black pepper. Remove it from the heat. Top with eggplants, tomato puree, green peppers and garlic. Bake for 30 minutes.
Can I make this recipe without meat?
Although it won't be a traditional kebab recipe, you can make this recipe vegan. It can be very delicious without meat, as well. Garlic contributes a lot of taste and flavor to dishes so more garlic and tomatoes will do it. It will be very similar to our delicious vegan casserole with zucchini.
Can I make this eggplant casserole with cheese?
Yes. You can sprinkle some grated cheddar or mozzarella 5 minutes before you remove the dish from the oven. On the other hand, this recipe is a traditional one and never uses cheese.
More Eggplant Recipes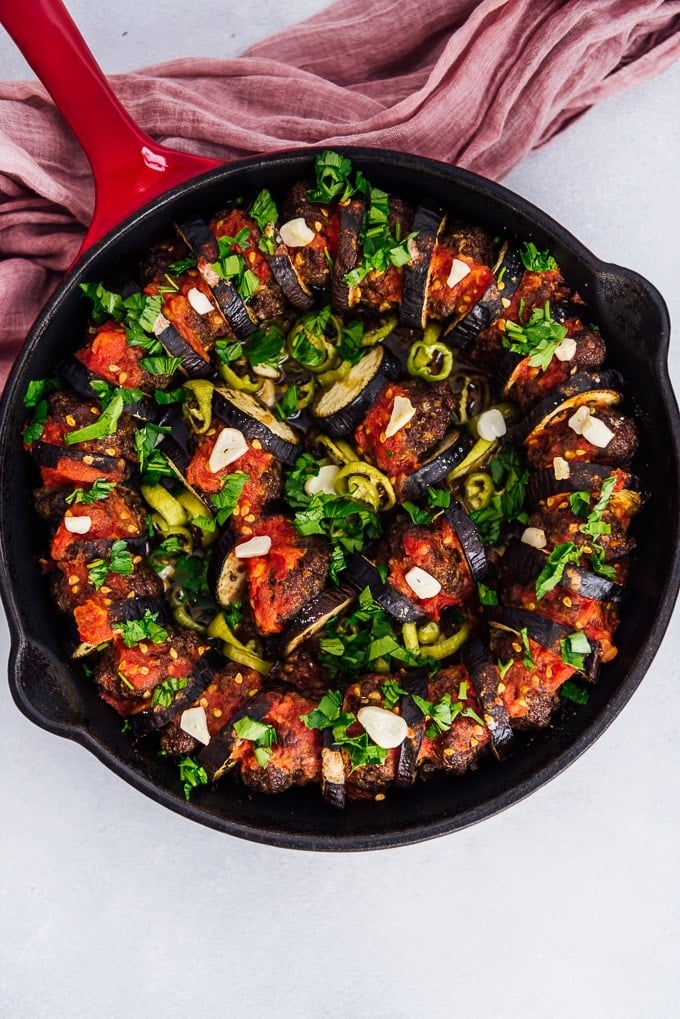 As always: If you make this recipe, let us know what you think by rating it and leaving a comment below. And post a pic on Instagram too—tag @give_recipe so we can see!
Sign up for the FREE GiveRecipe Newsletter to get the new recipes into your inbox! And stay in touch with us on Facebook, Pinterest, YouTube and Instagram for all the latest updates.
Print
📖 Recipe
Patlican Kebab - Eggplant Kebab
Eggplant slices and meatballs baked together with tomato puree, garlic cloves and green peppers.
Author: Zerrin & Yusuf
Prep Time:

20 minutes

Cook Time:

45 minutes

Total Time:

1 hour 5 minutes

Yield:

4

1

x
Category:

Dinner

Method:

Baking

Cuisine:

Turkish
For Meatballs:
1

pound/450g ground beef, 80% lean


1

onion, finely diced or pureed


2

cloves garlic, mashed


1 teaspoon

cumin


1 teaspoon

black pepper


1 teaspoon

chili powder


1

and ½ teaspoon salt


2 tablespoons

olive oil

For Eggplant Kebab:
2

eggplants, sliced


2 tablespoons

olive oil


1

green pepper, chopped


4

cloves garlic, sliced


1 cup

tomato puree


½ teaspoon

salt


1 teaspoon

black pepper


parsley for garnish
Instructions
Meatballs:
In a large bowl, combine all ingredients for meatballs, cover and let it sit in the refrigerator for 30 minutes. Then shape into balls and flatten them a bit. Put them aside.
Kebab:
Preheat the oven to 400F (200C).
Slice the eggplants. Soak them in water, sprinkle 1 teaspoon salt over them and wait for about 15 minutes. Drain and dry them using a paper towel.
In a baking pan, place meatballs and eggplant slices in turns.
Drizzle olive oil over the meatballs and eggplants and bake for 30 minutes. 
Pour tomato puree over them.
Remove from the oven. Place garlic slices and green peppers randomly in the pan. Drizzle a little more olive oil over them.
Sprinkle salt and black pepper. Bake for another 15 minutes.
Garnish with chopped parsley and serve hot.
Nutrition
Serving Size:
Calories:

530

Sugar:

14.7 g

Sodium:

992.9 mg

Fat:

37.6 g

Carbohydrates:

28.7 g

Protein:

24.3 g

Cholesterol:

80.2 mg
Keywords: eggplant kebab, Turkish eggplant kebab, patlican kebab