Strawberry Mint Lemonade is the perfect drink to cool off when it is unbearably hot outside. It is a perfect combination of mint lemonade and pureed strawberries. Everything is strained with a cheese cloth to have a clear and smooth drink in the end.
Summer is almost here. Cold drinks are what everyone needs when it starts to warm up. We love refreshing drinks to beat the heat, right? We make our drinks at home because it is simple and fun. We already love our perfect Old Fashioned Homemade Lemonade, but this time I wanted to add a little strawberry flavor in it. I made easy Strawberry Pie yesterday and there were a lot of strawberries left. I can't think of a better treat to use them up than a very refreshing Strawberry Mint Lemonade!
How To Make Strawberry Lemonade With Mint
The recipe has three easy steps.
First prepare a basic lemonade mixture. Whisk together hot water and sugar until sugar dissolves. Add in lemon juice, thin lemon slices and mint leaves, let it come to room temperature. Chill it in the to cool for about 30 minutes.
Second, make your homemade strawberry puree. Blend strawberries in a blender until smooth.
Third, combine the chilled mint lemonade and strawberry puree by whisking them with a spoon. Strain the mixture using a clean cheese cloth or a strainer to remove the pulp. Chill at least for an hour.
Finally, serve with a lot of ice, fresh mint leaves, lemon wedges and strawberries.
Tips On Making Strawberry Mint Lemonade
Making homemade lemonade is not rocket science, and everyone has their own version. You can make lemonade simply by mixing lemon juice, water and sugar, but there are some tips to make your lemonade perfect. These tips are true for this strawberry mint lemonade as well.
The first and the most important thing is that sugar must be dissolved in water well and you can succeed this by using hot water.
Another thing is you should toss in some zest or lemon slices with their skins into the mixture when hot and add pureed strawberries when it cools down a bit so that you feel the flavors better. Chill it after these and serve with lots of ice.
Strawberry Lemonade Recipe For Kids
The sweet and musky strawberries pair wonderfully with the zesty flavor of lemons, which makes this strawberry mint lemonade a unique summer treat. The pretty pink color of this lemonade easily attracts children's attention, so they will like it more than plain lemonade. This lovely looking lemonade makes a great drink for birthday parties or school parties of your kids.
If you don't want to use refined sugar, sweeten it with maple syrup. Add maple syrup into hot water, whisk in lemon juice and lemon slices and follow the other steps as they are.
You can use whatever sweetener you like. Honey or grape molasses would work fine too. They would definitely make the lemonade even more nutritious, so if you are planning to make it for kids; these would be better options.
Sweetening Strawberry and Mint Lemonade
We don't like our drinks too sweet, so this strawberry lemonade doesn't have a lot of sugar, you can adjust the sweetness to your taste. It depends on the strawberries you use too; if they are not sweet enough, you might need to add more. If they are too sweet, you might even leave the sweeteners out.
If you have a good amount of strawberries and fresh lemons, make a big batch of strawberry mint lemonade and make your family feel ready for boiling summer days! You can even make Strawberry Lemonade Popsicles later.
Want more lemonade recipes? Check these out!
The Perfect Watermelon Lemonade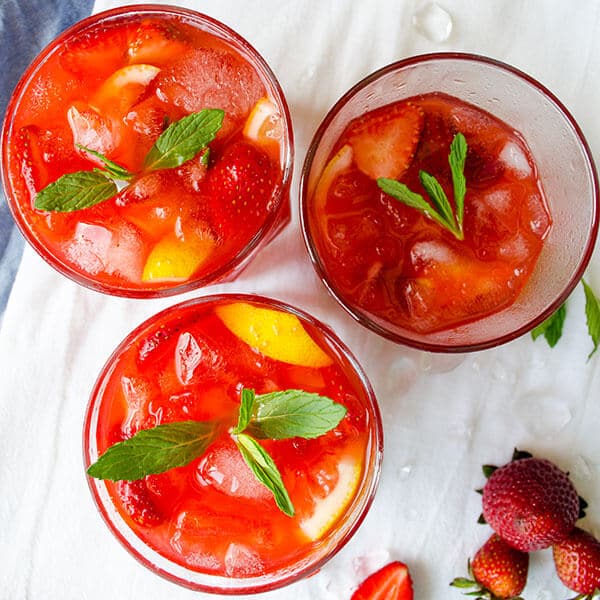 Print
Homemade Strawberry Mint Lemonade
A great summer drink with strawberry and lemonade to served cold and with ice.
Author:
Prep Time:

1 hour 40 minutes

Total Time:

1 hour 40 minutes

Yield:

6

1

x
Category:

Drinks

Cuisine:

American
Mint Lemonade:
½ cup

sugar

4 cups

hot water

1 cup

fresh lemon juice

1

lemon, thinly sliced
a handful of fresh mint
Strawberry Puree:
1 cups

sliced strawberries
Instructions
Mint Lemonade:
Combine sugar and hot water and whisk until sugar dissolves.
Add in thinly sliced lemon, lemon juice and mint leaves into it. Let it cool down.
When it comes to room temperature, chill in the fridge to cool for about 30 minutes.
Strawberry Puree:
Put strawberries into a blender and blend until combined well.
Strawberry Mint Lemonade:
Pour the strawberry puree into the chilled lemonade and whisk.
Using a clean cheese cloth or a strainer, strain the mixture so that you have a clear lemonade.
Transfer into a jug.
Wait in the fridge for about an hour to have a really cold lemonade.
Serve with extra strawberries, fresh mint leaves, lemon wedges and lots of  ice.
Make sure you chill the glasses before serving to have the best result.
Keywords: strawberry lemonade, fruity lemonade
This post was originally published in 2014 and has been updated.