It's getting warm and you need a drink that will cool you down? With a bonus of revitalizing scent of rosemary, this refreshing and appetizing Vodka Lemonade is waiting for you to sip on it.
The hot days are around the corner and what's a better drink than fresh lemonade in a lazy afternoon? At these times of the year lemonade becomes the wanted drink at our home and keeps its spot as the top drink throughout the summer with fun twists like a Perfect Strawberry Lemonade. My little son is the biggest fan of the all the lemonades I make, and he says he likes Ginger Lemonade slightly better than the others. That's great because I try to avoid giving him pre-packed fruit juice as much as possible.
Any lemonade is a wonderful kid friendly drink but are you planning to serve it to adults? Besides the refreshment it provides, if you want to get relaxed -and even tipsy- after a tiring day, turn a classic lemonade into a very cool cocktail with a splash of vodka!
Making A Vodka And Lemonade Cocktail
Vodka and lemonade make such a great couple, and with a twist of rosemary, it is more than you are looking for to cool down and enjoy your warm summer day. Just close your eyes and imagine yourself relaxed, sunbathing by the pool with this drink in your hand in a summer afternoon. You see what I mean?
I've already tried vodka in different cocktail recipes such as Orange Vodka Cocktail. And love the combination of it with citrus juice. As lemonade is a always a big hit and in demand by my friends, now it is time to combine it with vodka to make one of those simple vodka drinks.
What drink do you usually offer when you have friends coming over? How about trying something new next time and impress your guests? This cool cocktail is a great treat for your get-togethers with your friends.
Vodka lemonade –or should I call it you will ask for more and more lemonade- is very popular at home parties. And it is super easy to make some.
What Goes In This Vodka Lemon Cocktail
This is one of those easy vodka drinks. As the name suggests, this recipe calls for two main ingredients:
I just flavored the lemonade with rosemary to have a more refreshing and aromatic result. If fresh mint is your favorite herb, go ahead and use it instead. You will end up with a wonderful vodka mint lemonade.
How to Make a Vodka Lemonade
It is so easy to put together this vodka lemon cooler. The recipe has two parts:
First, make the lemonade. To make the lemonade, I chop the lemons and coat them with sugar to get the best flavor from lemons. Intrigued? Please go check it out!
Another reason why I use homemade lemonade is that it is simply healthier with no additives in it. But you can also use store bought lemonades if you need a shortcut. I know everyone sometimes needs it. In that case you will just boil the lemonade and rosemary. Make sure it cools down completely before you chill in the refrigerator.
Second, mix lemonade and vodka. Don't forget to garnish it with lemon and lime slices and fragrant rosemary sprigs when serving.
How To Mix Vodka And Lemonade: You can do this in two ways:
Mix them in glasses when serving. I usually pour ¼ cup vodka in a glass and fill the rest of it with lemonade.
Combine everything in a pitcher and then serve in glasses.
I personally love the first way as it is easy to adjust the ratio for everyone. Some of our friends even prefer the opposite ratio.
Vodka Lemonade Ratio
It is totally up to you. You can just taste and adjust it to your taste. My favorite ratio is 4 lemonade to 1 vodka. However, some days are just too fun so I add in % 50 of both vodka and lemonade. Other days I make it even lighter with just a touch of vodka.
Variations
You can make your cocktail with various other ingredients. If you want a fruity flavour, add some cranberries or strawberries. If you want a richer flavour, you can add ice tea or ginger beer in your vodka and lemonade mixture. However, keep in mind that this will increase the calories. I think it's all about what you normally like to mix with your vodka. Here are some ideas for you:
What's Good To Mix With Vodka
Two ingredients are on top of my list when making vodka mixed drinks: Fresh lemonade and orange juice. Besides these, ice tea, tonic, pineapple juice, tomato juice are good vodka mixers too. Well, any fruit juice work fine with vodka. Are you into pink alcoholic drinks? Then use strawberry or cranberry juice. They are great additions to make a pink lemonade vodka cocktail.
Also, Sprite and vodka make one of the classic easy vodka cocktails. I find it too sweet, so never tried it but I'm sure Sprite fans would love a Sprite Lemonade and Vodka cocktail too. If you are watching calories, using diet Sprite would be better for sure.
Calories
Is vodka low in calories? It depends on the amount of vodka you consume and the variety of vodka you prefer. In some vodka brands there is more alcohol density, which makes the calories higher. If you choose 100-proof vodka, the calories will be about 124 in a tall shot (1.5 ounces). If you drink 80 proof vodka, this number will go down to 56 calories.
I'm talking about regular vodkas here, though. Some brands have flavored vodka with different mixers in it. This kind of vodka naturally brings more calories with it because of the mixer or sugar inside. So, if you choose a low proof regular vodka, you will avoid the extra calories you will have in your drink.
Another good news! This recipe is relatively lighter since our mixer does not include any fizzy drinks in it. Our drink in this recipe has 150 calories per serving. And if you want it even lighter, you can make your own homemade lemonade with little sugar/ honey / sweeteners in it. So you can adjust the calories yourself.
Which Vodka to Choose
There is no best vodka for lemonade. It is totally up to what brand you like. However, If you want to have a gluten-free vodka, you can check what the vodka is made from. Potato or corn, which are gluten free, is the main ingredients of some vodka brands while some others are made from grain such as wheat or barley.
Go ahead and try this great recipe! Welcome summer with this delicious and fresh drink. And we really appreciate much if you rate the recipe and leave a comment below when you give it a try.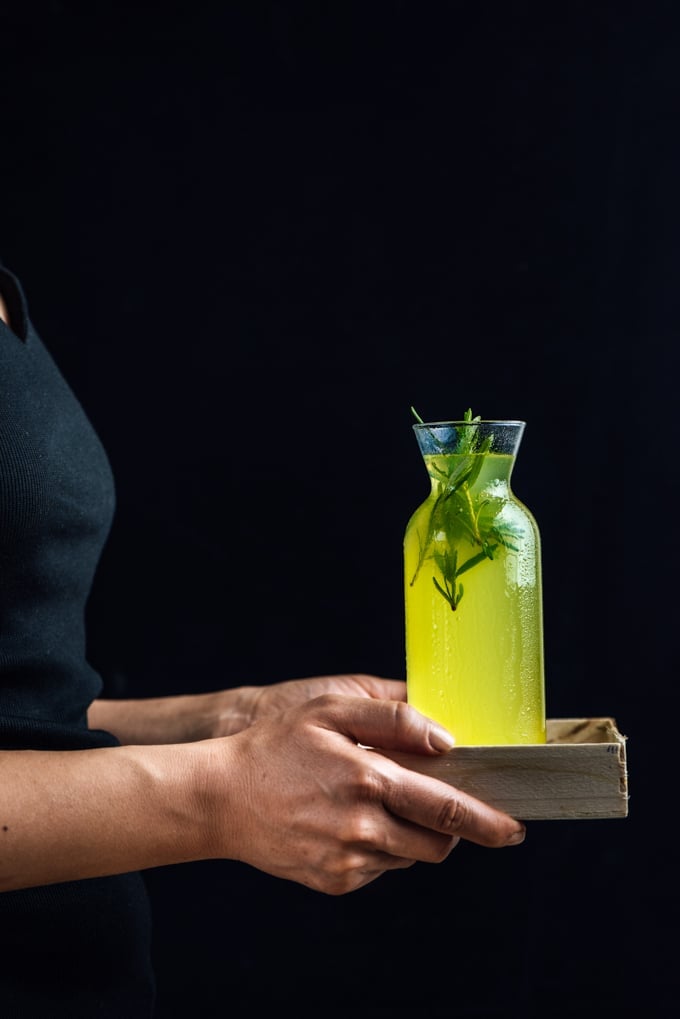 Other Vodka Cocktails
Other Cocktail Recipes
As always: If you make this recipe, let us know what you think by rating it and leaving a comment below. And post a pic on Instagram too—tag @give_recipe so we can see!
Sign up for the FREE GiveRecipe Newsletter to get the new recipes into your inbox! And stay in touch with us on Facebook, Pinterest, YouTube and Instagram for all the latest updates.
Print
📖 Recipe
Rosemary Vodka Lemonade
A super refreshing combination of vodka and lemonade in this easy vodka cocktail.
Author: Zerrin & Yusuf
Prep Time:

15 minutes

Total Time:

15 minutes

Yield:

4

1

x
Category:

Drinks

Method:

Mixing

Cuisine:

American
Vodka Lemonade:
4

lemons

½ cup

sugar

3 cups

water

2

sprigs rosemary

1 cup

vodka
For Garnish:
lemon and lime slices
rosemary sprigs
Instructions
Peel lemons removing the zest and white parts. Chop them roughly and put in a large bowl.
Add in rosemary sprigs and sprinkle sugar over them. Let them sit for about 5 minutes. This will help the lemons to release juice.
Using your hands, squeeze the lemons in batches. Transfer the juice into a jug using a strainer.
Pour 1 cup of water on the squeezed lemon pulp and wait for 5 minutes. Squeeze them in the same way and transfer the juice into the jug.
Add in the remaining 2 cups of water and mix well. Leave the rosemary leaves in the jug and chill at least for an hour.
Pour ¼ cup vodka to each serving and pour lemonade (1 cup) over it.
Garnish with lemon and lime slices and rosemary sprigs.
Nutrition
Serving Size:

1 glass

Calories:

169

Sugar:

31.1 g

Sodium:

10.2 mg

Fat:

0.7 g

Carbohydrates:

42.2 g

Protein:

0.9 g

Cholesterol:

0 mg
Keywords: vodka lemonade, vodka and lemonade, vodka lemonade recipe, vodka lemonade ratio, easy vodka cocktails